Bqeel MVR9 is another TV box powered by Rockchip RK3328, but that model comes with Gigabit Ethernet and 2GB RAM contrary to the cheaper A95X R2 TV box I previously reviewed. If you want to check thsee some pictures read "Bqeel MVR9 TV Box Review – Part 1: Specifications, Unboxing and Teardown", as in this second part I'll focus on the firmware, and we'll see if the claims of better 4K video playback thanks to DDR4, optimized RKMC with HD audio pass-through, YouTube 4K, and DRM support are true.
First Boot, Setup, and First Impressions
One good thing about Bqeel MVR9 is that it comes four 4 USB port, so I did not need to use a USB hub to connect my two RF dongles for MINIX NEO A2 Lite air mouse and Tronsmart Mars G01 gamepad, a Seagate USB 3.0 hard drive, and a USB keyboard I normally use to take screenshots. I completed the hardware setup with Ethernet, HDMI, and power cable with the device booting as soon as I applied power.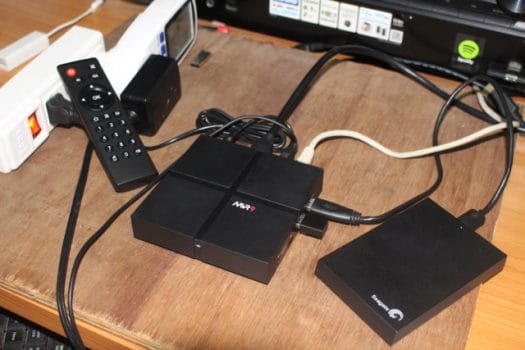 A typical boot takes around 18 seconds from power on to the Android launcher below, one of the fastest boot I've experienced in TV boxes.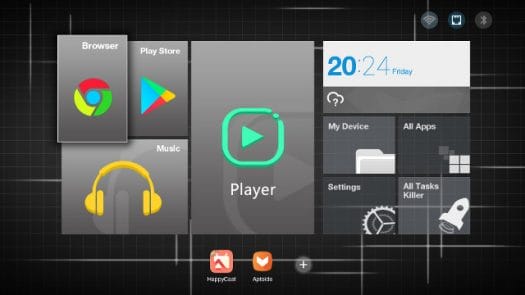 Browser, Music and Player icons link to a list of apps such as Chrome, RKMC, or Media Center, while MyDevice is a file manager. I was unable to find a way to enable the status bar and notification bar.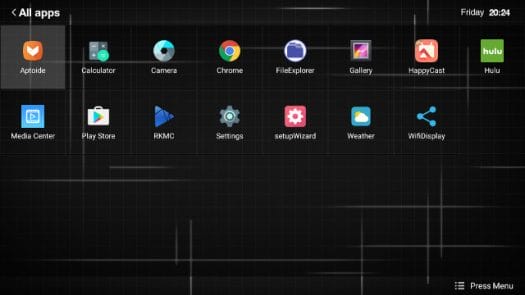 Pre-installed apps include the Play Store, Hulu, and HappyCast.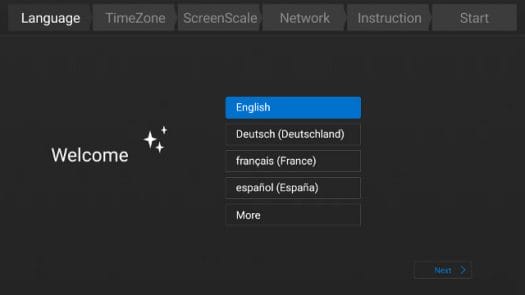 The setupWizard app will guide though the main settings namely Language, TimeZone, ScreenScale, and Network (Ethernet/WiFi). I used it to adjust overscan to none, but this can also be done in the settings. The settings will show on the right side of the screen as with other Android Nougat firmware I played with.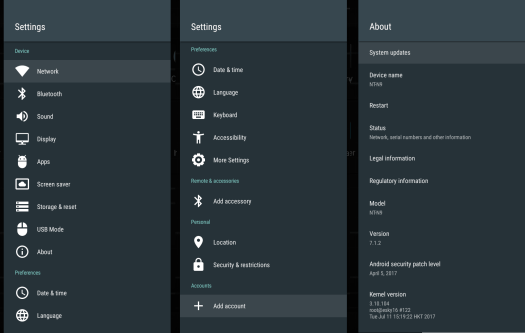 Those are pretty standard, except USB mode that I may have missed in other boxes, and that allows you to switch between Host and Device modes. The about section shows the device name is actually NT-N9 – Nagrace made devices usually start with NT – and it runs Android 7.1.2 on top of Linux 3.10.104. The firmware is not rooted, and I was unable to find out if OTA firmware update works since I did not get a new firmware during the review.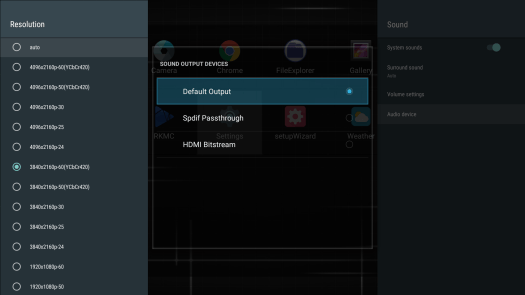 I had no problem settings the display resolution to 3840x2160p60(YCbCr420), and Audio device can be set to default, SPDIF pass-through, or HDMI bitstream. I could not see any HDR settings. The More Settings option will bring you to a full screen Settings app that looks to be made for phones with lock screen, and adaptive brightness option.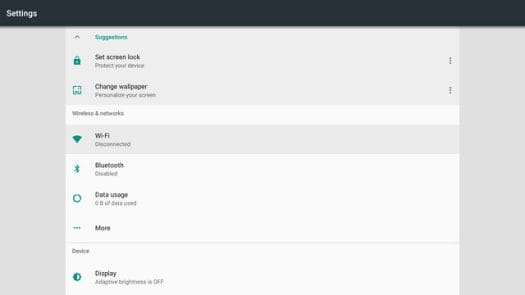 One interesting option in the Display settings was Display size in order to make items smaller or larger on the screen.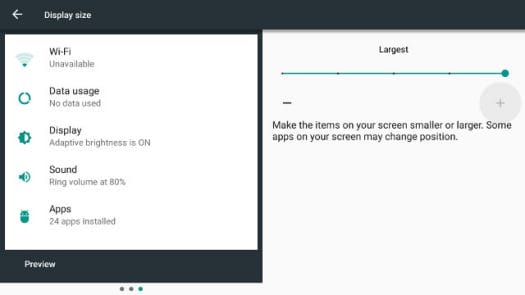 Storage settings shows 2.61GB of the 14.56GB eMMC flash partition are used, and EXT-4 and NTFS partitions of my USB hard drive are supported but not the exFAT and BTRFS ones.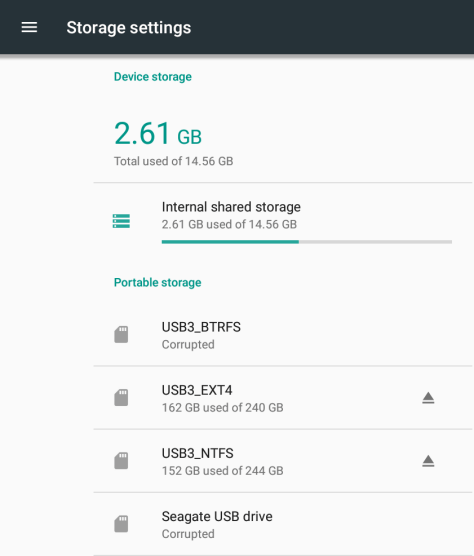 I could install all apps I needed for the review via Google Play and Amazon Underground (Riptide GP2 only).The basic IR remote control included worked fine up to 8 meters, but as usual I mostly controlled the device with my air mouse.
Power handling is all good, as I could use the power button on the unit or the remote control to turn on and off the device cleanly, with a short press on the power key on the remote entering standby/sleep mode automatically, and a long press showing a menu with reboot, sleep, or shutdown.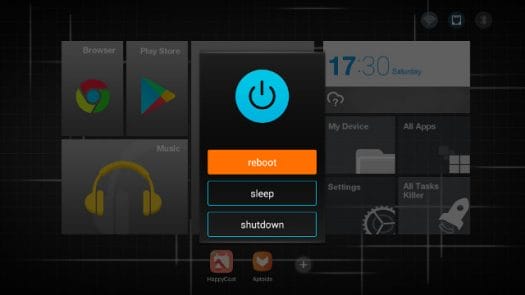 I measured power consumption with a kill-a-watt clone, and with or without USB drive connected:
Power off – 0.1 Watt
Standby – 2.4 Watts
Idle – 3.2 Watts
Power off + USB HDD – 0.1 Watt
Standby – 4.4 Watts
Idle + USB HDD – 5.2 Watts
So everything is done right here.
The box gets a little hot during use with 47 and 61ºC max measured on the top and bottom sides of the box after playing a 2-hour 1080p video in RKMC (Kodi fork), and 40 and 57ºC after spending 15 minutes playing Riptide GP2. Going to CPU-Z to check the temperature sensor after each test showed respectively 92.1°C and 86.5°C, both values clearly on the high side if the reported temperature is correct. Note that the ambient temperature was slightly above 30°C, and that I could not notice slowdown, but if you push the box to its limit, I'd expect a drop in performance at some point.
So far, I'm very satisfied with the box with features working as they should, and a responsive firmware. The only downsides are the lack of option to enable the status and notifications bar, and potential issues due to the high temperature, but as just mentioned it did not noticeably affect me even with a fairly high room temperature.
Video & Audio Playback – RKMC, DRM, and YouTube
RKMC 16.1 is installed with a purple skin.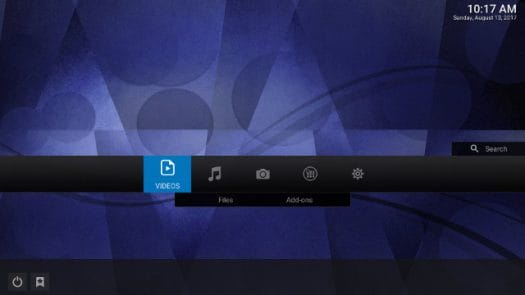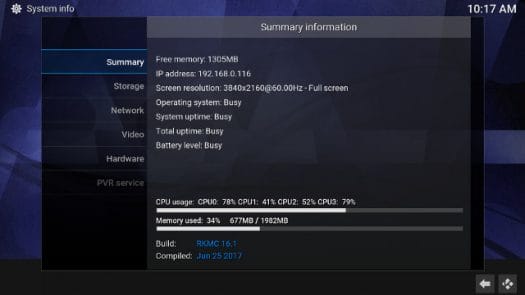 As I went to the settings to enable automatic frame rate switching, I also noticed some RKCodec specific settings, with most enable, except fractional HDMI (23.976/59.97) which I manually enabled for the review.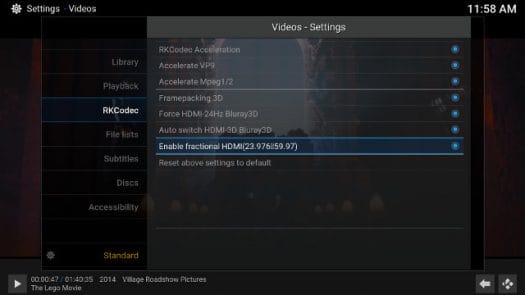 Once this was done I started playing some videos over SAMBA and Gigabit Ethernet starting with 4K samples:
HD.Club-4K-Chimei-inn-60mbps.mp4 (H.264, 30 fps) – OK

sintel-2010-4k.mkv (H.264, 24 fps, 4096×1744) –  OK (24 Hz video output)
Beauty_3840x2160_120fps_420_8bit_HEVC_MP4.mp4 (H.265) –  OK
Bosphorus_3840x2160_120fps_420_8bit_HEVC_MP4.mp4 (H.265) – OK
Jockey_3840x2160_120fps_420_8bit_HEVC_TS.ts (H.265) – OK
MHD_2013_2160p_ShowReel_R_9000f_24fps_RMN_QP23_10b.mkv (10-bit HEVC) – OK (24 Hz video output)
phfx_4KHD_VP9TestFootage.webm (VP9) – OK

BT.2020.20140602.ts

(

Rec.2020

compliant video; 36 Mbps; 59.97 Hz) – OK.
big_buck_bunny_4k_H264_30fps.mp4 – OK
big_buck_bunny_4k_H264_60fps.mp4 – Almost smooth, but big audio delay (H.264 @ 4K60fps is not supported by RK3328 VPU)
Fifa_WorldCup2014_Uruguay-Colombia_4K-x265.mp4 (4K, H.265, 60 fps) – OK
Samsung_UHD_Dubai_10-bit_HEVC_51.4Mbps.ts (10-bit HEVC / MPEG-4 AAC) – OK
Astra-11479_V_22000-Canal+ UHD Demo 42.6 Mbps

bitrate.ts

(10-bit H.265 from DVB-S2 stream) –  OK
暗流涌动-4K.mp4 (10-bit H.264; 120 Mbps) – HDD:

Not perfectly smooth all the way through; Chinese fonts not supported in the filename

Ducks Take Off [2160p a 243 Mbps].mkv (4K H.264 @ 29.97 fps; 243 Mbps; no audio) – OK
tara-no9-vp9.webm (4K VP9 YouTube video @ 60 fps, Vorbis audio) – OK at the beginning, then

gray screen with lots of artifacts at 2:50 for a few seconds

, then normal. However, I could not reproduce it after going back to the 2:40 mark, and playing again.

The.Curvature.of.Earth.4K.60FPS-YT-UceRgEyfSsc.VP9.3840×2160.OPUS.160K.webm

(4K VP9 @ 60 fps + opus audio) – OK, but

not smooth for every scenes

.
Automatic frame rate switching worked just fine, and most videos played well. The box is using DDR4 so it may help with some 4K videos, especially, if you are using 4K HDR, sometimes that I can not test since I don't have the TV for it. Another problem is that I can't change the zoom level, it will only show 3D settings while playing videos. I also quickly tested some Blu-Ray ISO (amat.iso and sintel.iso) and again no problem in RKMC. I had less luck with my 1080p Hi10p 16-ref video, as it would only show the first frame.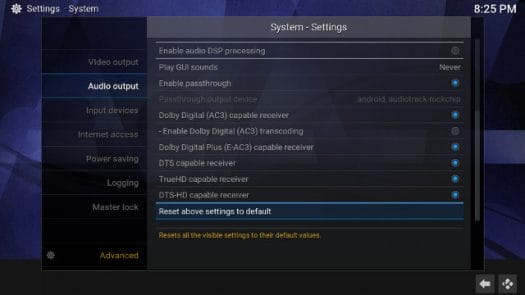 I switched to audio testing both using my TV speakers (PCM 2.0), and HDMI audio pass-through to my Onkyo TX-NR636 AV receiver using RKMC and MediaCenter.
Audio Codec in Video
PCM 2.0 Output
(RKMC 16.1)
PCM 2.0 Output
(MediaCenter)
HDMI Pass-through
(RKMC 16.1)
HDMI Pass-through
(MediaCenter)
AC3 / Dolby Digital 5.1
OK
Audio OK,
Video 1:1 aspect ratio
OK
Audio OK,
Video 1:1 aspect ratio
E-AC-3 / Dolby Digital+ 5.1
OK
OK
OK
OK
Dolby Digital+ 7.1
OK
OK
Video won't fully play -> can't test
OK
TrueHD 5.1
OK
OK
TrueHD 5.1, but several audio cuts
TrueHD 5.1, but several audio cuts
TrueHD 7.1
OK
OK
TrueHD 7.1, but several audio cuts
TrueHD 7.1, but several audio cuts
Dolby Atmos 7.1
OK
Beep / no audio **
TrueHD 7.1*, but several audio cuts
TrueHD 7.1*, but several audio cuts
DTS HD Master
OK
OK
DTS-HD MA, but some audio cuts
DTS-HD MA, but some audio cuts
DTS HD High Resolution
OK
OK
DTS-HD HR, but some audio cuts
DTS 5.1
DTS:X
OK
OK
DTS-HD MA*
DTS-HD MA*
* The sample comes with two audio tracks: Dolby Atmos (normal audio), and AC3 (beep) only, so AC3 was selected by default, and switching to the other track failed to product audio
** My AV receiver does not support Dolby Atmos nor DTS:X, so falling back to respectively TrueHD 7.1 and DTS HS Master is normal.
So the good news is that RKMC and MediaCenter pass-through all HD audio codec properly, except DTS HD HR for the latter, but there's some timing or compatibility issues, as I'd get audio cuts with the receiver often reporting "UNKNOWN" codec for  short times instead of TrueHD or DTS HD. That's a problem similar to what I got when I reviewed Zidoo X6 Pro, and at the time others reported no problem at all, so I'm assuming the audio pass-through issue may only affect some AV receivers models including mine.
Finally, I tested different video codec in RKMC with 1080p videos from Linaro media samples and Elecard:
H.264 codec / MP4 container (Big Buck Bunny) – 1080p – OK
MPEG2 codec / MPG container – 1080p – OK
MPEG4 codec, AVI container – 1080p – OK
VC1 codec (WMV) – 1080p – OK
Real Media (RMVB), 720p / 5Mbps – OK
WebM / VP8 – 1080p – OK
H.265 codec / MPEG TS container – 1080p – OK
No problem at all here, with all codec handled by hardware (RKCodec).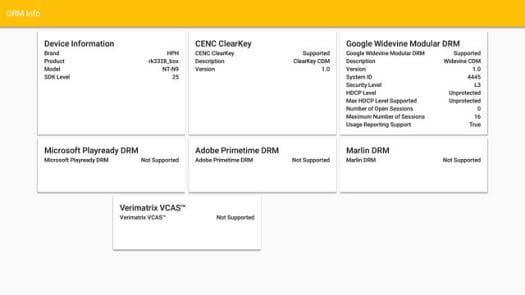 DRM info reports Widevine Level 3 DRM is supported.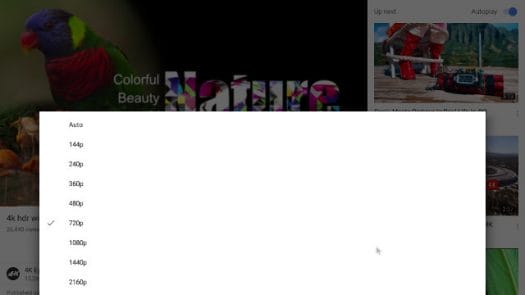 The company also told me YouTube 1080p/4K is supported by the device, and at first glance it works, as I could select 2160p for 4K video. However, I quickly realized I could take screenshot of the video playing, a bad sign on this type of hardware, since videos are supposed to play on a separate hardware buffer.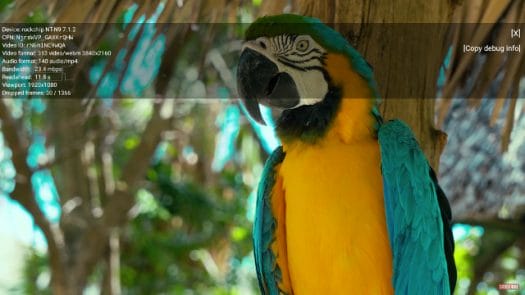 So I enabled Stats for Nerds in YouTube, and I can indeed play 3840×2160 videos, but they are rendered to a 1920×1080 viewport, so what we are actually watching is a 4K video downscaled to 1080p. So it's better to just watch the 1080p version of the videos, especially I noticed some slowdowns at times while watching 4K streams.
Networking & Storage Performance
As usual, I tested WiFi with SAMBA by copying a 278MB file with ES File Explorer between the server and the internal flash, and vice versa. The results are not very good for this part:
Server to flash: 3 minutes 5 seconds, or around 1.5 MB/s; included one short stall period
Flash to server: 2 minutes 33 seconds, or around 1.81 MB/s
Server to flash: Failed after 90% transfer
If I use the first two transfers to add to my comparison chart, it shows the device around the bottom.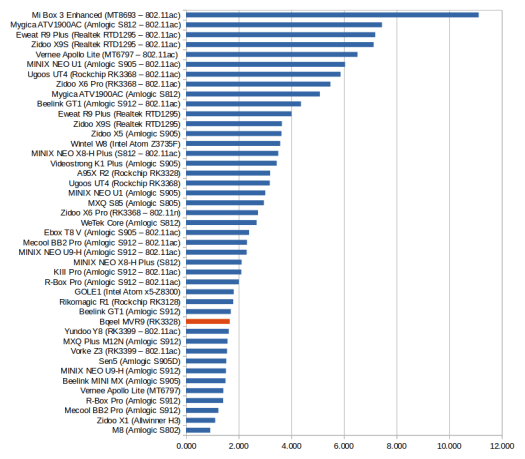 It's actually fairly similar to many other devices with 802.11n WiFi only, and in the past we've seen some devices, especially the one based on Amlogic + Android 6.0 did not perform well at all with SAMBA, so let's see what happens when using iperf instead
WiFi 802.11 b/g/n upload:
[

5

]

local

192.168.0.104

port

5001

connected

with

192.168.0.117

port

41594

[

5

]

0.0

-

60.0

sec

342

MBytes

47.7

Mbits

/

sec
WiFi 802.11 b/g/n download:
Client

connecting

to

192.168.0.117

,

TCP

port

5001

TCP

window

size

:

85.0

KByte

(

default

)

--

--

--

--

--

--

--

--

--

--

--

--

--

--

--

--

--

--

--

--

--

--

--

--

--

--

--

--

--

--

[

3

]

local

192.168.0.104

port

37404

connected

with

192.168.0.117

port

5001

[

ID

]

Interval

Transfer

Bandwidth

[

3

]

0.0

-

60.1

sec

260

MBytes

36.4

Mbits

/

sec

The performance looks better here, and should be good enough for most video streaming (although maybe not 4K ones).
Gigabit Ethernet works fine, and if you buy this device, is the recommended network interface to use anyway.
Gigabit Ethernet full duplex test with iperf:
Client

connecting

to

192.168.0.113

,

TCP

port

5001

TCP

window

size

:

187

KByte

(

default

)

--

--

--

--

--

--

--

--

--

--

--

--

--

--

--

--

--

--

--

--

--

--

--

--

--

--

--

--

--

--

[

6

]

local

192.168.0.104

port

53178

connected

with

192.168.0.113

port

5001

[

ID

]

Interval

Transfer

Bandwidth

[

6

]

0.0

-

60.0

sec

3.89

GBytes

557

Mbits

/

sec

[

4

]

0.0

-

60.0

sec

5.06

GBytes

725

Mbits

/

sec

Switching to storage performance, I used A1SD bench to test storage performance of the eMMC flash, and USB 3.0 hard drive.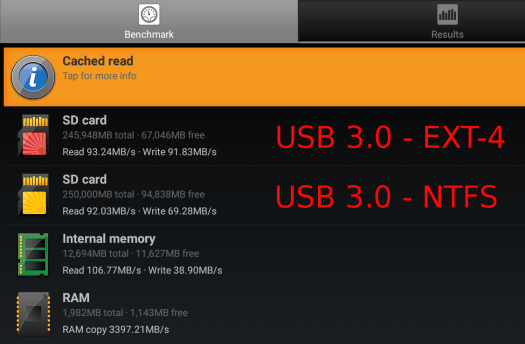 Please ignore the read speed of the eMMC flash since a "cached" read occur, but the write speed at 38.90 MB/s is valid, and looks good to me and close to the 40MB/s limit for the part used. The high random IO performance listed by Samsung 8K/10k R/W IOPS, certainly helps with fast boot times, app loading times, and overall system performance. USB 3.0 performance is as expected, and you'll get good performance from both EXT-4 and NTFS, but if you want to optimize write performance, EXT-4 is the way to go. Just a quick word about the RAM test, with RAM copy done at 3397.21 MB/s (with DDR4 memory) against 3008.39 MB/s with DDR3 memory  on A95X R2 TV box, so it looks like DDR4 may improve performance a little bit on RK3328 devices.
Gaming
I played two games with my wireless controller: Beach Buggy Racing and Riptide GP2. The first game played very smoothly with default settings, and at max settings it was still perfectly playable, but not 60fps smooth. Riptide GP2 felt good with default settings, but game play was really affected after switching to max resolution in the games settings, with frame rate decreasing to probably 10 to 25 fps during the game. The frame rate was however constant through the game, as I played for 15 minutes.
This differs with my experience with A95X R2, which felt similar to Amlogic S905 based device, with a higher frame rate in both games whatever the settings. This can be easily explained however, as A95X R2 framebuffer is configured to 1280×720, while MVR9 is set to 1920×1080. 1280×720 is better for some games, but 1920×1080 is better while watching YouTube videos (I does not affect videos played in Kodi or MediaCenter since they are rendered on a separate hardware buffer).
Bluetooth
I also tested the built-in Bluetooth function in side the device I could transfer photos with my phone, and watched a YouTube video using Bluetooth headphone.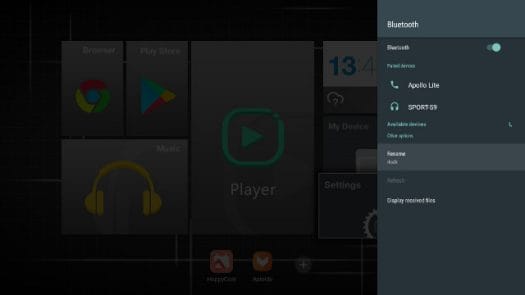 Benchmarks and System Info
CPU-Z shows a quad core ARM Cortex A53 r0p4 processor clocked @ 408 MHz to 1.51 GHz with a Mali-450MP as expected, as well as 1982 MB total RAM, and 12.40 GB internal storage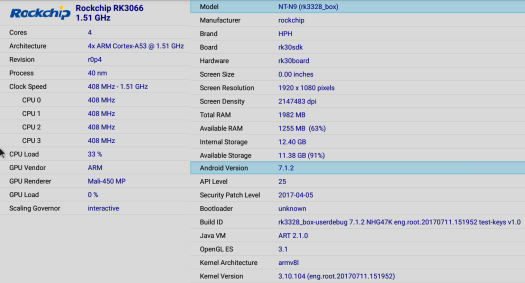 I just ran a single benchmark to check performance is normal, and MVR9 achieved 35,994 points in Antutu 6.x, which compares to 33,117 points in A95X R2, and 34,811 points in ROCK64 development board (without heatsink).
Conclusion
Overall I was impressed by Bqeel MVR9 TV box with excellent 4K video playback with automatic frame rate switching, and fast internal storage leading to good overall performance, fast boot times and app loading times. However, if you want to use WiFi with SAMBA, you may prefer another device as I found performance to be below average, and unreliable, although raw performance number (iperf) look better, and in my case, while all HD codec were properly detected, I had many audio cuts when connected to my A/V receiver. The company also told me, the box would support YouTube 4K, but while it can stream 4K YouTube videos, it will actually downscale them 1920×1080 during playback.
PROS
Recent, responsive and stable Android 7.1.2 operating systems
Excellent supports for 4K videos in RKMC 16.1 (Kodi fork) with automatic frame rate switching support
HD audio codec such as Dolby TrueHD and DTS HD are detected with HDMI pass-through in RKMC, and
High performance internal storage leading to fast booting and app loading times, and good overall performance (no waiting for app windows…)
USB 3.0 performance is good with EXT-4, and to a lesser extend with NTFS
Good power handling with reboot/standby/power off mode, and low power consumption
Built-in Bluetooth is working well
CONS
Frequent micro audio cuts in most videos with HDMI audio passthrough using Onkyo TX-NR636 (When cuts happen the display on the receiver cycle between  TrueHD -> UNKNOWN -> TrueHD). Same results in RKMC and MediaCenter. The results may be different with other A/V receiver models.
3D gaming frame rate may not be very high on some apps, due to the 1920×1080 resolution (instead of 1280×720 on competing models)
The device tends to get fairly hot. However, I did not notice any shutdown drops in performance during use myself.
WiFi SAMBA performance is rather poor, and connection unreliable.
Lack of zoom option in RKMC (only shows 3D settings)
Lack of option to show status or notification bars
I'd like to thank Nagrace for sending a review sample. I cannot find Bqeel MVR9 or NT-N9 TV box for sale anywhere, and the Nagrace has not setup a product page on their website yet, but if you are interested in purchasing in quantities, you may contact the company.

Jean-Luc started CNX Software in 2010 as a part-time endeavor, before quitting his job as a software engineering manager, and starting to write daily news, and reviews full time later in 2011.