Rockchip, Amlogic, and Allwinner are all battling for the lower and mid-range segments of the TV box market, so it may be interesting to compare their solutions. We won't look into the ultra low-end market with 32-bit ARM Cortex A7 processor, but instead compare some of the recent quad-core 64-bit ARM Cortex A53 processor for 4K HDR TV box from the company with respectively Amlogic S905X, Rockchip RK3328, and Allwinner H6 SoCs.
We'll compare some of the benchmarks obtained with Android TV boxes, as well as other features like video support, USB, and Ethernet interfaces.
S905X vs RK3328 vs H6 Benchmarks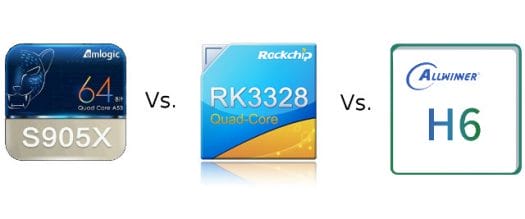 Let's start with results for popular Android benchmarks: Antutu 6.x, Vellamo 3.x, and 3DMark Ice Storm Extreme v1.2 with results obtained from 3 TV boxes: Mini M8S II (Amlogic S905X), A95X R2 (Rockchip RK3328), and Zidoo H6 Pro (Allwinner H6). A score is highlighted in green is there's a clear winner, and in red for a clear loser.
Amlogic S905X
Rockchip RK3328
Allwinner H6
CPU (1)
Quad-core Cortex A53
@ 1.51 GHz
Quad core Cortex A53
@ 1.51 GHz
Quad core Cortex A53
@ 1.8 GHz
GPU (2)
ARM Mali-450MP3
ARM Mali-450MP2
ARM Mali-720MP2
Antutu 6.x
Overall
33,553
33,117
40,467 / 36,957 (2)

3D (1920×1080)
3,099

1,475

6,292 / 2,782 (2)
UX
12,365

16,426

13,360
CPU
12,438

10,486

16,395

RAM

5,651

4,730
4,420
Vellamo 3.x
Metal
910
937
930
Multicore
1,491
1,464
836 (3)
Browser
1,855 (Browser)
1,943 (Chrome)

2,546

(Browser)
3DMark – Ice Storm Extreme v1.2
Total score
4,183

2,252

3,951
Graphics score
3,709

1,871

3,643
Physics score
7,561
7,814

5,608
(1) Those are the frequencies reported by CPU-Z, and the actual maximum frequency may be different. For example, it appears Allwinner H6 can only run at 1488 MHz in a sustained manner, and possibly only reach 1.8 GHz during short bursts (TBC).
(2) Allwinner H6 is the only SoC to include a GPU supporting OpenGL ES 3.1, which means it is the only one to complete Marooned 3D graphics test (Antutu 3D test has two 3D benchmarks), and the other boxes just got zero since it did not run. So I've included two scores for overall and 3D Antutu results: actual score / score minus Marooned benchmark.
(3) Vellamo multicore had a warning on Zidoo H6 Pro, so it may not represent the actual performance of the device.
Allwinner H6 has a slight advantage, but during use, it will be really hard to notice the difference between TV boxes with one of those processors, and other factors like RAM capacity and storage performance will have more influence. One exception is 3D performance, as Rockchip RK3328 is clearly slower here, and I could notice it while playing games.
Features
But SoC performance is only one side of the equation, so let's have a look at some of the features from the SoCs, which may or not be implemented in some TV boxes. For reference, I also included USB 2.0 or 3.0 storage (HDD NTFS partition), and Ethernet performance numbers. Those numbers may vary a lot with further software optimization, configuration tweaks, so they should only be used for reference. I used the same TV boxes as for the benchmark section, except for Gigabit Ethernet relying instead on iperf results from ROCK64 development board (RK3328) and K1 Plus (Note S905, no X, for reference only, but in my experience, all Fast Ethernet interfaces have about the same performance), and NEXBOX A95X for the USB storage performance.
Amlogic S905X
Rockchip RK3328
Allwinner H6
Video
– 4K 10-bit HEVC
Up to 60 fps
– 4K VP9
Up to 60 fps
– 4K H.264
Up to 30 fps (8-bit only)
Up to 30 fps (8-bit and

10-bit

)
Up to 30 fps (8-bit only)
USB 2.0 / 3.0

USB 2.0

USB 3.0
USB 3.0
– A1SD Bench (R/W)

37/37 MB/s

94.52/90.73 MB/s

59.07/42.12MB/s
Ethernet

10/100M only

Gigabit Ethernet MAC
Gigabit Ethernet MAC
– iperf (full-duplex)

91.6/91.8 Mbits/s

815/344 Mbits/s
758/350 Mbits/s
RAM Capacity (Max)
2GB

4GB

2GB
Misc
 TS, Smartcard interface
TS, Smartcard interface, PCIe
I did not include audio, as all those SoC are supposed to support Dolby TrueHD and DTS HD audio codec pass-through. but implementation varies a lot between devices.
Amlogic S905X is the weakest of the lot based on the two tables above, but it's also the cheapest SoC among the three, and in my experience, one with the best support in Kodi, for example. Rockchip RK3328 is not much more expensive, and has many benefits, except when it comes to 3D graphics performance, but it usually only matter if you plan to play games on the platform, the GPU is usually good enough for user interfaces. Allwinner H6 has more interfaces, a Mali GPU with OpenGL ES 3.1 and OpenCL support, and lightly more interfaces. The few devices that are based on the Allwinner processor are currently quite more expensive with all other features being equal.

Jean-Luc started CNX Software in 2010 as a part-time endeavor, before quitting his job as a software engineering manager, and starting to write daily news, and reviews full time later in 2011.