The Chiang Mai Maker Party 4.0 is now taking place until December 9, and I went there today, as I was especially interested in the scheduled NB-IoT talk and workshop to find out what was the status about LPWA in Thailand. But there are many other activities planned, and if you happen to be in Chiang Main in the next few days, you may want to check out the schedule on the event page or Facebook.
I'm going to go though what I've done today to give you a better idea about the event, or even the maker movement in Thailand.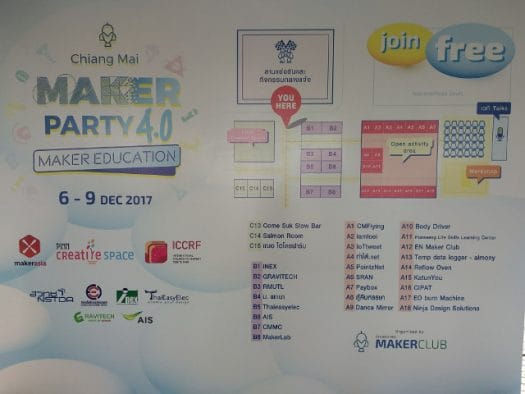 Booth and activity area should be the same over the 4 days, but the talks, open activity, and workshop will be different each day. Today, people could learn how to solder in the activity area.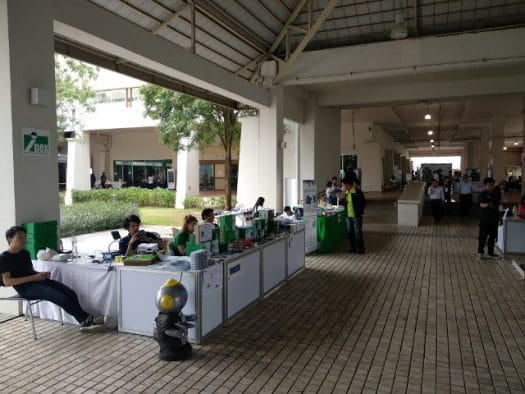 The even was not really big with manufacturers/sellers like ThaiEasyElec, INEX, or Gravitech closer to the entrance…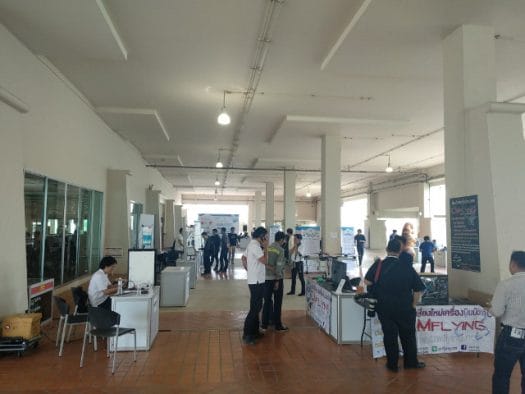 … and slighter higher up in a different zone, companies and makers were showcasing their products or projects. I still managed to spent 5 interesting hours at the event attending to talks and checking out the various projects.
I started my day with a talk entitled "Maker Movement in South East Asia" presented by William Hooi, previously a teacher, who found One Maker Group and setup the first MakerSpace in Singapore, as well as helped introduce the Maker Faire in Singapore in 2012 onwards.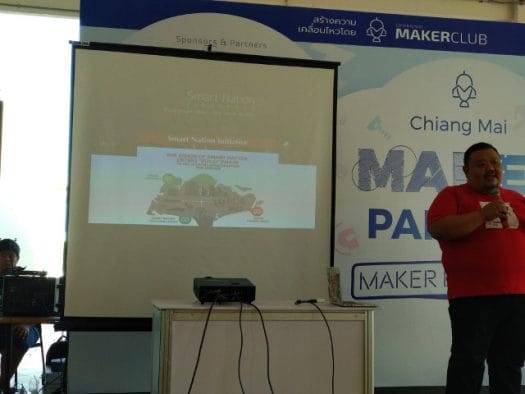 There was three parts to talk with an history of the Maker movement (worldwide), the maker movement in Singapore, and whether Making should be integrated into school curriculum.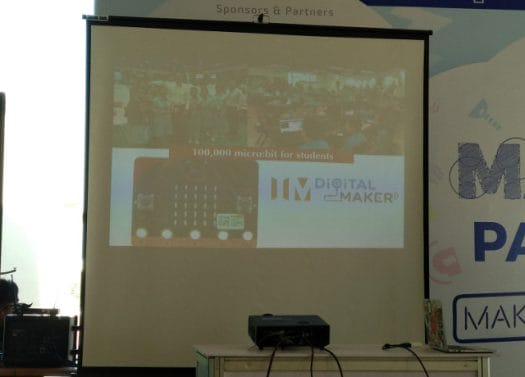 He explained at first the government who not know about makers, so it was difficult to get funding, but eventually they jump on the bandwagon, and are now puring money on maker initiative. One thing that surprised me in the talk is that before makers were hidden their hobby, for fear of being mocked by other, for one for one person doing an LED jacket, and another working on an Iron Man suit. The people around them would not understand why they would waste their time on such endeavors, but the Maker Space and Faire helped finding like minded people. Some of the micro:bit boards apparently ended in Singapore, and when I say some, I mean 100,000 units. Another thing that I learned is the concept of "digital retreat for kids" where parents send kids to make things with their hands – for example soldering -, and not use smartphone or tablets at all, since they are already so accustomed to those devices.
One I was done with the talk, I walked around, so I'll report about some of the interesting project I came across. I may write more detailed posts for some of the items lateron.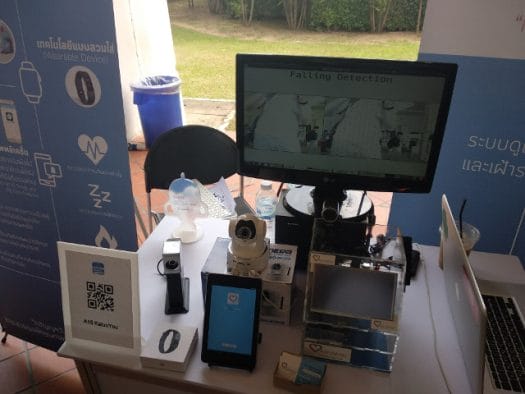 Falling object detection demo using OpenCV on the software side, a webcam connected to…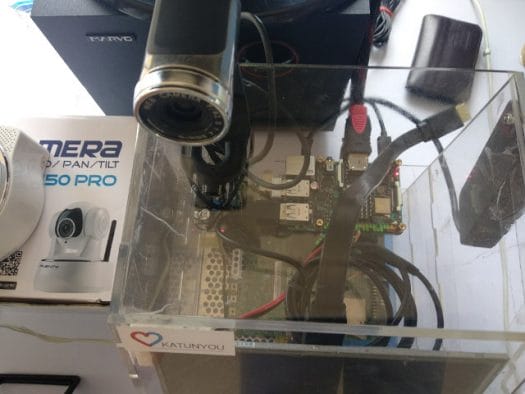 … ASUS Tinker board to handle fall detection, and an NVIDIA Jetson board for artificial intelligence. If fall is detection an alert to send to the tablet, and the system also interfaces with Xiaomi Mi band 2.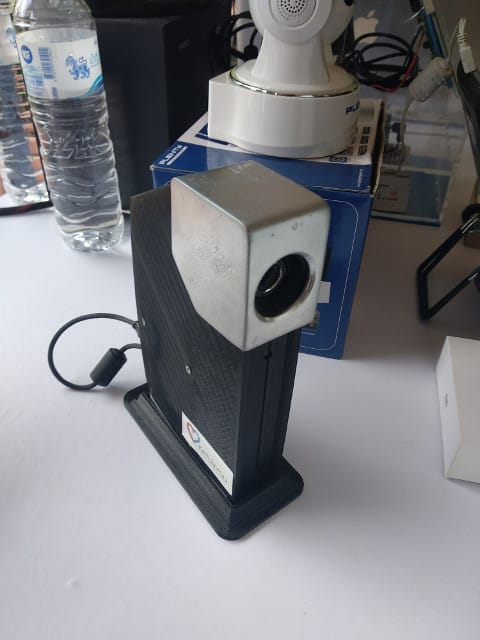 Katunyou has also made a more compact product, still based on Tinker Board, for nursing home, or private home where an elderly may live alone. The person at the stand also organizes Raspberry Pi 3 workshops in Chiang Mai.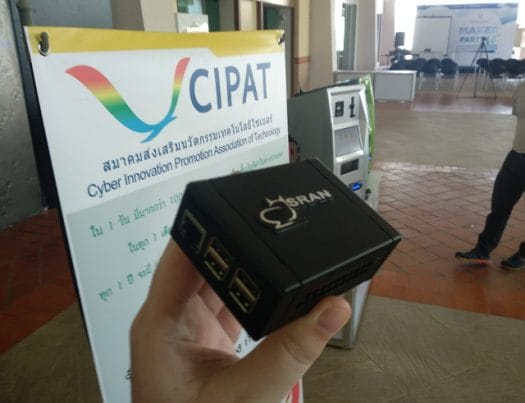 I found yet another product based on Raspberry Pi 3 board. SRAN is a network security device made by Global Tech that report threats from devices accessing your network using machine learning.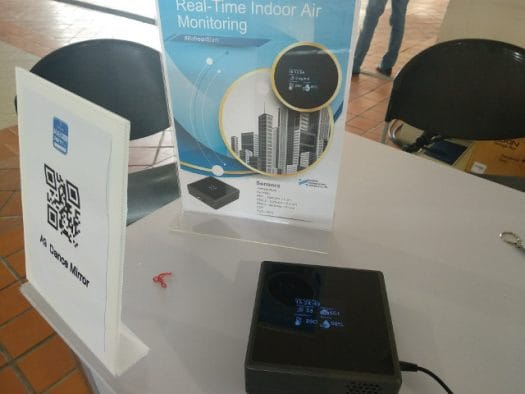 Nordic Technology House showcased a magic mirror based on Raspberry Pi 3, and a webcam to detect your dance move, but their actual product shown above is a real-time indoor air monitoring system that report temperature, humidity, CO2 level, and PM 2.5 levels, and come sent alerts via LINE if thresholds are exceeded.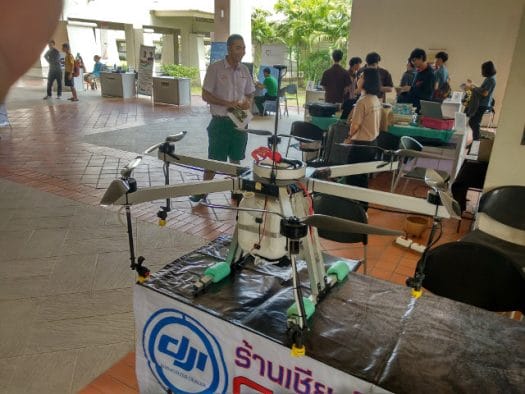 One booth had some drones including the larger one above spraying insecticides for the agriculture market.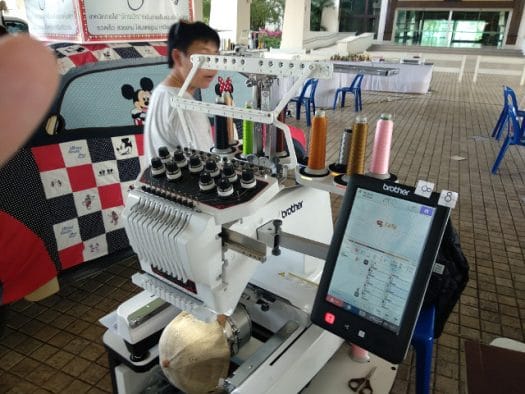 There was also a large about sewing machines, including some smarter one where you can design embroidery in a table before sewing.
There were also a few custom ESP8266 or ESP32 boards, but I forgot to take photos.
The Maker Party is also a good place to go with your want to buy some board or smart home devices.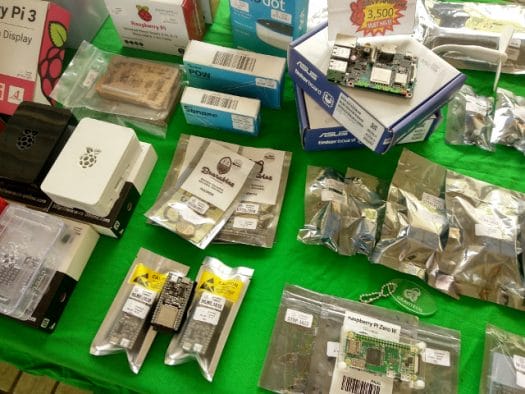 Beside Raspberry Pi Zero W / 3, ESP8266 boards and Asus Tinker board seem to be popular items in Thailand. I could also spot Sonoff wireless switch, and an Amazon Dot, although I could confirm only English is supported, no Thai language.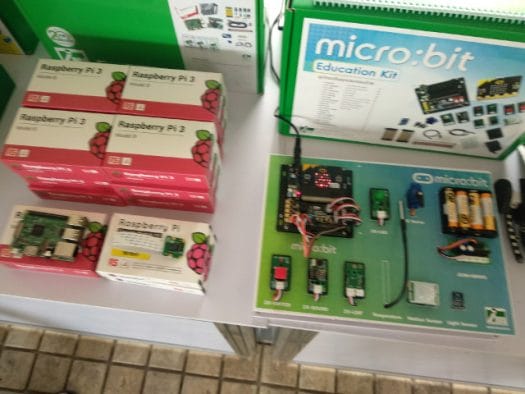 BBC Micro:bit board and accessories can also be bought at the event.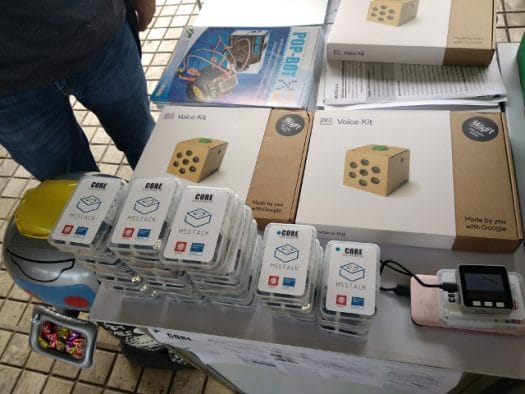 M5Stack modules, and Raspberry Pi 3 Voice Kit were also for sale.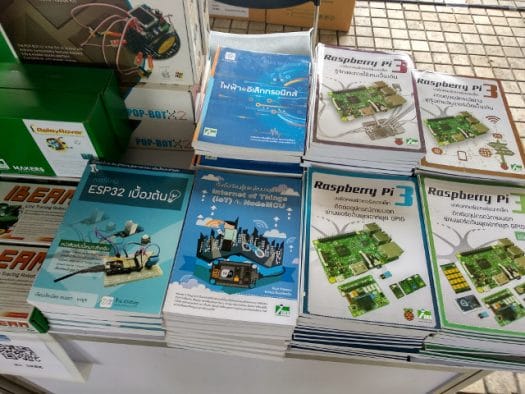 Books are also available for ESP32, Raspberry Pi 3, IoT, etc… in Thai language.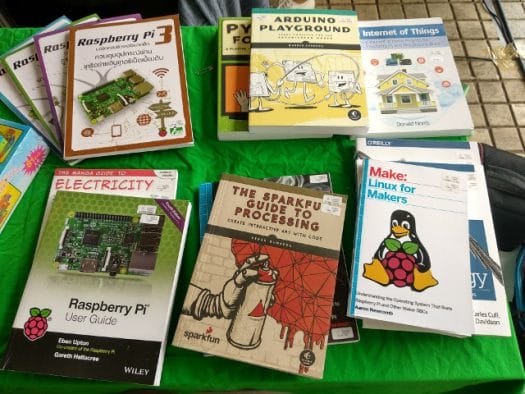 But if you can't read Thai there was also a choice of book in English about RPi, Arduino, Linux for Makers, IoT and so on.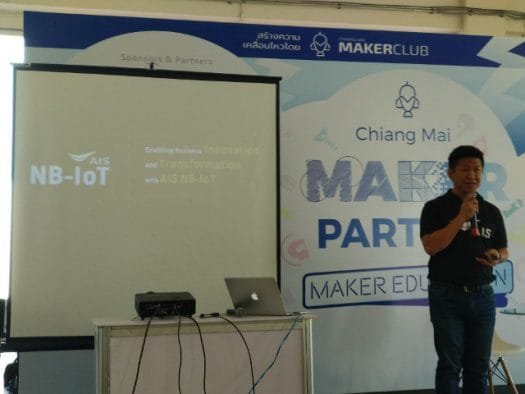 I then attended the second talk of the day: "NB-IoT" by AIS, one of the top telco company in Thailand. Speakers included Phuchong Charoensub, IoT Marketing Specialist, and Pornsak Hanvoravongchai, Device Innovation Manager, among others. They went through various part include a presentation of AIS current M2M business, what IoT will change (e.g. brings in statups and makers), some technical details about NB-IoT, and the company offering for makers.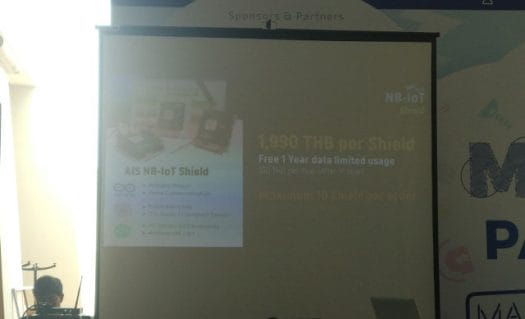 I'll go into more details in a separate post tomorrow, but if you want to get started the good news is that it's now possible to pre-order a 1,990 THB Arduino Shield ($61) between December 6-9, and get it shipped on February 14, 2018. NB-IoT connectivity is free for one year, and will then cost 350 Baht (around $10) per year per device. However, there's a cost to enable NB-IoT on LTE base stations, so AIS will only enable NB-IoT at some universities, and maker spaces, meaning for example, I would most certainly be able to use such kit from home. An AIS representative told me their no roadmap for deployment, it will depend on the business demand for such services.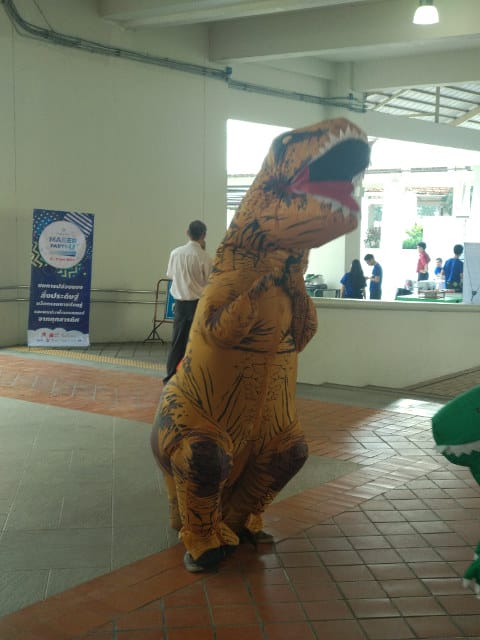 If you are lucky you may even spot one or two dancing dinosaurs at the event.

Jean-Luc started CNX Software in 2010 as a part-time endeavor, before quitting his job as a software engineering manager, and starting to write daily news, and reviews full time later in 2011.