Wow! After a slow start of the year, 2014 has been a busy year as new devices based on newer processor from Amlogic started to flood the market in Q2, soon followed by even more Rockchip RK3288 based media players, and then some more Amlogic S805 and Allwinner A80 boards and devices. It's now the last day of the year, so just like in 2013, it's time to look back on the main trends of the year, and based on the list of the top 10 most visited posts below, the new generation of ARM Android media players were the most important story of the year on CNX Software, but we also saw more IoT devices and board like Vidonn X5 or LinkIT One, lots of new Wi-Fi modules, and by the end of the year ESP8266 seemed to have won that fight, but being found in $3 Wi-Fi modules. Low cost Intel based mini PCs generated a lot of buzz in the last quarter, although they've just started shipping in the last few days.
I've compiled the list using data from Google Analytics, filtered posts from 2014, and sorted them by decreasing number of page views. Here are the top 10 posts of 2014:
Several posts from 2013, and even 2012 would have made it to the top 10 list, including my now-somewhat-outdated comparison table of GPU in ARM SoCs, a simplified method to install Rockchip drivers in Windows, a rooting method for WM8800 tablets, or the 84 MB minimal image for the Raspberry Pi.
Let's now check out some traffic stats for CNX Software blog in 2014.

The year started just like the end of 2013 with traffic around 350,000 pageviews per month, with a slow growth for the first 9 months, but then around mid-October, Google pushed a new search algorithm update, and traffic nearly doubled to 600,000 pageviews in November and December. Google Analytics reports a total of 2,999,462 sessions, 1,757,172 users, and 4,834,676 pageviews for the year, or about a 35% increase in traffic mostly thanks to the last three months.
Nearly 70% of traffic comes from search engines, mainly Google, with the remaining coming from nearly 5,000 other websites. The top 10 search terms clicked (excluding "cnxsoft", "cnx software" and similar keywords) for the last 3 months listed in Google Webmasters, and referrals for the full year listed in Google Analytics (GA) are shown in the table below. Keywords for the year are listed in GA too, but for the vast majority of request the keywords are "not provided", which is why I use Google Webmasters data instead.
| | |
| --- | --- |
| Top 10 Keywords | Top 10 Referrals |
| m8 android tv box | plus.url.google.com |
| esp8266 | scoop.it |
| meegopad t01 | freaktab.com |
| xtreamer wonder | facebook.com |
| tronsmart draco aw80 | reddit.com |
| rk3288 | t.co |
| meego-t01 | raspbian.org |
| amlogic s812 | forum.xbmc.org |
| amlogic s805 | liliputing.com |
| odroid-c1 | 4pda.ru |
Google Plus, that some "pundits" refers as the "ghost town", went to the top of referral traffic for the year, barely overtaking scoop.it website curating service. Freaktab and Reddit are new entrants to the referral list. Most keywords are related to Android mini PC articles found the top 10 post, but ESP8266, the ultra low cost Wi-Fi SoC, and ODROID-C1 development board are also part of the list.
Let's find a bit more about you, my readers / visitors.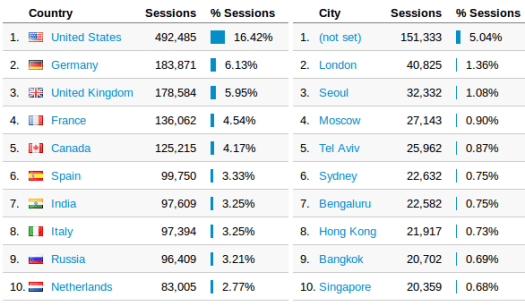 The top four countries are still the United States, Germany, the United Kingdom, and France, with the USA and the UK totalling about 22%, just like last year. London still has the top city, with Seoul moving to second position, and moving Moscow down to third.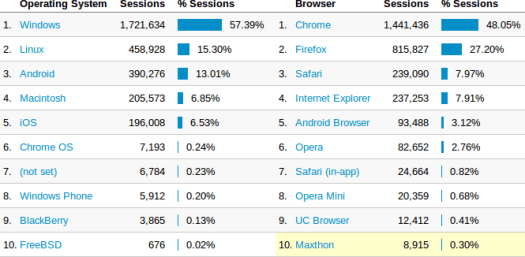 Windows is still the most widely use operating systems of CNX visitors, but its market share has gone down from 61.9% to 57.39%. Linux is still in second position, but has gone down from 17.30% to 15.30%, and the rising OS are the mobile OS such as Android and iOS, so we should expect Android to overtake Linux distributions next year, unless something drastic happens. If we add up all Linux based OS (Linux + Android + Chrome OS), Linux market share goes up to 28.55% vs 25.5% last year. Chrome Browser has extended its lead from 43.94% to 48.05%, while Firefox went down to 27.20% from 30.61%, and the others did not change that much. That means despite the rise of Android OS, people are not using the Android Browser that much and prefer to use alternative browsers such as Chromium, Opera, or Firefox.
I'll conclude this post and 2014 by joining some of this year's media player, boards, and tools (pictured below) to wish you a very happy, healthy and prosperous new year 2015, which should see the rise of 64-bit ARM platform, an interesting ARM vs Intel mini PCs war, more products finally getting out with alternative OS such as Tizen, Firefos OS, and Ubuntu, as well as low cost IoT products and wearables featuring ESP8266 or Mediatek Aster SoCs.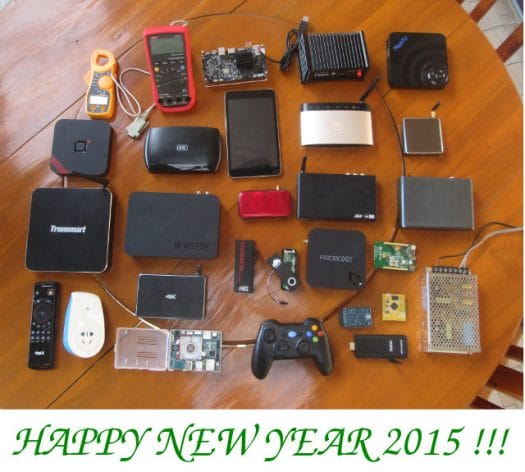 Jean-Luc started CNX Software in 2010 as a part-time endeavor, before quitting his job as a software engineering manager, and starting to write daily news, and reviews full time later in 2011.