HiMedia Q10 Pro is an Android TV box powered by HiSilicon Hi3798CV200 SoC that was launched in March 2016, but the company recently provided a firmware update with support for Full Blu-ray navigation, and asked me to review that part.
I received the device last month, posted the first part of the review with HiMedia Q10 Pro unboxing, and also explained how to install a 3.5″ SATA drive at the time.  I've now acquired a few Blu-ray RIPs in order to test 4K Blu-ray video playback and navigation specifically.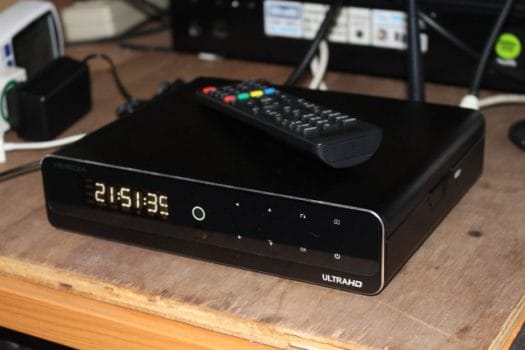 Initial Setup, Firmware Update, and Copying 4K Blu-ray Videos to the Hard Drive
I connected the TV box to Onkyo TX-NR636 AV-Receiver, itself connected to LG 42UB820T 4K UHD television. If you've ever owned an HiMedia TV box the Android launcher should be familiar.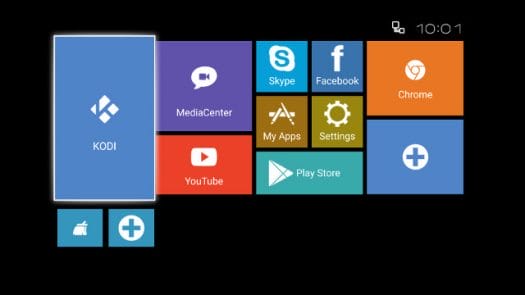 If you want more details about the launcher, and user interface, checkout my HiMedia Q30 review. It's a lower cost device based on Hisilicon Hi3798MV200 processor, but the features and options are basically the same.
Once of the first think I did is to go to the Upgrade section in the Settings, and the system detected a new firmware dated 2017-09-13, which I could installed without issues. That's encouraging for a device that was launched about 18 months since the firmware date.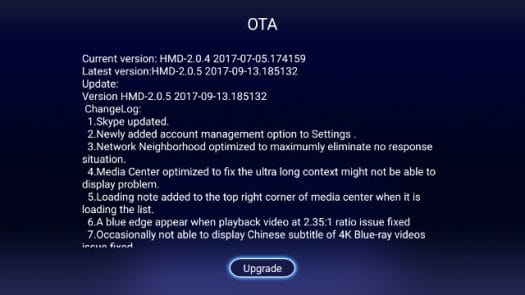 After download, installation, and reboot, I could verify I had the latest HMD-2.0.5 2017-09-13.185132 firmware, and no new firmware was available from the online server.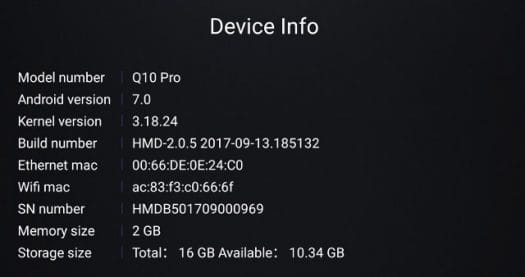 The I enabled SAMBA server function in Android settings, could find the device as "//android_c024e" in my computer, and started copying the files to the hard drive, but soon I encountered an issue.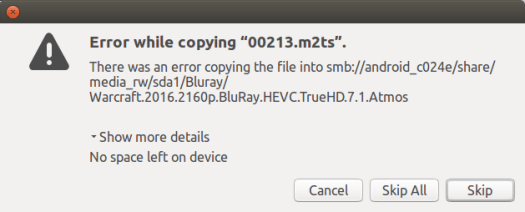 "No space left on device"? But I have an empty 1 Terabyte hard drive installed, and shown as such in Android settings.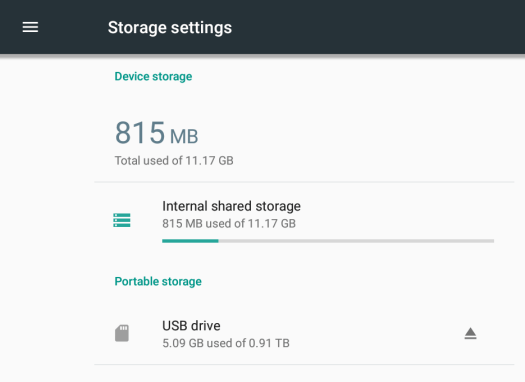 But when checking the partially copied file, it was exactly 4GB large… So it looked like a file system limitation, and looking into adb shell, the drive is indeed mounted with vfat (i.e. FAT32).

/

dev

/

block

/

vold

/

public

:

8

,

1

on

/

mnt

/

media_rw

/

sda1

type

vfat

(

rw

,

dirsync

,

nosuid

,

nodev

,

noexec

,

relatime

,

uid

=

1023

,

gid

=

1023

,

fmask

=

0000

,

dmask

=

0000

,

allow_utime

=

0022

,

codepage

=

437

,

iocharset

=

iso8859

-

1

,

shortname

=

mixed

,

usefree

,

utf8

,

errors

=

remount

-

ro

)

Oops. I think I used the drive in another TV box, and formatted it within Android, which will use FAT32 by default. So I have to format it to something better like NTFS or EXT-4. I tried to do that in Android, but it does not seem possible, and some instructions explaining how to install a hard drive in HiMedia Q10 Pro mentioned the need to use the USB A to B cable. So I looked inside the package, and nothing. I don't have such spare cable, but could eventually remember that's what my printer is using.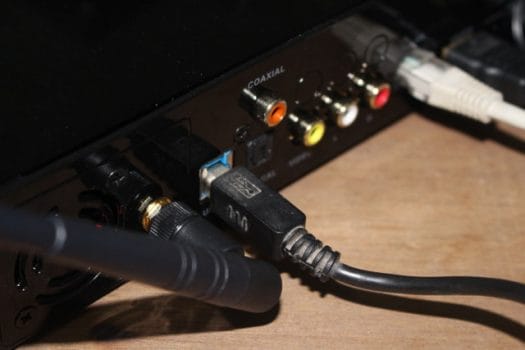 So I connected the "printer" USB cable between the box and my PC as shown above, and the drive showed just as any other USB drives in my PC. I could then format it to NTFS, and copy the videos. It took around 3 hours @ around 25 MB/s on average.
I only had a USB 2.0 cable, and it should have been faster with a USB 3.0 cable, although I would have expected the transfer to be done at around 35 to 40MB/s over USB 2.0. I wish they had included such cable in the package.
I was then able to play my 4K Blu-ray videos just fine, except navigation menu would not show up as expected. I contacted the company, and they told me I had to update to the latest firmware from 2017-11-08 using local update. I first tried to copy the file to the root of the hard drive, but update won't work that way, so instead I went with a USB flash drive, and it worked well, except all the settings and files in the flash were gone.
The update did not touch the videos in the hard drive though, so I just have to reinstall a few apps I needed for the review, and reconfigure the system for example for video output and timezone. When asked why it was not part of the OTA update, the company replied that some version of the firmware are ready for OTA, and others are not. So it's quite possible they first only offers the local update version for some testers / users, before rolling it out to all.
4K Blu-ray playback and navigation
I went back to Media Center, and now each time I want to play a Blu-ray RIP I'm asked for the Play Mode: Full Bluray Navigation or BDLite Navigation.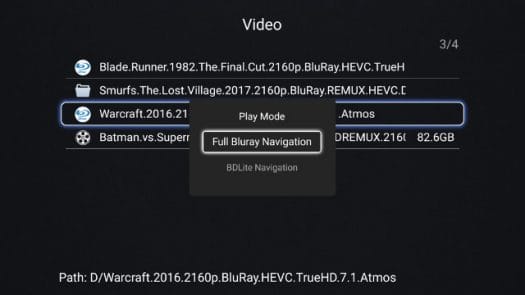 BDLite Navigation
BDLite will start playing the main video directly, and you can access text based menus using the Menu key on the remote.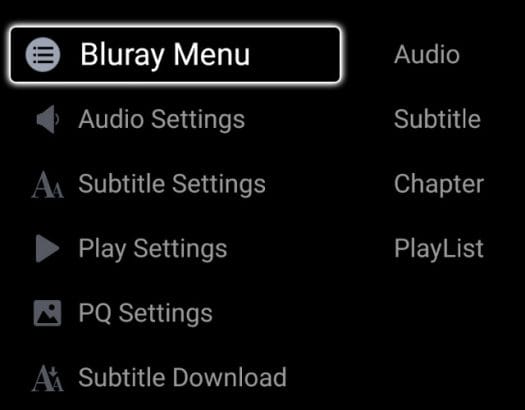 This will allow you to select your preferred audio track in the disc,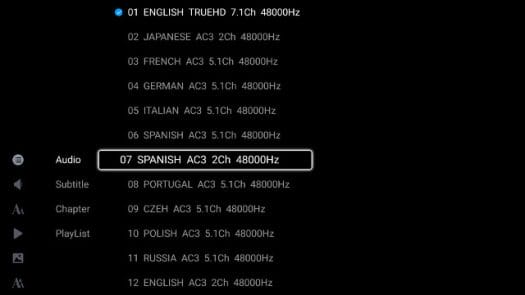 as well as the subtitles,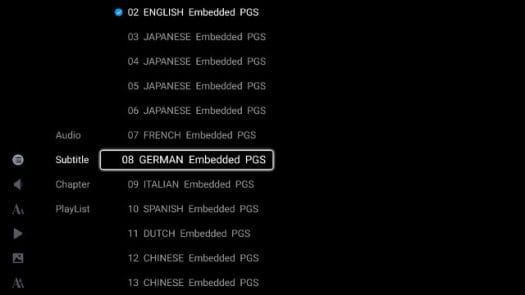 select the chapters from the current track/video,


and change tracks from the playlist.

Full Blu-ray Navigation
But actually I could already do that in the firmware released in September, and what's really new if support for full Blu-ray navigation which brings custom and prettier menus doing much of the same thing in a more user-friendly format.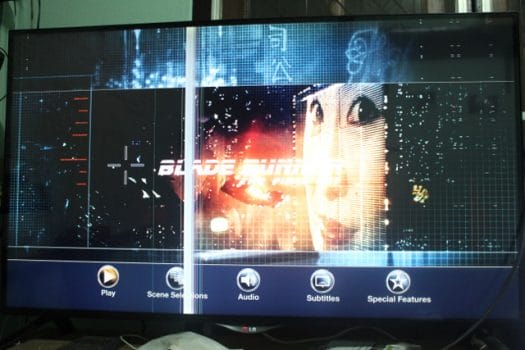 The video I used for testing above include a Play button, scene selections, audio, subtitles, and special features menus.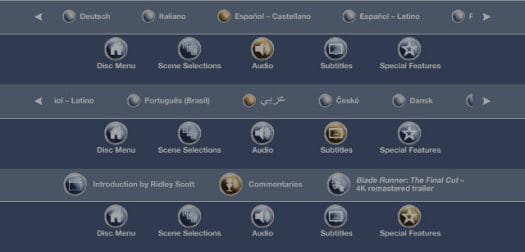 You can also press the Menu key on the remote control to bring back full Blu-ray navigation while the video is playing. 4K video playback and Dolby TrueHD 7.1 and AC 5.1 pass-through are all working well. You can see a short demo with BDLite, full Blu-ray navigation, and audio pass-through in the video below.
If you wonder about power consumption, the box consumes about 18 Watts while playing a 4K Blu-ray from the hard drive, about 13 Watts in idle mode, and 2.2 Watts in power off mode.
I'd like to thank HiMedia for sending Q10 Pro for review. Interested resellers may want to contact the company via the product page, and individuals can buy the player for $152.99 shipped on GeekBuying, as well as other websites such as eBay, Amazon US, or Aliexpress.

Jean-Luc started CNX Software in 2010 as a part-time endeavor, before quitting his job as a software engineering manager, and starting to write daily news, and reviews full time later in 2011.