Depending on your point of view, GOLE 10 is a mini PC with a touchscreen display, or a really thick tablet with an inclined display. I've already received a sample, and had a look at the hardware in the first part of the review, so in the second I tested the performance and stability, and thought about and test some use cases for this type of products.
GOLE 10 (aka F6) Setup and System Info
There are various way to use the mini PC, either as a standalone screen without any peripheral connected using the touchscreen, or as a mini PC with USB keyboard and mouse and potential other accessories, or in a dual display setup with the device connected to an HDMI TV or monitor.
I decided to connect it to my "test" TV, add a USB 3.0 drive, USB keyboard and mouse, Ethernet cable, and of course the power supply. Note that contrary to other similar model, GOLE 10 does not come with a battery. I pressed the power button on the right setup, and the first time it started in portrait mode, but after moving the PC (to take the photo below), it automatically switched to landscape mode.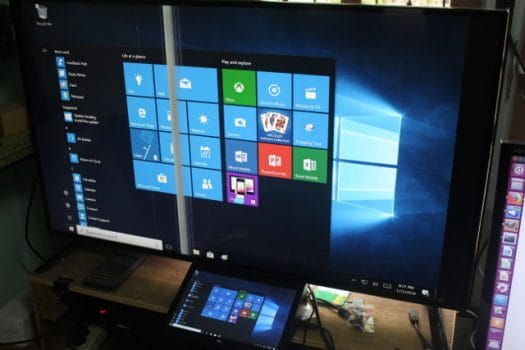 This made me wonder if you was practical / feasible to use it in portrait mode, and while it's not really designed for this, the left side does not come with any connector, so you could rotate it 90-degres anti-clockwise to switch to portrait mode.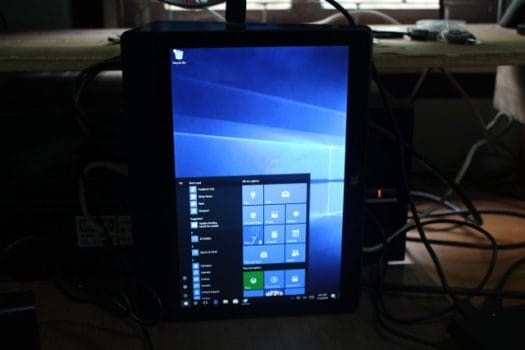 As you can see from the first picture, the system is configured to use Clone displays by default when HDMI is connected, but you can obviously switch to Extended Desktop mode. You may want to see the HDMI TV/monitor as the primary display if you plan to use the touchscreen display as a control console, as some apps like Kodi will apparently start on the primary display by default.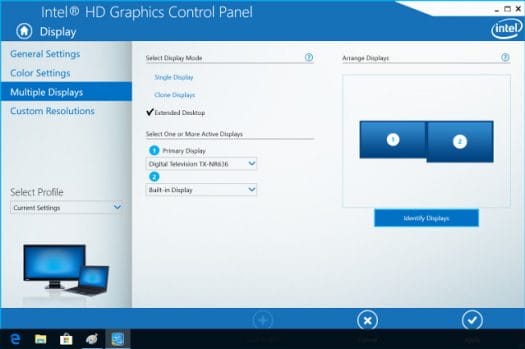 I could not find a way to force the display orientation, and a few times GOLE 10 started in portrait. You can either move it around, or go to the settings and set orientation to 270 degrees.
We can find some basic info about the computer and operating system in Control Panel -> System and Security -> System.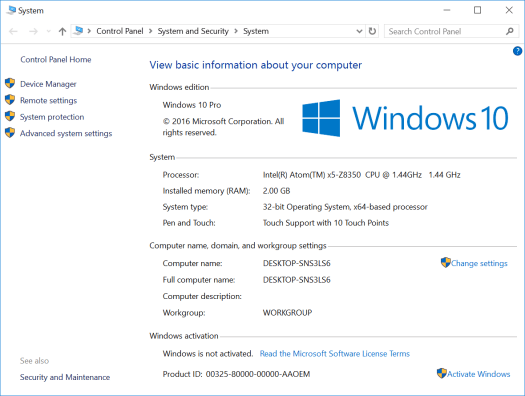 The hardware info is as expected with an Intel Atom x5-Z8350 processor and 2.00 GB RAM (GOLE 10 is also sold with 4GB as option), but the operating systems is sort of a disappointment as we have an unactivated Windows 10 Pro 32-bit OS installed.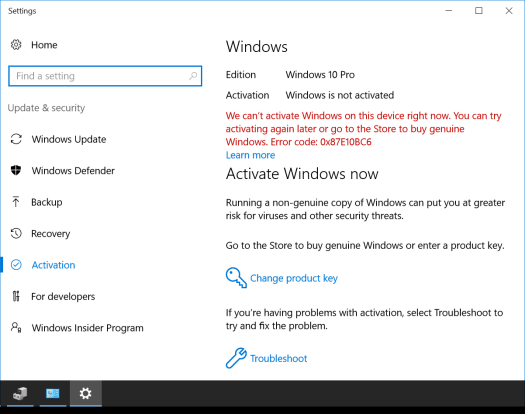 I tried to see if I could activate it by click on Activate Windows, but unsurprisingly it did not work. So you'd have to get your own key. [Update: If you click on Troubleshoot in the screenshot above, it will activate Windows successfully. See comments.]
Windows 10 recognized the NTFS and EXFAT partitions in my USB 3.0 expansion drive, and we got 15.3 GB free of 28.4 GB in the eMMC flash partition (C:).



At this point, I got a pop-up window saying a Windows update was available, so I went ahead thinking it would not take that long, but it ended being a rather large Windows 10 update that took close to 4 hours to complete…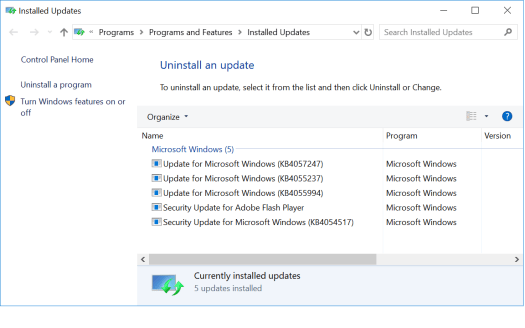 I wanted to check the installed update to check for Meltdown / Spectre, but none would show, so I clicked on Uninstall an update to get a list. KB4056892 does not show up, and all updates are older, and somehow Windows 10 did not ask me to update any further, maybe because it's not activated? I don't know.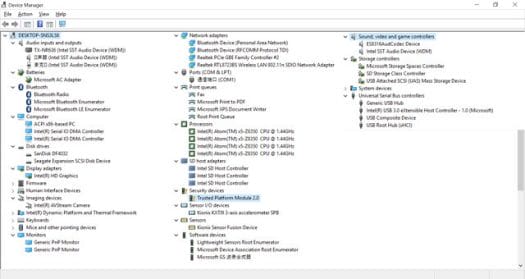 Device Manager show further information about the hardware, and surprisingly a TPM 2.0 module appears to be installed. HWiNFO32 shows about the same information as other Atom x5-Z8350 mini PCs.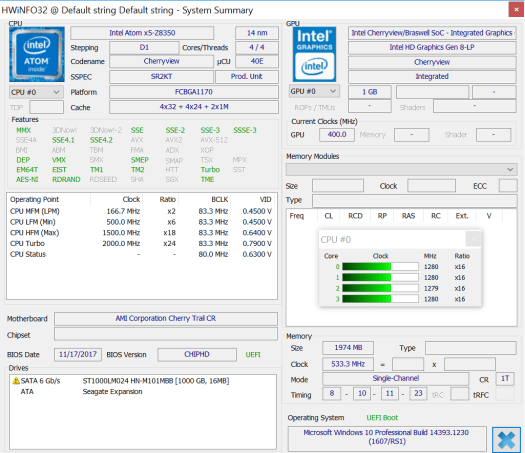 I've been using a mouse and keyboard so far, but I wanted to see how it would feel to remove them, and instead use the touchscreen and software keyboard instead. It did not started so well. as the software keyboard would not show up automatically by default.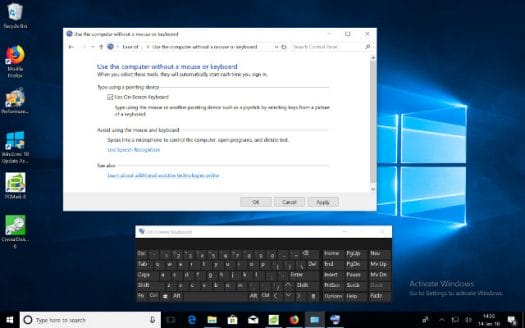 So I had to go to Ease of Use-> Use the computer without a mouse or keyboard, and tick "Use On-screen keyboard". The keyboard works but the keys are really tiny on a 10.1" 1920×1200 display, so you'd have to resize it to make it suitable, or use a capacitive touch stylus. I could not make the keyboard automatically when I select a text input, e.g. a search box in a web browser, so I pinned the on-screen keyboard app to the taskbar to call it whenever I needed it, and minimize it when not. This is not ideal, but that's the only way I found.
GOLE 10 Benchmarks
Let's go through some benchmarks – without HDMI display just in case – to check the system runs normally, starting with PCMARK 10, and oops "To run this test you need to run PCMark 10 in 64-bit mode on a 64-bit operating system", so it looks like PCMARK 10 does not work on 32-bit systems. Good to know.
I'll try PCMARK 8 later, but in the meantime, I went with Passmark PerformanceTest 8.0, with a score of 601.0 points compared to 698.8 points for MINIX NEO Z83-4 Pro, but keeping in mind that the 3D graphics test completely failed.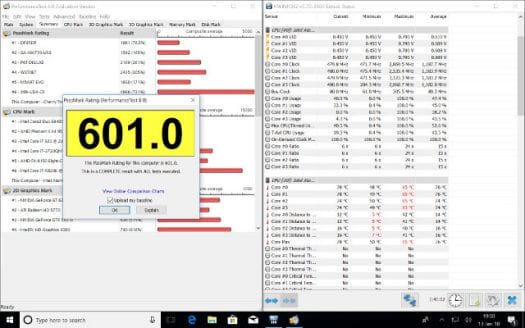 So a direct comparison of the total score is not possible, but if we go to the detailed score, and compare it to the results for MINIX NEO Z83-4 Pro, we can see something is really wrong.

Every single score is significantly lower on GOLE 10, except Disk Mark. I include HWiNFO32 sensor data in the Passmark scrrenshot, and while throttling is not officially detected we can see temperatures went really high, and the system most likely throttled, something I've not seen in a long time by just running this benchmark.
Then I tried 3DMark, and somehow I had no benchmarks installed so I tried to click on Install Fire Strike, but it said "Your license does not allow installing this update".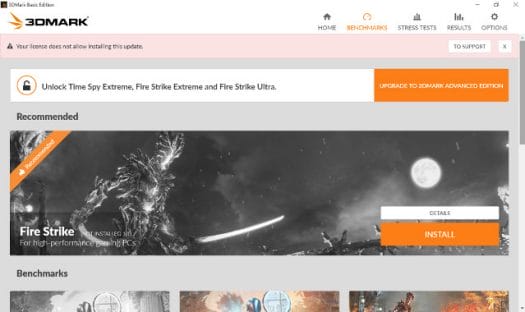 Then I tried to uninstall it, and decompress the downloaded file again, and this time I noticed the USB 3.0 hard drive – where I had downloaded the benchmarks – would from time to time disconnect during decompression, and then I remembered that during download I had some beep, following by a message asking me to resume download. I realized that connection my USB 3.0 drive to the USB 3.0 port ofthe mini PC was not such a good idea after all, and the system's power supply or circuitry could not handle it. So instead I connected it to the adjacent USB 2.0 port, and I could extract, install, and run 3D benchmarks.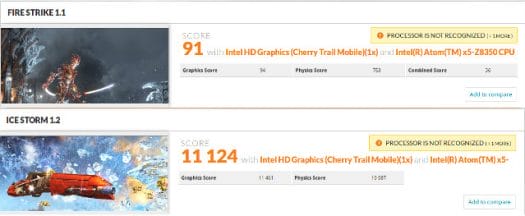 I only ran two:
Again this does not look good, as MINIX NEO Z83-4 Pro with the exact same processor, but proper cooling and a Window 10 Pro 64-bit OS, achieved respectively 233 and 20,284 points in those same benchmarks

I went back to PCMARK 8, and the system got 1,006 points, against 1,445 points, so poor performance is confirmed. I should probably also point out that it is winter here, so room temperature is now 20 to 22°C instead of the usual 28 to 30°C.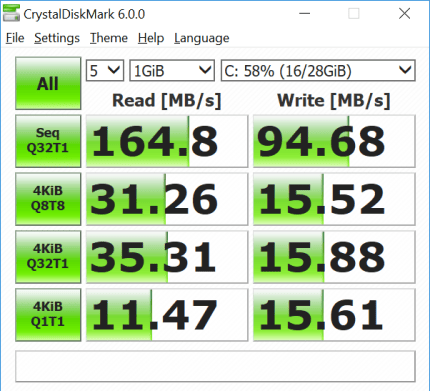 The eMMC flash is however faster than in the one in MINIX NEO Z83-4 Pro, as shown in CrystalDiskMark 6.0.0 above, as well as Passmark above.
Stress Testing / Power Consumption
Based on the results above, I was not expecting too much from AID64 Extreme system stability test, and after 12 minutes I decided to stop since I had enough data.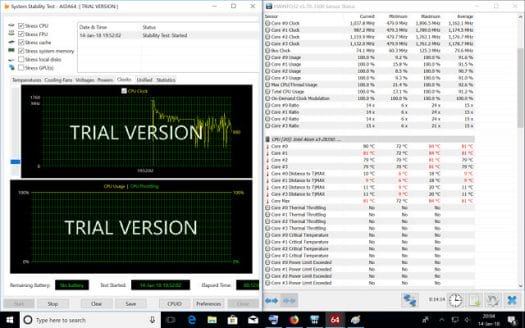 The good news is that neither AID64 nor HWiNFO32 detect thermal throttling nor power limit exceeded, but the bad news is that this info is obviously bogus as temperatures run really high, and we can see frequency drops to as low as around 480 MHz during the test, averaging around 1,170 MHz for a CPU with a 1,440 MHz base frequency.For reference, MINIX NEO Z83-4 Pro averages 1680 MHz for the same test for a 2-hour period.
Since there's no battery, I could take power consumption numbers (without HDD connected unless otherwise stated) from a kill-a-watt clone connected to the mini PC only:
Power off – 0.0 Watt
Sleep – 1.3 Watts
Idle (100% brightness) – 9.1 to 10.1 Watts
Idle (50% brightness) – 6.4 to 7.2 Watts
Idle (0% brightness) – 5.0 to 5.3 Watts
AIDA64 Stability Test (100% brightness) – 13.2 to 14.2 Watts
Kodi 1080p H.264 video playback to HDMI TV from USB 3.0 HDD (100% brightness) – 16.0 to 16.4 Watts
Potential Use Cases for GOLE 10 mini PC
I've been thinking about potential application for GOLE 10, and similar type of mini PCs with inclined display, and based on the results above it's clear that anything involving multitasking or heavy loads is clearly not well-suited to the GOLE 10 due to the poor thermal design. Here's a non-exhaustive list:
Single Display Setup

Home automation control panel
3D printer control panel
USB microscope display
WiFi or USB oscilloscope or logic analyzer display

Dual Display Setup

Point-of-sales with touchscreen for cashier, and secondary screen for customer, with barcode reader connected to DB9 serial port
VLC for music or video with media shown on HDMI TV, and playlist on touchscreen display.
Kodi for music, photos or vidoes with media shown on HDMI TV, and web based interface on touchscreen display
I've tested four of the use cases above using my USB microscope to check out a Raspberry Pi Zero board, IkaScope WS200 wireless oscilloscope, as well as VLC and Kodi is dual display configuration, all of which can be seen in the video below.
As a side note, at first I tried to find Windows 10 Kodi remote control in the Windows Store, and I discovered Windows Store had a limit of 10 devices, so I was taken to the page below to remove some of my devices.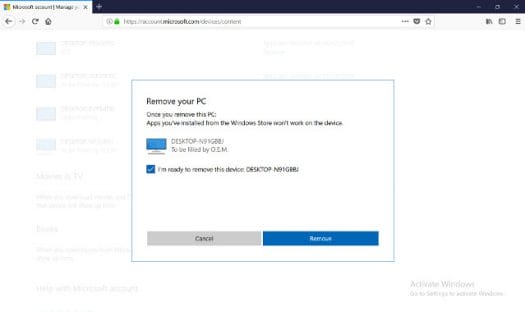 After I could find some remote for Kodi, and tried mrRemote for Kodi, and XBMCee, but was unable to connect to Kodi, while it worked just fine from Firefox as shown in the video.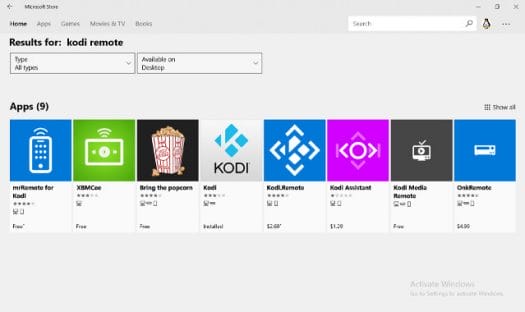 Conclusion
I find GOLE 10 to be much more useful than GOLE1 mini PC with a 5″ display I reviewed in 2016, as the display is now much bigger and usable in Windows 10. You'll have to do without battery however, and the system has some serious limitations as thermal design is poor so it will almost immediately throttle, and the 5V/3A power supply provided with the device is underpowered if you plan to use a USB 3.0 hard drive connected to the USB 3.0 port. I managed to work around the latter by connecting the drive to the USB 2.0 port, or you could lower brightness which also greatly impacts the power draw. Using a better power supply might help too, provided the board does not have other limitation with regards to power draw.
The device can still be used for applications that are not too demanding, and the best fit would probably be point-of-sales, followed by control panel for automation / 3D printer, and display for USB or wireless tools such as microscopes or oscilloscopes. VLC and Kodi works, but I'm not sure it's very useful, as surely controlling the players from a smartphone should be more convenient.
If you are interested, HIGOLE GOLE 10 can be purchased for $168.99 on GearBest (2GB RAM).

Jean-Luc started CNX Software in 2010 as a part-time endeavor, before quitting his job as a software engineering manager, and starting to write daily news, and reviews full time later in 2011.