We've already covered several UPS solution for Raspberry Pi boards, but LiFePO4wered/Pi+ is a little different because instead of relying on LiPo (Lithium Ion Polymer) batteries, it comes with LiFePO4 (Lithium Iron Phosphate) battery which are said to be safer and longer-lasting albeit at the cost of lower capacity.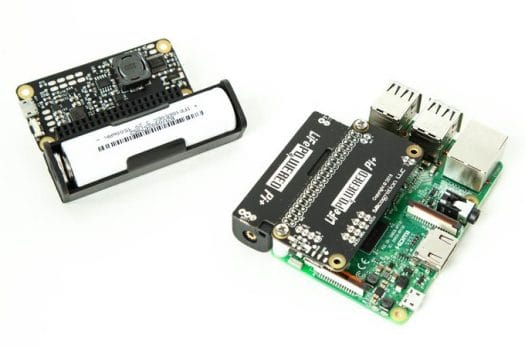 LiFePO4wered/Pi+ specifications:
Two battery size options:

18650 size – 1,500 mAh 3.2 V LiFePO4 cell with up to 2A max continuous load current
14500 size – 600 mAh, 3.2 V LiFePO4 cell with up to 0.75 A max continuous load current

Smart charge controller – Over-charge protection, auto-adjusting charge current, customizable maximum power point (MPP) voltage
Smart power manager:

I2C communication
Power manager and daemon – work together to ensure clean shutdowns and provide over-discharge protection
Continuous monitoring – input voltage, battery voltage, output voltage, and load current
On/off button
Green PWR LED & Red CHRG LED
Wake timer – Wakes up RPi as needed for low duty cycle applications.
Real-time clock
Auto boot
Auto shutdown when input power is removed, either immediately or after a programmable amount of time.
Application watchdog – Flash the PWR LED or trigger a shutdown/reboot if the user application fails to service the timer within a configurable amount of time.

Dimensions

18650 size – 52 mm x 75 mm
14500 size – 47 mm x 65 mm
Beside the Raspberry Pi boards, the board has been tested with Odroid-C2, NanoPi S2, some Allwinner H3 boards, and ASUS Tinker Board. It should work with any board compatible with the 40-pin RPi header.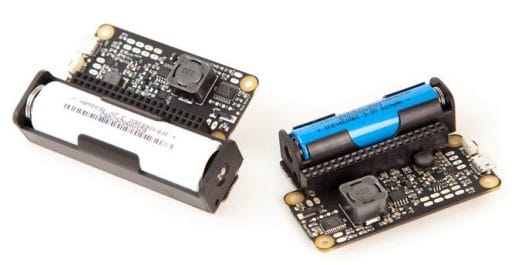 LiFePO4wered/Pi+ board can power a Raspberry Pi for up to nine hours from its battery. Silicognition LLC – the company behind the project – provide several open source host-side tools and software package namely LiFePO4wered daemon that takes care of shutdown and RTC management, lifepo4wered-cli command line tool for configuration and access to all features, as well as shared libraries with language bindings for C/C++, Python and Node.js, all of which can be found in their GitHub repo.
Some of the advantage of Lithium Iron Phosphate (LiFePO4) batteries over LiPo batteries include:
High continuous load current
Longer lasting with thousands of recharge cycles, instead of just hundreds
Safer, as they don't catch fire or explode
More Stable: 3.2 – 3.3 V during most of discharge
More durable with low self-discharge rate, no memory effects, no degradation from extended charging
Environmentally friendly with no heavy metals, RoHS compliant, and reusable thousands of times
Better suited to rough environments, as they can operate in both cold (down to -20°C) and hot (up to 60°C) temperatures.
The UPS / battery management board is now offered on CrowdSupply where you can pledge $39 for the 14500 kit with a 600 mAh battery, or $45 for the 18600 kit with a 1,500 mAh battery. Shipping is free to the US, but adds $10 to the rest of the world. Delivery is scheduled for the end of October 2018 (14500 battery kit) or January 2019 (18600 battery kit).

Jean-Luc started CNX Software in 2010 as a part-time endeavor, before quitting his job as a software engineering manager, and starting to write daily news, and reviews full time later in 2011.