Xiaomi Mi A1 Android One smartphone has been my main and only phone since last October, and I've been pretty satisfied with it with monthly firmware updates, and the smartphone performing as I would expect, except I found the camera to be lacking in some conditions, but nothing critical.
However on the 7th of this month, the phone felt really sluggish, especially when loading app, as one an app was loaded it would run fairly smoothly most of the time. I'm talking about messaging apps taking 20 to 30 seconds to load, YouTube maybe one minute, and CSR2 Racing game about 5 minutes to load…
My first guess was some background app taking lots of resources, or accessing storage very frequently hence slowing down other apps, but Android Battery settings did not report any such apps, and battery life was normal. I still tried to remove some apps, but no results. Logcat output does not seems to show any I/O errors, but there are plenty of timeouts… So I switched to safe mode with only runs the default apps, but the phone was still pain fully slow.
Next step was to enter recovery mode, and do a factory reset. The phone felt normal at first, so I restored the backup, and everything went well. The phone performed normally for maybe 30 minutes, before the sluggishness came back. So it could be a hardware issue with the flash storage, and I did find several people have the exact same issue with their Xiaomi Mi A1.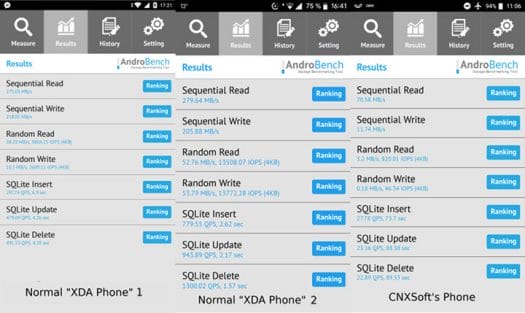 Some members of XDA forums ran AndroBench app to show performance on their working phones. So I decided to install and run the storage benchmark app, but it was a struggle as my phone would normally reboot during the Random Write test. I took me 5 or 6 tries, but the results are in. Let's look a random write in particular. The normal "XDA phone" 2 gets 13,772.28 IOPS, while the normal "XDA Phone" 1 achieves only 2,689.11 IOPS. They had different version of the Android (8.1 "leak" vs 8.1) but that's still a lot of difference. My results: 46.34 IOPS. So the phone is basically dead or at least dying and a pain to use. Sadly the person who reported the issue in XDA forums did not provide their results.
I still made a last-ditch effort to save the phone by going to the local computer show and purchasing a 32GB Sandisk Ultra Class A1 micro SD card. It looks legit with package and 10-year warranty, but somehow I only paid 210 Baht ($6.5) while the same card sells for about $9 on Amazon. Anyway, I did not look into the "fakeness" of the card, and instead installed it into my phone, and configured it as internal storage instead of portable storage, so apps can also be installed on it. The system moved around 4GB of data at this stage, but later one I went through the list of apps, and moved some manually to the "SanDisk SD Card".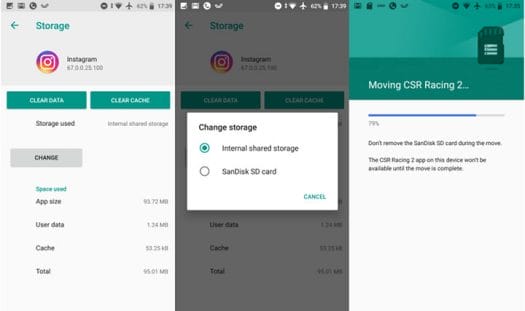 Not all apps offer that option however, and for example the "Change" button was not available for Chrome and Firefox browsers. Eventually I got about 5.5GB on the SD card with still 22.25GB on the eMMC flash.
So it did help with my problem? Well sort of, it's significantly better, but I still have to wait many seconds for apps to load, and from time to time the app will freeze, and again I have to wait before being able to use the app. But the latter does not happen frequently, especially if I keep using the name app for a while.. And of course, I often get the app not responsive window show up. I'm not sure it's worth having it repaired at the shop especially since I broke the display glass last month, and instead I'll probably look for a new phone…

Jean-Luc started CNX Software in 2010 as a part-time endeavor, before quitting his job as a software engineering manager, and starting to write daily news, and reviews full time later in 2011.