I like to look at new hardware platforms supported by Linux mainline, and recently covered MapleBoard MP130 SBC which I found in Linux 5.0 changelog. Today, I had a look at another device. Phicomm N1 is an Amlogic S905D powered TV box running Android 7.1 with a user interface geared towards to the Chinese market.
Nothing that interesting so far, but a topic on Armbian forums made it more interesting as the box comes with a larger heatsink than most other cheap TV boxes, a 12V/2A power supply which should allow you to connect several USB hard drives, and potentially more importantly, it became popular among Chinese users, with the community releasing several Linux based distributions for the device including CoreELEC, LibreELEC, Alpine Linux, CentOS, Debian, Deepin, ArchLinux Arm, and more.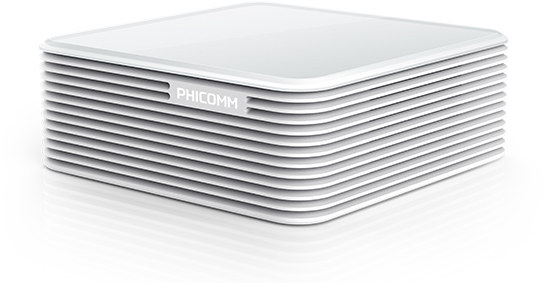 Phicomm N1 hardware specifications:
SoC – Amlogic S905D quad core Arm Cortex-A53 processor @ 1.5 GHz with Arm Mali-450 GPU
System Memory – 2GB DDR3-1866MHz
Storage – 8GB eMMC flash (KLM8G1GEME)
Video Output – 1x HDMI 2.0a port up to 4K @ 60 Hz
Connectivity – 1x Gigabit Ethernet (RTL8211F), Dual band 802.11ac WiFi 5, and Bluetooth 4.1 (Via a similar CYW43455 module as used in Raspberry Pi 3B+)
USB – 2x USB 2.0 ports
Power Supply – 110-240V – 50/60Hz AC input, 12V/2A DC output
Dimensions – 11 x 11 x 4 cm
In theory, it should always be possible to port Linux distributions to other Amlogic TV boxes, but with Phicomm N1 to should be easier to setup as firmware images are provided. We just don't know how well those images are supported and whether all features such as 4K video playback are working in those images. There's a long discussion thread on Right.com.cn that should give some clues as long as you can read Chinese.
Beside software support, and the beefy power supply, the components are covered with proper shielding, and a large heatsink compared to other TV boxes.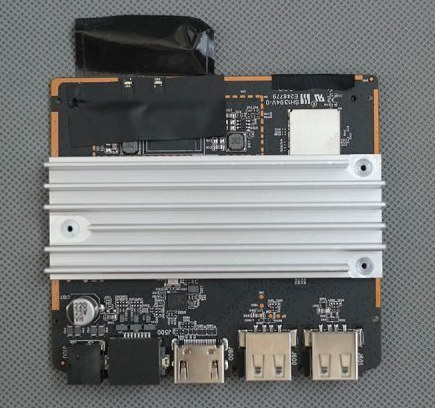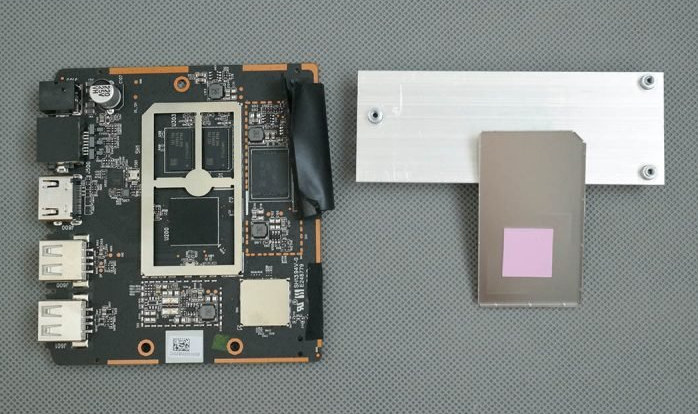 Bangliang Shen, the Armbian forum user who discussed the device on Armbian forum, mentioned that he could sell Phicomm N1 for $30 per box plus shipping on his eBay shop, but I could not find it over there, and instead I managed to find it for 1099 RMB on Phicomm "mall". That converts into roughly $164. Wow! What's going on? Oh I see… The product page – in English! – explains the box is actually a "Smart network attached storage based on the latest blockchain technology" and allows you to "share your idle storage or bandwidth to earn DayDay Win (DDW) digital currency which can be exchanged for Bitcoin". The box was launched in Q1 2018, and at that time anything related to Bitcoin or cryptocurrency could be sold at a premium…
But looking a bit more on the shop, I could also find Phicomm P1 that looks exactly the same, with the same hardware specifications, a remote control, and nothing about digital currency. It is sold for 299 RMB, or about $44.5 US. Not quite the $30 I expected, but not too bad. The problem is that it might not be possible to purchase the box from overseas. [Update: Phicomm N1 can be purchased for 100 RMB (~$15) in China, see pinned comment]