I had never heard about XIDU laptops and tablets, and it's apparently the brand name of "Shenzhen Baohuazhong Co Limited" that was founded in 2014 and specializes in the design, development, manufacturing, distributions, and support for computer systems.
I came to know about the company as they approached me to review one of their laptops, namely XIDU PhilPad XT133A model with an Intel Celeron N3350 dual-core Apollo Lake processor coupled with 6GB RAM and 64GB storage, and equipped with a 13.3″ touchscreen display with 2K (2560×1440) resolution.
XIDU PhilPad Specifications
SoC – Intel Celeron N3350 dual core Apollo Lake processor @ 1.10 GHz / 2.40 GHz (Turbo) with 12EU Intel HD graphics 500 GPU; 6W TDP
System Memory – 6GB DDR3
Storage – 64GB eMMC flash, microSD card slot
Display – 13.3″ touchscreen IPS display with 2560 x 1440 resolution
Audio – 3.5mm headphone jack, built-in microphone and speaker
Camera – 5MP rear camera, 2MP front-facing camera
Connectivity

Dual band 802.11ac/a/b/g/n WiFi 5
Bluetooth: 4.0

USB – 2x USB 3.0 ports, 1x USB-C port
Battery – 7.4V/10000mAH good for about 11 hours (specs), which translates into about 3 hours (reality while watching YouTube videos in Firefox)
Power Supply – 12V/3A
Dimensions – 33.8 x 20.1 x 1.0 cm
Weight – Tablet only: 1.05kg; without keyboard: 1.42 kg
The device comes with Windows 10 Home 64-bit pre-installed.
Unboxing
It looks like the package's designer(s) did not know about all type of plugs, as the prongs from the EU power adapter were seen sticking out from the package.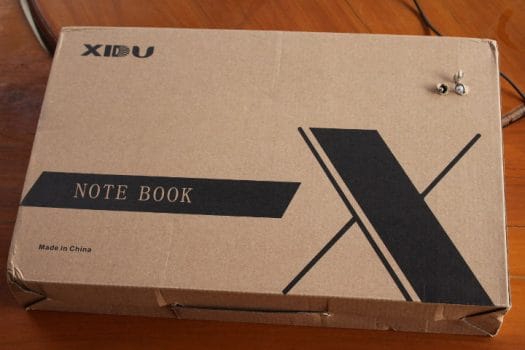 The sticker on the side gives the basic specifications of the laptop. It's written the system is based on Intel Celeron N3450 quad-core processor, but as we'll see below, the laptop is actually powered by Intel Celeron N3350 dual-core processor.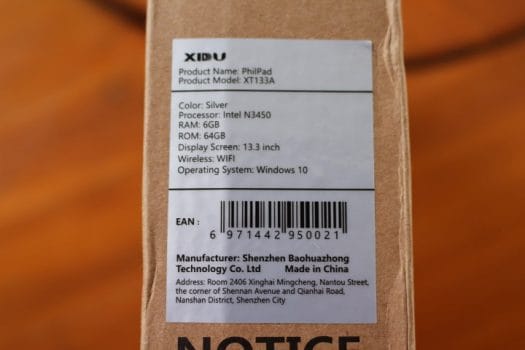 I'd recommend you open the package over a table or a better, a bed, as the power supply just fell off to the ground when I took out the foam inside the package.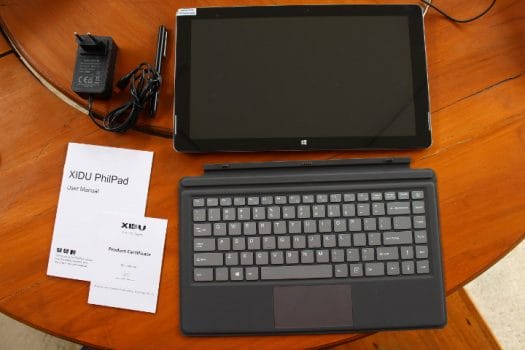 XIDU PhilPad looks like a large tablet that comes with a magnetic keyboard dock. Also included were the 12V/3A power supply, a pressure-sensitive stylus, a user manual, and a product certificate.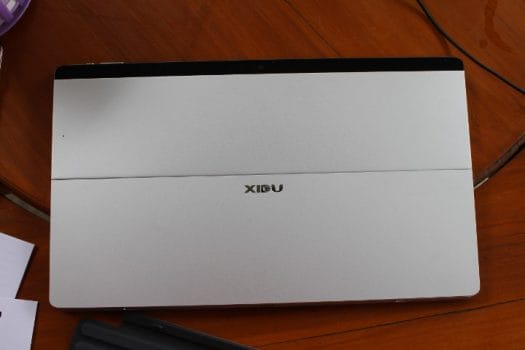 The back of the display features a stand that's closed in tablet mode, and open in laptop mode when the keyboard is attached, or you'd just prefer not to hold the display. The stand is adjustable to the angle you prefer up to 135°.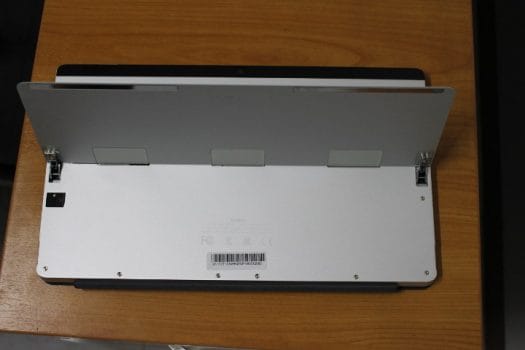 Lifting the stand will also reveal the microSD slot. The top and right sides include the power and volume buttons, the audio jack, and the three USB ports.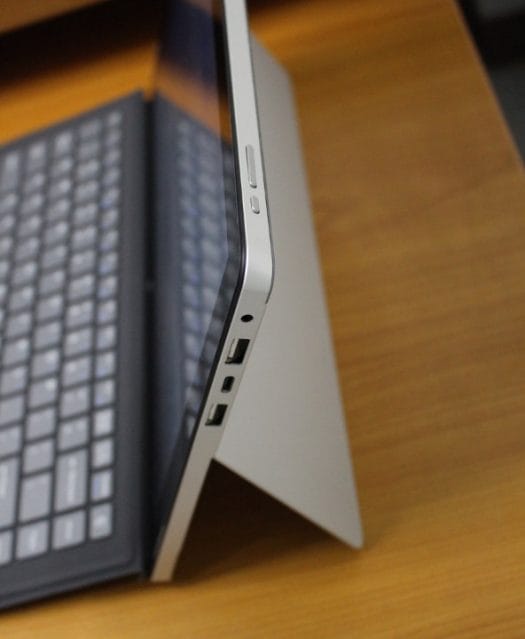 I was quite impressed by the build quality and thinness of the keyboard, but maybe that's because I've never used this type of hardware (2-in-1 hybrid).
If you try to use the stylus out of the box, you'll quickly find out it does not work. That's because you'll need to power it with one AAAA battery purchased separately since it's not included in the package.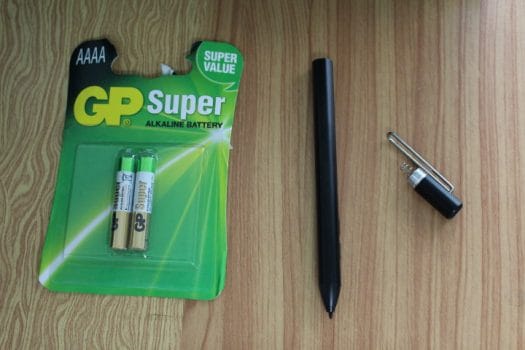 XIDU PhilPad Review with Windows 10
During the first boot, we go through the usual Windows 10 setup wizard with or without Cortana voice assistant, and I had no trouble setting everything up.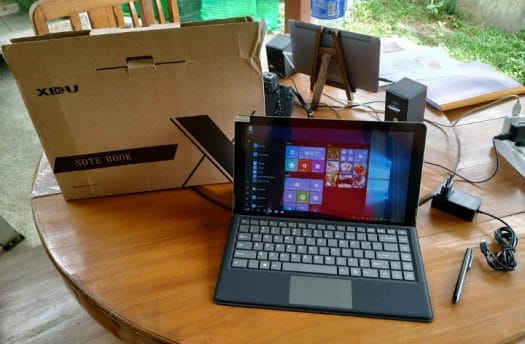 System Information
I've gone through systems information first.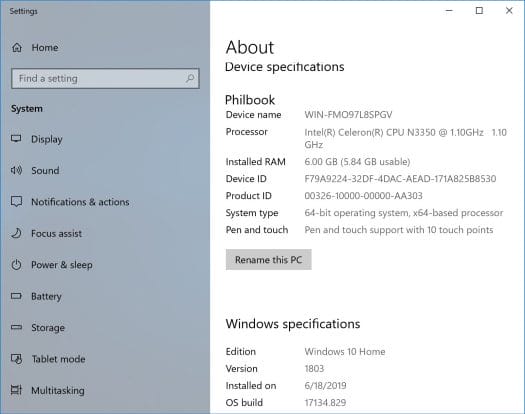 So the laptop indeed comes with an Intel Celeron N3350 processor, 6GB RAM, a touch screen with 10-point touch & pen support, and runs an activated Windows 10 Home 64-bit operating system.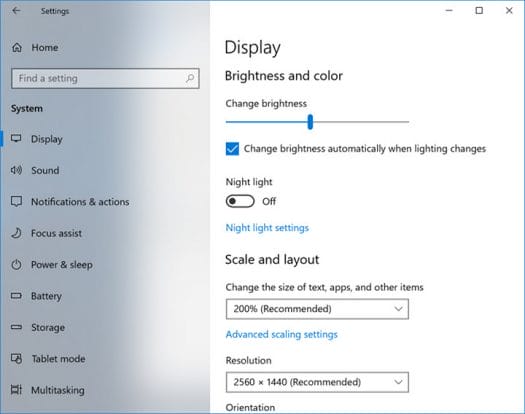 We can confirm the screen has a 2560×1440 resolution with a 200% scaling to make the text readable.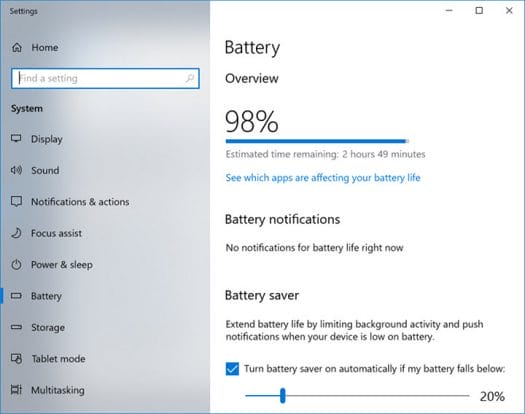 The battery section indicated a roughly 3 hours battery life, and based on my experience browsing the web and watching videos that's about right.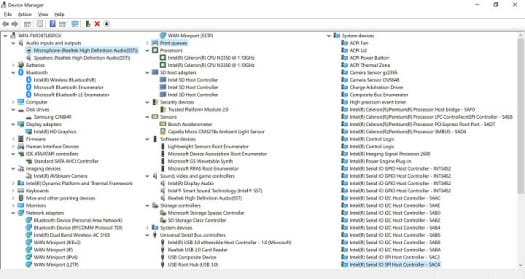 Device Manager provides more details about the components used in XIDU's hybrid laptop.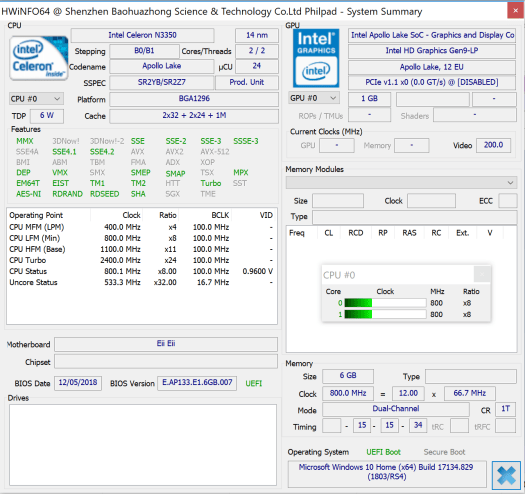 HWInFo64 shows the company's name (Shenzhen Baohuazhong Science & Technology Ltd), and that's we're using a dual-core processor with dual-channel memory.
Benchmarks
Then I've installed the usual benchmarks, and run them to make sure the performance is just as one should expect for a Celeron N3350 system (See BBen MN10 review) or another similar Apollo Lake laptop, namely Chuwi Lapbook 14.1, that features the quad-core Celeron N3450 processor instead.

XIDU PhilPad got 1,226 points in PCMark10, which compares to 1,183 points in BBen mini PC. PCMark 10 was not out yet when I tested the Chuwi laptop.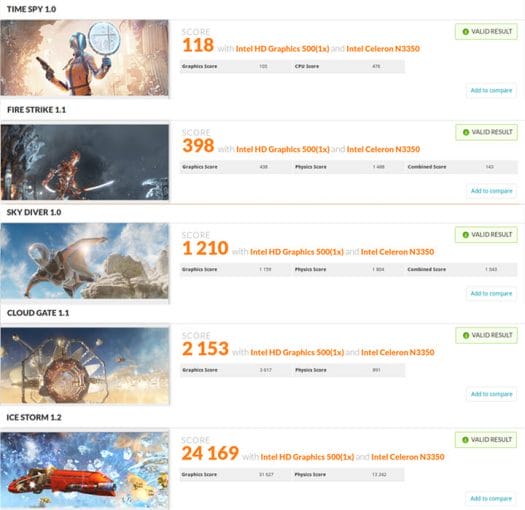 3DMark results with comparison to BBen mini PC and Chuwi laptop when available:
So far, XIDU PhilPad appears to provide excellent performance. I just don't know whether it's due to better software or improved thermal design. But we'll get some clues after further testing…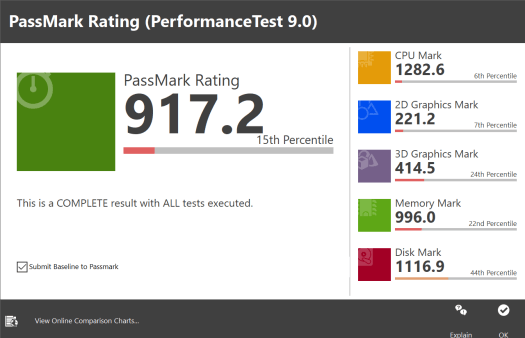 917.2 points in PassMark PerformanceTest 9.0, which again is better than both BBen MN10 (781.1) and Chuwi LapBook 14.1 (830.1). If I compare it to Chuwi Laptop, in particular, I can see the CPU is a bit slower – as one would expect – but this is compensated by faster RAM and graphics:
3D Graphics Mark – 414.5 vs 245.8
Memory Mark – 996.0 vs 791.6
I strongly suspect the improve 3D graphics performance is likely due to better drivers, especially bearing in mind the resolution of XIDU PhilPad is higher. Alternatively, it's also possible the main boost comes from the use of dual-channel memory missing from the other devices that improves both the memory mark and potentially 3D graphics.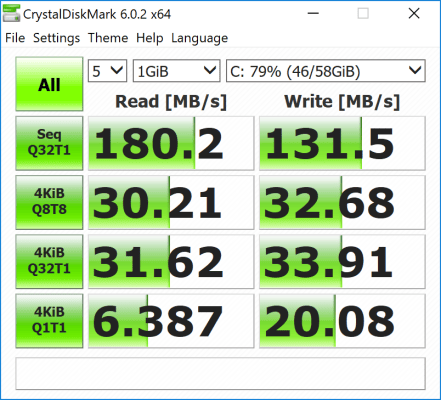 CrystalDiskMark 6.0 shows the eMMC flash performance is fairly good, although not quite as good as SSD based systems that are significantly faster both in terms of sequential and random I/O read and write operations.
User experience
Benchmarks are nice and all, but nothing replace actual usage. So, as usual, I've done some typical tasks including:
Multi-tasking – Launching and using Firefox, Thunderbird, LibreOffice, and Gimp at the same time
Web Browsing with Firefox

Loading multiple tabs with CNX Software blog
Playing a Facebook game (Candy Crush Saga)
Playing a 1080p YouTube Videos

Gaming with Asphalt 8
I have not shot a video this time, since the performance is just a little better compared to Chuwi LapBook, and you could watch the video here.
With 6GB RAM, I had no troubles multi-tasking at all. The system is fanless and quiet during operation. 1080p YouTube videos would not be smooth in Firefox at first, but that's because YouTube will switch to VP9 in Firefox (and Chrome) by default. Installing h264ify plugin fixed the issue.
The main difference against CHUWI laptop is the presence of a touchscreen. I really like it while browsing the web to scroll a web page for efficiently than with a mouse, or quickly accessing some icons in a user interface. I want disappointed when playing Candy Crush Saga though, as the touchscreen is not working, and I can revert to using the touchpad. That's a problem with the game itself, and not XIDU PhilPad however. When I played Asphalt 8 it fell a little smoother than other Apollo Lake I had played without, but with the keyboard detached, it switches to tablet mode meaning I drove the car by steering the car as if I held an actual steering wheel while breaking with the touchscreen. It does the job, but I don't see myself playing a long time that way with a one-kilogram device. Luckily once you connect the keyboard, you can play directly with it without having to change any settings.
Another interesting aspect was the pressure sensitive stylus since I had never used one. Windows has an application called SketchPad for the artists among us, or simply for people wanting to take notes. You can draw lines of different width in pen and highlighter modes, as of different gray tones in pencil mode. The stylus can also be used for hand-writing recognition in Firefox, WordPad, and Microsoft Office applications, but for some reasons, not LibreOffice. I find typing with the keyboard is quite faster and accurate though. There are also two buttons on the stylus that I did not find particularly useful, but they can bring contextual menus for example.
I've shot a video demonstrating how the keyboard dock and stylus works.

Having a 2-in-1 hybrid over a regular laptop has some drawbacks and benefits. It's much thinner to carry around in a bag, but when moving from room to room, it's not quite convenient to move without closing it, and when placing it on bed, I worried the stand would potentially tear by bed sheets, so I normally use it in tablet mode while on the bed either using a pillow as support, or placing it on my legs.
Battery Life and Stress Testing
Battery life is fairly short, a typical 3-hour in my case, but it may be slightly improved by selecting "best battery" while on battery.
I also stress-tested the laptop with AIDA64 Extreme, and PhilPad really keeps everything cool with the processor not exceeding 60°C with a room temperature of 28°C.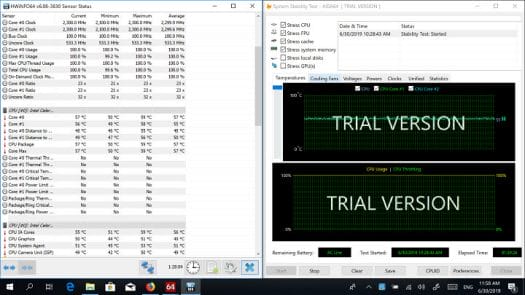 The back of the tablet feels quite warm/hot during testing but that's just heat dissipation working, so the thermal design is excellent, and the laptop should work well at all times even in hot climates.
Conclusion
At first glance, I was impressed by XIDU PhilPad XT133A thanks to its build quality and thinness of its keyboard and display, as well as the quality of the 2K display. During use, it kept impressing me with superior performance compared to competitors likely due to the implementation of dual-channel memory, as well as the convenience of having a 2-in-1 hybrid allowing laptop and tablet mode with great portability. The 6GB RAM also helps when multitasking. The pressure-sensitive pen is a nice addition, but with limited use in my case. There were also drawbacks such as the fairly short 3-hour battery life, and for some reasons, it's difficult to get the tablet out of sleep. I have to press the power button a few times to bring it to life when in standby mode. The speakers are not particularly loud, so you'd better connect headphone or your own speakers.
I'd like to thank the manufacturer for providing a review sample. If you'd like to purchase the laptop, you can do so for $370 and up on Amazon US or Aliexpress. Note the keyboard dock and stylus are offered as options, so make sure you get the right bundle if you'd like those as well. If anybody is interested in Linux on that device, let me know in the comment, and I'll try out Ubuntu 18.04.2 LTS.



Jean-Luc started CNX Software in 2010 as a part-time endeavor, before quitting his job as a software engineering manager, and starting to write daily news, and reviews full time later in 2011.