Last month, I received HiPad LTE tablet, and in the first part of the review I checked out the specifications of the 10″ tablet with a MediaTek Helio X27 deca-core processor, 3GB RAM, 32 GB storage, and had a look at the accessories including the keyboard dock.
I've now had more time to actually play with the device, so I'll report my experience with Android 8.0, and the pros and cons of the latest Chuwi tablet.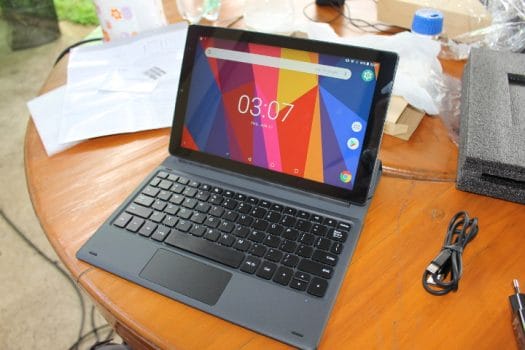 General Impressions
My previous tablet was Onda V18 Pro, and Chuwi HiPad LTE is clearly an upgrade thanks to the faster Heliox X27 deca-core processor coupled with 3GB of RAM. The 10.1″ display has a 1920×1200 resolution, not quite as good as the 2560×1600 resolution of the Onda tablet, but I still found the screen to be crispy and sharp. I found the tablet to be great for browsing the web and watching YouTube videos, as well as playing some casual and 3D games, although some of the latter are a bit sluggish.
WiFi works great, and I've not had any disconnection, no obvious performance issues during use, and battery life is fairly good, as we'll see further below. One of the main downsides is that the cameras are close to useless, it felt like traveling back in time 5 to 10 years when camera in mobile devices were not quite as good as in most devices sold today. I had no specific reliability issues, and the main frustration was that the soft keyboard would sometimes miss key presses for some reasons.
Benchmarks
Before running benchmarks, let's have a look at CPU-Z to double the system info.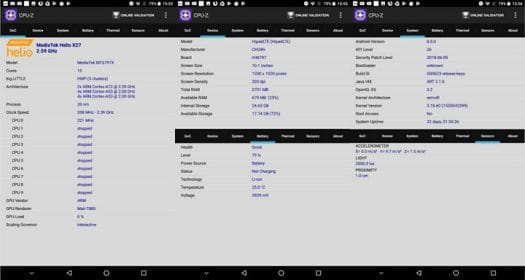 The tablet is powered by a MediaTek Helio X27 (MT6797X) with three CPU clusters: 2x Cortex-A72 @ 2.59 MHz, and two 4x Cortex-A53 clusters @ 2.0 GHz. The SoC also comes with a Mali-T880 GPU. As stated in the specifications the HiPad LTE is equipped with 3GB RAM (2701MB accessible to Android), and a 32GB eMMC flash (24.63GB internal storage). The system runs Android 8.0.0 with Linux 3.18.60, and an outdated security patch level. There's a limited number of sensors (accelerometer, light, and proximity), and no temperature sensor. The 25°C battery temperature is hardcoded.
I first run Antutu 7.2.2 in the living room without air conditioner, and the tablet achieved 86,836 points. But I remembered room temperature matters, and at 35°C I thought it may have affected the results…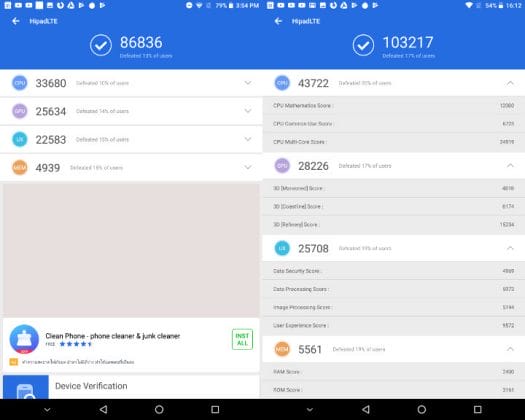 So I moved the table in my cool office (28°C) , and re-run the benchmark. The score is now much better at 103,217 points, and almost double the Onda V18 Pro Allwinner A63 tablet. My other reference is Xiaomi Mi A2 smartphone that gets around 133,000 points in the same benchmark, and feels quite faster to use, especially in games.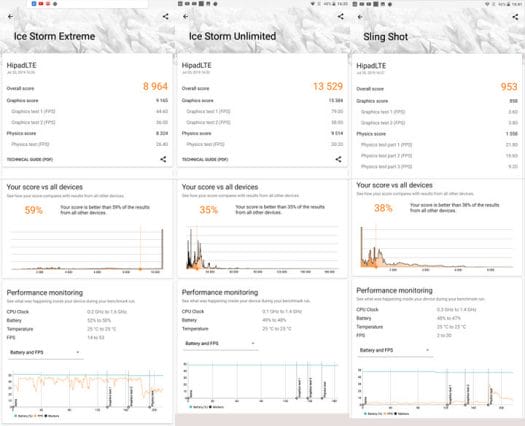 I ran three 3Dmark benchmarks:
Ice Storm Extreme – 8,964 points (vs 6,002 points in Onda V18 Pro with Mali-T760MP2 GPU, and higher 2560×1600 resolution)
Ice Storm Unlimited – 13,529 points
Sling Shot – 953 points
For reference, Xiaomi Mi A2 will max out Ice Storm Extreme.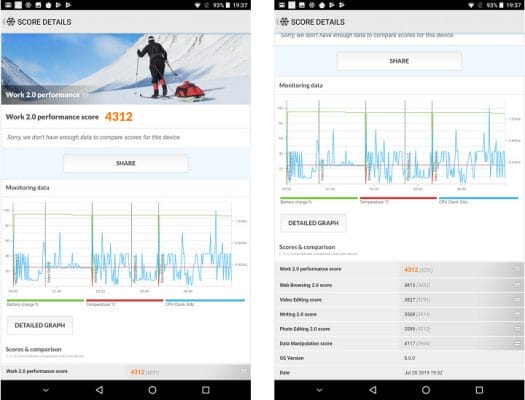 PCMark 10 is a great benchmark to evaluate "productivity" tasks such as photo editing, and writing. With 4,312 points CHUWI HiPad LTE gets right in the middle between Onda V18 Pro (2,933) and Xiaomi Mi A2 (6,743) scores.
I've also run GeekBench 4.0 because it's often run by others, but does not necessarily gives a good performance estimate of the device. It does server its purpose to benchmark the processor performance both for single-threaded and multi-threaded workloads.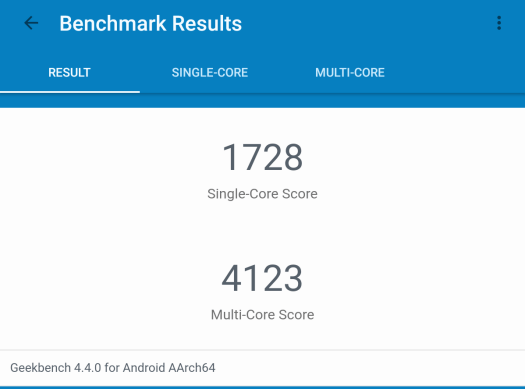 MediaTek Helio X27 (1,728 points) will match Qualcomm Snapdragon 660 (1,630 points) found in Xiaomi Mi A2 phone in the single-core benchmark, but somehow underperform (4,123 vs 4,729) despite the extra number of cores. I also ran that benchmark in an air-conditioned room (28°C).
You can find the GeekBench 4 results for Chuwi HiPad LTE here.
Storage and Wi-Fi Performance
I've run A1 SDbench app to check out the eMMC flash performance.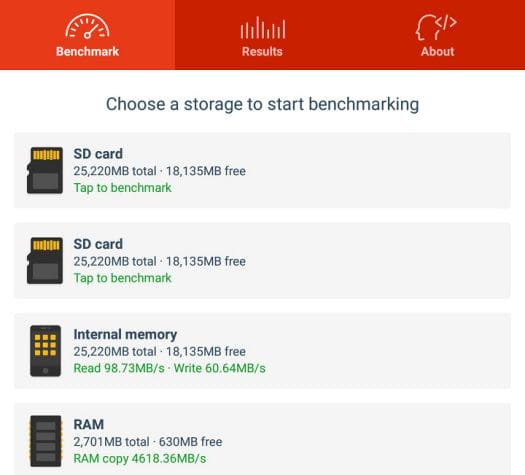 98.73MB/s reads and 60.64 MB/s writes is not outstanding, but not too bad either.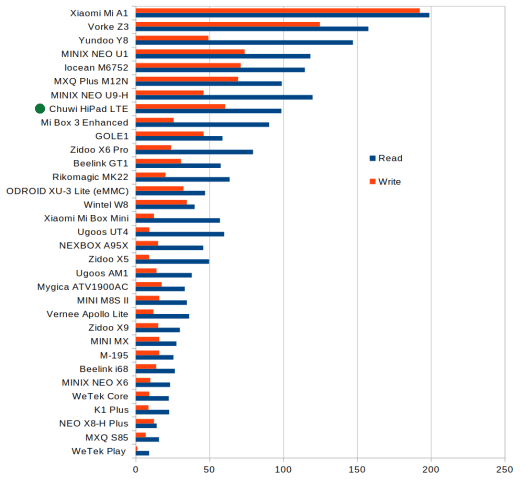 The tablet also supports microSD card, so I inserted one, and it was detected, and I could use it after formatting it in Android. Alternatively, you could also add two nano SIM cards, or one nano SIM card plus one microSD card.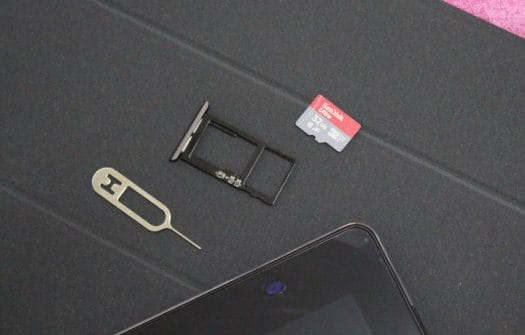 I could also connect an external SSD via the USB-C port thanks to MINIX NEO S2 USB hub + SSD combo, which the storage device was recognized. As a side note, I could not use the HDMI output of the USB-C hub as HiPad LTE probably does not support DisplayPort Alt. mode.
The tablet supports WiFi 5 (802.11ac), I could connect at 292 Mbps to my router, and test results with iperf2 were not too bad:
Server

listening

on

TCP

port

5001

TCP

window

size

:

128

KByte

(

default

)

--

--

--

--

--

--

--

--

--

--

--

--

--

--

--

--

--

--

--

--

--

--

--

--

--

--

--

--

--

--

[

4

]

local

192.168.1.4

port

5001

connected

with

192.168.1.7

port

46868

[

ID

]

Interval

Transfer

Bandwidth

[

4

]

0.0

-

60.0

sec

1003

MBytes

140

Mbits

/

sec
--

--

--

--

--

--

--

--

--

--

--

--

--

--

--

--

--

--

--

--

--

--

--

--

--

--

--

--

--

--

Client

connecting

to

192.168.1.7

,

TCP

port

5001

TCP

window

size

:

85.0

KByte

(

default

)

--

--

--

--

--

--

--

--

--

--

--

--

--

--

--

--

--

--

--

--

--

--

--

--

--

--

--

--

--

--

[

3

]

local

192.168.1.4

port

39416

connected

with

192.168.1.7

port

5001

[

ID

]

Interval

Transfer

Bandwidth

[

3

]

0.0

-

60.1

sec

1.01

GBytes

144

Mbits

/

sec

I used to get close to 250 Mbps in other review with my old router, but I had to change router, and it's probably not wise to compare to older numbers. In my case, 144 Mbps is actually faster then the maximum speed of my broadband connection (100 Mbps download).
Cameras
Rear camera
So I took a few photos with the rear camera, and results are dissapointing. The quality looks similar to cameras used in phone or tablets 5 to 10 years old. You can see the sample by yourself.

It gets worse in low light, and focus can be hard to get. There's no flash either. Resolution of the photo is 2560×1600 pixels.
I also shot some 1080p videos during the day (3GP, H.264, 1920×1080 @ 30 fps, MPEG-4 AAC mono audio @ 128 Kbps)…

… and at night (6 fps).

Front-facing camera
The front-facing camera is equally poor

Again I've show a sample during the day…
… and at night where my face is barely visible (which may not be a bad thing :))

Video Playback in Kodi, VLC and YouTube; DRM information
I tried some videos in Kodi and VLC played from the microSD card.
| | | |
| --- | --- | --- |
| | Kodi 18.3 | VLC 3.1.7 |
| H.264 – 1080p60 | OK | OK |
| H.264 – 4K30 | OK | OK |
| H.264 – 4K60 | OK | Stuck on first frame, audio still playing normally |
| H.265 – 4K24 | OK | Stuck on first frame, audio still playing normally |
| 10-bit H.265 – 4K60 | OK | Stuck on first frame, audio still playing normally |
| VP9 – 4K60 | Plays but somehow automatic forward skips of 4-5 seconds do occur (on two different samples) | Stuck on first frame, audio still playing normally |
Kodi works fairly well, but VLC struggles a bit more. 4K support is of limited use in this tablet since we've got a 1920×1200 screen here, but at least that means the processor can handle those in Kodi.
Youtube worked fine with maximum resolution being 1080p.
Battery Life
I ran the usual LAB501 battery life test (Browsing only), as well as PCMark Work 2.0 battery life test with brightness set to 50%, and WiFi enabled.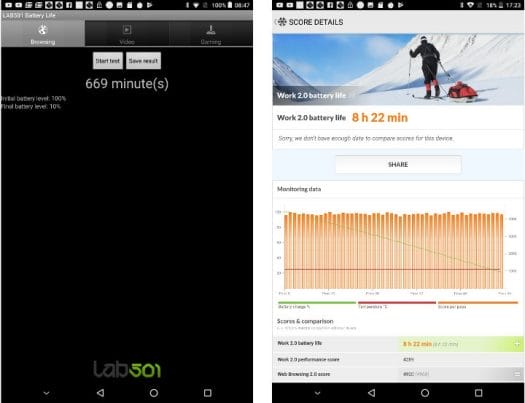 Lab501 web browsing shows the tablet last much longer than my previous models (Onda V18 Pro and Infocus CS1 A83), with duration similar to Xiaomi Mi A2 smartphone.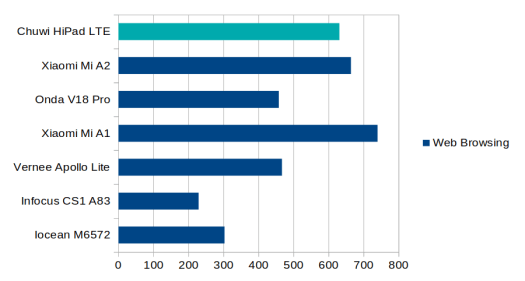 Miscellaenous
GPS
Some low cost tablet don't come with GPS at all, but that's not the case with HiPad LTE tablet since GPS worked well for me in the test app, and I got a fix within 5 seconds the first time.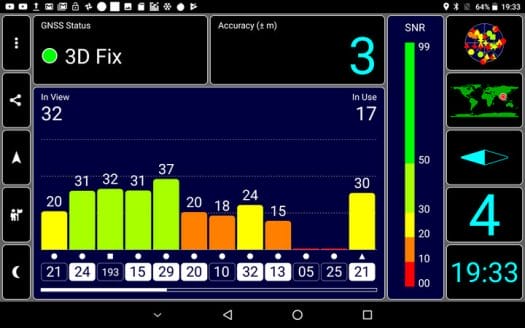 Bluetooth
No problem with Bluetooth, as I could connect my Bluetooth headset, and transfer files to my Android phone over a Bluetooth connection
Gaming
I've played four games each a bit more demanding than the OK:
Candy Crush Saga – OK
Beach Buggy Beach – OK with maxed out "higher resolution" setting
Riptide GP2 – OK but could be a little smoother when "higher resolution" settings are enabled.
CSR2 – Fairly low bitrate (15-20fps?) that makes the game hard to play, or at least non enjoyable.
So you can have some fun, but you'd need to select the games to play.
Others
YAMTT app shows the touchscreen supports up to ten touch points. I've included a demo at the end of the video review for people wanting to check out the lag. More importantly the touch panel or/and controller seem to miss touches. So for example, when I type on the software keyboard, it will not always input the key. It does not happen all the time, but when I typed the latin alphabet, it misses three key presses. When I try to unlock the screen with a pattern it works maybe two out of three times that is if I use my right hand (I'm right-handed), but if I use my left hand, I can't get it at all. No such problem with my phone. It looks like you may need to apply enough pressure for the touchscreen to work.
The speakers in the tablet is not that loud and clear, so I'd recommend headphones or external Bluetooth / 3.5mm jack speakers.
The included keyboard dock works well, but to be honest I have not used it that much.
Video Review
Conclusion
CHUWI HiPad LTE is not a bad tablet with good performance and stability, but also some shortcomings with poor cameras, and potential issues with the touchscreen.
PROS
Good performance and stability with Android 8.0
Sharp and clear display
4K and Full HD videos in Kodi works well
Decent WiFi 5 (802.11ac) performance
Support for microSD card (That's a pro because it's a big problem in my phone that always runs out of space…)
LTE connectivity
GPS support
Optional magnetic keyboard dock
Decent battery life
CONS
Both cameras are rather poor, and no flash
Potential problems with the touchscreen (misses)
Some games would benefit from higher 3D graphics performance
Speakers of underwhelming quality
I'd like to thank Chuwi for sending HiPad LTE tablet for review. You can purchase the device on their Aliexpress store for $169.99, or $199.74 with the keyboard dock.

Jean-Luc started CNX Software in 2010 as a part-time endeavor, before quitting his job as a software engineering manager, and starting to write daily news, and reviews full time later in 2011.