Every day people are getting more concerned about the security of their homes, families, offices, properties, and other related belongings getting more people investing in products and services that helps boost that security. Although we have several products that can be used for home security, Cameras are arguably the most common and important one.
Cameras are one the most used home security solutions, and they come in various variants. One of the challenges that come with cameras is that a camera platform from company A won't mostly work with company's B platform, thus constraining the user to one single expensive platform or be tempted to juggle around different platforms. Camect is a Camera Hub powered by Artifical Intelligence that intends to address this problem. Camect can aggregate video feeds from any security camera on your home network regardless of the brand.
Camect I believe is the OpenHAB for cameras. A smart camera hub for uniting different cameras from most brands, able to work with cheap IP cameras as well as the expensive cameras while keeping your data local. As compared to the open-source nature of OpenHAB, Camect is not open-source.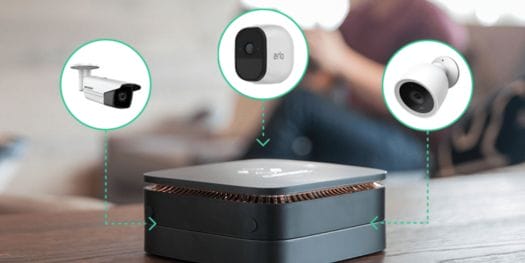 Camect comes with an Artificial Intelligence-based alert system. It performs object recognition on the video feed using a deep learning AI model to identify the object in the video feed. Camect can detect and recognize: a person, vehicle, animals, and others. Camect gets smarter when users choose to share feedback on videos. Providing video examples helps it learn, making it more accurate over time.
At the core of the design is the Intel Apollo Lake Processor (J3455) with 4GB of RAM. Camect comes with 1TB internal storage, and it is expandable to 2TB. Camect design is based on the ACEPC AK1 mini PC, although with some internal changes according to the founders.
In case you wonder when you look at it, our current version is based on the same underlying components as the Acepc AK1 J3455 that Karl Johnson previously reviewed. However, it's not from the company selling the Acepc brand, and we spent 3+ months getting them to fix a number of EC bugs to make the system work actually well w/o overheating under high load.
The system supports about 24M of total camera resolution (e.g. 12x 1080p cameras) of average scene complexity. Camect supports over 50 brands of camera.
Features of Camect
Works with Most IP Cameras.
Easy, Secure Access from Anywhere.
AI-Supported Smart Alerts.
1TB Expandable Storage.
One-Plug Network Setup.
Optional Cloud Backup.
Camect is currently being crowdfunded on Indiegogo and has exceeded over 500% of its initial target goal of $50,000. Camect Early Bird is available starting from $279, which gives access to a maximum of 12 cameras.
More information about the project and the cameras supported is available on the campaign page.

I enjoy writing about the latest news in the areas of embedded systems with a special focus on AI on edge, fog computing, and IoT. When not writing, I am working on some cool embedded projects or data science projects. Got a tip, freebies, launch, idea, gig, bear, hackathon (I love those), or leak? Contact me.