Pixblaster Video LED Controller
Pixblasters, a company focused on LED signage and video display, have started a Crowd Supply campaign for their MS1 Video Controller. The Pixblaster MS1 controller can be attached to any laptop or computer with HDMI output (think Raspberry Pi SBC) and control 16,384 LEDs without any programming, physical modifications or soldering.
Extreme Scalability
The market the MS1 video controller is aimed at is small business and makers, who hadn't before had a controller with this much scalability. The company is saying that the MS1 can be daisy-chained together to control hundreds of thousands of LEDs and act as a full video monitor across hundreds of meters of LED strips.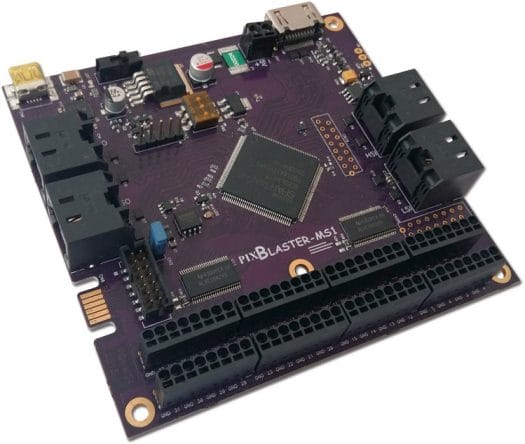 Programming
The unit can easily and with little technical knowledge connect WS212B-Based addressable LED strips together for a complex output of digital displays, even mirroring a video display in some instances.
Target Users
The ability to use large platform digital signage has been difficult for many small and medium-sized businesses as well as the home and small business DIY project builders. The MS1 Video Controller has solved that problem according to the company.
No Programming or Modifications Needed
The MS1 video controller is similar to other video controllers and is FPGA-Based. Whatever type of computer is connected to the controller sees the unit as a simple monitor. This allows any laptop, SBC or other types of computer to control 16,384 LEDs, at 60 fps, without the need for programming or physical changes to the board.
Small Business Signage
The MS1 Video Controller can be remoted operated and with a few modifications can be installed in an already existing digital sign. There is also a special LED strips feature for easy deployment of large, cost-effective video signs, or any type of illuminated sign.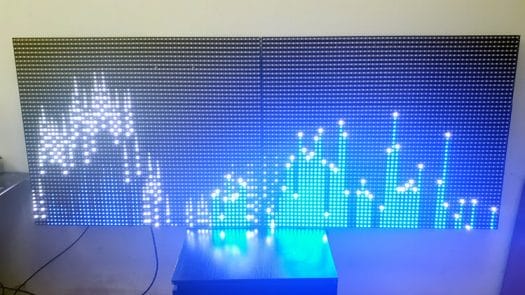 Developers
The functional design is meant to be used for hardware and software – agnostic development. The design of the system is meant to enable extended experimentation of RGB LEDs. The open-source FPGA Demo also supports a subset of other functions within the MS1 Video Controller.
Specifications and Features
Xilinx Spartan 6 XC6LX9-3 FPGA chip

On-board Microchip PIC18F26J50 microcontroller – The microcontroller connects to the PC, runs the configuration software, and permanently stores the configuration data. It also enables simple firmware updates with any new features.

Output resolutions (H x V) – 512 x 32 (native), 256 x 64, 128 x 128, 180 x 96, etc.

Board dimensions – 95 x 100 mm

LED details:

32 LED digital outputs: up to max. 512 LEDs per output
Maximum WS2812B/SK6812 LED display frame rate: 60 fps
Currently supported LED types: WS2811, WS2812, WS2812B, SK6812
Supports RGB666 (256K colors) color format
Maximum driving capacity of the single MS1 controller is 16,384 RGB LEDs
5 VDC 24 mA digital outputs compatible with the most popular RGB LED types

Connectivity:

HDMI video input allows for easy connection from the computer – it also works with adapter cables should your computer have a DVI® output
Push-in strip power and signal connectors enable easy wiring without soldering
Validated with different computers and different OS's: Raspberry Pi Linux, Microsoft® Windows® PC, media boxes, phones, and tablets…
On-board EDID flash enables automatic connection to any computer and any OS

Power:

Protected 5 VDC power supply input
The LED power supplies need to be wired separately to fulfill the power and current requirements of giant LED displays

Display controls:

Cropping image window
Display formatting
LED timing parameters
Supports different video resolutions (max. 720p – 1280 x 720 at 60 fps)
Integrated video input cropping and mirroring
Multiple lines per output mode
LED gamma correction

Daisy-chain multiple controllers:

Each MS1 board can work either as the Master or the Slave video controller
Daisy-chained controllers can drive more than 200,000 perfectly synchronized LEDs differently arranged in HD LED displays
The high-speed video link between MS1 boards assures max. fps and synchronicity
Low-speed control link interface
Video and control links use common UTP cables (Ethernet)
On-board DIP switches allow for an easy selection of the Master, Slave and six other FPGA configurations, including user-defined FPGA configurations
A single digital output has the ability to drive multiple output video horizontal lines
The configuration is fully customizable through a menu on the PC connected via the USB serial cable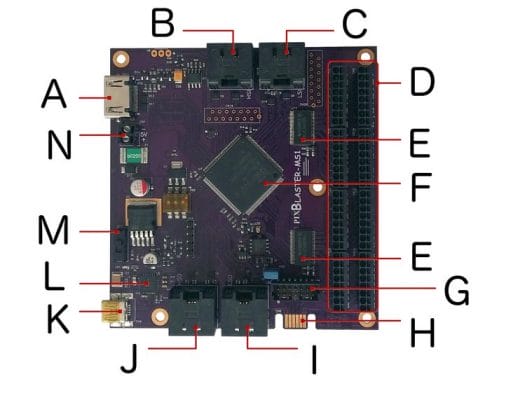 | Labeled board | |
| --- | --- |
| A. Master video in | H. Microcontroller port |
| B. Slave video in | I. Slave control out |
| C. Slave control in | J. Slave video out |
| D. LED digital out | K. USB serial port |
| E. LED line driver (2x) | L. Microcontroller |
| F. Xilinx FPGA | M. Power switch |
| G. JTAG conn. | N. Power in – screw terminals |
Pricing
The Crowd Supply Campaign is offering the Pixblaster MS1 LED Controller alone for $219 USD, there is a two-unit choice for $408, a Micro-Sign Offer for $999 and an Array-S for $60
Shipping
Free USA shipping and $15 World Wide shipping. The products will be shipped from the Crowd Supply warehouse.

Stephen started writing about technology after publishing sci-fi short stories. His first White-Paper, written in 2008, was well received and inspired him to continue writing about technology. Today he writes in the technology space full time, covering a multitude of topics. During the time he wrote part-time he edited hundreds of titles for large publishers, in science and technology. He lives in Staten Island, with his wife and children.