Microcontrollers will have an important role to play in AIoT (AI + IoT) applications as they provide the lowest cost and power consumption. Performance is limited but we start seeing MCUs with AI accelerators such as GreenWaves GAP9 multi-core RISC-V microcontroller or Kendryte K210 RISC-V MCU with a KPU AI accelerator.
Another option is by Edgeless Semiconductor Co. Ltd (零边界集成电路有限公司) based in Zhuhai, China, and more specifically its Edgeless EAI-Series dual-core Arm Cortex-M4 microcontrollers equipped with a 300 GOPS CNN NPU.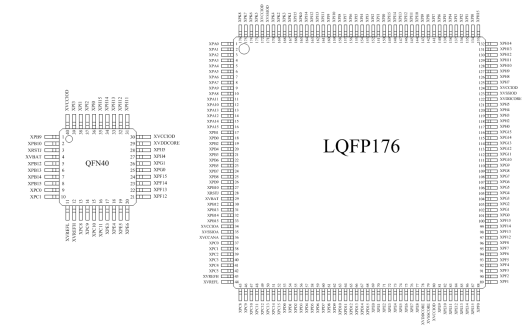 Edgeless EAI specifications:
CPU – Dual Arm Cortex-M4F @ up to 200Mhz, with DSP instructions, I/D cache for high performance; 500DMIPS/1.25DMIPS/MHz (Dhrystone2.1)
AI Accelerator – CNN-NPU clocked at up to 300MHz with 300 GOPS peak throughput; 144MAC/cycle, EER up to 1TOPS/W, for image recognition scenario.

Support major CNN Models including Resnet-18,
Resnet-34, Vgg16, GoogleNet, Lenet, etc..
Support Convolutional kernel size 1~7
Support Channel/Feature No. up to 512
Support Max/Average pooling function
Arithmetic Precision: 16-bit fixed-point

Memory

Up to 384KB of SRAM, 256KB for CNN-NPU (Share with CPU)
Up to 8MB of SIP-SDRAM
Flexible external memory control: SRAM, PSRAM,

Storage – 4KB OTP for system BootROM, external SPI NOR/NAND Flash, 1x SD/MMC up to 25 MB/sec data transfer for 8-bit mode
CRC calculation unit
Clock, reset and supply management

1.7~3.6V application supply and I/Os
POR, PDR, PVD, and LVD
4 to 26 MHz crystal oscillator
Internal 8 MHz RC (1% accuracy)
PLL – PLLKDP 300MHz clock; PLL 180~216MHz clock; PLLSAI 192MHz clock; PLLI2S 48MHz clock
30kHz internal RC for watchdog or RTC
32.768kHz external crystal for RTC

Low power modes

Run, Sleep, Stop 1/2, Standby, Shutdown
Backup domain VBAT supply for RTC

12-bit 2.4MSPS SAR-ADC with 16 channel
One analog comparator module (ACMP) with
12-bit 4096-level DAC
Dedicated 2D Graph Accelerator

IMP supporting image copy, format convert, blending, scaling and Harris corner detection
VIN, 8- to 14-bit parallel camera interfaces, DVP mode, up to 54 Mbytes/s
VOUT supporting multi-format TFT-LCD video output up to 1024×768 resolution

One low gate count 16-ch DMA for M2M, P2M, M2P, P2P data transaction with FIFO and burst
Security modules

CRYPTO, data en/decryption algorithm, AES/3DES/DES and HASH/HMAC
TRNG, true random number generator
OTP, secure data and BootROM code

Up to 18 timers

Up to 4x 16-bit and 2x 32-bit timers up to 200 MHz, each with up to 4 IC/OC or pulse counter and the generation of PWM signals
1x RTC (Battery back-up domain)
1x WWDG (Window watchdog timer)
1x IWDG (Independent watchdog timer)
1x SysTick timer

Other Peripherals

Up to 3x I2C interfaces
Up to 8x UARTs with full-duplex data exchange,
Up to 2x SPIs, full-duplex synchronous and single-wire bidirectional mode and 4- to 16-bit word frames
Up to 1x CAN 2.0B interfaces
1x USB 2.0 full-speed device/host/OTG controller with off-chip PHY
2x SAI (Serial Audio Interface) and 4x PDM
Up to 161x I/O ports with interrupt capability

Debugging – Serial wire debug (SWD), Cortex-M4 Trace Macrocell
Packages (QFN, LQFP):

EAI60 – QFN40 with 2MB SDRAM
EAI68 – QFN40 with 8MB SDRAM
EAI80 – QFN80 with 8MB SDRAM
EAI88 – LQFP128
EAI90 – LQFP144
EAI98 – LQFP176
The company does not appear to have a website, but I found the datasheet via a Banana Pi private group on Facebook as Banana Pi is currently designing an EAI80 development board.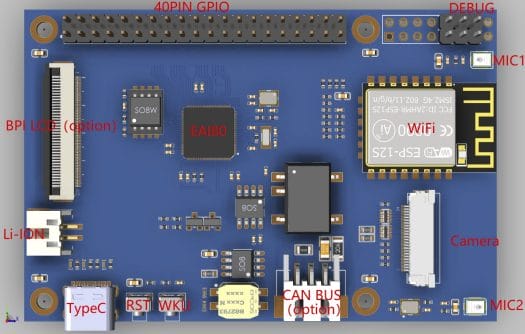 The board also includes an ESP8266 WiFI module, a 40-pin GPIO interface, connectors for LCD and cameras, two microphones, a USB-C port, a CAN bus header, and a battery header. This reminds me of Maixduino SBC, but except of being RISC-V-based, it is Arm-based and features an ESP8266 module instead of one with ESP32. Both connect to a camera & a display, and perform AI inference (computer vision/audio processing) on low-end hardware.
That's all the information I have for now, and no details about the SDK has been leaked so far. It will likely take a little longer before such SoC and board become available.

Jean-Luc started CNX Software in 2010 as a part-time endeavor, before quitting his job as a software engineering manager, and starting to write daily news, and reviews full time later in 2011.