Rakwireless has added 14 new Wisblock modules to the WisBlock IoT modular system introduced last year, plans to soon release a Raspberry Pi RP2040 based LoRaWAN Wisblock Core module, and will give away some Wisblock starter kits this week.
As a reminder WisBlock IoT modular system is comprised of four block types:
WisBlock Base – A carrier board with connectors for other block types, power supply, some ports
WisBlock Core – Module with a microcontroller/processor
WisBlock Sensor – Modules with environmental sensors, motion sensors, ambient light sensors, or others
WisBlock IO – Adds more inputs, outputs, or connectivity options including  LTE-M / NB-IoT, cellular and Wi-Fi modules, NFC reader, and interfaces for I2C, UART, ADC, and GPIO.
New WisBlock IO and Sensor modules
Some modules are available right now, while others have been announced, but just coming soon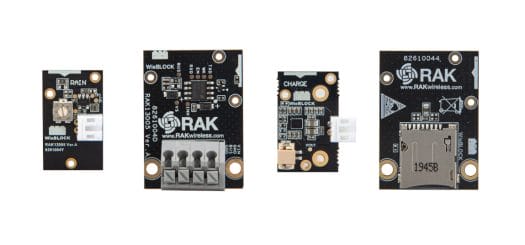 Here's a list of the 10 modules available now:
RAK12002 – RTC module with supercapacitor backup power supply
RAK13002 – Adapter module exposing all WisBlock Core signals to four 8-pin headers with a standard 2.54mm pitch; interfaces include: 2x I2C, 2x UART, 1x SPI, 6x GPIOs, 2x ADC
RAK12005 – Rain sensor module (WisBlock IO Slot) and RAK12030 rain sensor PCB (the sensor) to detect rainfall and fog.
RAK13003 – I2C IO expansion module with 16 bidirectional digital IO's (3.3V), two programmable interrupt signals
RAK13004 – PWM expansion module with 16x PWM output (3.3V, 5V tolerant); mostly used with LED strips and displays
RAK13005 – LIN bus module with LIN Bus master/slave function used in automotive applications, but also home appliances, and industrial applications. It offers secure communication over up to 40m distance, at up to 20 kbit/s
RAK14002 – 3-channel touchpad module
RAK15002 – SD card module (SPI) with MicroSD card socket
RAK19005  – 24pin FPC sensor extension cable; 12cm cable to place WisBlock modules away from the baseboard to avoid influence/interference from other blocks.
RAK19006 – Wireless charge module; Qi-compliant; supports up to 5W applications.
There are also four modules that are coming very soon:
RAK12004 – MQ2 Gas sensor module sensitive to propane and smoke and can detect natural gas.
RAK13001 – Relay IO module with 30VDC/2A output; 12-24V inputs; isolated output and opto-isolated input
RAK14001 – RGB LED module with a 3-color RGB LED.
RAK17000 – Motor control module that can control one stepper motor or two DC motors with TI DRV8833 driver; power supply voltage range: 2.7 to 10.8V
Good luck remembering the names! But as long as you know which function(s) you'd like it should be easy enough to find the model(s) you need. More details about the new modules can be found on the company's website.
More Wisblock modules on the way
Besides the modules above, RAKwireless is also working on RAK11310 Raspberry RP2040 WisBlock Core with LoRaWAN connectivity, as well as RAK19003 mini WisBlock baseboard with 30x30mm size, one WisBlock Core slot, and two WisBlock slots for small WisBlock modules (24-pin connector type). Finally, RAK12007 ultrasonic sensor module with a 4-meter range, up to 3mm accuracy used for obstacle detection and distance measurement should also be released later this year.
WisBlock Week Giveaway
RAKwireless will also give away some WisBlock hardware this week with two giveaways on social networks.
July 6 at 12:00 UTC for 5 WisBlock Starter Kits with LoRa and BLE radios.
July 9 at 17:00 UTC for 5 RAK11200 ESP32 WiFi modules with RAK5005-O baseboard.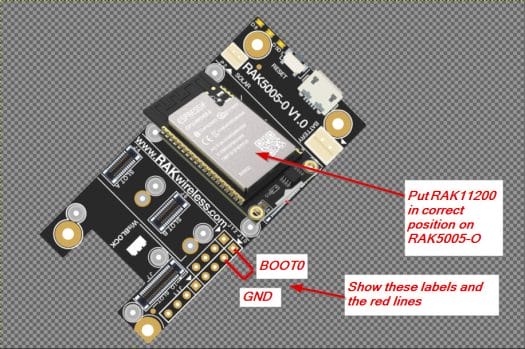 Jean-Luc started CNX Software in 2010 as a part-time endeavor, before quitting his job as a software engineering manager, and starting to write daily news, and reviews full time later in 2011.