RAKwireless have launched several Wisduo wireless modules, a dozen of Wisblock modules for IoT prototyping, updated WisDM, WisGateOS, and RUI3 software, and introduced WisToolBox mobile/desktop configuration tool for IoT devices as part of their spring launch 2022 even entitled "Empowering the Innovators: Making IoT your own".
Three new Wisduo modules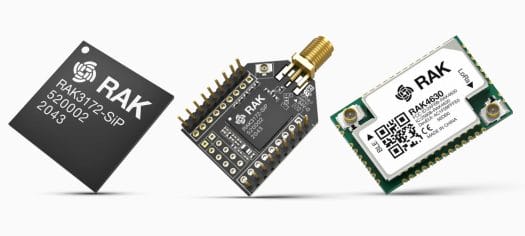 RAK3172-SIP WisDuo SIP based on STM32WLE5 Wireless SoC with LoRa connectivity. Compared to the original RAK3172, it offers more IO pins, integrates a TCXO, and comes in a smaller size. The module supports LoRa P2P and complies with Class A, B, & C of LoRaWAN 1.0.3 specifications. Cost: $5.99.
WisDuo RAK3272-SiP – That's a breakout board for the RAK3172-SiP System-in-a-Package module for LoRaWAN and allows easy access to all pins via 2.54mm pitch headers.
RAK4630 WisDuo Stamp Module – This module supports both LoRa/LoRaWAN and BLE 5.0, and comes with RUI V3 (RUI3) firmware. It can be deployed as an IoT device without needing an external host MCU and can integrate external sensors directly by using widely available open-source libraries for sensors and IO interfaces. Cost: $15.
WisBlock modules – Q2 2022
RAKwireless also added a dozen of WisBlock modules used for IoT prototyping:
RAK12001 – Fingerprint sensor module supporting both fingerprint enrolment and fingerprint matching.
RAK12021 – RGB sensor module that detects the color of a surface by using its red, green, blue, and white light-sensing capabilities. It also comes with a proximity detection feature relying on an external IR LED
RAK12025 – 3-axis gyroscope sensor module with 16-bit high resolution, angular velocity up to 2000 dps (degree per second).
RAK12028/RAK12031 – Through-beam fork sensor module comprised of two small PCBs connected via cable: one to connect to the sensor slot of WisBlock Base and the other with the actual OMRON fork sensor. This type of sensor can measure motor rotation speed by using an external code disc that spins proportionally with the motor rotation. It can also measure the linear speed of actuators by using a linear code bar.
RAK12029 – Inductive sensor module that detects the proximity of metal objects within a 1cm range. This sensor uses a 28-bit inductance-to-digital-converter (LDC) chip that expresses measured inductance using a digital format. It can be deployed in factory production lines to create multiple inductive sensor configurations or to build a contactless water level sensor for plastic tanks.
RAK13009 – QWIIC Interface Module for compatibility with Sparkfun Qwiic and Adafruit STEMMA QT I2C modules.
RAK13800 – This Ethernet interface module adds 10/100M Ethernet, TCP/IP to your project
RAK14007/RAK14013 – Joystick interface module comprised of two PCB modules: one to connect to the IO slot of the WisBlock Base and the other with the analog joystick and four push-buttons. Typical use cases would be building a BLE or WiFi-based remote controller for robot model cars, or to add human interface control to IoT projects.
RAK14008 – A gesture sensor module that provides a hands-free method of controlling your devices with up to nine human hand gestures including waving your hand upward, downward, going to the left or right, clockwise, counterclockwise, towards or away from the sensor, or just waving your hand.
RAK14012 – 16×16 RGB LED matrix
RAK19001 dual IO base board module. This is the WisBlock Base with the highest number of usable module slots.
RAK19007 base board 2nd gen module. It improves upon the first generation WisBlock Base Board (RAK5005-O) by replacing the micro USB port by a USB Type C Connector. Other changes include a new voltage regulator and a reconfiguration of sensor slot D in the PCB layout, so that long WisBlock modules will not block others in the same area.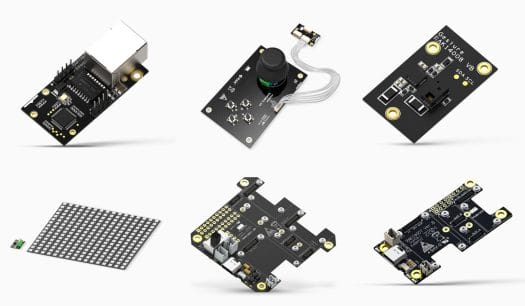 RAK Battery Plus
The company also unveiled the RAK9155 RAK Battery Plus battery system incorporating a solar charging system and status monitoring developed for the WisGate Edge Pro gateways. The solution, which looks like a power bank, guarantees 24/7 operation for the gateway when combined with the solar panel option, and allows access to all the battery data and status locally with WisGateOS' Web UI, and remotely through WisDM dashboard.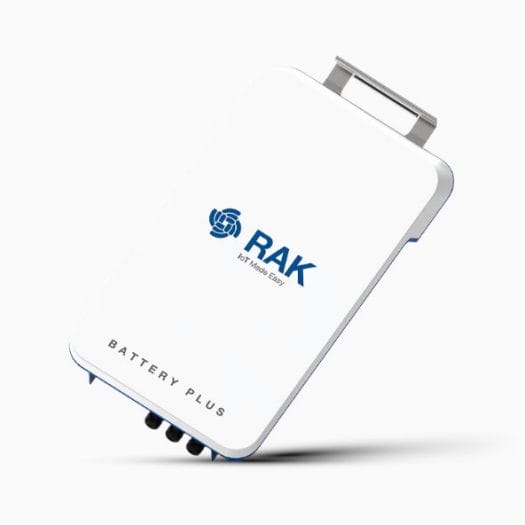 Firmware and software updates.
RAKwireless released OpenWrt-based WisGate OS 2.0 firmware for the company's IoT gateway devices. The latest WisGateOS release adds security enhancements, LBT and spectral scan, LoRaWAN 1.0.4 support, and support for adding extensions with an app store coming soon. Additional details about the firmware can be found in the wiki, but I'm not sure it has been updated with the new features.
WisDM cloud-based device management platform has been enhanced with network connection management, MultiWAN monitoring, notification management, and miscellaneous improvements to fleet management.
The RAK Unified Interface v3, or RUI3 for shorts, is a modular IoT platform that supports a variety of devices and applications. Developers can learn the language, code once, and use the same software on multiple WisBlock core platforms including Nordic Semi nRF52, STM32, ESP32, and Raspberry Pi RP2040. Previously, developers had to juggle between different Arduino BSPs, the ESP-IDF framework, or Raspberry Pi C SDK, but with RUI3 there's a single development environment.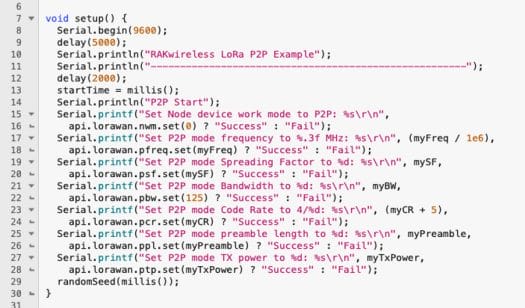 Finally, RAKwireless also launched a new tool with the WisToolBox used to configure IoT devices through your phone or desktop WisToolBox manages device firmware and connection settings and allows users to send AT commands to devices.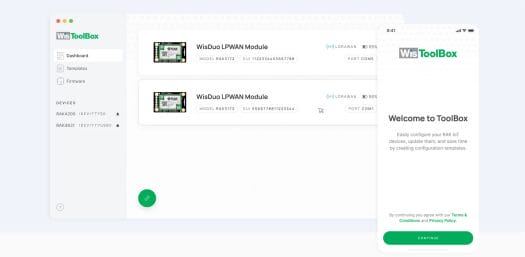 More details about software updates can be found in a blog post.
Further information about the latest Wisduo and WisBlock modules, including purchase links, can be found on the event's page.

Jean-Luc started CNX Software in 2010 as a part-time endeavor, before quitting his job as a software engineering manager, and starting to write daily news, and reviews full time later in 2011.