Allwinner V851S/V851SE is a single-core Arm Cortex-A7 SoC with a RISC-V core, an H.265/H.264 video encoder, and a 0.5 TOPS NPU designed for Smart IP cameras with support for features such as human detection and crossing alarms.
Both processors ship with 64MB DDR2 memory, and feature USB, Ethernet, and SDIO interfaces, but the V851S is designed for systems with a display, while the V851SE targets traditional headless IP cameras.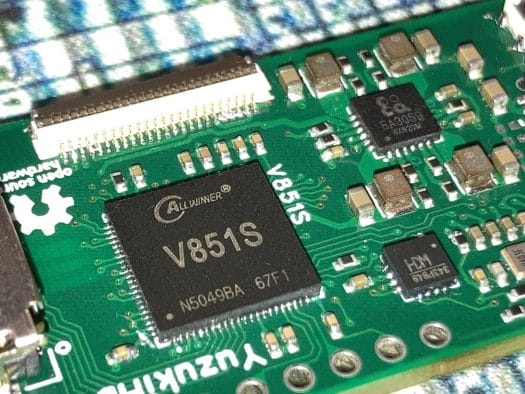 Both processors are pretty similar, but here are the key differences between Allwinner V851S:
Networking – 10/100 Mbps Ethernet port with RMII interface
GPIO – 6x ports (PA, PC, PD, PE, PF, PH)
Display

LCD Parallel RGB, Serial RGB, i8080, BT656
2-lane MIPI DSI

SPI – 4x SPI
and Allwinner V851SE:
Networking – SIP 100 Mbps EPHY
GPIO – 5x ports (PA, PC, PE, PF, PH)
Display – Not supported
SPI – 3x SPI
That means the Allwinner V851S requires an Ethernet PHY on the board, but it is built into the Allwinner V851SE for more cost-effective designs.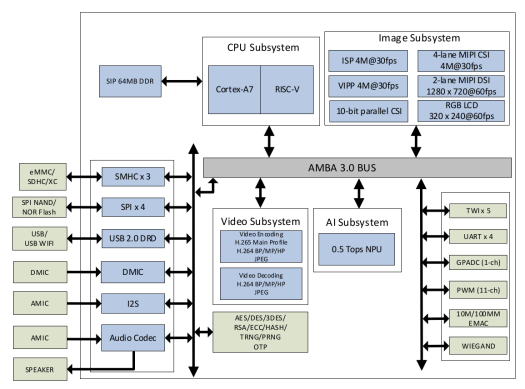 Allwinner V851S and V851SE specifications:
CPU

Arm Cortex-A7 CPU core @ 900 MHz
RISC-V core @ 600 MHz

Memory – 64MB DDR2 on-chip
Storage I/F – 3x SMHC for eMMC/SDHC, SPI NAND/NOR flash interface
AI accelerator – 0.5 TOPS NPU supporting TensorFlow, Caffe, Tflite, Pytorch, ONNX, etc..
Video Encoding/Decoding

H.264/H.265 encoder up to 3840×2160 @ 20fps
H.264/H.265 multi-stream real-time encoding capability: 5M @ 25fps + 720p @ 25fps
JPEG encoder 1080p60

Video Output (V851S only)

2-lane MIPI DSI up to 1280×720 @ 60fps
TCONLCD interface

i8080 interface, up to 800×480 @ 60fps
Serial RGB interface, up to 800×480 @ 60fps
RGB interface with DE/SYNC mode, up to 1920×1080 @ 60fps

Video Input

ISP with maximum resolution of 2560 x 1440, up to 4Mbps @ 30fps
10-bit Parallel CSI interface up to 4x 720p30
4-lane MIPI CSI input or two 2-lane MIPI CSI inputs up to 4Mbps @ 30 fps

Audio

DAC supporting 16-bit and 20-bit sample resolution, 8 kHz to 192 kHz DAC sample rate
ADC supporting 16-bit and 20-bit sample resolution, 8 kHz to 48 kHz ADC sample rate
Audio input – 1x differential microphone input (MICIN1P/N)
Audio output – 1x single-ended lineout output: (LINEOUTLP)
1x I2S/PCM external interface for connecting external power amplifier and MIC ADC
DMIC – Up to 8x digital PDM microphones with sample rates from 8 kHz to 48 kHz

Networking

V851S – 10/100M Fast Ethernet with RMII interface
V851SE – SIP 100M EPHY

USB – USB 2.0 DRD
Other peripheral interfaces – 5x TWI/I2C, 4x UART, up to 4x SPI, up to 6x GPIO "groups", general-purpose analog-to-digital converter(GPADC), 11-channel PWM
Security System

Crypto Engine with symmetrical algorithms for encryption and decryption (AES, DES, 3DES), hash algorithms for tamper proofing (MD5, SHA, HMAC), public key algorithms, 160-bit hardware PRNG, 256-bit hardware TRNG
Security ID (SID) – 2048-bit eFuse
V851S/V851SE appear to have gotten Level 1 PSA certification

Package – QFN88, 9 x 9 mm, 0.35mm ball pitch
Allwinner V851S and V851S3 are low-cost versions of the Allwinner V853 or V853S which feature a Cortex-A7 processor @ 1.2 GHz, an Alibaba Xuantie E907 RISC-V core, and an up to 1 TOPS NPU, as well as support for external memory.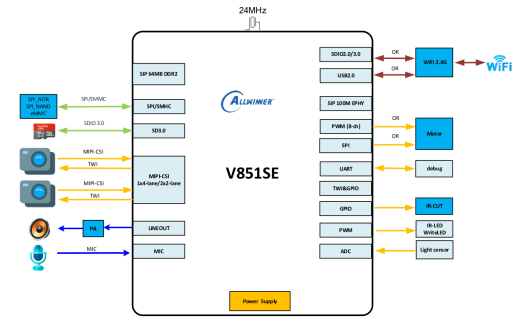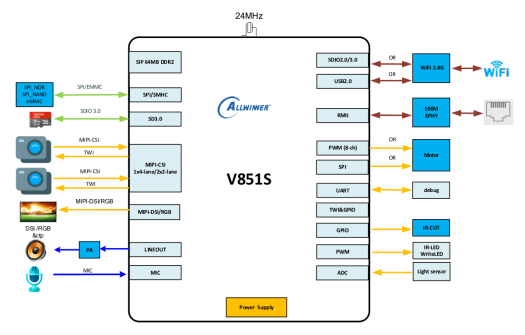 You'd usually select the V851S if you need a display, and the V851SE for cameras without a display. There's no product page on the Allwinner website, just a short announcement in Chinese, but the datasheet is available on the company's forum and that's where I got most of the information above. The processor runs Tina Linux, a fork of OpenWrt for Allwinner processors.
I found out about the new processor through the YuzukiHD board made by the same developer (GLGH_) that did the Yuzuki Chameleon board with an Allwinner H616 processor.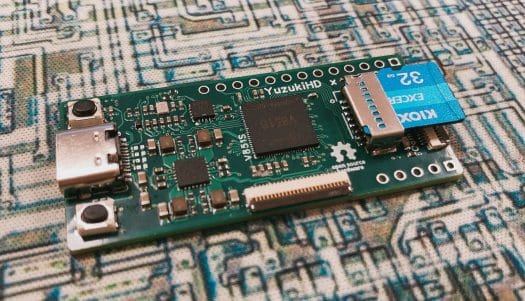 It comes with a USB Type-C port, a MicroSD card socket for the OS, two buttons, and connectors for a camera and a display as shown above.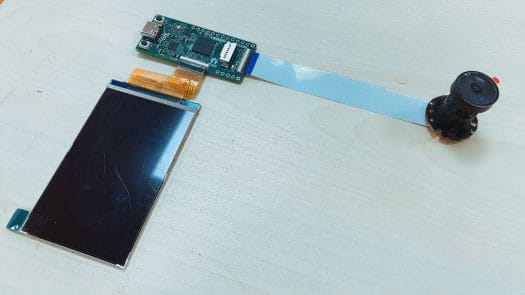 The silkscreen shows the board is open-source hardware, so I'd expect the hardware design files and other resources to be released on YuzukiHD's Github account in due time.

Jean-Luc started CNX Software in 2010 as a part-time endeavor, before quitting his job as a software engineering manager, and starting to write daily news, and reviews full time later in 2011.