The BIGTREETECH CB1 core board is an Allwinner H616 quad-core Arm Cortex-A53 system-on-module (SoM) that follows the Raspberry Pi CM4 form factor and was designed by BIGTREETECH, a company whose main business is related to 3D printer motherboards and their peripherals.
The BIGTREETECH CB1 comes with 1GB RAM, an HDMI output interface, 2.4GHz WiFi, and 100Mbps Ethernet. The CB1 has better multimedia capability than the CM4 with support for 4Kp60 H.265/H.264 video decoding and 1080p60 H.264 video encoding, while the Broadcom BCM2711 processor on the CM4 can only handle 4Kp60 H.265 and 1080p60 H.264 video decoding, and 1080p30 H.264 video encoding. Some disadvantages include the lack of CSI and DSI interfaces on the Allwinner H616 system-on-module and the presence of only one video output interface against two for the Raspberry Pi CM4 module.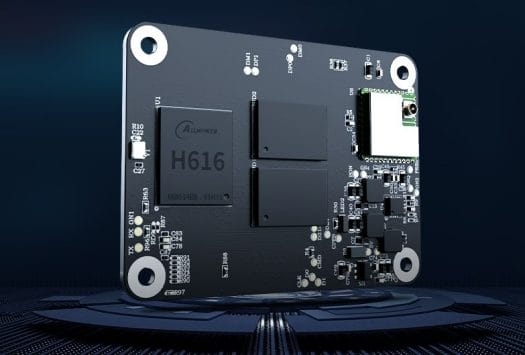 BIGTREETECH CB1 specifications:
SoC – Allwinner H616 quad-core Cortex-A53 @ 1.5GHz with Mali-G31 MP2 GPU with OpenGL 3.2, Vulkan 1.1, OpenCL 2.0 API support
System Memory – 1GB DDR3L SDRAM
Video Output – HDMI 2.0 port up to 4Kp60
Video Encoding– H.264 up to 1080p60
Video Decoding– H.265 up to 4Kp60/4Kp30 hardware video decoding
Connectivity – 802.11 b/g/n WiFi 4
2x board-to-board connectors mostly compatible with the ones on Raspberry Pi CM4
Dimensions – 55x40x4.7mm
CB1 relies on the same board-to-board connectors as the Raspberry Pi CM4 which makes it compatible with most carrier boards for the Raspberry Pi CM4. BIGTREETECH also developed the "PI4B Adapter" carrier board with Raspberry Pi 4 form factor which features most of the same interfaces, plus a 5V fan header.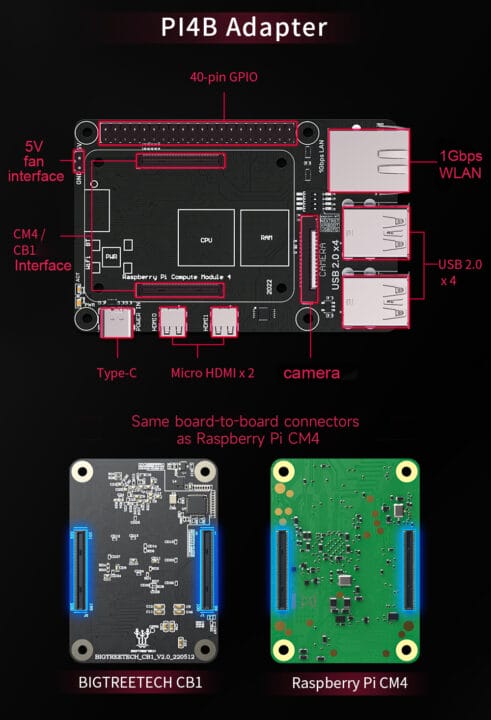 When PI4B is used with the CB1, the CPU performance will be close to that of the Raspberry Pi 3B, but with compatibility with many of the accessories for the Raspberry Pi 4. If you wish to do so, you could also connect a Raspberry Pi CM4 to the PI4B adapter board. BIGTREETECH provides a Debian Linux for the CB1, and other operating systems are also in the works, but the company has not released public documentation for the board nor any OS images just yet. [Update: The OS image and Linux kernel source code can be found on GitHub]
The BIGTREETECH CB1 system-on-module can be purchased on Taobao in mainland China for about $19.9, and the complete package with the PI4B adapter goes for about $29.9. The company also has an Aliexpress store, but the CB1 is not listed yet. Let's hope it will show up on Aliexpress in the near future. [Update: it can be purchased on the BQ store, see comments section]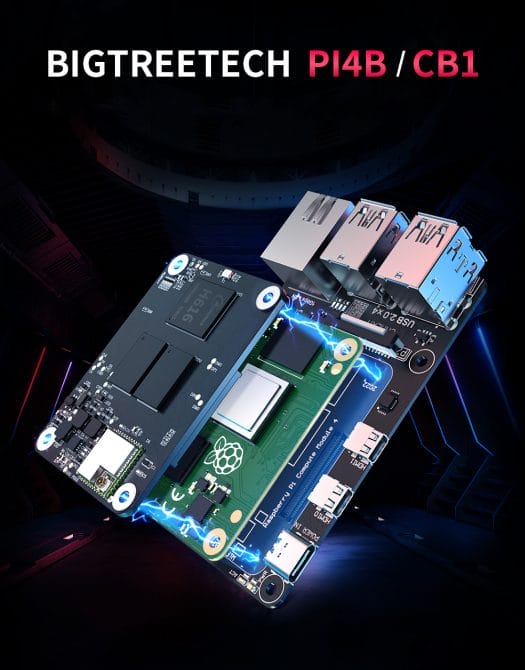 Li Zexi became a part-time writer for CNX Software in 2022 and works as a software engineer in an embedded software company in China. He's been passionate about embedded development and the Internet of Things for many years, with extensive industry experience, and a new and unique vision!