Arm has just announced the new Total Compute Solutions 2023 (TCS23) with Cortex-X4, Cortex-A720, and Cortex-A520 Armv9.2 CPU cores, and the 5th generation (i.e. no Valhall) Immortalis-720 GPU that will initially be found in SoC for premium smartphones and laptops before reaching the other markets over the years.
The announcement follows TCS22 platform announced in June 2022 with Cortex-X3, Cortex-A715 and 510 cores plus the Immortalis-715 GPU that was eventually found in the MediaTek Dimensity 9200 SoC integrated into OPPO and Vivo smartphones, and the new TCS23 CPU cores offer up to 15% performance improvement, 40% higher efficiency, while the Immortalis-720 GPU offers similar performance and efficiency improvements on the graphics front.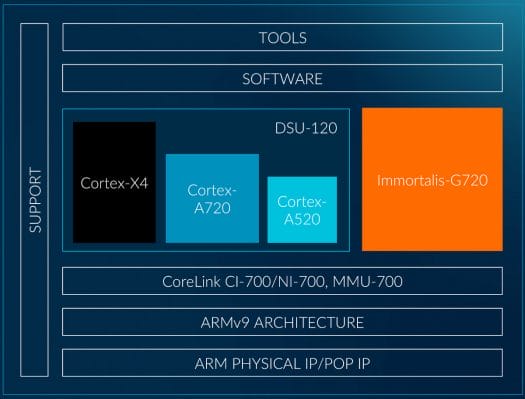 A typical TCS23 mobile SoC will have a Cortex-X4 premium core, a few Cortex-A720 high-performance cores, and a few Cortex-A520 efficiency cores managed by the new DynamIQ Shared Unit DSU-120 capable of handling up to 14 cores in a single cluster, an Arm Immortalis-G720 GPU, plus CoreLink CI-700/NI-700 interconnect and other IP for peripherals. Laptop SoCs should have a mix of Cortex-X4 and Cortex-A720 cores doing away without the Cortex-A520 cores.
With regards to the Cortex-A cores, Arm mostly highlights the switch to Armv9.2 which adds Memory Tagging Extension (MTE), SVE2, and a new QARMA3 algorithm for Pointer Authentication (PAC) for improved performance, as well as the higher efficiency of the Cortex-A720 and Cortex-A520 cores which are respectively 20% and 22% more efficient than the Cortex-A715 and Cortex-A510, although the Cortex-A720 can provide increased performance at the same power compared to the Cortex-A715.
It looks like Arm has moved to 64-bit only as the slide about the Cortex-A520 shows it supports AArch64 only. It looks like the Cortex-A720 and Cortex-A520 may be configured to provide better efficiency rather than improved performance, and the higher performance is provided by the Cortex-X4 core when needed.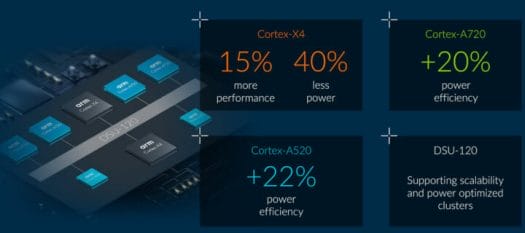 The new Immortalis-G720 GPU, along with the Mali-G720 and Mali-G620, used a new 5th-generation architecture that targets requirements of increased scene complexity, better graphics, and memory system power management, while the previous generation Immortalis-G715, Mali-G715/G615 were based on the Valhall architecture.
Scene complexity is managed with the introduction of the deferred vertex shading (DVS) pipeline which scales better to larger core counts, and has shown benefits while running games with 33 percent less bandwidth used on Genshin Impact, 26 percent less bandwidth used on Fortnite and 41 percent less bandwidth used on Elven Ruins.
A "side effect" of DVS is that it leaves more bandwidth for improved graphics to add high-dynamic range (HDR) rendering support and PC quality effects such as real-time dynamic lighting, bloom effect, and depth of field. Arm also noticed memory system power was a major contributor to thermals in processors., and the 5th Gen Arm GPU architecture aims to allocate a portion of this power to the GPU for better visuals, and/or use any extra power savings to extend battery life.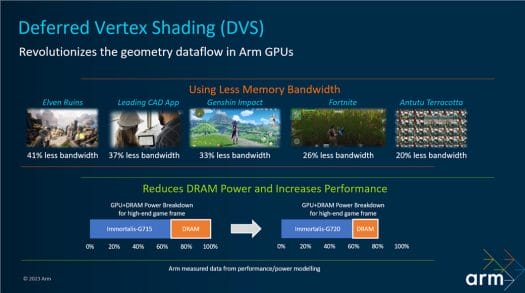 Arm says the Cortex-X4  has been taped on the TSMC N3E process, so I expect commercial Arm Cortex-X4 SoCs from MediaTek or other silicon vendors to be based on that process as well. I'd expect new TCS23 SoCs to be announced sometime at the end of the year, before availability in 2024 based on Dimensity 9200 timeline. It will however take many years before the new Armv9.2 Cortex-A720 and Cortex-A520 CPU cores are integrated into mid-range and entry-level SoCs, let's just hope it will be before 2030…
Looking forward, Arm also shared a roadmap showing TCS24 will be based on "Blackhawk" premium core, "Chaberton" high-performance core,  "Hayes" high-efficiency core, and "Krake" GPU, but no details were provided in terms of expected performance and efficiency.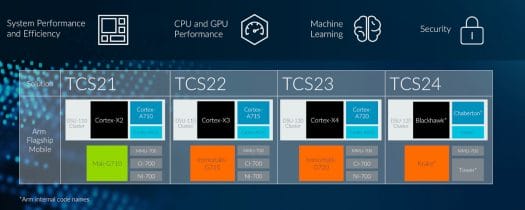 More details may be found in the press release which links to various blog posts for the new CPU cores and GPU.

Jean-Luc started CNX Software in 2010 as a part-time endeavor, before quitting his job as a software engineering manager, and starting to write daily news, and reviews full time later in 2011.