Toshiba Resistive Multi-touch Screen
Toshiba developed a proprietary algorithm for multi-touch resistive touchscreen and they exhibited a demo at Embedded World 2011. The hardware is based around Toshiba TMPA900 (ARM926EJ-S core running at 200 Mhz) and runs embedded Linux.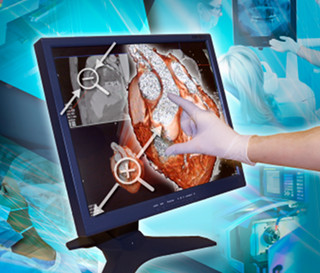 This type of system is aimed at home appliances (washing machine, refrigerator…), industrial and medical applications and can be used with a pen, stylus or gloved hand. For example, a doctor wearing gloves would be able to use multi-touch gestures on such screens whereas it would not be possible on capacitive touchscreens or standard resistive touchscreens. It was not specified but I suppose that technology would only support 2 points since they only showed two fingers gesture in the demo. This should not be a problem for the type of application. An another advantage of this solutions is that it brings multi-touch technology to cost sensitive industrial applications. The technology is still under development and will be introduced to the market later this year.
You can see a demo of the resistive touchscreen system in the video below (up to 3:20)