Gumstix has recently unveiled several solution kits featuring their Overo and DuoVero Computer-on-Modules (CoMs), Pepper single board computer, and several expansions boards, together with required accessories, and software packages, in order to help their customers getting started more easily. All these solutions are based on Texas Instruments OMAP3, OMAP4, and/or Sitara processors, and run Linux (Ubuntu or Yocto), and sometimes Android for the kits with displays.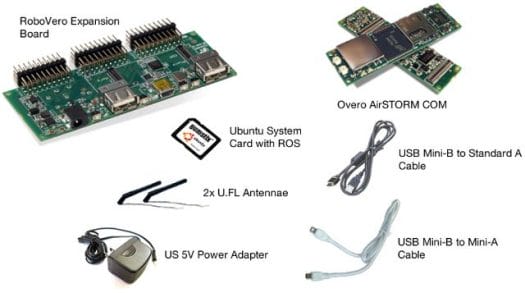 The solutions kits target 6 different types of applications and/or markets:
Robotics

Robotic Development Kit (Pictured above) with one Overo AirSTORM CoM (OMAP3703), and RoboVero expansion board. The kit is better suited for motor control applications.
Mobile Robotic Development Kit with one Overo AirSTORM CoM, and Turtlecore expansion board to be used with iRobot Create.

The kits ship with a Linaro (Ubuntu for Overo) system card and Robot Operating System (ROS) pre-installed.

Handhelds

3.5″ Handheld Development Kit featuring Overo AirSTORM CoM with Alto35 cutomizable LCD touchscreen.
4.3″ Handheld Development Kit with Pepper SBC and a 4.3″ LCD touchscreen

Both kits provide Wi-Fi/Bluetooth connectivity, and Pepper SBC support Yocto Project Linux or Android , and the kit with the Overo CoM support Ubuntu, with Android coming soon.

Network Appliances (for IoT)

Barebones Wireless Appliance Development Kit with Overo AirSTORM CoM and Alcatraz Breakout board which provides access to 140 signals and 802.11 b/g Wi-Fi.
Overo Network pack featuring Overo Water CoM and Tobi expansion board to provide DVI display, 10/100baseT Ethernet, USB Host, USB OTG, USB console and Stereo Audio.

Both kits support Linux (Ubuntu or built with Yocto).

Digital Signage

Home Theater Demonstration Kit with DuoVero Zephyr CoM (OMAP4) and an HTPC expansion board to provide an HDMI connector. From the website, it's not very is the micro SD card is pre-loaded with Yocto Linux, XBMC, or an XBMC image built with Yocto.

Remote Data Collection

Barebones Remote Data Collection Development Kit featuring Overo TidalSTORM CoM (OMAP3730) and PintoTH expansion board providing access to USB OTG, 3.3V supply and level shifters.
Overo EVM pack with Overo Fire CoM (OMAP3530), Chestnut43 expansion board (LCD Touchscreen, Ethernet, USB host and Stereo Audio), and a 4.3″ touchscreen LCD display.
Remote Data Collection Development Kit featuring Overo TidalSTORM CoM and Tobi expansion board.

All 3 kits ship with an SD card pre-loaded with Ubuntu (Linaro)

Education

Overo Summit Pack featuring an Overo Earth CoM (OMAP3503), and Summit expansion board to provide DVI display, USB Host, USB OTG, USB console and Stereo Audio. This kit apparently ships with 2GB? micro SD pre-loaded with Ubuntu Linaro. I'm not quite sure how it relates to education more than the other kits.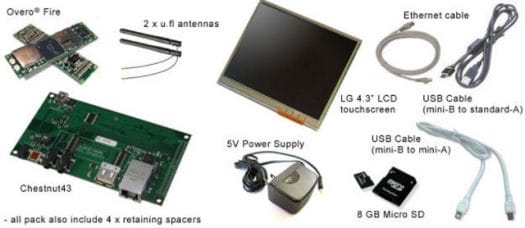 I've only listed the main parts of the kits. i.e. CoM, expansion board, and display if any, but all kits also come with power adapters, a bootable microSD or SD card and relevant cables. More kits will be added over time.
The kits are available now for prices ranging from $189 to $422. More information is available on Gumstix's Development Kits page.

Jean-Luc started CNX Software in 2010 as a part-time endeavor, before quitting his job as a software engineering manager, and starting to write daily news, and reviews full time later in 2011.