Tegra K1 based Devices Could be Just as Fast as Mid Range Intel Core i5 Laptops
Some benchmark results comparing Nvidia Tegra K1 reference tablet to Intel based laptops show the latest ARM SoC matches and even outperforms many Intel devices, at least when it comes to 3D performance thanks to the 192-core Kepler GPU found in Tegra K1.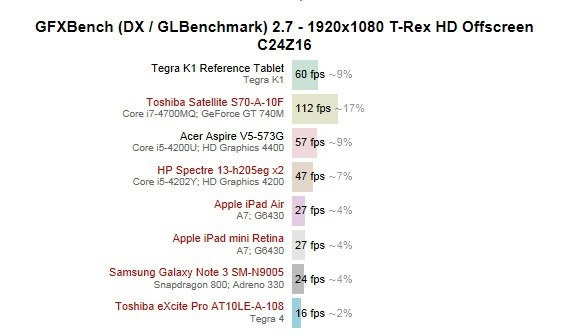 In T-Rex HD Offscreen test in GFXBench 2.7.5, Tegra K1 is hown to be about 4 times faster than Tegra 4, over twice as fast as Qualcomm Snapdragon 800, and interestingly it outperforms some Intel laptop such as Acer Aspire V5-573G powered by an Intel Core i5 4200U processor with HD Graphics 4200 GPU. It's still twice as slow as a machine with an Intel Core i7-4000MQ and Geforce GT 740M. CPU performance will probably be equivalent to some Intel Core i3 machine however, at least for the quad core ARM Cortex 15 version, but that still probably means it's very likely we'll find computers and laptops based on Tegra K1, especially if it's supported by Windows 8.x or the upcoming Windows 9, or if it finds its way into Chromebooks.
Via PadHZ