Mele X1000 is an Android media player based on Telechips TCC8935 dual core Cortex A9 that is said to support Blu-ray video playback. You can refer to Mele X1000 specs for more technical details, as well as my previous Mele X1000 Unboxing post for pictures of the device, as well as the PCB. Today I'll review Mele X1000, by showing off the user interface, and going through the different settings, test video playback including a Blu-ray ISO, wi-fi performance, and report whether all other features such as Bluetooth, USB mass storage, USB webcam, etc… work as expected.
First Boot, Settings and First Impressions
This media player comes with an infrared remote and corresponding AAA batteries, but during most the tests I've actually switched to Mele F10 RF remote (not included) as it's just more convenient to navigate menus, and I've also test an Android Remote app compatible with the device, but more on that later. After connected an Ethernet cable, the HDMI and AV cable, Mele F10 USB RF dongle, and the power supply, I've pressed to power button on the front panel to get started. Boot feels a little slow, and it might take close to one minute to reach the user's interface shown below.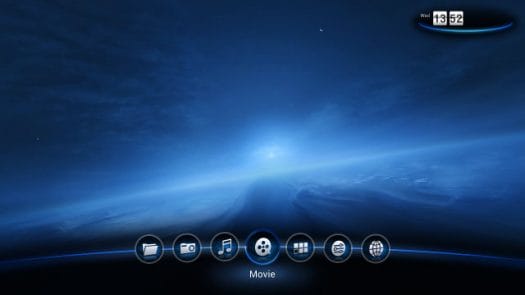 On the top right corner, you'll get the time, day of the week, and the options to add some system information such as network status with IP address. At the bottom of the screen you've got a navigation bar with access to "File", "Photo", "Music", "Movie", Apps, Settings, and Internet (Android Browser). The first four menu give access to storage devices including SATA hard drive or SSD (not tested), USB flash driver, SD card, and NFS & SAMBA network shares. The app section redirect to the list of Android Apps, which only a few pre-installed, including Google Play. Media applications are IPDTV (not working for me), and XBMC plugins, but XBMC is not installed in this firmware, something I've been told would be corrected during mass production. The settings menu gives access to a custom setup menu, and the Android menu.
If you do not like the default launcher named "Multimedia Launcher", you can switch the default Android home screen, or even select a "Pop Up" that will ask you each time. The navigation bar shown above will still be there in the Android Home screen, but you'll have access to the 5 screens to add apps or widgets, just like in stock Android. I've kept the Multimedia Launcher for testing.
I have to admit I'm impressive with the level of options found in the setup menu. There are options about the configure the System. Audio & Video Output, network, movie, music, photo, and access to Android settings. It's the level of details inside the menu that I found particularly compelling. Since there are so many options, I won't go through them all in the article, but I've shot a video instead.
Some of the goodies include:
Language options for system and subtitles
Screensaver mode and options
Auto power off time
HDMI, DVI and Composite output options (640×480 to 1080p60)
HDMI, SPDIF, and AV audio output options. Pass-through options with HDMI and SPDIF allows you to select which audio codec (eg . DTS, Dolby) to downsample, and which one to pass-through.
YouTube Cache Size configuratin
Blu-ray settings (shown in the screenshot above)
Power button can be set to suspend or power off the device
And many more
I had no problem setting up Wi-Fi and Ethernet, the only thing is that both can't be enabled at the same time, or Wi-Fi won't work.
I've used HDMI output with 1080p during my testing with the user interface always set to 720p. Component (YPbPr) is not supported, but I tested composite output with success. the only problem is that I've been unable to revert to HDMI without doing a factory reset in the menu… A video input button on the IR remote could have been nice.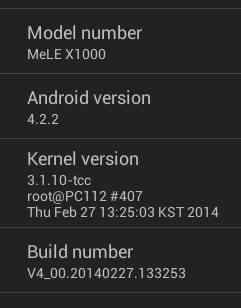 Mele X1000 has a 4GB flash, and there's only one partition on the flash providing 2.29GB of storage, which means it may take a while before apps take all storage. All your medi files woudl have to be in external device with as USB drives, SATA hard drives, and network shares, whch I think is just fine for this type of device. Developer Options are enabled with lots of different options. Looking into the "About device" section shows the device name is "MeLE″, and it's running Android 4.2.2 with Kernel 3.1.10
The firmware is not rooted, and I have not tried to find a root method yet. I could install all applications I tried including ES File Explorer, Root checker, Antutu, Quadrant, Vellamo, Candy Crush Saga, Racing thunder 2, Sixaxis Controller, YouTube, Facebook etc…, except for one: Netflix, which did not show up in the search results. The apps I tried could run fine, except Quadrant with refused to start the tests.
As explained above, the power button on the front panel and the remote control can be used to put the device in suspend mode, or turn it off depending on the settings. This is possible thanks to an MCU that control power, IR, and the small LCD display, which appears to be more or less useless, as all I have seen is the power icon.
The firmware is relatively stable, but since the processor is only a dual core clocked at up to 1GHz, you may not want to do anything else while installing apps, as there's a noticeable slowdown. For the rest of the time, it's pretty smooth. There's an animation between the main menu, which looks nice at first, but last about 3 seconds and becomes annoying overtime. During my testing, the Multimedia Launcher crashed three times, requiring a reboot.
TizzRemote App
In the Quick Start Guide, there's mention of AirlinkMedia, an Android app to transform your smartphone or tablet into a remote control. They explain to look for it in Google Play, but there's nothing there. The company finally then me a link to AirLinkRemote which failed to find my Mele. But previously, I found a QR code in the setup menu directing to TizzRemote, which immediately found my device, and allowed me to access control the files on the devices, and play YouTube videos. This also probably means the firmware and software has been developed by TizzBird, a Korean company specialized in Telechips products.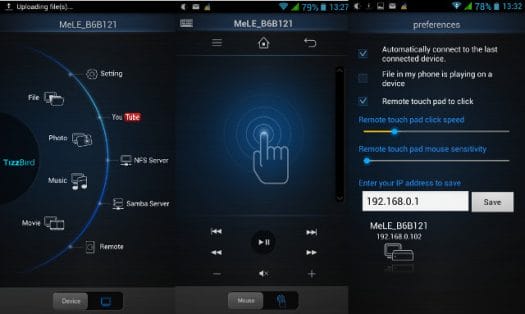 This remote app works pretty well, and you have access to files from your device or your phone. The files from the phone will only play in the phone however, where the files in the Mele will play on your TV. There are also remote and mouse modes, that allow you to use the touchscreen of your phone as a touchpad, and with buttons providing video playback trick modes. When I tried to input text using the soft keyboard on the phone, it would just show the previous letter twice on the TV. For example, test would show up as ttss, so basically unusable. The YouTube app is very similar to ChromeCast or EZCast, as you can search and play YouTube videos streaming directly to your box, but controlled by your phone. The YouTube videos I tried seemed to skip frames however.
Video Playback
As there's an XBMC logo on the package, and at the bottom of the device itself, I expect to find XBMC, but all I could access was XBMC Plugin app. I've been told they will ship boxes to customer with XBMC Frodo V12, and I could just install this version. since XBMC Android is currently a mess, with different version depending on the device, I was not hopeful, and I tried to install the latest Frodo V12.3 apk, it could run and play videos, but it's obvious it was just using software decode. I've asked the actual apk, and still waiting… So the only solution was to use the default user interface. I usually play from a SAMBA share, and configuration went smoothly, as the device automatically found the share, and entered the username and password, and success! Or so I was told because I never managed to see any files from my SAMBA share. I also tried with NFS, but same results. I tried to use ES File Explorer, which could connect to my SAMBA share, but it was clearly not using the internal player (required for Blu-Ray), and only the Android video player. At this point I was quite frustrated. I was given a device promising XBMC, but without XBMC, and it could not even be used as a networked media player. End of story, I used an 8GB Class 4 SD card to do video playback testing.
I started with the videos from samplemedia.linaro.org:
H.264 codec / MP4 container (Big Buck Bunny), 480p/720p/1080p – OK
MPEG2 codec / MPG container, 480p/720p/1080p – OK.
MPEG4 codec, AVI container 480p/720p/1080p – Failed. "Unsupported video codec"
VC1 codec (WMV), 480p/720p/1080p – OK
Real Media (RMVB) – Failed. Black screen only
WebM / VP8 – Skip test. "File" and "Movie" menus can't find .webm video files.
I've also tested some high bitrate videos:
ED_HD.avi (1080p MPEG-4 – 10Mbps) – Failed. "Could not play video"
big_buck_bunny_1080p_surround.avi (1080p H.264 – 12 Mbps) – OK
h264_1080p_hp_4.1_40mbps_birds.mkv (40 Mbps) – OK
hddvd_demo_17.5Mbps_1080p_VC1.mkv (17.5Mbps) – OK
I don't own an audio system with HDMI or S/PDIF input, but the box could play all high-end audio codec below (downsampled to PCM) without any issues:
AC3 – OK
Dolby Digital 5.1 / Dolby Digital 7.1 – OK
TrueHD 5.1 & 7.1 – OK
DTS-MA and DTS-HR – OK
HDMI and S/PDIF pass-through should work as well, since there's an option in the menu, but this has to be tested.
Since the product is being advertised as a Blu-ray Navigation Android TV Box, I could play Sintel-Bluray.iso, a free Blu-ray ISO file, without issue. I could also change the subtitles. I'm not sure how to test "Blu-ray Navigation". I've asked the company at the beginning of the week, but I still have to receive an answer.
Finally, I played some random AVI, MKV, and MP4 videos without any problems. I also tried some FLV videos but many could not play well, either complaining about "unsupported codec", or producing noise (audio).
Links to various video samples used in this review and be found in "Where to get video, audio and images samples" post and comments.
Wi-Fi Performance
I've transferred a 278 MB video files between SAMBA and the internal flash, and vice versa. I repeated the test three times, and on average it took a cool 1:48 (2.57 MB/s), which makes Mele X1000's Wi-Fi performance one of the best in the field, at least with my setup. This time the transfer rate in the direction Flash to SAMBA was faster (1:32) compared to the one from SAMBA to Flash (1:56). The SD card writing speed may have affected the result negatively.

Please bear in mind there are many factors when it comes to Wi-Fi performance, and the results you've got with your setup may be completely different than the ones I've gotten here.
Miscellaneous Tests
Bluetooth
There's no built-in Bluetooth, but Bluetooth menu is enabled in the Android settings, so I connected a USB Bluetotoh dongle, which the device failed to recognize.
External Storage
I've used an SD card formatted with FAT32 to play videos that hat part works. I've also done the same successfully with a USB flash drive. At one point I used an SD card for the Raspberry Pi, and it could only see the FAT32 partition, so either the device can't handle more than 2 partitions on a device, or it can't handle ext-2 file systems.
There's also an external SATA port, but I don't have a spare 2.5″ drive to test it.
USB Webcam
I could use a low cost no brand USB webcam with both Skype and Google Hangouts. Video is working in both apps, and the "Echo Test" in Skype could record my voice using the webcam mic, and repeat the recording.
Gaming
I've tested 4 games: Angry Birds, Angry Birds Go, Candy Crush Saga, and Racing Thunder 2. They could all run fine. You can play these with the included remote control,. but with Mele F10, this is playable, except the racing games which are more challenging. You could always Candy Crush Saga with TizzRemote, but this requires some practice (and maybe luck), using two fingers on your screen. However, with this rather low end processor, this is obviously not the best gaming platform.
Mele X1000 (and Telechips TCC8935) Benchmarks
Since this is a complete new processor to me, I've started by running CPU-Z to get some data.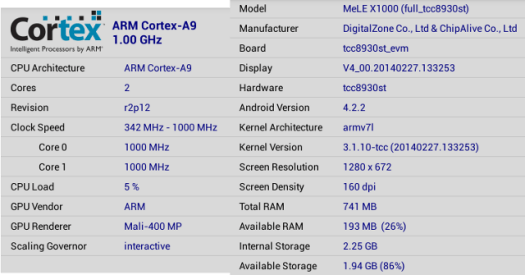 Beside the CPU details, interesting part of the model name (full_tcc8930st) which could be used to build the kernel, there's only 741MB RAM available, which mens the GPU and other part of the hardware take about 280 MB, and the manufacturer is said to be DigitalZone Co.Ltd & ChipAlive Co Ltd. instead of MeLE. This could be a mistake, as Mele does have their own factory.
I ran Antutu 4.x, Quadrant and Vellamo to test the system performance. Quadrant failed to start the full benchmark, but other two completed successfully.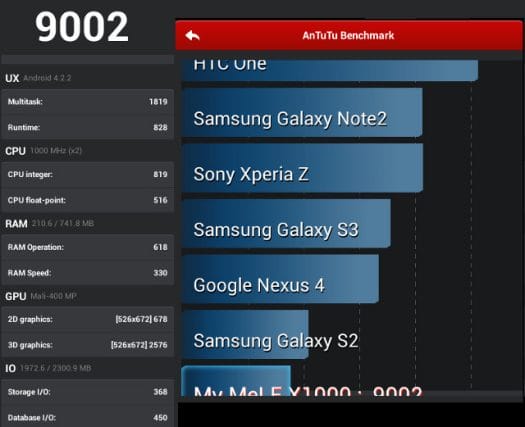 Mele X1000 scores 9,002 in Antutu whichseems reasonable as RK3188 devices with four Cortex A9 @ 1.6 GHz, and a Mali-400MP4 now get aroud 18,000. However, please note that the 2D/3D GPU testsAntutu were performed in portrait mode using only the center of te screen (526×672 resolution) which could have inflated the graphics results. MeLE X1000 is listed just under Samsung Galaxy S2 (Exynos 4210), which about 1,000 less points.
In Vellamo, the media player got 1118 points in the HTML5 test, and 285 in the metal test, placing Mele X1000 at about the same level as the Galaxy Nexus powered by Texas Instruments OMAP4460, another dual core Cortex A9 processor.
There's nothing unusual about the performance of the device for a dual core processor. This won't give you an optimal performance for Android, but for what the device specializes in, i.e. video playback, it should be just good enough.
Conclusion
There's no need to hide than I'm disappointed by the device, not because of performance, but simply because the current firmware has so many shortcomings that it real feels beta. Having said that Mele X1000 feels like a solid device thanks to its metallic casing, SATA support, Blu-ray ISO playback, and excellent Wi-Fi performance.
Let's summarize the PRO and CONS
PROS

Metallic enclosure
SATA port
Outstanding Wi-Fi performance
Blu-Ray ISO support
High level of details and configuration options in the setup menu
Decent Android Remote App
USB Webcam support

CONS

Multimedia launcher somewhat unstable
SAMBA and NFS currently not working
Some videos can't play. Potential skipped frame in YouTube
External Bluetooth does not work
XBMC not pre-installed in this firmware (Mass production unit will come with XBMC)
Mele X1000 is currently sold for $179 including shipping, which is quite expensive considering the firmware status, but if everything works, it may be worth it if you plan to play Blu-Ray videos, and have a surround audio sub system. I can see good potential as a media player, but in the first few months, Mele's customer may spend some time working out the bug, and will rely on Mele to provide firmware update to fix issues. If you don't plan to play Blu-Ray ISO or rips, and will spend more time playing around wih other Android apps, you'd be better off with some cheaper and more powerful TV BOX, in terms of CPU and GPU performance, such as the many based on Rockchip RK3188.

Jean-Luc started CNX Software in 2010 as a part-time endeavor, before quitting his job as a software engineering manager, and starting to write daily news, and reviews full time later in 2011.