MXQ S85 (aka MXQ OTT TV box) and EM6Q-MXQ are two main Full HD H.265 Android media players based on Amlogic S805 currently selling on Chinese online stores. I'm lucky enough to have received both, and I've already completed the review for EM6Q-MXQ, so today I'll complete MXQ S85 review and compare both devices. I've already taken picture of the device, accessories, and checked out the board's components in my unboxing post, so in this post, I'll focus on the user interface, evaluate performance, and test most hardware features of this media player.
First Boot, Settings and First Impressions
I've started by a quick test of the IR remote control, and it works as expected after inserting two AAA batteries, before switching to Mele F10 Deluxe air mouse for convenience. I've connected all ports of the device except the S/PDIF output: Ethernet cable, HDMI and AV cables, micro SD card, USB hard drive, USB webcam, and a USB hub with two RF dongles for my air mouse and gamepad. I've connected the power, pressed the power button opn the top of the box, a Blue LED turns off, "Google TV" icon appears on TV and in a little more than 40 seconds the boot completes. It's not quite as fast as higher RK3288 TV boxes (20s), but it's much better than the boot time on EM6Q-MXQ (1m 50s), so the flash must be faster.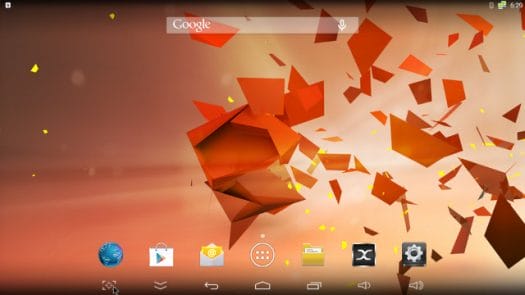 The user interface is the Android Home screen, but you can also switch the MediaBox launcher with a Metro-style user interface found in many Amlogic S80X TV boxes, by going to the "Home" section in Android settings. The box automatically selected 1080p60 Hz video output, and the user interface resolution is 1920×1080 as you can infer from the screenshot above. I've noticed that switching to 720p still keep the user interface to 1920×1080 resolution, so there's no performance gain doing so.
The "Setting" menu is based on the same Metro-style interface as EM6Q-MXQ with four sub menus: Network, Display, Advanced and Other. I've highlighted difference in bold.
Network – Enable and configure Wi-Fi or Ethernet
Display:

Automatic or manual HDMI resolution: 480p/i @ 60 Hz, 576p/i @ 50 Hz, 720p @ 50/60 Hz, 1080i @ 50/60 Hz, or 1080p @ 24/50/60 Hz
CVBS Mode Setting: 480 CVBS or 576 CVBS (if Composite output selected on TV).
Hide or Show status bar
Display Position
Screen Save (Never, 4, 8 or 12 minutes)

Advanced:

Miracast
Remote Control (app)
CEC Control
Location for weather (Chinese cities only)
Screen Orientation settings
Digital Audio Output (Auto, PCM, S/PDIF pass-through, or HDMI pass-through)

Other – System Update: Local file or OTA (not working), Backup, and "More Settings" for standard Android Settings.
So it's exactly the same as EM6Q-MXQ, except the current firmware also supports 1080p @ 24 Hz.
I've also tested composite output, and both 480 CVBS and 576 CVBS settings worked fine. There's no component (YPbPr) output in this box.
I have not made a video for MXQ S85, because it's very similar to EM6Q-MXQ, except you have the option to switch between the Android home screen or MediaBox launcher, 1080p24 is supported, and S85 is a little more responsive. But you can watch the video I shot for EM6Q-MXQ if you haven't already where I walk through the user interface and settings, XBMC user interface (1920×1080 UI rendered at 30 fps), and show H.265 video playback in MX Player.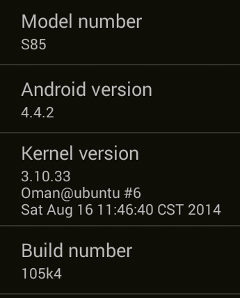 MXQ-S85 comes with an 8GB NAND flash with a single partition (8.00 GB – black magic again…), and at the end of the review I still had 4.01 GB free. Looking into "About MediaBox" section, we can find out that the model number is "S85″, and the system runs Android 4.4.2 on top of Linux kernel 3.10.33. The firmware is rooted, and after I started the review I found firmware 106k4 (an updated to version 105k4 used for the review), which you can probably flash with Amlogic USB flash tool, but I have not tried.
All apps I needed for the review could be installed with Google Play Store including Antutu, 3D Mark, ES File Explorer, MX Player, Beach Buggy Blitz, A1SD benchmark, Sixaxis Controller, etc… However, as I scrolled through the list of apps installed on other Android devices, there were a few incompatible apps notably some messaging apps (Facebook Messenger, Whatsapp), Instagram, Google Translate, and a few others. But you can usually work around these issues by spoofing your device name with an app (paid), or changing build.prop. I've also downloaded and installed Amazon AppStore, in order to play Riptide GP2.
Albeit the box features a power button, power handling is not perfect, as a clean power off is not possible. You can either use the remote control power button to enter and exit standby, and the power button on the unit, can be used to achieve real power off, and to turn the device on, but it's and hardware power off which powers off the device immediately, Android does not cleanly shuts down. The device temperature is pretty cool: 40°C and 46°C measured with an infrared thermometer respectively on the top and bottom of the box, right after running Android 5 benchmark. And after playing Riptide GP2 for about 10 minutes (at which stage the game froze), the maximum temperature on top and bottom reached 42°C and 46°C…
The system very pretty stable, but just like with EM6Q-MXQ, attempting to play a 4K video in XBMC will freeze the system requiring a hard reboot. However, the flash is fast enough no to experience various slowdowns, or making apps randomly exit. Android did pop up the "app not responding" windows at load time for some games, so it's not perfect, but answering "wait" will start the games normally. Nevertheless, although it's clearly not as snappy as the latest Amlogic S802 or Rockchip RK3288 based mini PCs, I did not find MXQ S85 frustrating to use, unlike EM6Q-MXQ.
Video Playback
Videos were playing from SAMBA share in Ubuntu 14.04 over Ethernet using XBMC 13.1 pre-installed in the system, switching to MX Player for videos that failed to play. I had no problems connect to SAMBA with XBMC and ES File Explorer.
I started with videos from samplemedia.linaro.org, H.265/HEVC videos by Elecard, as well as a (low resolution) VP9 video:
H.264 codec / MP4 container (Big Buck Bunny), 480p/720p/1080p – OK
MPEG2 codec / MPG container, 480p/720p/1080p – OK
MPEG4 codec, AVI container 480p/720p/1080p – OK
VC1 codec (WMV), 480p/720p/1080p – OK
Real Media (RMVB) – RV8, RV9, and RV10 – OK but not that smooth (S/W decode)
WebM / VP8 – 480p OK, 720p some rare parts in slowmo, 1080p plays in slow motion all the time.
H.265 codec / MPEG TS container

XBMC – Audio only
MX Player – OK (H/W decode), but seeking does not work properly. It will switch to S/W decode, and the video becomes unwatchable.

WebM / VP9 (no audio in video)

XBMC – Won't even start
MX Player – OK (H/W decode).
Then I played some higher bitrate videos:
ED_HD.avi

– XBMC: audio only; MX Player: black screen only, no audio.
big_buck_bunny_1080p_surround.avi (1080p H.264 – 12 Mbps) – OK.
h264_1080p_hp_4.1_40mbps_birds.mkv (40 Mbps) – OK
hddvd_demo_17.5Mbps_1080p_VC1.mkv (17.5Mbps) – OK, but could be smoother, and XBMC reports skipped frames regularly.
Jellyfish-120

-Mbps.mkv

(120 Mbps video without audio) – OK (Played from USB hard drive)
Videos with high definition audio codec could be played in XBMC (with performance issues), but not in MX Player (except AC3):
AC3 – OK
Dolby Digital 5.1 / 7.1 – OK
TrueHD 5.1 & 7.1 – OK
DTS-MA – OK
DTS-HR – SAMBA: Audio completely cuts after a few seconds. USB: No problem with audio, but video feels slow.
A Blu-ray ISO video (Sintel-Bluray.iso) played perfectly in XBMC.
Although S805 does not support 4K video playback, I tried to play two 4K videos in XBMC, and each time the system will freeze. This should not happen.
I tested over a dozen other videos from my library (AVI, MKV, FLV, VOB/IFO, and MP4 containers), and they could all play with any A/V sync issues. I also watched a complete 1080p video (1h50 / MKV / 3GB), so no problem with stability either.
Links to various video samples used in this review and be found in "Where to get video, audio and images samples" post and comments.
Network Performance (Wi-Fi and Ethernet)
A 278 MB file between a SAMBA share (Ubuntu 14.04) and the internal flash, and vice versa, repeating the test three times with ES File Explorer. Wi-Fi transfer speed is still pretty good @ 2.95 MB/s on average, although not quite as fast as EM6Q-MXQ media player.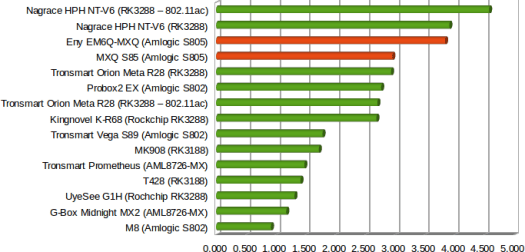 Ethernet worked at 100 Mbps connected to my Gigabit Ethernet switch, with performance similar its competitor. Tronsmart Orion R28 Meta is way ahead, simply because it's the only box I have that actually supports Gigabit Ethernet.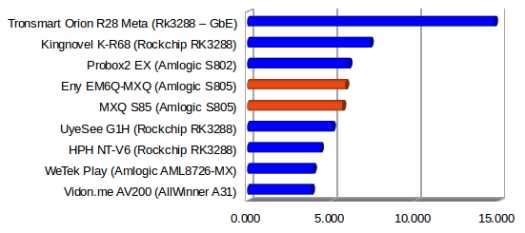 For a raw benchmark of Ethernet performance, I ran iPerf app using "iperf -t 60 -c 192.168.0.104 -d" command line. It does not quite maxes out Fast Ethernet bandwidth like Rockchip RK3288, but results are similar to EM6Q-MXQ just like with the test above.
TCP window size: 136 KByte (default)
————————————————————
[ 6] local 192.168.0.104 port 57781 connected with 192.168.0.106 port 5001
[ ID] Interval Transfer Bandwidth
[ 4] 0.0-60.0 sec 476 MBytes 66.5 Mbits/sec
[ 6] 0.0-60.0 sec 566 MBytes 79.1 Mbits/sec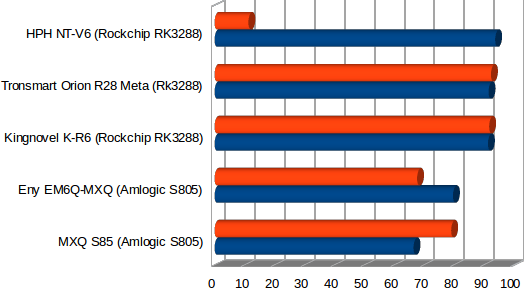 Miscellaneous Tests
Bluetooth
Contrary to the version of EM6Q-MXQ I reviewed, MXQ S85 comes with Bluetooth.
I could transfer pictures from my Android phone to the box over Bluetooth, Sixaxis Compatibility Checker appeared to support PS3 wireless gamepads, but my controller was not recognized.
Bluetooth LE (Smart) was tested with Vidonn X5 activity tracker, but unfortunately the app could not locate the device over BLE.
Storage
FAT32 formatted micro SD card and USB flash drive could be recognized and properly mounted by the system
Only NTFS and FAT32 partition on my USB 3.0 hard drive could be mounted and accessed. That's common to all Android mini PCs I tested, except A80 OptimusBoard which could mount the EXT-4 partition too (but in read-only mode).
| | | |
| --- | --- | --- |
| File System | Read | Write |
| NTFS | OK | OK |
| EXT-4 | Not mounted | Not mounted |
| FAT32 | OK | OK |
| BTRFS | Not mounted | Not mounted |
A1 SD Bench was used to benchmark USB hard drive and internal flash performance. The read speed was 16.92 MB/s, and the write speed of 21.87MB/s fore NTFS partition in /storage/external_storage/sda1, both results being weak.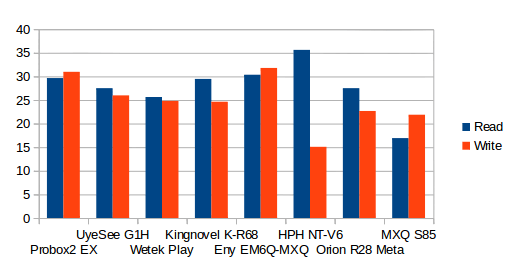 The NAND flash speed is clearly not outstanding at 15.8 MB/s (read) and 6.83 MB/s (write), but still better than EM6Q-MXQ, and apparently good enough for a smooth operation of the device most of the time.
USB Webcam
I had troubles with both Skype and Google Hangouts with my USB webcam. I did manage to see the image in Skype once, but never long enough to make a phone call. The camera is not detected at all in Hangouts.
Gaming
Candy Crush Saga, Beach Buggy Blitz, and Riptide GP2 could run on the box. I played Candy Crush Saga with my air mouse, and switched to Tronsmart Mars G01 wireless gamepad for Beach Buggy Blitz and Riptide GP2. For each game, the system showed up pop up with "App XXX is not responding. Do you want to close it?", but selecting "Wait" could load the games just fine. Beach Buggy Blitz framerate felt good using the default settings (low res), but I did notice some very short freezes (<1s) from time to time. Riptide GP2 is not really enjoyable with default settings (high resolution), but lowering the resolution makes it relatively enjoyable to play. Riptide GP2 freezing I encountered on other Amlogic s802/S805 devices, and Allwinner A80 development board occurred yet again, after just around 10 minutes of play time. I'm not sure if the game itself is buggy, or the GPU drivers/libraries are. I checked the maximum temperature on the top and bottom of the device at that time, and I got 42°C and 46°C.
Even if games can run, the gaming experience is not great, and you should really consider spending more to get a Rockchip RK3288, or not as good, Amlogic S802 devices if you are really interested in playing games. Nvidia Tegra K1 devices should even be better but in a completely different price category.
MXQ S85 Benchmarks
CPU-Z shows the device is indeed powered a quad ARM Cortex A5 processor clocked between 24 MHz and 1.49 GHz, but instead of using a performance governor, MXQ S85 is using a hotplug (on-demand). The board is m201, which can be a useful thing to know in case you download firmware files. FYR, EM6Q-MXQ is based on hd18t board.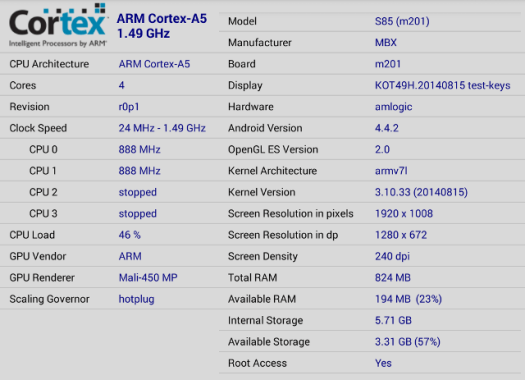 The devices gets 16,448 points in Antutu 5.1 which is consistent with the score I got with EM6Q-MXQ (16,647).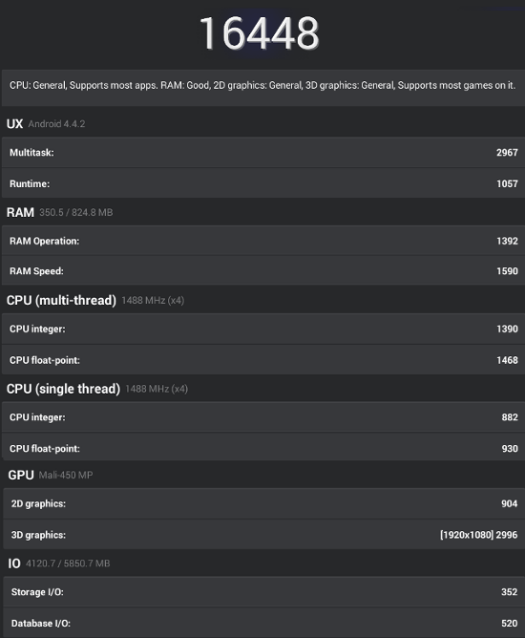 There are some differences in Vellamo 3 however, with a lower Browser score (812 vs 1061), a higher multicore score (1319 vs 1139). The metal score is about the same.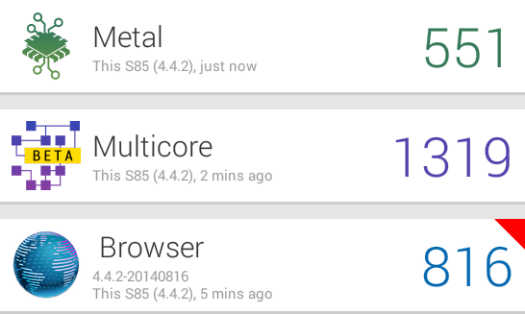 Ice Storm Extreme test in 3DMark is about the same with 2,308 points (vs 2,325 for EM6Q-MXQ), and clearly shows the relatively low performance of the quad core Mali-450MP GPU used in S805 compared to high-end SoC with better GPUs.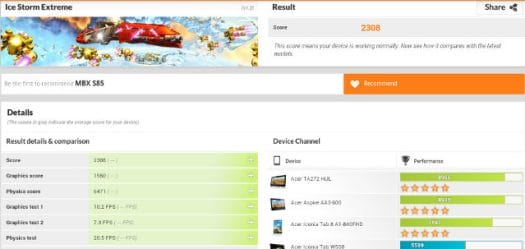 Conclusion
MXQ S85 is actually a pretty good device and performance considering the price (<$50). Wi-Fi and Ethernet are pretty decent, video codecs/containers is quite good in XBMC, and H.265 can be played in MX Player, but not yet in XBMC. The firmware is pretty stable, and I did not come across massive slowdowns like in EM6Q-MXQ.
PRO:
The firmware is stable, relatively smooth to operate, and only hung when trying to play 4K videos
Good XBMC support.
HEVC/H.265 hardware video decoding support. Working in MX Player, but not with XBMC (yet)
Very good price/performance ratio.
Good Wi-Fi, and decent Ethernet performance
Video Output – Supports 1080p24/50/60 (but no 25/30 Hz), and composite output (NTSC/PAL).
CONS:
Despite having a power button, power off is not perfect (no clean power off)
Bluetooth Low Energy (mostly used for wearables) is not currently supported.
OTA firmware upgrade is not working
USB / NTFS storage performance is disappointing.
USB webcam did not work reliably for me in either Skype and Hangouts.
"App xxx not responding" message may appear while loading large apps such as games.
Gearbest provided the sample for review, so if you are interested in purchasing you could do so on their site for $47.99 (with MXQBCM coupon), or for $45.99 (with MXQCM coupon) for the version without Bluetooth. Coupons are valid until November 30, 2014. MXQ-S85 can also be found on other stores including DealExtreme, Amazon US, Dealsmachines, and Aliexpress.

Jean-Luc started CNX Software in 2010 as a part-time endeavor, before quitting his job as a software engineering manager, and starting to write daily news, and reviews full time later in 2011.