Rockchip announced RK3368 64-bit processor yesterday for mid-range tablets and 4K media player, but the company also have some new ultra low cost TV box and HDMI TV stick solution with Rockchip RK3036 dual core Cortex A7 processor that will go into $9.9 TV boxes running Android 4.4. The price is most probably factory price, but that means $20 H.265/HEC capable Android media players are probably around the corner. You can already get an RK3066 TV dongle (MK808 and similar) for less than $30 in Aliexpress, so the new solution will likely decrease the price by $5 to $10.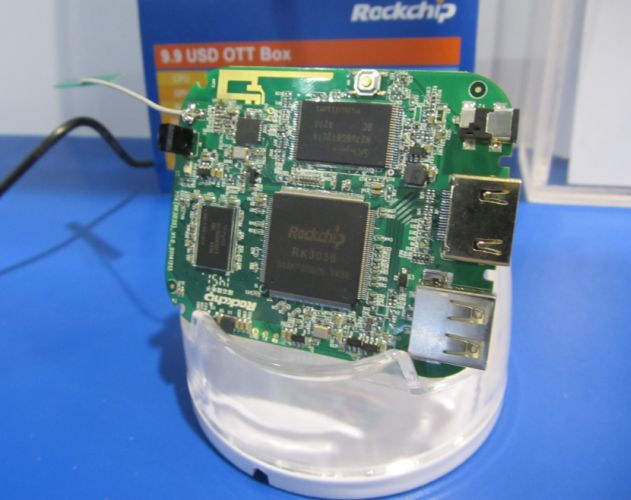 Technical specifications of RK3036 reference design:
SoC – Rockchip RK3036 dual core Cortex A7 processor @ up to 1.2 GHz with Mali-400MP GPU
System Memory – 256MB DDR3 or DDR3L
Storage – 2GB flash. RK3036 supports MLC NAND, eMMC 4.5.
Video & Audio Output – HDMI 1.4a. The chip also supports CVBS, and optical S/PDIF.
(Main) Video Codecs – 1080p multi format decoder including H.265 / H.264 codecs. H.264 encoding.
Connectivity – 802.11 b/g/n Wi-Fi (possibly using Expressif ESP8089). The chip also supports 10/100M Ethernet
USB – 1x USB 2.0 port. (Two USB interfaces are provided by the SoC)
The RAM is really on the low side, but Rockchip has said they further optimized Android 4.4 to run on 256 MB RAM. Lots of apps will probably fail to run properly on this platform, and such device should be mostly reserved to video playback. I'm not even quite sure Kodi would run with that little RAM.
A few more details may eventually be added to RK3036 product page.
[Update: Just to get a better grasp to what might be the actual online retail price. Rockchip announced $10 RK2928 miracast dongles in 2013, which are now selling for $16 to $20 shipped, so something around $20 to $25 on Aliexpress should be feasible on RK3036 devices become available]
Via Liliputing