MeegoPad T01 was initially announced as a dual boot Windows 8.1 and Android 4.4 HDMI Stick, and it became quite popular. But as it has recently started shipping, Android is gone, and people who receive it only have Windows 8.1 to play with. Unfortunately, as the review embedded at the end of this post clearly indicates it's running with a Windows 8.1 trial version that needs to be activated and with an invalid serial number, so it can only be used for 30 days… Normally, I would not be so interested in a Windows 8.1 only device, but since many people seem to have acquired one, it's probably useful to look into what can be done about the license.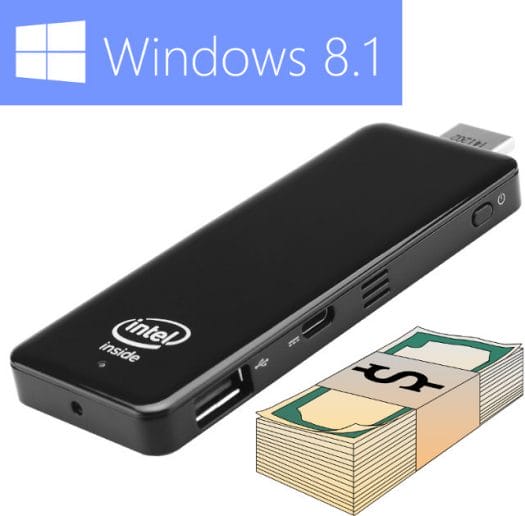 So what could you do? There are several options:
One person decided to buy a Windows 8.1 License. Cost? $119.99 + $7.20 for tax for a grand total of $127.19, or more than the device itself
Use a pirated version. I'm not sure how to do, plus it's illegal, and you'll lose access to all security updates. Clearly not recommended.
Boot Ubuntu from a USB drive instead. This requires quite a few steps, and Wi-Fi does not work, so you'd need a USB to Ethernet dongle.
You could also try to negotiate a refund with a seller, either full or partial. That will teach them they should not sell products with trial versions of operating systems. With Ebay/Aliexpress, you'd usually have to pay for return shipping if you want a full refund, and if you have already confirmed reception it will be tricky. With DealExtreme, the company may also reimburse shipping fees (up to a certain percentage), as the product was not sold as described (TBC).
If you have not purchased one yet, it does not mean you should avoid this product, and potentially other Intel Atom Z3735 TV boxes and sticks, because there are actually two Windows 8.1 options, as shown on maketheone.com:
Windows 8.1 with Bing (Factory activated) – $139
Windows 8.1 Pro (30-day trial version) – $108 [Update: Apparently Microsoft does not allow this]
So it becomes clearly that most sellers have gone with the "cheaper" option, providing a 30-day trial of Windows with the device, and if you want something that works without spending an extra $120 or or, go the illegal route, or want to tinker with it and install Ubuntu, Android, or other operating systems (FreeDOS anyone?) you should insist on getting Windows 8.1 with Bing for an extra $29.
You may wonder why Windows 8.1 with Bing is free when you purchased a tablet, but should be $29 on mini PCs? Here's the explanation from makeone? thanks to Ian Morrison (read comments section on G+ link):
Windows 8.1 with Bing and Windows 8.1 with Bing for Stick are two distinct versions, at least for now. The former is free for manufacturer's of tablet's under 9 inches, and some others as mentioned in the article you pasted here. The latter, however, is not free for manufacturers of "computer sticks", as of yet. There might be changes in the future, but as of now, it is not free. This piece of information can be verified, if you delve deeper or ask Microsoft employees.
and after noticing there;'s no such thing as "Windows 8.1 with Bing for StickTM":
My apologies for complicating things. There is not an official name from Microsoft as "Windows 8.1 with Bing for Stick", the name was used by the manufacturer, instead just calling it 'OEM'.
So there you have it, if you don't get the "free" 30-day trial version of Windows 8.1 Pro, you'd need to pay extra $29 at purchase to get a valid Windows 8.1 OEM license. God knows what happens if your Windows gets corrupted, as there's obviously no "recovery CD"…
If you have other such low cost Windows 8.1 devices based on Intel Atom Bay-Trail SoCs such as Pipo X7, I'm sure others would be interested to read about your experience.


Jean-Luc started CNX Software in 2010 as a part-time endeavor, before quitting his job as a software engineering manager, and starting to write daily news, and reviews full time later in 2011.