EzeeCube is a Linux Kodi based media hub powered by Freescale i.MX6 Quad processor that includes a 1 or 2 TB hard drive by default and is expandable with extra 2TB hard drive modules that you simply stack on top of each other to get up to 10TB storage. I had a look at EzeeCube hardware last October, but due to one issue with the Android app that prevents syncing pictures between my phone and the hard drive on the device, one of the key selling point of the system, I decided to postpone the review. EzeeCube developers finally found a workaround in early December, but as I was busy with other tasks and the end of year holidays, I only managed to finally review the device in the last few days.
Initial Setup
The first thing that you go through after connecting all cables, and powering up the media hub is the setup wizard that starts with a welcome screen.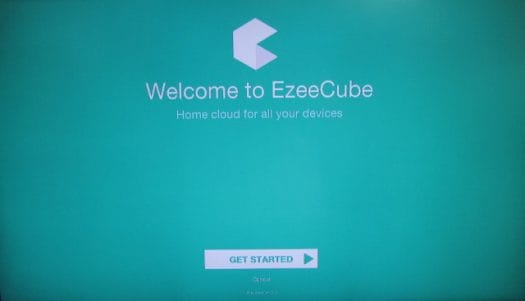 You'll be asked to select wireless network, but if you have connected an Ethernet cable, you can skip that step as you'll already have network access.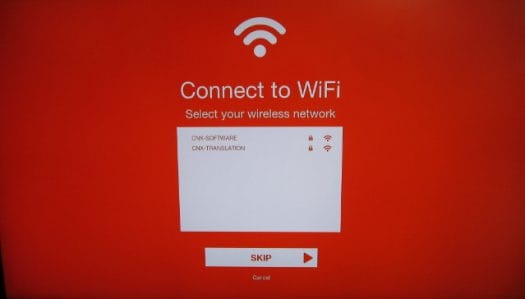 In the next screen, you'll be ask to download EzeeSync app for iOS or Android.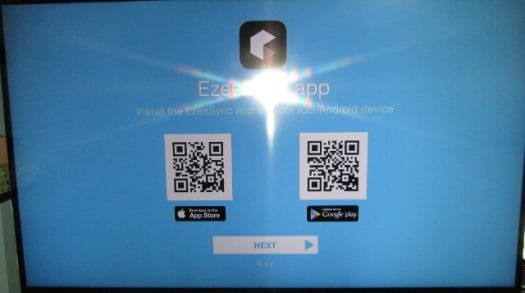 You can do so by scanning the QR on your TV with your mobile phone, or go to the Google Play Store or iTunes.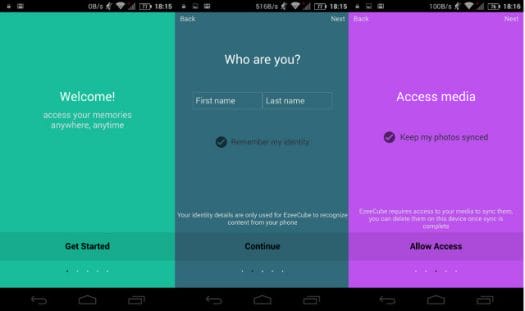 While you are still in the box wizard, you'll need to go through the app wizard by inputting your First and Last name, and whether you want to keep your pictures and contact synced with the box.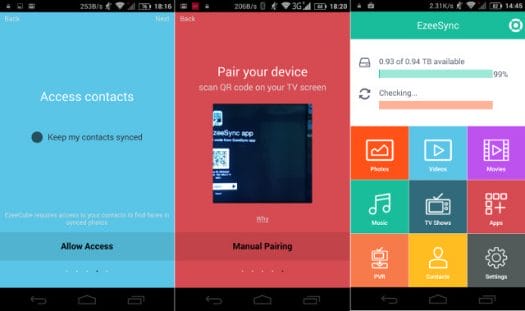 Once this is done, you'll be asked to pair your phone with your EzeeCube by scanning a QR code that will show on the TV, or input manually the information about your IP address and device ID, both of which are also shown on the screen. Finally, the app will sync all your pictures, if you have chosen to do so, between your phone and the hard drive in the device. I had over 1,000 pictures, and it worked well.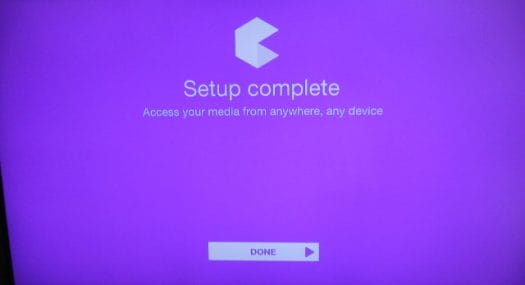 Click on Done, you'll nowaccess the main menu, and you are mostly done with the setup.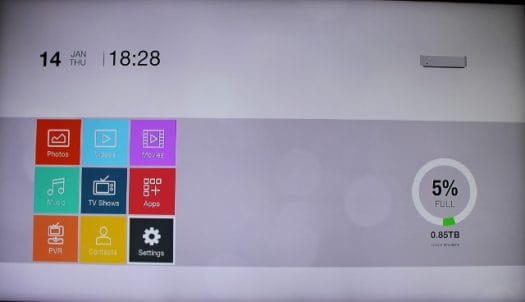 For some reasons, most systems with wizards don't handle the time zone setting, which always have to be done manually. In EzeeCube, you need to go to Settings->Appearance->International and set your Timezone country, and possibly Timezone if your country happens to have multiple timezones.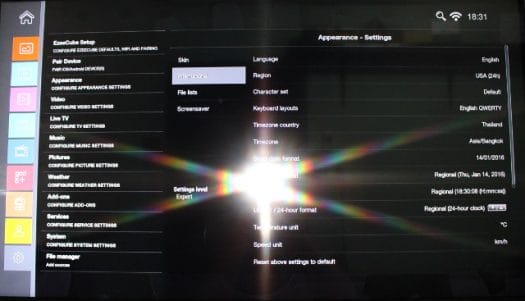 There may be some other options, which such as audio setup for audio pass-through for your AV receiver, but if you are familiar with Kodi, it's exactly the same as usual.
User Interface
Now I'll quickly show the user interface for all mains section, and see how photos are presented to the user.
Photos and videos are using the same menu with Album, Faces, Location and Dates on the top, and a pictures add-ons, Pictures list, and other pictures path.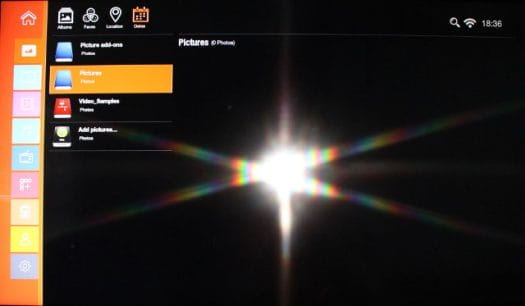 I don't have albums, I did not sync any contacts so faces could not be used, Location did not seem to sort anything either (and I don't always have GPS enabled in my phone), so I decided to sort the pictures by "Dates".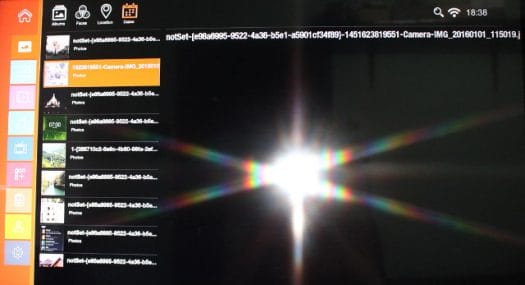 And overall it's very disappointing. For some reasons the pictures were imported with very long names, and there are not grouped by date at all with the first two pictures being shot in December 2015, the other in July 2015, and then it all mixed up. When you click on one picture it will start a slideshow with some animations, but the date sort is just not working for me.
Music has a similar user interface but with different icons and functions on the top row, and just an Add Music options in the main section.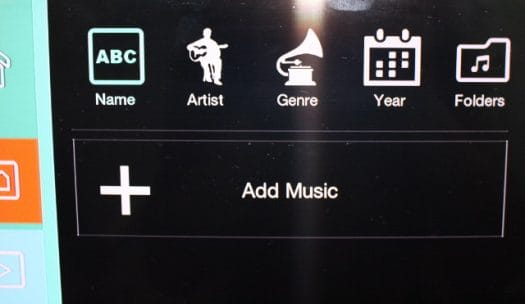 It's about the same for movies and TV shows.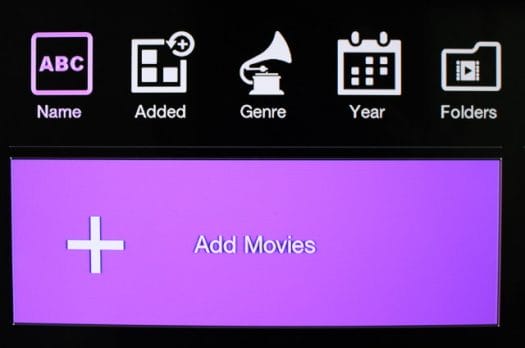 The "Apps" shortcuts is for what is known as Add-ons in Kodi.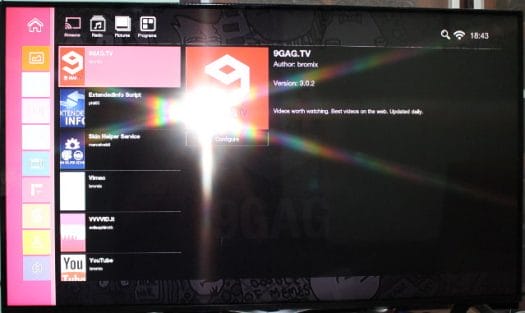 I tried YouTube app, and it asked me whether I wanted to setup language and location the first time. I clicked on OK and set the location to Thailand, but since Thai script is not supported by EzeeCube and the city selection would only show rectangles. So I cancel this part, and I stream YouTube videos just fine.
PVR and Contacts sections were not active in my firmware, and the Settings section is very similar to Kodi, but with some interesting new features that I'll cover below.
Video Playback
Before starting video playback, I configured EzeeCube to provide the best experience for my system by setting:
Video->Playback->Adjust display refresh rate to On start / stop, so that 24 fps video would be played at 24 Hz on my television for example, and this worked well
Setup the audio for pass-through to Onkyo TX-NR363 AV receiver with DTS HD and Dolby TrueHD enabled as shown below.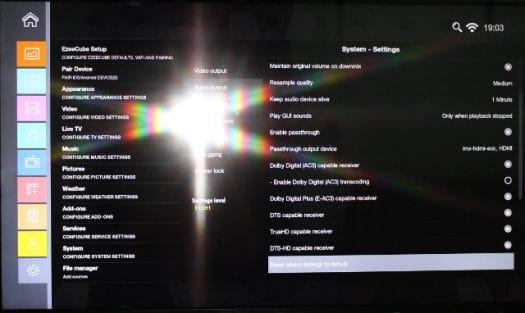 I played all videos using a SAMBA share over Ethernet, starting with some of Linaro media samples (1080p only, except for Real Media where the videos is 720p):
H.264 codec / MP4 container (Big Buck Bunny) – OK
MPEG2 codec / MPG container – OK
MPEG4 codec, AVI container – OK
VC1 codec (WMV) – OK
Real Media (RMVB / RV10), 720p / 5Mbps – Won't play
WebM / VP8 – Somewhat watchable but with some short slowdowns at times
H.265 codec / MPEG TS container – Not smooth, artifacts, audio cuts (H.265 is not supported by Freescale i.MX6's VPU)
I've then tested audio pass through via HDMI:
AC3 / Dolby Digital 5.1

First try – Device hangs with image stuck and HDMI icon blinking on AV receiver LCD display
Second try – OK

E-AC-3 / Dolby Digital+ 5.1 – OK
Dolby Digital+ 7.1

First try – Device hangs with black screen and HDMI icon still on AV receiver
Second try – OK

Dolby TrueHD 5.1 – OK
Dolby TrueHD 7.1 – OK
Dolby Atmos 7.1 – OK (Dolby TrueHD 7.1)
DTS HD Master – OK
DTS HD High Resolution – OK
When the device hung, I had to power cycle it. However, if you just turn off the power, and power it on a few seconds later the device won't boot, and it looks like you may want to wait until the green LED on the power supply turns off, which takes about a minute or so, before being able to start EzeeCube again. There may be some potential stability issues with Onkyo TX-NR636 receiver, but when it works HDMI audio pass-through appears to be working well.
I've also tested some videos with various bitrates:
ED_HD.avi

– Plays but with massive audio delay (a few seconds).
big_buck_bunny_1080p_surround.avi (1080p H.264 – 12 Mbps) – OK
h264_1080p_hp_4.1_40mbps_birds.mkv (40 Mbps) – OK
hddvd_demo_17.5Mbps_1080p_VC1.mkv (17.5Mbps) – OK
I've skipped the 120 Mbps since Ethernet was connected to my Gigabit switch at Fast Ethernet speeds despite Gigabit claimed in the specs. 4K is not supported by Freescale i.MX6 processor, so I skipped this test too.
Other Features
EzeeCube also has some other features seldom found on other media device I've tested so far. We can find most of them within the Android app.

You root user and password will allow you to connect to the box via SSH, and FTP or SAMBA, as well as credentials for ownCloud server running on the device, and Kodi. I had no problem connecting to the device via SSH, and my Ubuntu computer found EzeeCube device while browsing the network.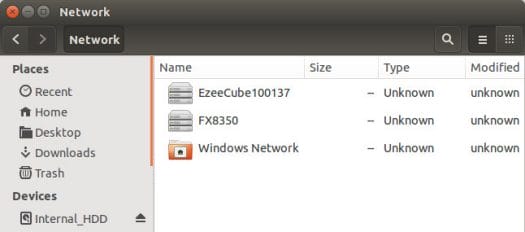 However after trying root, and kodi username and password a few times, I always end with the same error message after login: "Unable to access location SSH program unexpectedly exited". So SAMBA did not work either for now.
Then I tried ownCloud, after upgrading my computer ownCloud client to version 2.0 to support multiple accounts, and adapted the Windows instructions to try to connect to EzeeCube ownCloud server, but again the ownCloud client refused to connect even before I could input the user and password.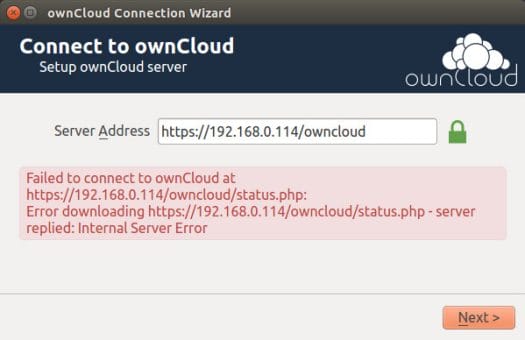 That's depressing, but eventually I was able to use one neat feature: Web browser interface that let's you control your system to play online or local videos, listen to music, adjust the volume and so on.
Settings also allows you to configure media file synchronization exactly how you want by selecting the folders or contact to synchronize, and what type of media (photos, videos, contacts, albums..) you want to sync.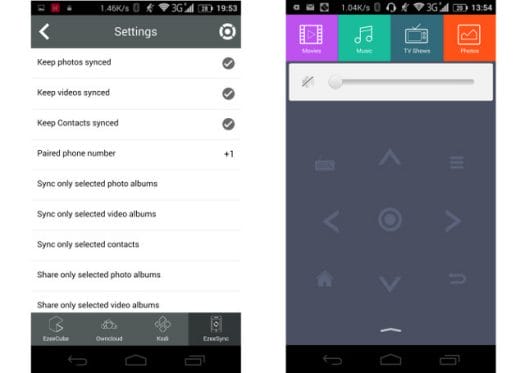 There's also a software remote that works reasonably well to control and access your movies, music, TV shows, and photos.
Conclusion
I really like EzeeCube hardware as it feels and looks of good quality, despite the now low to mid range specs, and the whole concept of having a hub for your all media files that you can store privately at home by stacking from 1 TB up to 10 TB storage as you see fit. Video playback is decent, and having automatic frame rate switching as well as DTS-HD and Dolby TrueHD audio pass-through working is good to have in a media player, but I had some stability issues with pass-through, and the latest standard like 4K and H.265 are not supported. Features like cloud storage, SAMBA, web interface, etc.. installed right out of the box should make it easy to use, but in my case I had too many issues and SAMBA and ownCloud would just not work.
So overall I like the concept very much, but the execution was disappointing. Now as a silver lining, I'm not exactly the typical user for this device, as I'm using a computer running Ubuntu 14.04 and a Chinese branded Android smartphone, while the company likely focused its development and testing with Windows and Mac OS users, as well as popular smartphones from Samsung and Apple for example.
I'd like to thanks the company for sending a unit for review. You can purchase EzeeCube with 1TB internal hard drive, as reviewed here, for $399, and selecting a 2TB drive brings the price to $449. 2TB add-ond hard drives and the Blu-ray drive, all stackable on top of EzeeCube cost $199 per unit.

Jean-Luc started CNX Software in 2010 as a part-time endeavor, before quitting his job as a software engineering manager, and starting to write daily news, and reviews full time later in 2011.