A few weeks ago I tried to play 4K videos in MXQ-4K TV box powered by Rockchip RK3229 processor. The device costs only about $30 including shipping, and it would have been if it could indeed play 10-bit H.265 and 10-bit H.264 videos for that price point, but sadly the results were catastrophic, and most of my 4K videos were unwatchable, either playing in slow motion, or with many slow downs and audio cuts. This happens in all players be it Kodi or Androids Video Player with the worst results occurring when playing from USB hard drive with network share video playback being a bit better. But I have now tested another Rockchip RK3229 based TV box – Zidoo X1 II – and the results are much better, so I also decided to show the results of HD audio pass-through over HDMI too.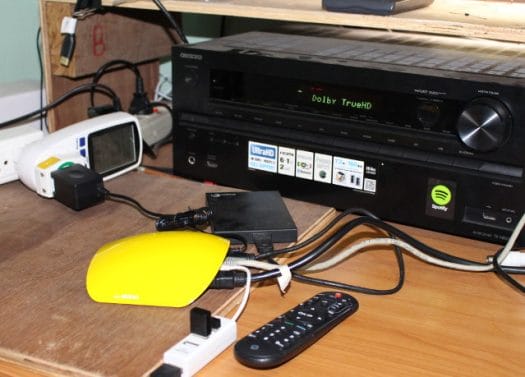 I played the videos from USB hard drive instead using Zidoo Media Center, as Kodi 16.1 (actually ZDMC 16.1) suffered from slow downs and audio cuts from time to time. The box was connected to Onkyo TX-NR636 AV receiver in turn connected to LG 42UB820T 4K UHD TV with the resolution set to 3840×2160 @ 60 Hz automatically by the box.
Before playing 4K videos, I started with two 10-bit H.264 HD videos:
[Commie] Steins;Gate – NCED [BD 720p AAC] [10bit] [C706859E].mkv – OK with video, audio, and subtitles.
[1080p][16_REF_L5.1][mp3_2.0]Suzumiya Haruhi no Shoushitsu BD

OP.mkv

– Black screen only
No other Android TV boxes are able to play those videos properly (at least using the hardware decoder), so even playing smoothly is progress. The second video most probably cannot play because "16 refs" (ReFrames) are not supported by the hardware decoder. There's no way to easily confirm that since RK3229 datasheet is not available publicly.
4K video playback was very good:
big_buck_bunny_4k_H264_30fps.mp4 – OK
Beauty_3840x2160_120fps_420_8bit_HEVC_MP4.mp4 (H.265) – OK

BT.2020.20140602.ts

(

Rec.2020

compliant video) – OK
Fifa_WorldCup2014_Uruguay-Colombia_4K-x265.mp4 (4K, H.265, 60 fps) – OK
Samsung_UHD_Dubai_10-bit_HEVC_51.4Mbps.ts (10-bit HEVC / MPEG-4 AAC) – OK
暗流涌动-4K.mp4 (10-bit H.264 / 120 Mbps / 5 ReFrames) – OK
Astra-11479_V_22000-Canal+ UHD Demo 42.6 Mbps

bitrate.ts

(10-bit H.265 from DVB-S2 stream) – OK
HD.Club-4K-Chimei-inn-60mbps.mp4 – OK
One downside is that there's no option (that I could find) in the settings to configure automatic frame rate switching. It works in ZDMC (Kodi), but videos are not playing that well possibly due to some background tasks (media scan, add-ons checks…).
How is that possible that Zidoo X1 II handles videos so much better than MXQ-4K? I cheated (sort of). Let me explain. At the beginning, although it was still better than my experience with MXQ-4K TV box, I also had some audio cuts and clearly visible frame drops from time to time, especially in ZDMC, and to a lesser extend when using Zidoo Media Center. But I could remember seeing lots of messages about "W/MediaScanner( 870)" shown with logcat in MXQ-4K, so I decided to see if I could disable it, and I installed media.Re.Scan: app to disable all directories.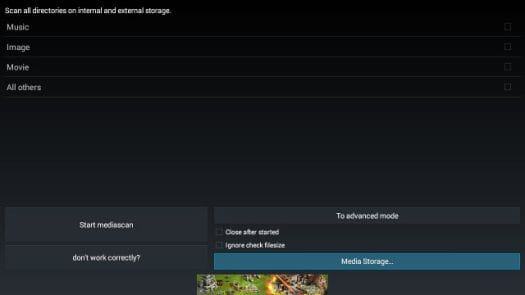 But more importantly then I clicked on Media Storage button, which let me to Media Storage service, which I disabled. I got some warning doing so because this is part of the system, and the service scan all storage to look media files and display them in apps such as the Gallery. You may not actually need to app to do so.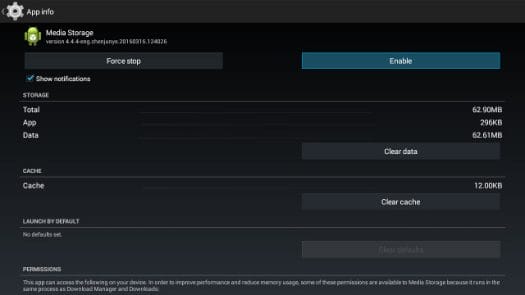 I have not found any side effects for now, and it has greatly improved video playback performance, as I now seldom, if ever, gets audio cuts and/or dropped frames. I have not been able to try this trick in MXQ-4K, as I don't own the device anymore.
Now let's see how HDMI audio pass-through is working, again using Zidoo Media Center app, after having enabled HDMI bitstream in Android settings:
AC3 / Dolby Digital 5.1 – Audio OK, video aspect ratio incorrect
E-AC-3 – OK
Dolby Digital+ 7.1 – OK
TrueHD 5.1 – OK
TrueHD 7.1 – OK
Dolby Atmos – TrueHD 7.1
DTS HD Master – OK
DTS HD High Resolution – DTS 5.1 only
DTS:X – DTS HD Master 7.1 (DTS:X is not supported by my A/V receiver, and most likely not by X1 II, but at least it falls back to DTS HD-MA)
So it's working well, expect DTS HD HR is not supported, and instead DTS 5.1 is used.
You can see most of the test above in the demo video below.
You can reproduce the tests yourself on your device(s) by downloading the videos available here.
Distributors and resellers interested in this product can purchase it in quantities by contacting Zidoo directly via the product page. Individuals can buy Zidoo X1 II TV box $49 on GeekBuying, Banggood, or Aliexpress.

Jean-Luc started CNX Software in 2010 as a part-time endeavor, before quitting his job as a software engineering manager, and starting to write daily news, and reviews full time later in 2011.