SoftKinetic has recently unveiled DepthSense 544 3D depth sensing ToF camera for mobile devices, which they claim is the world's smallest ToF camera, with the "highest level of efficiency available on the market, perfect for small form factors such as smartphones and wearables".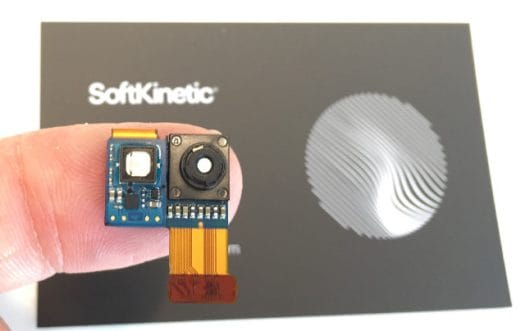 That's all nice, but what does ToF mean? ToF stands for Time of Flight, and ToF cameras calculate the distance by measuring the time the light signal travels between the camera and the object as explained by Wikipedia:
A time-of-flight camera (ToF camera) is a range imaging camera system that resolves distance based on the known speed of light, measuring the time-of-flight of a light signal between the camera and the subject for each point of the image. The time-of-flight camera is a class of scannerless LIDAR, in which the entire scene is captured with each laser or light pulse, as opposed to point-by-point with a laser beam such as in scanning LIDAR systems.

Time-of-flight camera products for civil applications began to emerge around 2000, as the semiconductor processes became fast enough for such devices. The systems cover ranges of a few centimeters up to several kilometers. The distance resolution is about 1 cm. The lateral resolution of time-of-flight cameras is generally low compared to standard 2D video cameras, with most commercially available devices at 320 × 240 pixels or less as of 2011. TOF cameras operate very quickly, providing up to 160 images per second.
Texas Instruments provides a more detailed technical introduction of Time-of-flight camera, and also compare time-of-flight techniques to the two other 3D imaging technologies, namely stereo vision and structured light.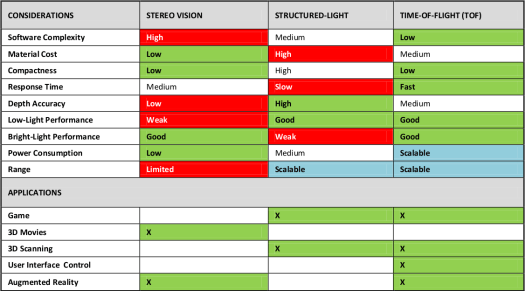 ToF has the advantage of having lower software complexity, fast response time good low and bright light performance, at the expensive of having a medium cost, low compactness (a problem mostly fixed by SoftKinetic module), and medium depth accuracy. It can be used for most applications include games, 3D scanning, user interface, and augmented reality, but is not suitable to shoot 3D movies.
A 2016 Allied Market Search report shows that among 3D cameras, most are using stereo vision technology, and such 3D cameras are still expect to dominate in 2021, but the market share of ToF cameras should increase at the expense of structure light solutions.

But let's go back to Softkinetic DepthSense 544 ToF camera, which is said to have the following key features:
10µ pixel, ¼ inch sensor with micro lenses for high depth resolution
HDR sensor for both outdoor operation and extra close depth capture
MIPI interface for low latency
Innovative lens design for small form factor and high efficiency
The module is said to enable fast multi-point auto focus in extreme low light conditions, DSLR quality depth-of-field and background replacement, augmented/virtual reality natural hand interaction in games, indoor navigation and 3D scanning applications for mobile devices.
SoftKinetic DS541 is currently sampling, with mass production planned for Q3 2017. The company will also be showcasing the technology during a two-day DepthSense Workshop, taking place in San Jose, CA on September 26-27, 2016.

Jean-Luc started CNX Software in 2010 as a part-time endeavor, before quitting his job as a software engineering manager, and starting to write daily news, and reviews full time later in 2011.