Dear readers, after part 1 of Xtream Codes Panel v.2.2.0 EVO review, here is part 2. I tried hard to get all in two parts, but "to be exhaustive" there will also have to be a part 3…
Movie Editing Section

As we can see, it's only possible to assign a movie into a single category, a SELECT BOUQUET Option under the Category would be more then useful. So while Movie Editor Section is useful right now, it still needs improvement.
Also taking each movie by hand for editing, after, for example, a Main server crash or changing the Main, is really something, a waste of time. Some of the issues / possible improvements include:
No mass edit of movies to bouquets
If changing the category of a movie, I found no working method to change in a bulk.. Even if I tried to delete the "content" of a bouquet, it was denied.
Left Hand Section, Mass Edit Streams allows only live streams to be edited.
Stream Tools! To be able to delete the falsely assigned movies. With the result of the complete addition process later on, and the transcoding process has to be repeated all over again…
I strongly advice customers/user's of the Xtream Codes Panel to name their movies in a kind of unique, retrievable way later on. If not, and if you try to sort them later by assigning them in to a bouquets, you stand in front of all the movies, the way you loaded them up. No kind of Movie editing (re-naming) possible, before you load them to transcode. The mass edit movie section is simply missing.
This great piece of Software NEEDS A MOVIE EDITING SECTOR
The options available right now: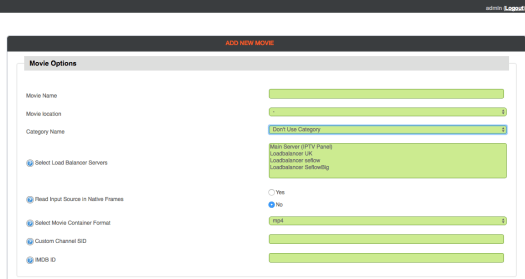 Manage Categories has to be more specific to meet the needs of the customer.
Right now I was not able to really sort the categories to my preferred sequences. Did I miss here options? I couldn't find it.
Edit Category function is limited to change the name only.

Again, if you have already tons of movies assigned to a category there's no other way to assign them in a bulk right now. A time waster.
General Warnings
To be on the safe side, do not fill your HDD up to the limit. Max 70% should give more stability.
Attention: If you rent a dedicated server, seeing the offer for example, let's say 2x 2TB, you should know that after a normal install, you'll only get 2TB. That is because one is mirrored, in case you loose the first partition, it would be fatal, right?
So, better let it this way, do not use the whole size. Agreed?
Having issues with reconnecting interrupted streams, I filled Xtream Codes panel with over 200 streams, and around 500 movies. I checked the stopped streams, and most connected again after manually pressing the "start/restart stream" button. But these are rare cases only, overall I must say the platform is absolutely stable.
I found a few times the 'Guilty-ONE" for this: It was not Xtream Codes Panel, it was the miserable Streams I got from a friend for testing purposes.
Security settings (Fight the Intruders by blocking them)
Handle this setting carefully! Especially if you give a trial List to a customer, he will zapp through the channels quickly, or VLC crash often, how we all know..
Wrong or too hard settings will block him immediately.
A good setting should be as follows:
General Settings->Security Settings->Flood Limit to 6 or 8
Request Frequency in Seconds to 1.
Security Settings Section
Back to the Security "plugins"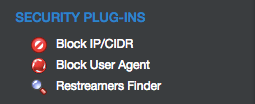 BLOCK IP/CIDR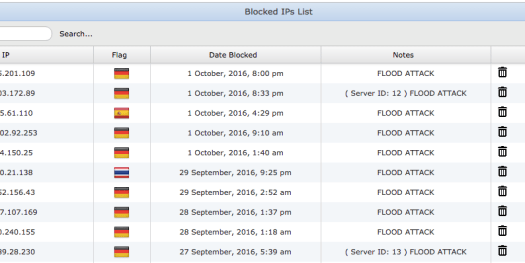 We see the IP's or better, the intruders (hint: After you set-up the Flood Limits in General-Security/Settings)
Here we go, nice to look at… but why not show directly the "customer by name with IP"?. In the end, we have to make the decision whether to unlock the IP or keep him locked. It's only working if a server with a fixed IP started the attack, dynamic IP's appear soon then if the IP changed.
And in case no internal customer, let's say a simple "from outside" or no customer would be a great help. Going through the log files  to find out if it us a customer or instead a competitor trying to slow down your server (we are all nosy, aren't we?) makes no sense and no fun. Reason: time extensive if dozens or hundreds of logs!
Live Streams-Video on Demand Section
Manage Stream/Add New Stream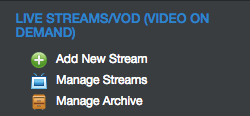 There is also one relatively "unique" function; you should handle with care, or best ask the seller of the LEGITIMATE streams, if he allows that you use the "Use Direct Source & don't restream it". This means all coming traffics are not on your side, the connected server takes it all. You should be able to see the other side. But I guess you know already.
You can also redirect the Stream to the Original Source, so that your customers connect through your own DNS. Doing so, setting to yes, your URL will show up in the Bouquet List later. But again, be aware, choosing NO, your user will not connect to your server in any case. I tested it by letting the user connect over my DNS. I thought, I would see any client connecting through my DNS, but you will not, in both cases. No matter Client Connection Logs or in Manage Lines, he is simply invisible to you. I guess, after all not the smartest idea.

Security Section
General settings->Security Settings

Useful if you find the "right" setting. The Flood Limit shows the number of requests specified in "Request Frequency". I started with 5 requests within 3 seconds, result: I got blocked myself and no idea why. I just watched one channel, no fast channel switching, no nothing. This seems to getting interesting, I thought.
Switched to 8 requests in 3 seconds range. Activated my test users… Result: 2 Android boxes getting blocked.
Mhhhh, I go deeper in this then after, and because of English is not my native language, haha, we "none-english" have sometimes a problem to understand the language. And…I found it! My mistake! Definitely to 90% only, haha! And 10% I give to Xtream Codes back, because they should really be more specific about this classy feature, which is highly useful!
Advice: Give 3 options, or 4, the ordinary customer can use! Like: LOW-Standard-HIGH-HYPER Settings, pre-configured! (Also the option for manual settings).
I know I know…but remember this: Many customers are not common with these terms; they simply do mistakes resulting in blocking customers who do nothing wrong at all, which could lead to losing customers.
Standard should be: 10:1, or 20:1 ((flood limit:request frequency), but hard to say for sure in my opinion. And even this could maybe cause some troubles, if a nervous user zapping the channel's in a lightspeed and the playlist is huge…
For example: Each zapping under 1 second is 1 evil request, collected and memorized by the panel! 10:1  means, 10 times under 1 second is OK, but then… the 11th try would blocked them! This is a hard decision to make for each panel user, if he has a huge playlist with many customers. Some customers could complain, if they get blocked, and I don't want to talk about the non-stop checking the Security Settings, and look for blocked IPs.
Recommendation: Invest in a DDOS Protection with your server, every hosting provider is offering this. Also let this setting to OFF (0) in the beginning, and get used to everything first. You can then implement the settings you are comfortable with lateron.
Resellers – Registered Users Section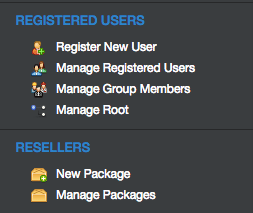 Reseller Section
Registered Users and Reseller
When I started to work with the panel and getting used to it, this was the first category I started with. I expected something like: REGISTER RESELLER, or similar. Registered means already already registered, right?
Let's start with "Register New User". This feature is mainly used, to create a new RESELLER of yours, a now you want to give him access to a reseller panel. Let's create one!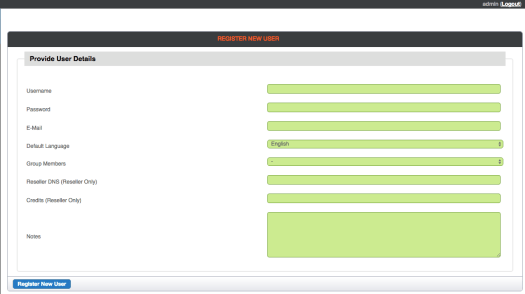 As we can see, you have to provide the follwing details for the new user (reseller in this case):
Username (Whatever you want to call the reseller)
Password (Please 6 digits minimum, out of security reasons, phrases are also useful)
E-Mail (Email address of your reseller, without one you can not create a new reseller)
Default Language (right now only English is possible)
Group Members (see the next Section, Group Members)
Reseller DNS (Reseller Only) – Here you can specify the reseller's own DNSs
Credits (reseller Only) – The amount of money the Reseller payed you, usual is 1 credit = 1 UK pound or other currencies)
Section Manage Group Members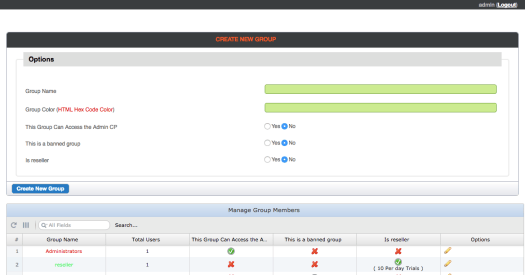 First of all, a little explanation here on this important part. As we've already seen above, we can "register" a new user, reseller in this case with "REGISTER NEW USER" option (I would rather see a "Create new Reseller" button). But here is the point: If you register a new future reseller, you have to assign the payment formalities later (ex: 300 Euro = 300Credits), but also how much for 1 month, 3 months or any other kind of subscription (time frame), and the reseller can create lines for his own customers later, and see his own costs each time.
Assigning them (the resellers) all in one category, named reseller, let you later no choice to give different kind of subscription prices. (ex: Reseller A 1 month =6 Euro, Reseller B 1 month 8 Euro), so that's why Xtream Codes has a great feature in creating groups.
You can simply create a new "group", let's say Group elcap in my case, and assign reseller A to it. Now your Reseller A is a Group Member of "elcap" group. Next step, you want to give him prices and time frames of each line he creates.

As you can see, I created the trials , 1 month, 3 months, 6 months and 12 months, and also a VOD package for the reseller part of group elcap.
You start with Resellers -> New Package (Adds a new Package)

We see the following options after clicking on New Package: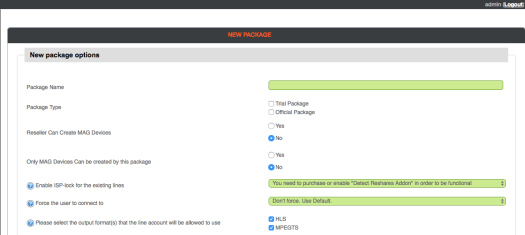 You first need to name the package, mark it as Trial or Official Package (1-12 month or else later, you are free in your decision), you can even pair the line with the ISP provider of your client by first connection. (Attn.: need additional plugin to buy).
Useful only if you create a Package for a RESTREAMER (Restreamers are able to put your bouquets/packages on their server(s) and use them as there own streams), as they have a fixed IP in any case.
In this example we give 20 connections to a Restreamer

Meaning: You can give your whole LEGITIMATE stream list, or assorted ones, like a bouquet you filled with specific streams before. In any case, your Restreamer you are selling to, is only able to open 20 connections on his server. The amount of connections you assign to him is what he pays for.
Settings Prices with Manage Packages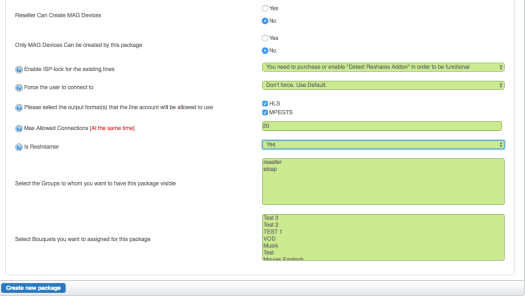 Edit a package

A complete option to edit your before assigned package (Manage Package->Edit Package).
Here's the output of my own created packages Create them for your own needs, everything is possible!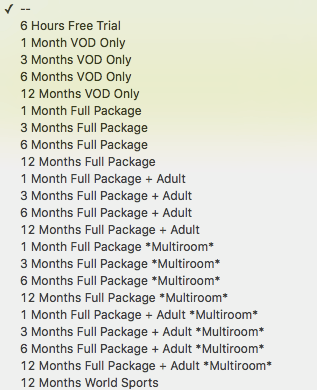 Manage ROOT (Registered Users)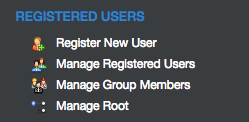 By clicking on Manage Root you get the following options: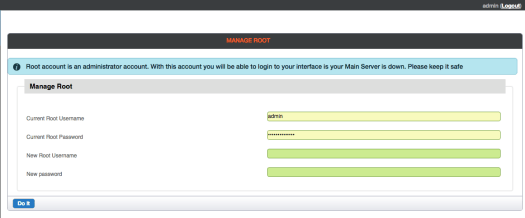 Here you can change your ROOT username/password given by Xtream Codes for your panel.
You can change both passwords here later, if you do not wish to use the old ones once given from Xtream Codes after you ordered and paid for your panel. Handle this carefully, write it down and copy it to safe locations, just in case of a crash of the main server (see upcoming part 3, with simulated crash of the Main server)
I initially planned to finish this review into two parts, but there are so many options, I have to do at least one more part.
I also have to repeat Options and Features for better understanding later on. See you guys on Part 3 soon, which should include:
Changing the Main Server (through my extended kind of tests, I worked a couple of days on this, and the results should benefit all of us who are using this software and working with it.)
Finishing the features for good, I promise
The "Have's" and the "Have Not's
Enumerations of the Top 5 settings to use
Results after a new installation (Simulated Crash of the Main Server)
The Pro's & the contra's
The Competitors of Xtreme-Codes Panel
Be aware of some kind of hosting services (Strange experiences with 2 "Big Ones"! Troubleshootings)
The Conclusion
Preparing a little Manual (PDF format, to help you guys)
[Update: During finishing my work on the huge Part 3 of the Review Xtream Codes Panel Version.2.2.0 EVO, there was yesterday, 08th October, an update to Version 2.3.0 EV0, with a lot of new Features and Improvements!
So, I will need a little longer to finish the Part 3, please stay tuned.]
[Update 2: continue reading Xtream-Codes IPTV Panel Review – Part 3: Updates and New Features for Version 2.4.2]