This is the third part of Xtream-Codes IPTV Panel review. IPTV Panel Professional Edition is a software to build your own IPTV Server from scratch. It supports all common Streaming Protocols as an Input and it is powered by FFmpeg & nginx. If you have not done so already, you may consider reading the first two parts:
Review of Xtream-Codes IPTV Panel Professional Edition – Part 1: Introduction, Initial Setup, Adding Streams…
Here are the major changes since Part 2: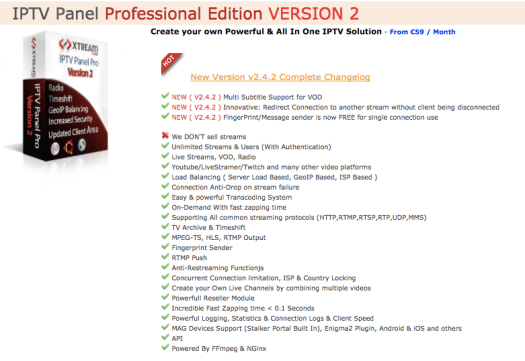 And part of the company's announcement of the release:
Why choose IPTV Panel Pro?

IPTV Panel is powered by many Open Source Tools. These are only few reasons why we believe our software is different from our competitors:

Stability: Our software is powered by FFmpeg to do the Restreaming & Transcoding of your streams. FFmpeg is the leading multimedia framework, able to decode, encode, transcode, mux, demux, stream, filter and play pretty much anything that humans and machines have created. It supports the most obscure ancient formats up to the cutting edge. No matter if they are designed by some standards committee, the community or a corporation.

Security: We provide an Addon who will increase the security of your Streams even more. We guarantee that it will be hard, even impossible for someone, to steal your streams.

Fast & Lightweight: We are using NGinx to serve the Streams to your Client's, which is one of the fastest (if not the fastest) & most stable Web Server currently. Our solution can be used even in a simple VPS. Everything has been optimized & tuned.

True Load Balancer: When it comes to load balancing, the iptv panel has been made in such way that lets you add your own external servers. By adding a new external server into the current installation offers you many advantages. You can split the load, you can change the streaming flow, you can add/change servers of your Videos and much more

Statistics & Interface: We have built our solution in a way that you can find what you want fast and easy. No matter how many external servers you added, you have everything in one place, you can search, export Statistics, view Client's Connections from one single interface.
Let's got to work and test the new Version 2.4.2.
You will notice that the fingerprint addon is now free but it is limited to ONLY send one messages to a specific client and not massive as the pay version add-on does.
Complete Changelog: https://forum.xtream-codes.com/topic/3552-v242-released/
Before getting down-under, here are some very useful advices right in the beginning of Part 3:
Flood Setting (General Setting-Security Settings)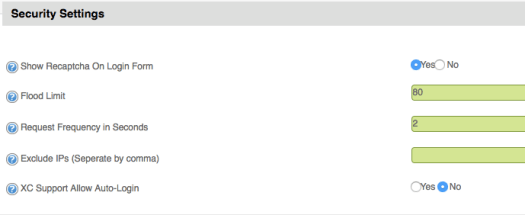 As you can see, the optimal setting for most users is 80 in Flood Limit, and 2 in Request Frequency. This setting will block ONLY customers with no valid or expired Lines! Their IP simply will be blocked and can be seen in BLOCK IP/CIDR Section later, where you are able to unblock as well if you want.
We also see the "XC Support ALLOW AUTO-LOGIN". This you activate by putting YES in.
If you create a Ticket with XC Support, just tell in the Ticket your CMS Address (URL of your Panel) and inform them, that you activated Auto Login.(Don't forget to set it to NO after your ticket is closed)
MAG BOXES and Co, like TVIP and BLOMC Boxes, Emulators, Clones and other Stalker Middleware Boxes!
Advice: Pay attention that you have the latest Firmware installed.
Many problems for inexperienced users of the Panel can occur, like the Box gets blocked, cannot load the Portal, or you do the most common mistake in choosing an image to lock the MagBox. (my opinion: inexperienced user's should not lock the mag boxes with an image. If you have detect Reshare/IP Lock Plugin, you can lock him with IP-LOCK feature.)

Hint: Many clients are having trouble to put the Portal in their boxes, after they bought it, so I've included a useful video showing how to put a Portal in a MagBox for your customers.



You can do as follows to unlock the MagBoxes:
Run on Database Manager the command:

UPDATE

mag_devices

SET

lock_device

=

0

;

Update: This feature was taken OFF from Xtream-Codes a couple of days ago… Not a good decision, more Tickets will be created as a result, I guess.
Look once a while into your SECURITY CENTER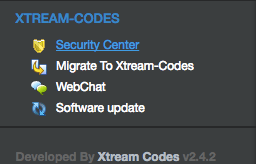 Suspicious Files will be seen there, on all of your servers, as well as intruders or hacking attempts.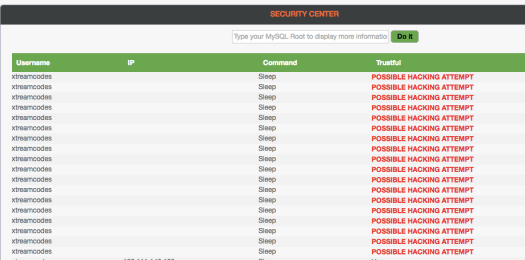 The "DASHBOARD" has now the much asked for  Clients's Connection Geo again, what we know from the older Version 1.
The meaning of the shown geographical connects is, it shows all CLOSED CONNECTIONS. (It would be more useful if it would show the actual real-time connects out of the countries, or is "show from yesterday" such important ? Maybe I am wrong..:))
Hint: After pressing the FIX & OPTIMIZE Button in Database Manager, all current so called "closed" connections are gone….(Guess, starting all over the counting of "all closed conections..still looking for a sense in this..)
Update: The function to install a manually downloaded Databank Backup is also gone now after a few more "pushed" Pre-Updates from Xtream Codes. (Opinion: Not a good idea at all! I think it has to be implemented again)
Before v.2.4.2

And after Update to v.2.4.2

The Clients's Connection Geo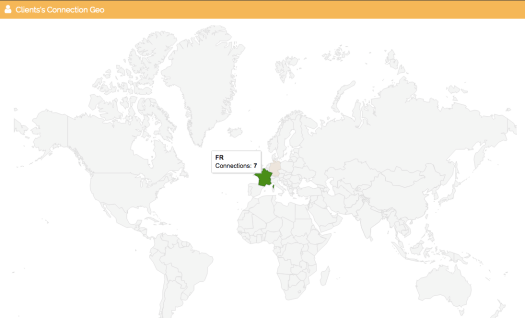 The huge and most important Section of creating Sub-Resellers from a Reseller-Panel (Since Version 2.3.1)
I must say, why not before? Great idea, great feature! Giving your Reseller A the choice to create a Sub-Reseller B!
So far so good, if there would not be the pricing sector. I try to bring here light into the darkness.
Let's start with "how to activate" this feature, for the Admin of the panel.
Here we go: MANAGE GROUP MEMBERS; edit the Group-Member of your choice

Then you see 4 Choices in Section Section SubResellers
Can Resellers in this Group create SubResellers
Credits Cost for Creating Subresellers
Can resellers alter the packages prices of their sub-resellers
Can Resellers select specific packages to assign to their subresellers

Now I will try to explain the most important part for Admin's and also Resellers.
Who create a Sub-Reseller. The Margin, the pricing.
A lot of confusion about that, as most of the Admin's also the Resellers', who create a Sub-Reseller. Note: Only Reseller A can create a Sub-Reseller B, and that is then the end of the line, a Sub-Reseller can not create another Sub-Reseller.
Pricing, Margins and about Profits
We call here in the following examples with ADMIN (the Owner of the Panel), Reseller A (created from the Admin) and Sub-Reseller B (created from Reseller A).
Admin charges Reseller A with 1 Credit / 1 Euro.
Reseller A creates a Sub-Reseller B, and now Reseller A sells Credits to Sub-Reseller B, right? But for sure Reseller A wants to make a profit, remember, Reseller A pays 1Credit/1Euro already, so his created Sub-Reseller B should be charged more than 1 Euro for 1 Credit, right? The easy way for Reseller A would be to calculate in percentage, meaning: If he wants 50% Profit, he has to charge Sub-Reseller B 1.50 Euros for 1 Credit.
Other way, if the Admin charges the Reseller A 5 Euros for 1 Credit, then Reseller A could theoretically charge every price what is over his own price of 5 Euros.
Example: 1 Month – 1 Credit (Reseller A's price is 5 Euro, he charges the Sub-Reseller B 7 Euros).
I hope that brings a little light in Reseller-SubResellers pricing politics.
Here's what the official text says about this all:
We prepared a Subreseller system for you, and to prevent any downtime, we just applied the new system, in all the current v2.3.1 panels. If you are reading this, and you have the new version v2.3.1, you should have the new system embed.

This system gives the ability to groups where the Reseller status is ON, to be able to make their own reseller which we call subreseller.A subreseller has similar features and abilities like the Main Reseller, with the difference that his Users, Credits & Packages are being controlled by his owner.
Features

Reseller can make their own resellers (subresellers)
Resellers can remove some of the packages for their subresellers
Resellers can adjust different credit costs for any of the packages that are assigned by the administrator
Subresellers users & credits, are being controlled by the resellers who made them
Administrator can edit the permissions from the Admin Panel -> Manage Member Groups
Administrators can now edit the Packages and apply different credit costs per Reseller (the current system is per group). Now he can do both. ( Manage Registered Users -> Edit -> Assign Packages )
Reseller A sees this in his Panel:

New "TOOLS" Section (Very Useful)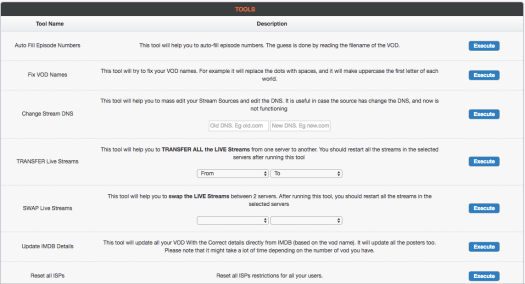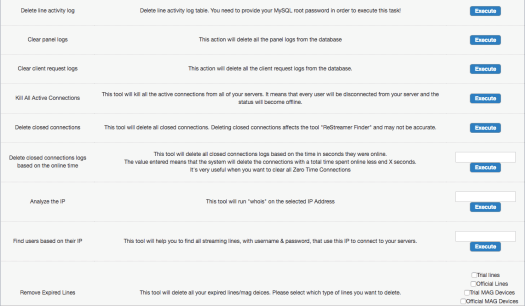 Many new features, like changing Streams DNS old2new, transfer Live-Streams from a server of your choice to another; fix Vod's names (the VOD name should be correct and exactly match), Reset all ISPs restrictions for all your users (in case you activated IP Lock before, ex: customer at home with box on ISP A, his mobile phone on ISP B)
Update IMDB Details (needs some overhaul, not correct working in tests)
Clear different kind of Log's, MagBox events and more.
Conclusion: Highly Useful
Movies Section
I know definitely now, like I mentioned already in Part 1 and 2, that the developers are not great fan's with movies. There is still the almost whole range of movie editing section missing, and I would also like to see, that a Movie and a Stream could directly being assigned into a bouquet.
By the way…I never really managed to sort the categories out. Meaning that a category could be moved around of choice, up or down. At first place, at the end. And so on.
There is a section MANAGE CATEGORIES, but I must confess, I never came clear with this. Sorting categories works by pressing one "category" down, and move it up or down. Results are shown only in Magboxes later. VLC & Co? No chance at all. All mixed up. Stream Tools seemed promising, But somehow I missed here something, I guess. For me useful only in deleting streams and even mass delete is of no problem.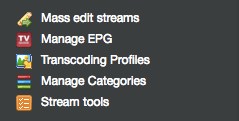 The ALL-NEW BOOST Setting in v. 2.4.2 (ATTN. ONLY FOR MAIN-SERVER)

To go there, MANAGE SERVERS, edit Main…Performance Settings, activate BOOST PERFORMANCE to YES.
Requirements to activate this BOOST
The Bad News: Totally EMPTY MAIN SERVER, not one single Stream on it, and no VOD, completely empty!
The good News: Before v.2.4.2 the recommendation was a 40-core Beast! You read it right, a "cheap" 40-core EMPTY Main was necessary, to enjoy the boost.
This is not necessary anymore, since update to 2.4.2! A minimum 8-core to 16-core will do the job now, if you should decide to use this boost, yhat results in more stability, and even faster stream connects, panel and on client side.
My personal recommendation is, minimum 32GB RAM with a 16-core server.
This gave me good results in extensive testings.
The ALL-NEW GUI of the Dashboard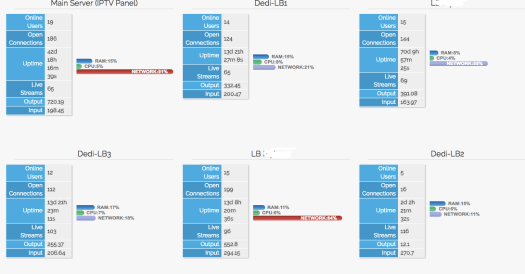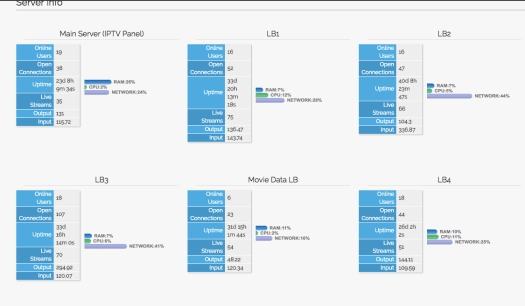 As we can see in the first picture, the usage of the network is continuous measured, and absolutely exact! In case of overloading your bandwidth, you will be warned about.
For Security Lovers.

As you see, with Xtream-Codes Backups Cronjob's, you will be safe and sound, always. You even will be warned if your peer uses a HIGHLY UNSAFE cracked Panel Version v.1 with YOU BET…BACKDOORS!

Pros
Amazing new features, too much to count even, everything is possible!
Faster then ever, more stable then ever before
Very fast reconnects of streams, with no kind of interrupts for clients.
Highly flexible kind of configurations possible
Compared to competitors, very cheap prices
Brilliant Security settings
Great and responsive Support (Thanks to Despoina and colleagues)
Easy understandable GUI (if you invest a little time in the beginning)
Brilliant and superfast transcoding
Xtream-Codes even creates new long awaited Plugin for E2 (soon released)
Cons
No assignment of streams or Vod's direct into a bouquet till now possible
Categories sections should be more flexible, regarding sorting the Lists
NO REAL MOVIE EDITOR SECTION! Still….
Conclusion
Xtream-Codes is just on the jump to be a big player in the IPTV scene. It is to hope that the developers will go on and listen to the needs of their clients, like they do till now. I want to thank the Developers and the whole XC-Team for the support I received during the last months. You do an amazing job, and it was my pleasure to be a part of Xtream Codes.