Long range LPWAN solutions have just started to hit the market, and there are so many standards such as Sigfox and LoRa that it's difficult to know who will eventually be the winner, or if different standards will co-exist over the long term, and in a general sense it might not be so easy to decide which one is best suited to your project without experimenting first. Pycom has a solution to this problem, as they've made a board similar to LoPy with WiFi, Bluetooth, and LoRa, but instead included 5 long and short range IoT protocols: Sigfox, LoRa, LTE Cat M1 & Cat NB1, Bluetooth, and WiFi.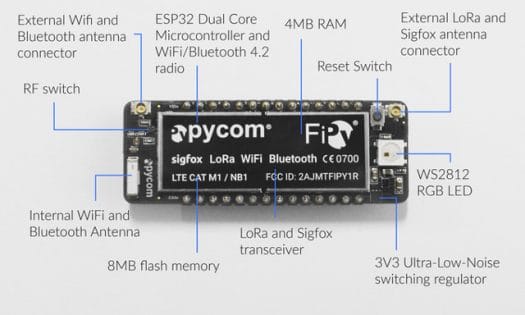 Pycom FiPy board specifications:
SoC – Espressif ESP32 dual core Tensilica L108 processors @ up to 160 MHz with BT 4.2 and WiFi
System Memory – 4MB RAM
Storage – 8MB flash memory
Connectivity

WiFi 802.11 b/g/n @ 16 Mbps up to 1 km range & Bluetooth 4.2 with common u.FL antenna connector and chip antenna
LoRa and Sigfox transceiver

common u.FL antenna connector, RF switch
Lora

868 MHz (Europe) at +14dBm maximum
915 MHz (North and South America, Australia and New Zealand) at +20dBm maximum
Node range up to 40 km, nano-gateway range up to 22 km (max 100 nodes).
Power Consumption – 10mA Rx, 28mA Tx

Sigfox

Maximum Tx power – +14dBm (Europe), +22dBm (America), +22dBm (Australia and New Zealand)
Node range up to 50km
Operating Frequencies

RCZ1 – 868MHz (Europe)
RCZ2 – 902MHz (US, Canada and Mexico)
RCZ3 – (Japan and Korea)
RCZ4 – 920 – 922MHz (ANZ, Latin America and S-E Asia)

Power Consumption

Sigfox (Europe) – 17mA in Rx mode, 47mA in Tx mode and 0.5uA in standby
Sigfox (Australia, New Zealand and South America) – 24mA in Rx mode, 257 mA in Tx mode and 0.5uA in standby

Cellular LTE CAT M1/NB1 transceiver

u.FL antenna connector and nano SIM socket
Operating frequencies – 34 bands supported from 699 to 2690MHz
3GPP Release 13 LTE Advanced Pro
Peak power estimations – Tx current = 420mA peak @ 1.5Watt Rx current = 330mA peak @ 1.2Watt

Expansion – 2x 14 pin headers with UART, 2x SPI, 2x I2C, I2S, SDIO, 8x 12-bit ADC, 2x 8-bit DACs, up to 16 PWMs, up to 22 GPIOs
Misc – WS2812 RGB LED, reset switch, 32 KHz RTC (in SoC)
Dimensions – 55 x 20 x 3.5 mm
Temperature Range – -40 to 85 degrees Celsius
Certifications – CE, FCC, Sigfox network certification, LoRa Alliance certification, LTE-M CAT M1/NB1 cellular – global networks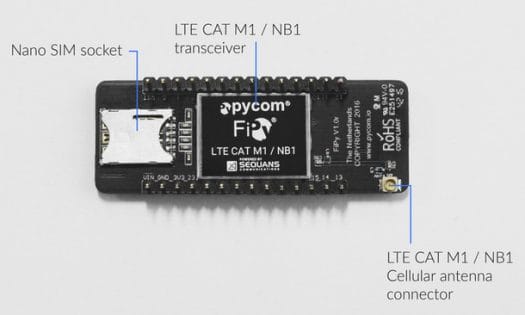 FiPy name is most probably derived from Five IoT protocols, and microPython support. As the board is compatible with WiPy, LoPy and SiPy you can use the usual Pymakr IDE and Pymate Mobile app to write your program and control the board. The company has also introduced two new add-on boards:
PySense board with an ambient light sensor, a barometric pressure sensor, a humidity sensor, a 3-axis 12-bit accelerometer, and a temperature sensor, as well as a micro SD card, a micro USB port, and a LiPo battery charger
PyTrack board with a GNSS + Glonass GPS and a 3-axis accelerometer, as well as a micro SD card, a micro USB port, and a LiPo battery charger. This can be very useful to track moving assets such as cars or bicycles.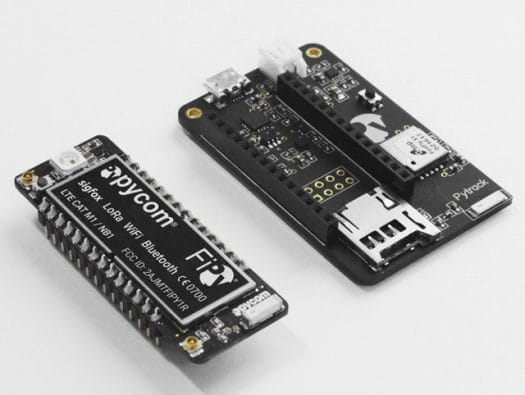 The project has just launched on Kickstarter as already surpassed its 25,000 Euros funding target. Most early bird rewards are gone, but you can pledge 39 Euros for FiPy board, 59 Euros (Early bird) for PySense Kit, 65 Euros (Early bird) for PyTrack kit, optionally adding 7 Euros for a Sigfox/Lora antenna, and 7 Euros more for an LTE-M cellular antenna. Shipping adds 8 to 25 Euros depending on the selected rewards, and delivery is scheduled for April 2017. Just a warning for users who are not based in the US or Europe: please make sure you comply with your country regulations, especially in terms of frequency used, as such nodes will have multiple kilometers range, and you may not want to break the law, and possibly get a visit from your local police or military…

Jean-Luc started CNX Software in 2010 as a part-time endeavor, before quitting his job as a software engineering manager, and starting to write daily news, and reviews full time later in 2011.