There are plenty of Android car systems for sale with DVR and/or GPS navigation capabilities on the net, but sometimes they lack some features, or come in a 2 DIN form factor, which is nice if you know how to disable your car dashboard, but it might be a little complicated if you don't. An alternative is to get an Android rear view mirror, but obviously the display is much smaller, and it reduces the usable space on the rear view mirror to see what's going on behind. However, this morning I've come across Junsun H552C Android 4.4 system with a 7″ display, rear and front cameras, and GPS navigation system that might be easier to install since it sits on top of the dashboard, and is selling for $118.54 on Dealextreme.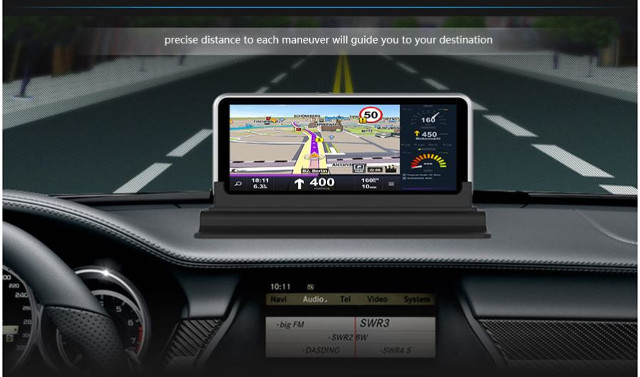 Junsun H552C specifications:
Processor – Quad core CPU @ 1.3 GHz
System Memory – 1GB RAM
Storage – 16 GB flash (13.07GB available for apps and data) + micro SD slot up to 32GB
Display – 7″ touch screen display with 1920×1080 resolution
Camera – 2.0 Wide angle (170°) front camera for 1080p recording + external rear camera (140° angle) for 720p recording; simultaneous recording support; PiP display with both camera shown on display
Video – AV input
Audio – Built-in microphone and speaker
Connectivity

GPS ( SiRF Star III module) with built-in antenna
WiFi & Bluetooth 4.0
FM transmitter to output audio to car speaker

Navigation – Sygic maps for US and Canada
USB – 1x mini USB port
Sensor – G-Shock Sensor to automatically save the record video in case of collision
Battery – 8,000 mAh battery
Dimensions – 12 cm x 4.4 cm x 8.4 cm
Weight – 750 grams
Maps appear limited to North America, but descriptions on DX are often incorrect, and since the system is running Android 4.4, you should be able to install your own GPS navigation app.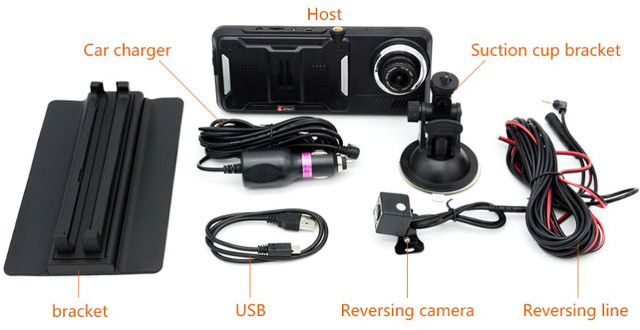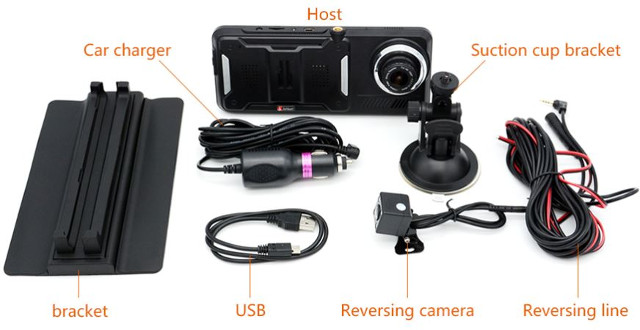 The kit include the 7″ "car dvr system", a power cable, the rear camera and cable to use while you drive in reverse gear / park your car, a USB data cable, a bracket for the dashboard, and a suction cup bracket in case you prefer to hook the system to your windshield, and a user's manual.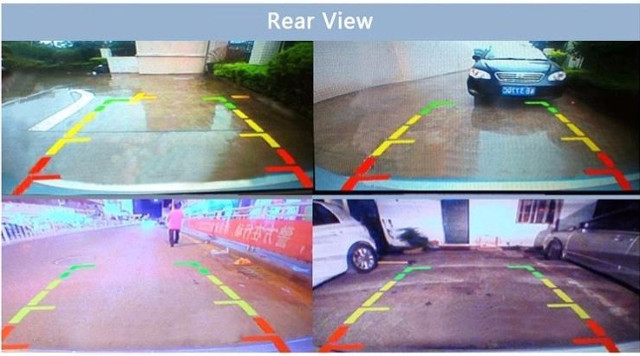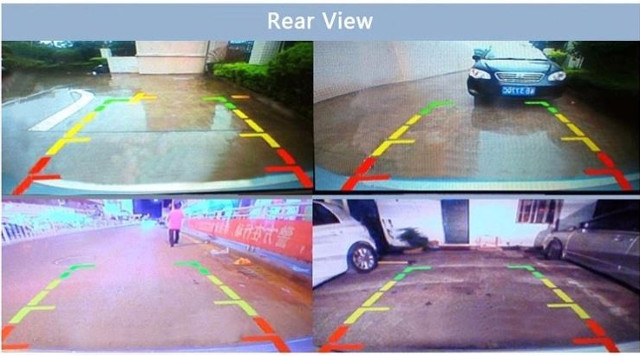 I could not find H552C on other website, but found the same model without model number on Junsun's official Alipress store selling for $101.83 shipped. They provided some more information about support maps, and indicate that they will load Europe, North America, South America, Southeast Asia, or Middle East map depending on the country of the buyer. They also mention yearly map updates:
About the map, if you want to update the map, please contact us, we will upload it to the "Dropbox", please do not download in other places, otherwise it will damage the original map. Update map time: once a year