NXP pushed out several press releases with the start of Embedded World 2017 in Germany, including three new micro-controllers/processors addressing different market segments: Kinetis K27/K28 MCU Cortex M4 MCU family, QorIQ Layerscape LS1028A industrial applications processor, and i.MX 8X SoC family for display and audio applications, 3D graphic display clusters, telematics and V2X (Vehicle to everything).
NXP Kinetis K27/K28 MCU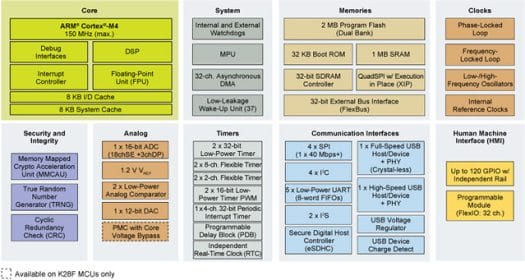 NXP Kinetis K27/K28 MCU family is based on an ARM Cortex-M4 core clocked at up to 150 MHz with FPU,and includes up to 1MB embedded SRAM, 2MB flash, and especially target portable display applications.
Kinetis K27/K28 MCUs share the following main features:
2x I2S interfaces, 2x USB Controllers (High-Speed with integrated High-Speed PHY and Full-Speed) and mainstream analog peripherals
32-bit SDRAM memory controller and QuadSPI interface supporting eXecution-In-Place (XiP)
True Random Number Generator, Cyclic Redundancy Check, Memory Mapped Cryptographic Acceleration Unit
K28 supports 3 input supply voltage rails (1.2V, 1.8V and 3V) + separate VBAT domain, implements a Power Management Controller supporting Core Voltage Bypass and can be powered by an external PMIC, and is available in 169 MAPBGA (9x9mm2, 0.65mm pitch) and 210 WLCSP (6.9×6.9mm2, 0.4 mm pitch) packages.
K27 supports 1.71V to 3.6V input voltage + separate VBAT domain, and is offered in 169 MAPBGA (9x9mm, 0.65mm pitch) package only.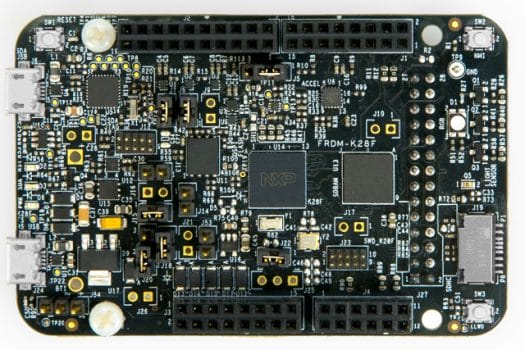 FRDM-K28F development board will allow you to play with the new MCUs' capabilities. It features a Kinetis K28F microconroller, on-board discrete power management, accelerometer, QuadSPI serial flash, USB high-speed connector and full-speed USB OpenSDA. Optional add-on boards allows for USB-Type C, Bluetooth low energy (BLE) connectivity, and a 5" LCD display board with capacitive touch.
Software development can be done through MCUXpresso SDK with system startup code, peripheral drivers, USB and connectivity stacks, middleware, and real-time operating system (RTOS) kernels.
Kinetis K27/K28 MCU family will be start selling in April 2017. Visit NXP K2x USB page for more information.
QorIQ Layerscape LS1028A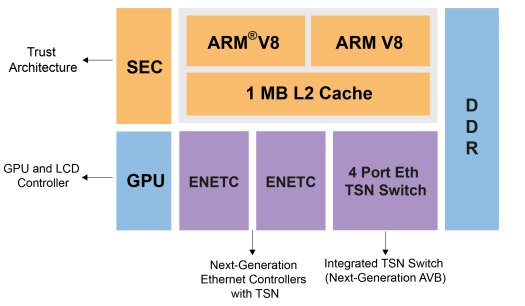 NXP QorIQ Layerscape LS1028A SoC comes with two 64-bit ARMv8 core, support real-time processing for industrial control, as well as virtual machines for edge computing in the IoT. It also integrates a GPU and LCD controller enable Human Machine Interface (HMI) systems, and Time-Sensitive Networking (TSN) capabilities based on the IEEE 802.1 standards with a four-port TSN switch and two separate TSN Ethernet controllers.
The processor especially targets "Factory 4.0" automation, process automation, programmable logic controllers, motion controllers, industrial IoT gateway, and Human Machine Interface (HMI).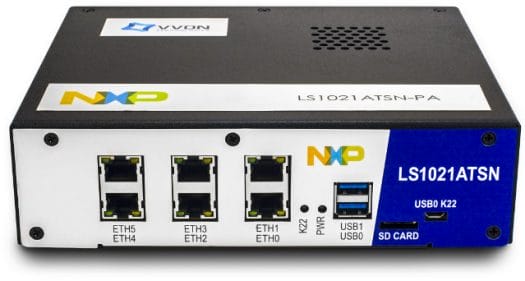 OEMs can start developing TSN-enabled systems using LS1021ATSN reference design platform based on the previous LS1021A processor in order to quickens time-to-market.The reference design provides four switched Gigabit Ethernet TSN ports, and ships with an open-source, industrial Linux SDK with real-time performance. Applications written for LS1021ATSN will be compatible with the LS1028A SoC since the API calls won't change.
It's unclear when LS1028A will become available, but it will be available for 15 years after launch, and you'll find a few more details on the product page. You could also visit NXP's booth (4A-220) at Embedded World 2017 to the reference design in action.
NXP i.MX 8X ARM Cortex-A35 Processors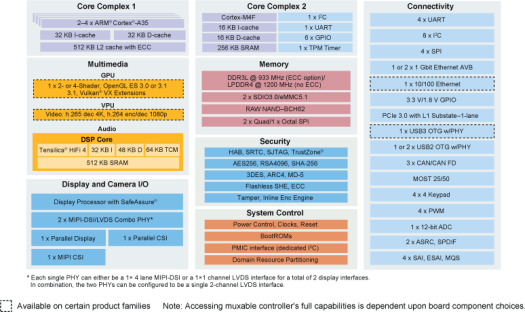 The last announcement will not really be news to regular readers of CNX Software, since we covered i.MX 8X processors last year using an NXP presentation. As previously known, i.MX 8X family comes with two to four 64-bit ARMv8-A Cortex-A35 cores, as well as a Cortex-M4F core, a Tensilica HiFi 4 DSP, Vivante hardware accelerated graphics and video engines, advanced image processing, advanced SafeAssure display controller, LPDDR4 and DDR3L memory support, and set of peripherals. The processor have been designed to drive up to three simultaneous displays (2x 1080p screens and one parallel WVGA display), and three models have been announced:
i.MX 8QuadXPlus with four Cortex-A35 cores, a Cortex-M4F core, a 4-shader GPU, a multi-format VPU and a HiFi 4 DSP
i.MX 8DualXPlus with two Cortex-A35 cores, a Cortex-M4F core, a 4-shader GPU, a multi-format VPU and a HiFi 4 DSP
i.MX 8DualX with two Cortex-A35 cores, a Cortex-M4F core, a 2-shader GPU, a multi-format VPU and a HiFi 4 DSP
The processors are expected to be used in automotive applications such as  infotainment and cluster, industrial control and vehicles, robotics, healthcare, mobile payments, handheld devices, and so on.
The i.MX 8QuadXPlus and 8DualXPlus application processors will sample in Q3 2017 to selected partners. More details may be found on NXP i.MX8X product page.

Jean-Luc started CNX Software in 2010 as a part-time endeavor, before quitting his job as a software engineering manager, and starting to write daily news, and reviews full time later in 2011.