FriendlyELEC will send me some review samples from time to time, and normally I just ask for one item, but they aways send a bunch of their products instead. This time I asked for a NanoPi NEO NAS Kit v1.2 to play with, but I got clearly more than what I asked for…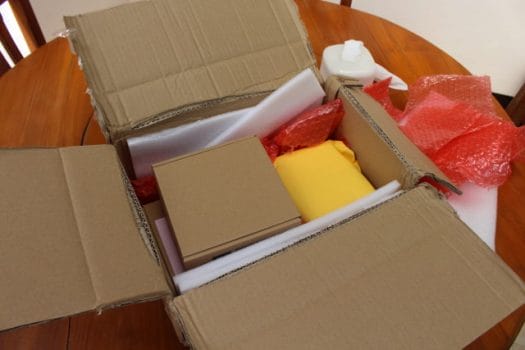 Let's start with the box at the top.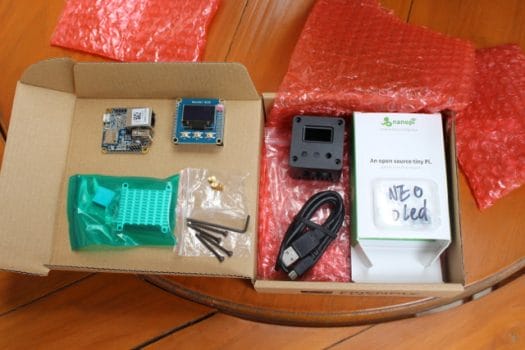 It contains "NanoPi NEO complete starter kit" selling for $29.99for $29.00 with the following items:
NanoPi NEO board
NanoHat OLED
Heatsink and thermal pad kit
Akuminum housing
a Mico USB cable
A micro SD card pre-loaded with NEO OLED Ubuntu firmware.
Three buttons, and screws
It's actually not fully complete, as you'd need to provide and solder your own male headers to NanoPi NEO board. I did not have time for soldering that day, but the final results should be really neat based on pictures from their website.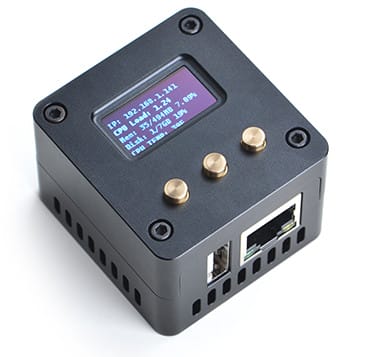 If you prefer the more powerful board, the same kit is sold with NanoPi NEO2 board for $34.00. Both kits are currently out of the stock, but so you may want to add the one you like to your wish list.
Moving to those very thick yellow / orange envelopes…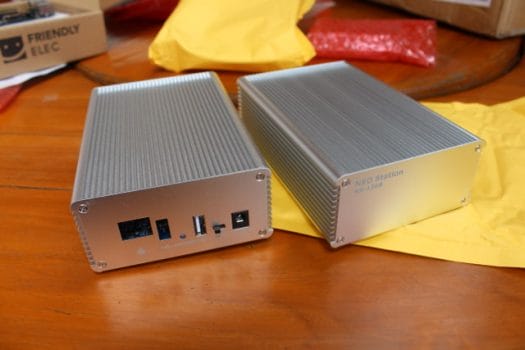 That's two NanoPi NEO NAS kits v1.2, with the marking showing "NEO Station NS-120B", maybe in reference to "Synology DiskStation", but they don't use that name in their website, which is probably a good idea. The models I received as the side plate for NanoPi NEO 2 board, but there may be more inside. I'll check it later, since I'll review the kit in details in a separate post.
Next up is a box with "K2" written on it.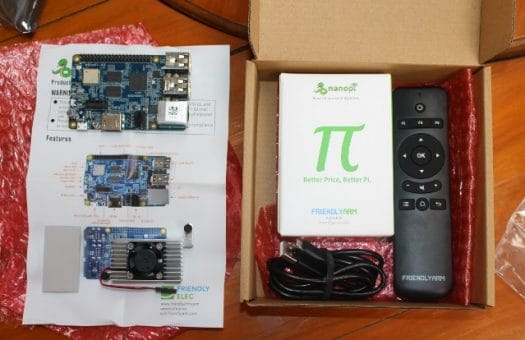 Unsurprisingly NanoPi K2 board powered by Amlogic S905 processor can be found inside. But we also have a heatsink +fan + thermal kit, a micro USB cable, and an IR remote control. Almost all you need for a TV box, but looking further into the big package, we'll find an acrylic enclosure completing the kit.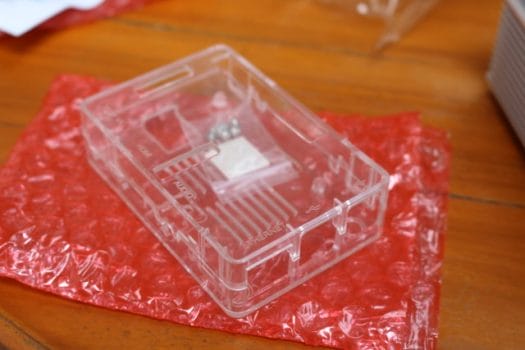 I've also taken closer pictures of the K2 board since it's the first time I've received it.
The board has basically the same form factor and ports as the Raspberry Pi 3, but it adds an IR receiver, more memory (2GB), Gigabit Ethernet, and a slot for eMMC modules – which are yet to be available -, but lacks MIPI CSI and DSI connectors. It should be noted however, that while FriendlyELEC mentioned both Linux and Android, they appear to focus their efforts on Android only, with no actual plans to release a Debian / Ubuntu image:
The bad news, according the the Moderator of the FriendlyArm forum, there are no plans for a debian image. Only the supplied Android 5.1 image. ? Meaning its get out the uboot and the compiler and make your own with a bit of USB TTL flashing to boot.
So any Linux images would have to be done & maintained by the community. [Update: finally the company is working on a Ubuntu image too]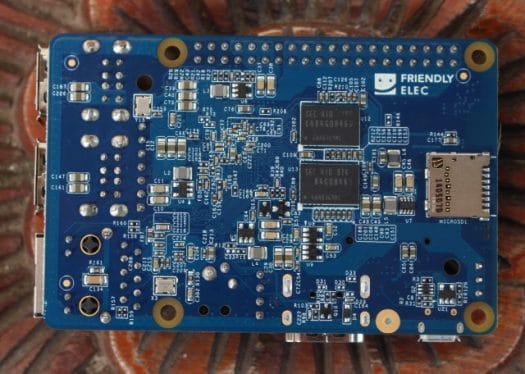 NanoPi K2 board goes for $39.99, but the complete multimedia kit should cost more. The problem is that I can't find it on their website, but if we adds individual item, namely the heatsink + fan ($5.99), RC-100 IR Controller ($2.99), micro USB cable ($1.97), and the acrylic enclosure ($1.99) to total adds up to $52.93 + shipping, which costs a little more than a TV box with similar specifications, but provides more flexibility due to the source code available for NanoPi K2.
I had two more boxes in the package with one more K2 multimedia kit and an extra acrylic enclosure, which would make a nice candidate for a future giveaway week.

Jean-Luc started CNX Software in 2010 as a part-time endeavor, before quitting his job as a software engineering manager, and starting to write daily news, and reviews full time later in 2011.