ECDREAM A9 Apollo Lake HDMI "TV Stick" Review with Windows 10 and Ubuntu 17.04
The ECDREAM A9 is arguably the first Intel Apollo Lake 'PC stick' available for purchase. However, in reality it is surprisingly large, and when compared to earlier Intel Atom 'sticks' and mini PC 'boxes' it lies somewhere in between. Measuring 2.3 inches (58 mm) wide and 0.6 inches (16 mm) thick it feels almost double in size of the original Intel Compute Stick (1.5 in/38 mm by 0.5 in/12 mm) and like nearly half of a mini PC (Beelink's AP34 is 4.7 in/119 mm by 0.8 / 20 mm). Given that you only get two USB ports, an micro SD card slot and the obligatory HDMI and power port, the large size would be better justified if an Ethernet port had also been included given other smaller 'sticks' have shown this is possible.
However the reason for its size is due to the oversized fan and heatsink…
and that will be the deal-breaker for most. Because it is not a quiet fan, but noticeably noisy. However, that is under Windows as the fan doesn't run under normal Linux.
Taking a look at the package in more detail…
Inside the box together with the device is a short HDMI extender cable, a power supply (with no international variants or adapters), a manual (which is more of a Windows get-started guide) and a further slip of paper with a picture showing what the ports are. The device comes with a large detachable cap that covers the HDMI port. Then inside the device underneath the fan and heatsink is the Intel Apollo Lake SoC, memory chips from Micron, eMMC from Foresee and an Intel wifi chip all matching the advertised specs
The device comes pre-loaded with activated Windows 10 Home 64-bit and has nearly 18GB of available free space to fill up with Windows updates.
Unusually the updates were initially switched off
The Windows performance is impacted in part due to the slower Foresee eMMC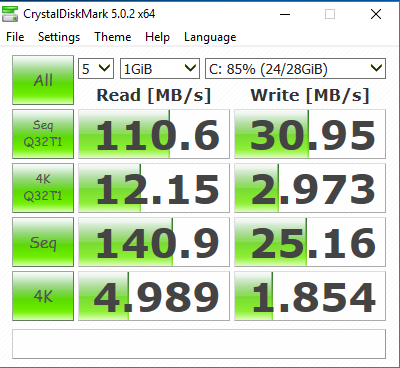 Overall the device performs better than Cherry Trail devices and as expected
4K video (at 30fps) can be watched through Chrome and Kodi and the fan keeps the temperatures down
However, as mentioned the fan is audible in comparison with other 'stick' PCs with fans. Using a battery powered clock as a baseline in a highly unscientific comparison you can judge for yourself, comparing
Intel Core M STK2M3W64CC Compute Stick…
… to ECDREAM A9
Initially I was rather happy that the fan didn't start under Linux, however without it temperatures rocket and the device crashes when playing high definition videos.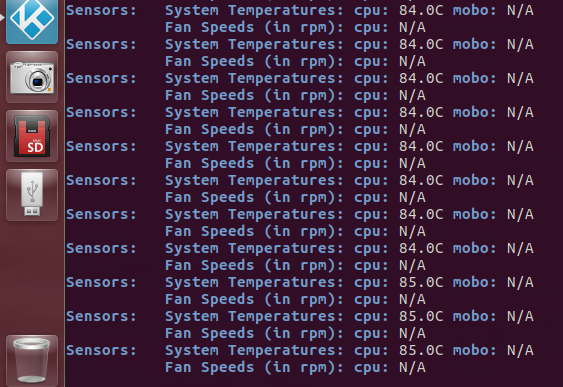 Looking at the hardware from a Linux viewpoint the CPU is an Intel Celeron N3350 Apollo Lake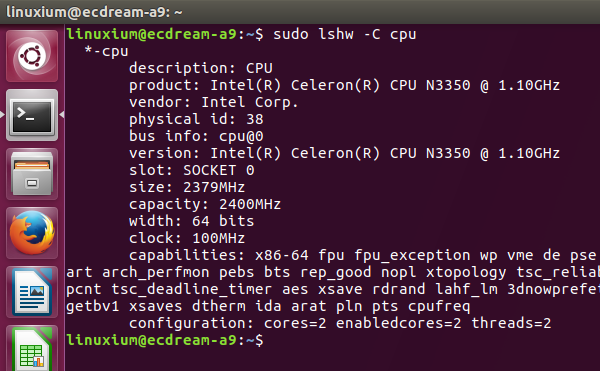 useable storage of 28.9GB plus the micro SD card option
2GB DDR3 1600 MHz memory
Intel 3165 wireless
HDMI audio
and everything (except the fan) works using Ubuntu 17.04 with the ISO's default kernel. This includes Sandisk micro SD cards

which still fail on Cherry Trail devices.
Unfortunately however there is no option in the BIOS allowing Linux to boot directly: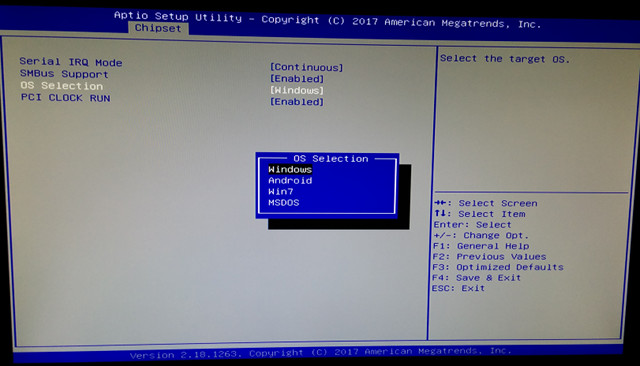 so the Ubuntu ISO had to be respun using 'isorespin.sh' to add the rEFInd boot manager
Having installed Ubuntu to eMMC, and running my usual benchmarks there can again be seen the performance improvement over Cherry Trail devices (STCK1A32WFC is the Intel Compute Stick Falls City, STK1AW32SC is the Intel Compute Stick Sterling City, and STKM3W64CC is the Intel Compute Stick Cedar City)​​
Exploring the fan issue further shows the failure appears to be a BIOS ACPI table related issue
even though there are many options in the BIOS for thermal configuration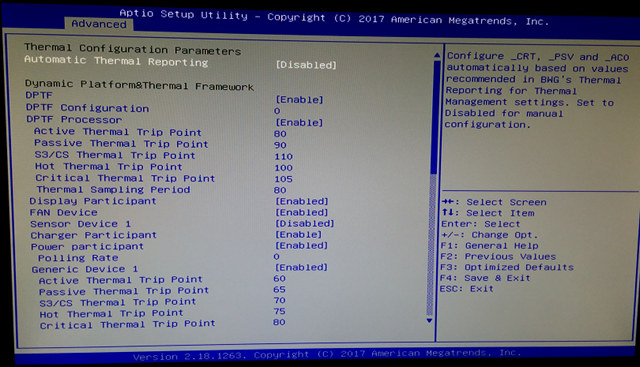 By recompiling the kernel with a 'hacky' patch it is possible to get the fan working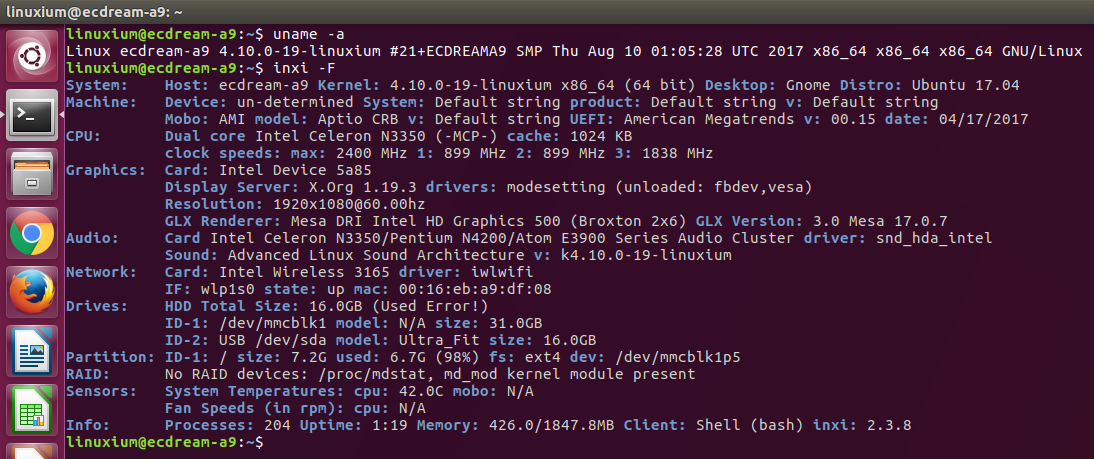 but because the BIOS isn't populated with appropriate DMI strings it is unlikely that this device will receive mainline support.
However with the fan running the temperature is controlled even after stressing the CPU
making 4K video (30fps) watchable
Although I encountered an issue in that Chrome would successfully stream 4K videos in Windows, yet under Ubuntu it kept intermittently pausing waiting for network data. If I first downloaded the video then playing it was fine using Kodi.
As 32GB of storage is now really too small to run both Windows and Linux given the size, and frequency of Windows updates I installed Ubuntu with my custom kernel to a micro SD card and resized Windows to use the entire eMMC. Again some juggling with rEFInd was required to boot as the micro SD card is not recognized directly during the boot process.
Interestingly there was a slight overall performance increase which is probably due to the slow eMMC. The maximum temperature for the eMMC-based benchmarks reached 80°C after running the 'openssl' tests compared with a maximum of 57°C also after the 'openssl' test on the fan-assisted micro SD card so thermal throttling would not appear to be a contributing factor.
The device comes with a very unrestricted BIOS so there are lots of ways to brick it
To conclude the product is bulky given its advertised 'stick' form factor, and is limited because it only has 2GB RAM. The fan with its noise under Windows and lack of support under Linux limits the product's appeal. In terms of support, the Windows drivers are available from the
manufacturer's community web page
although their specification page incorrectly states the CPU model. It is currently priced at
USD 129.99 at Geekbuying
who kindly provided the sample for review. [
Update
: Using GKBECDA9 coupon brings the price down to $113.99]