The Mastak Indoor Air Quality Monitor Kit
Medium Systems Limited, a UK company has released the Mastak, SoMs designed in a mechanical range that allows for indoor air quality monitoring, with a data IoT cloud service, and communications that include NB-IoT, 5G, WiFi, BLE, and LTE-M. The system is a new addition to the air monitoring market place. There have been reports on other air quality monitors in past articles that covered quick start and user experience with Sonoff SC WiFi, vThings WiFi CO2 Monitor, and the ANAVI Gas Detector.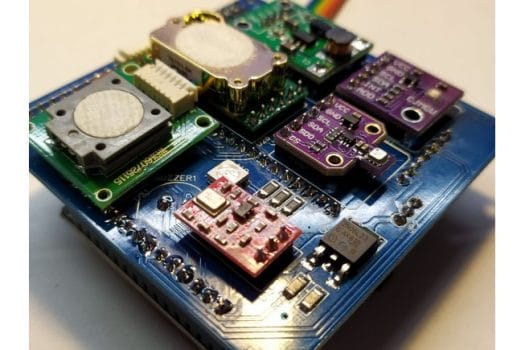 The Specs
The ecological modules are all compatible and contain processor, peripherals and the sensors for data monitoring and collection, as well as the necessary power electronics. The modules were designed too and allow the user to arrange the systems into custom arrangements and place in unique form factors. There are a number of options also, for even further expandability and functionality. The systems come with the following specs.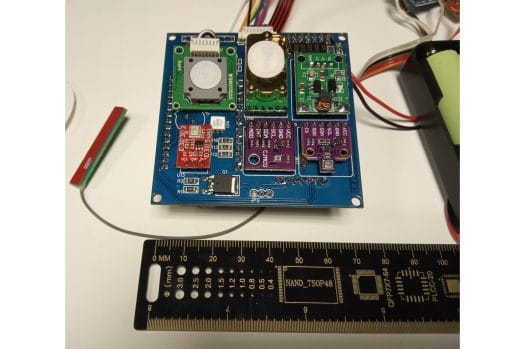 Hardware
ESP 32 based
3G, NB-IoT, LoRa, BLE, Wi-Fi as communications methods
Set of important sensors
Low cost
Low power
High availability & reliability
Peripherals
Software:
ThingSpeak – The IoT Platform with MATLAB Analytics
ThingsBoard open IoT Platform
Mobile Apps (Android 7.0 and up) for settings of the access wi-fi point service and the frequency of sending data
Packages
There are several packages and optional arrangements available and there is a screen available for data and GUI presentations. The system is fully customizable from the type of sensors to what modules can be ordered with the units. The base package carries some very good quality and functional sensors for general purpose monitoring in any way the user would like. The following comes in the package –
Block with GSM slot and following sensors:

Telaire T6703 – CO2
BOSCH BME680 – TVOC (Total Volatile Organic Compounds), Temperature. Pressure, and Humidity
TI OPT3001 – Light
AD DMP401 – Noise

Block For Battery
Durable Plastic Toolbox Case
Pricing
The base system starts at $229.00, with optional E-Ink Screen ($49.00), Formaldehyde Sensor or Ozone Sensor ($30.00 each – these sensors are not compatible with each other) and a PM1.0, PM2.5, PM5.0 and PM10 Dust Sensor ($47.00) shipping to the USA starts at $20.00. Shipping to other countries was not indicated.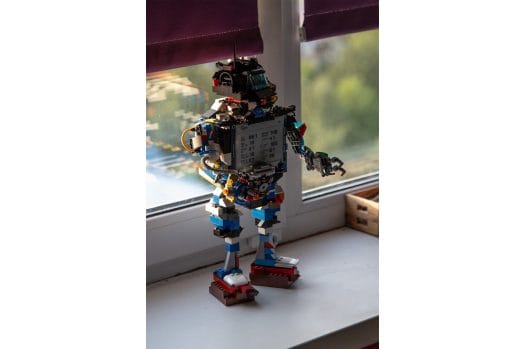 A Quick Note About the Screen
The E-Ink screen is 4.2-inch 400 x 300 px resolution with an embedded controller. Some of the advantages of the screen are ultra-low-power (basically only needs power to refresh) 170ᵒ viewable angles and no backlight.
For more information and to purchase the Mastak kit, see the Tindie product page, that has the most information on the system.

Stephen started writing about technology after publishing sci-fi short stories. His first White-Paper, written in 2008, was well received and inspired him to continue writing about technology. Today he writes in the technology space full time, covering a multitude of topics. During the time he wrote part-time he edited hundreds of titles for large publishers, in science and technology. He lives in Staten Island, with his wife and children.