Karl here….With another review. Today we look at the AM6 from Ugoos. Ugoos has been around for quite some time. I recently did a review of the Beelink GT-King with the same S922X processor and I will do some comparisons with that. I have to say with everything except the UI, I like this box much better (You can read my rant in the Beelink article about Android on the TV). The AM6 is built well. It is solid with a metal enclosure and just feels good when you pick it up. I know weight doesn't really matter but it feels substantial. Like I stated I don't really like UI but Ugoos ticks quite a few boxes that appeal to my nerdiness. I will go more into that later.
Below are the specs per Ugoos Website. I highlighted the interesting ones.
Hardware Specs:
Operation System – Android 9.0
Language – English, Chinese …Multi-Language support
CPU – Amlogic S922X with 12nn 2.0GHz, quad-core Arm Cortex-A73 and dual-core Arm Cortex-A53 CPU
GPU – Arm Mali-G52 MP6(6ppc)
SDRAM – DDR4 2GB (for OEM orders 3GB-4GB)
Storage Capacity (Flash) – 16GB (eMMC)(compatibility 8GB-32GB)
WIFI – 2.4G+5G SISO Receiver. The wireless module complies with IEEE 802.11 a/b/g/n/ac 2×2 MIMO standard and it can achieve up to a speed of 867Mbps with dual stream in 802.11n to connect the wireless LAN
WIFI Module – AmPack 6398S
Bluetooth – Bluetooth 5.0 with LE technology
Extended Storage – TF Card, up to 32GB (SD2.X,SD3.X,SD4.X, eMMC ver5.0)
Power Supply – DC 12V/2A
HDR support
Interfaces:

HDMI Output – HDMI (2.1 and 2.0 ) to support maximum 4K@60fps output(HDCP2.2)
USB Port – 1*USB 3.0 Fast Speed, 3*USB 2.0 Host
Network – 1*RJ45 1000M (1000M Ethernet Integrated IEEE 802.3 10/100/1000M Ethernet MAC with RGMII interface)

Media Parameters:

Audio Container – MP3,AAC,WMA,RM,FLAC,OGG
Audio Output& Input

7.1/5.1 down-mixing I2S audio interface supporting 2-channel input and 8-channel (7.1) output
Built-in serial digital audio SPDIF/IEC958 output and PCM input/output
Built-in stereo audio DAC
Stereo digital microphone PDM input
Support concurrent dual audio stereo channel output with combination of analog+PCM or I2S+PCM

Video CODEC – VP9 Profile-2 up to 4Kx2K @ 60fps H.265 HEVCMP-10 @ L5.1 up to 4K*2K @ 60fps, H.264 AVC HP @ L5.1 up to 4K*2K @ 60fps, H.264 MVC up to 1080p @ 60fps, MPEG-4 ASP @ L5 up to 1080p @ 60fps (ISO-14496), WMV/VC-1 5P/MP/AP up to 1080P @ 60fps,AVS-P16(AVS+)/AVS-P2 jiZhun Profile up to 1080P @ 60fps, MPEG-2 MP/HL up to 1080P @ 60fps (ISO-13818), MPEG-1 MP/HL up to 1080p @ 60fps (ISO-11172), Realvideo 8/9/10 up to 1080p, WebM up to VGA
Multiple language and multiple format sub-title video support
MJPEG and JPEG unlimited pixe resolution decoding(ISO/IEC-10918)
Supports JPEG thumbnail, scaling, rotation and transition effects
Support *.mkv,*.wmv,*.mpg,*.mpeg,*.dat,*.avi,*.mov,*.iso,*.mp4,*.rm and *.jpg file formats

Software Extension

Support Google Play & APK install
DLNA, Miracast Protocol
IM Software – Support Skype/QQ/MSN/GTALK (Depends on APK )
Office Software – WORD/EXCEL/PDF(Depends on APK install)

Remote Control
Other Parameters:

Operation Temperature -0~60℃
Storage Temperature – -10~60℃
Humidity Environment -5%-90%(No condensation)
Certificate – CE, FCC

Package:

Dimensions – 117*117*18.5mm
Net Weight – 300g
Gift Box Size – 162*162*80mm
Unboxing & Teardown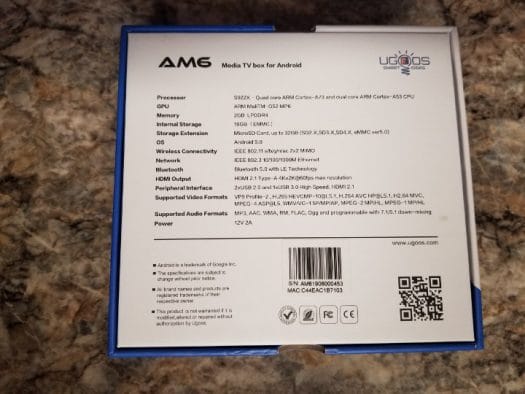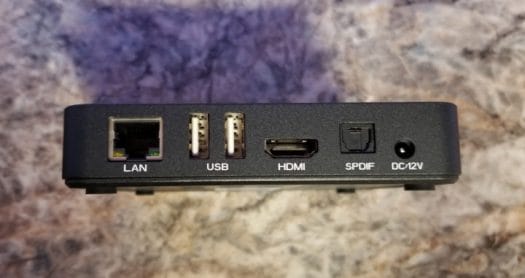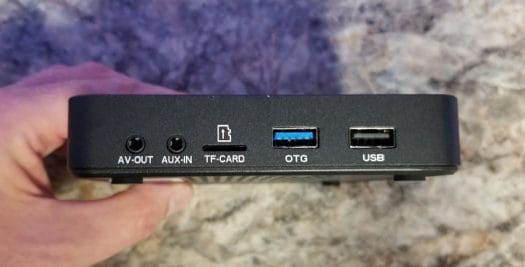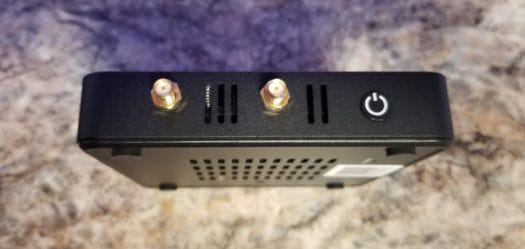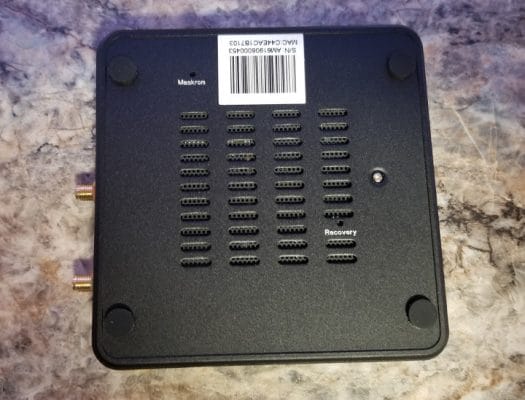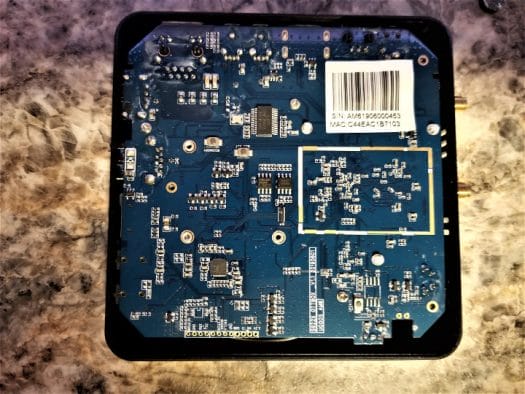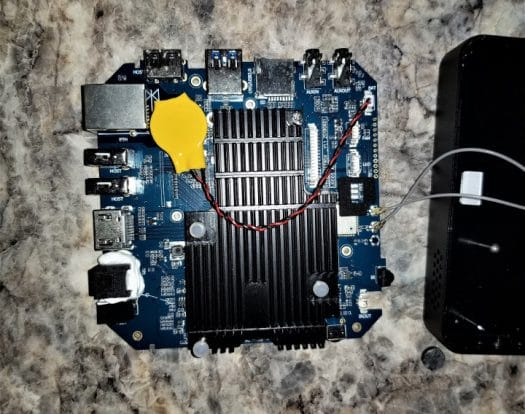 Various Screenshots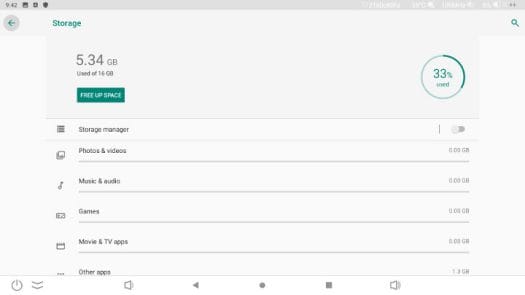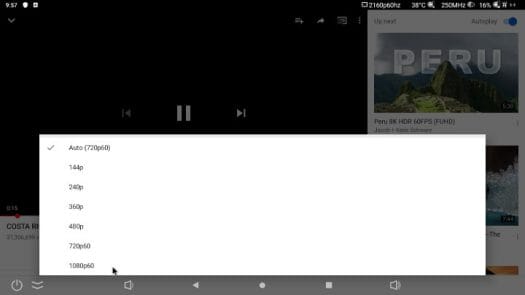 No 4K option in the YouTube app.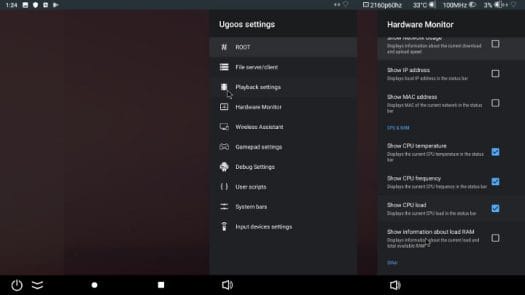 Ugoos Custom Settings Root/Unroot init.d etc I really like this customization. You can see these turned on in quite a few screenshots.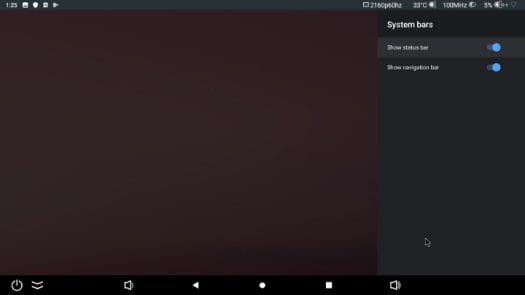 Nerding out with settings for the status & navigation bars.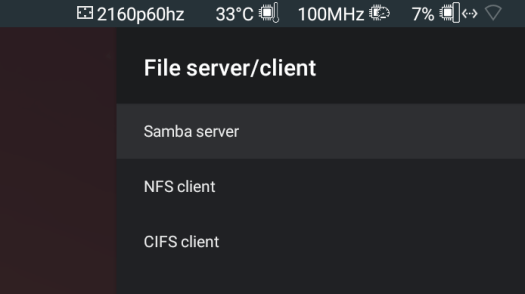 SAMBA server, NFS & SAMBA client opions.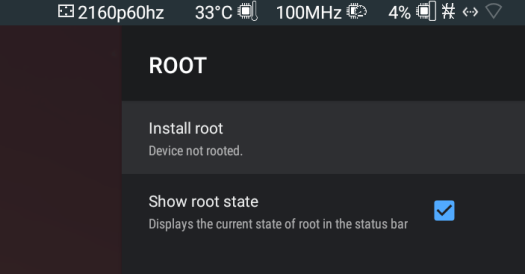 Root and Unroot!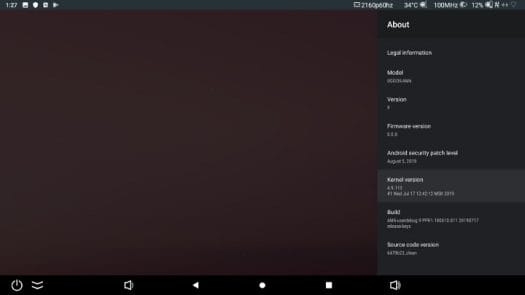 Sadly old security.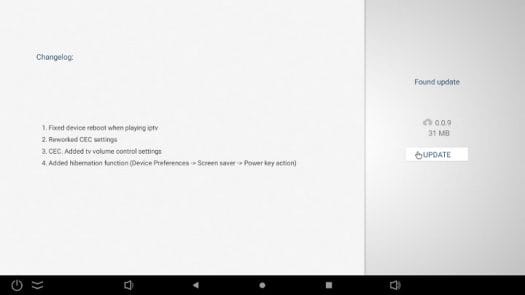 OTA updates!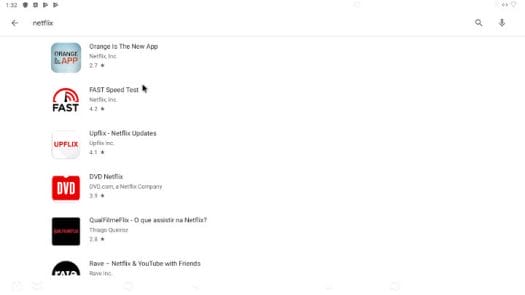 But no Netflix… not even available.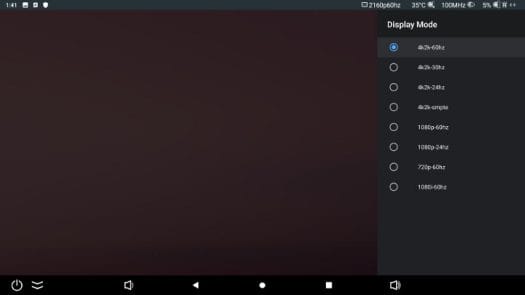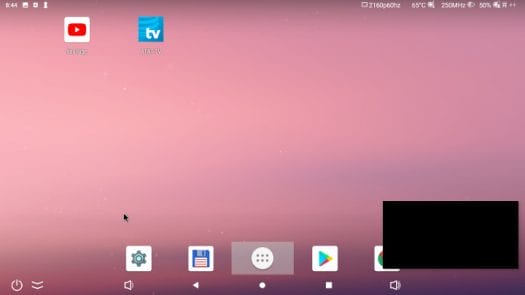 The screenshot above shows a black screen but videos do play in real-life… One advantage of Android… YouTube plays and you can do something else at the same time when you press the home button.
This also shows the launcher that comes with it. Very basic launcher. I like it.
Benchmarks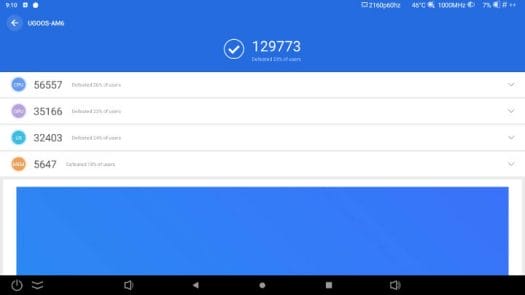 Antutut 7.x: Beelink 109,071 vs Ugoos 129,773. very surprised 14% faster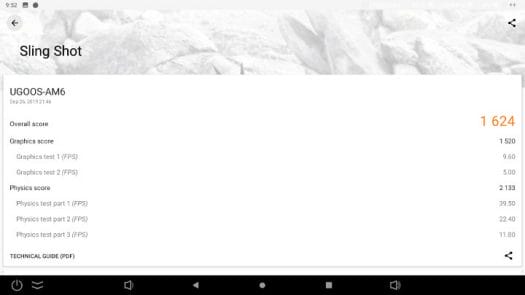 3Dmark Sling Shot: Beelink 1477 vs Ugoos 1624 10% improvement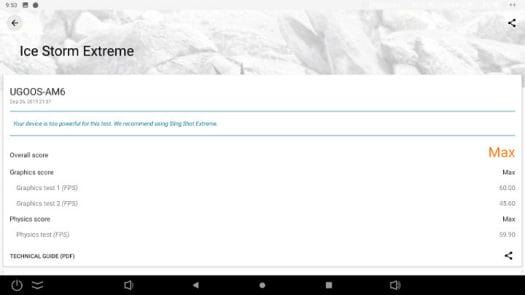 3Dmark Ice Storm Extreme. Both Max.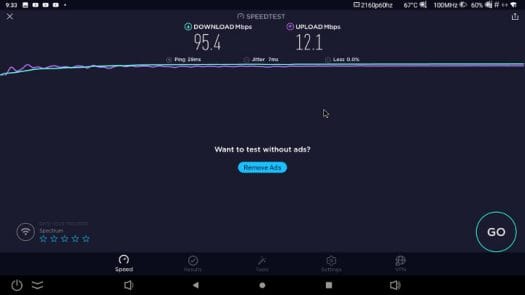 Wired network maxes my Internet.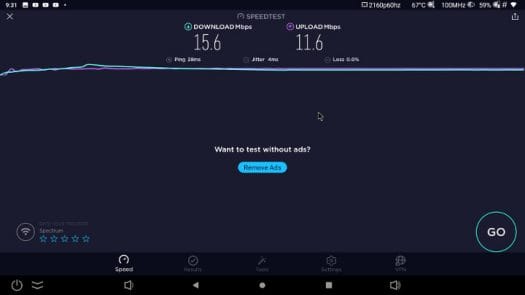 Wireless…I hate to show this. I don't have very good wifi and can't really test this. Take with a grain of salt.
I was surprised by the difference in performance between identical processors in these benchmarks. In the past, it seemed like most boxes performed similarly.
Linux & LibreELEC
As of right now, there is no official Linux for the AM6 but an Armbian image is available here by balbes150. Initial login is root with password 1234. The AM6 would make a very nice server for home use and you could host some home automation software…maybe a whole home ad blocker..maybe a plex server as long as no transcoding is required but that might be pushing it. Tvheadend. The list goes on and on. The fantastic thing is that to make this work all you need to do is burn the image to an SD card for dual boot. Booting from SD/USB is baked into the official firmware. How cool is that? You can backup Android and move to internal storage. I only briefly tested desktop and audio doesn't work. There is a script that has to run at every boot in order to fix audio as of the time of this writing with version 5.97. I only tested basic functionality. I only wanted to check the booting from SD from factory firmware.
Libreelec is available but it looks like it doesn't appear to be mature yet. I went straight to the hardest ones. I tried a few 4k vp9 and it locked up and rebooted.
If you would like me to look into Linux and benchmark some more let me know in the comments.
Kodi/Plex
I am really surprised with Kodi and these S922x boxes. Video playback is exceptional compared to back in the day. I had no issues with any video that I threw at it except H.264 60fps which it is specd to decode. Audio passthrough works well after setting up. It did take a little tinkering because of the hardware that I have. My setup is AM6 > TV > Yamaha HTR-5540 over S/PDIF. After about an hour of tinkering, I found that the best solution for me was to go into Kodi settings and only enable AC3 and turn on transcoding. I was able to play any audio format after this. My receiver is capable of decoding DTS but not DTS-HD apparently. In Kodi, they are treated the same so I just disabled DTS and only enable AC3 and relied on transcoding. For me, this works well. All channels appear to work properly with surround-sound goodness. The Plex app is not as good for audio and I could not enable passthrough or else the video would hitch and not play smoothly.
Final Words
If I had to choose between the Beelink and the AM6 and had to get a box I would definitely go with the Ugoos over the Beelink. I still stand by my opinion that this needs to be Android TV if you want to use it in the living room. You can find the Ugoos AM6 at these retailers Geekbuying Gearbest for about $120. If you have no care to run Linux a better bet might be the Nvidia Shield for a few dollars more. On a side note…Something has to give with Android TV. There are really only 2 options in the US right now for external boxes. A new Shield I have read is on the horizon but that will still only leave 2 options.

Karl is a technology enthusiast that contributes reviews of TV boxes, 3D printers, and other gadgets for makers.