Mini M8S II is one of the first Amlogic S905X TV box to hit the market, with the new processor adding 4K VP9 hardware video decoding and HDR support compared to Amlogic S905 processor. I've already taken pictures of the device and torn it apart to check its hardware & thermal design in the first part of the review, and in the second part, I'll boot it up, check performance, features, and video playback capabilities.
First Boot, Settings and First Impressions
I plugged-in a USB hard drive into one USB port, but since the device only fetures two ports, I had to use a USB hub to connect two RF dongles for MINIX NEO A2 Lite air mouse, and Tronsmart Mars G01 gamepad, as well as a USB keyboard to take screenshots. I completed the hardware setup by connecting HDMI & Ethernet cables before starting the device by connected the provided power adapter.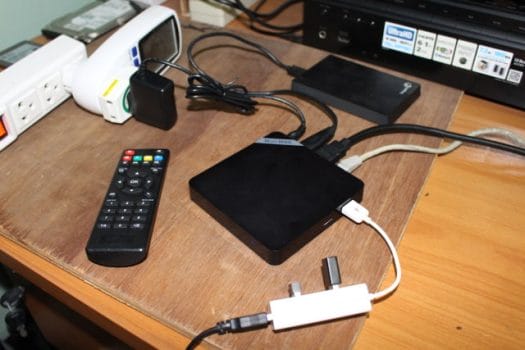 Booting takes around 40 seconds, and you'll be greeted by the very common launcher below found on most Amlogic based Android TV boxes.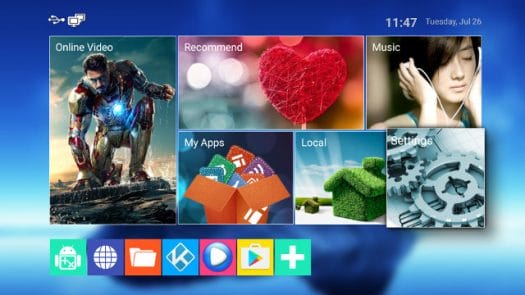 A few seconds later, the system showed me a "USB drive connected". It's not to know my drive is working, but since it happened every single time I booted the TV box this was more annoying than useful.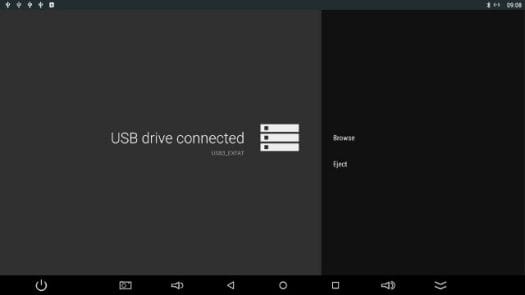 The settings are again about the same as on other TV boxes, and if you want to see an in-depth review of the launcher and settings I recommend you check out K1 Plus review. There were some noticeable differences however which I detail below.
The first difference is that HDMI-CEC option is missing. It's not a feature I'd use in Android anyway, but the problem is that it seems enabled somehow, and if my AV receiver is turned on at the same time as MINI M8S II, I won't be able to turn off my AV receiver, as the box will turn it back on as soon as I turn it off…
HDR support in the Display section is the second difference, and you can enable or disable it. It's not something I could test however since my current 4K TV does not support high dynamic range.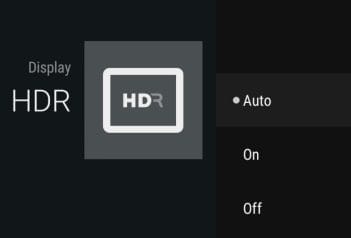 The final difference I noticed is that the Storage & reset menu will now show removable storage too.
The screenshot above show my hard drive with four partition is correctly detected (USB3_XXXX are volume names), and exFAT and NTFS partition mounted.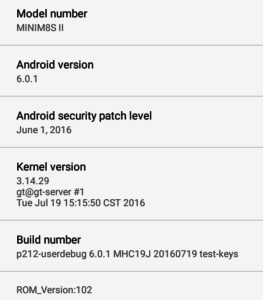 While the eMMC flash has 8GB capacity, the system takes some, and the internal storage partition is just 4.70 GB in size with 598MB used at the beginning of the review.
HDMI output support a wide range of resolution and refresh rate, and my system was first automatically set to 4K SMPTE (24 Hz) despite my TV supporting 4K @ 60 Hz. I could manually change the output to that setting, but I've noticed the TV box does not always remembers the user-defined value, and a few times I saw video output set to 1080p60 after a reboot.
I can access Android Marshmallow settings by clicking or selecting "More settings", where you can access some extra options like Printing, Date & Time, Backup & Reset and so on. So I went to the "About MediaBox" to find out a bit more about the firmware, and "MINIM8S II" model number runs Android 6.0.1 on top of Linux 3.14.29. Please note that the firmware is NOT rooted.
I also quickly tested the included IR remote control, and the range is very good, as it works very well even 10 meters away. However, for most of the review I used NEO A2 air mouse as IR remote controls are completely useless outside of the launcher and Kodi in Android.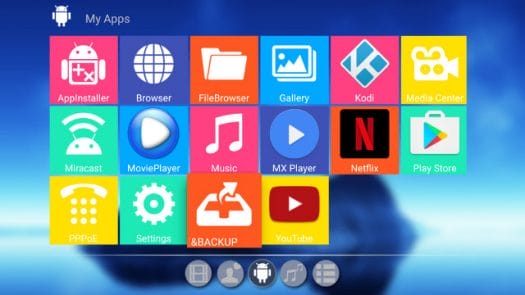 The Google Play Store worked for most apps required for the review, except Antutu Video Tester, Vidonn Smart Band & Xiaomi Mi Fit (both require BLE support), BitTorrent and a few others from my list. Apps requiring GPS and/or phone/SMS support, such as Whatsapp, would not install either, but this is not really an issue. I had no troubles installing Riptide GP2 through Amazon Underground.
Power handling is OK with power on working from the IR remote control, and power off from the remote control or Power icon on the status bar. There's no standby/sleep mode, so I've measured power consumption with and without USB hard drive (HDD) in the two available power modes:
Power off – 1.2 watt
Idle – 2.2 watts
Power off + HDD – 1.2 watt
Idle + HDD – 5.0 watts
There are two good news here: USB power is turned off in powered off mode, and idle power consumption really low. The downside is that the system draws 1.2 watts in power off mode, while the best devices don't draw anything noticeable by my power meter, or at least well below 1 watt.
MINI M8S II does not overheat, and after Antutu 6.x, the maximum temperature on the top and bottom of the case was respectively 39°C and 45°C max, and after over 15 minutes playing Riptide GP2 this went up a little to 43°C and 56°C. I did not notice any throttling / slowdowns during game play.
MINI M8S II feels responsive, and the firmware is stable, with the only small issues I had were the Windows appearing at each boot to tell me my USB drive was connected, and the box will automatically turn on my A/V receiver when I turn it off likely because of HDMI-CEC feature which can't be disabled in the settings. The mouse pointer is also rather small when 4K output is selected.
OTA firmware update
One of the first thing I did before checking out the settings and Google Play as described above was to check out for new firmware. So I went to the UPDATE&BACKUP app, to check for new firmware, and the system did get an update for 2016-07-04 to 2016-07-07, which is kind of unexpected for a low cost device.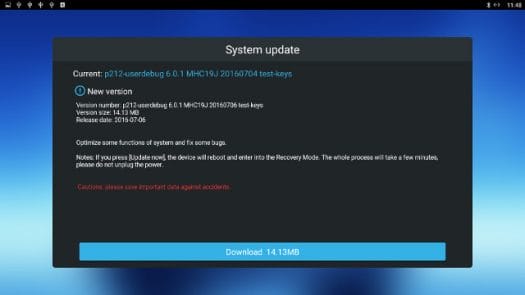 I went ahead with the tiny 14.13MB download, before clicking on Update now to reboot and complete the firmware update.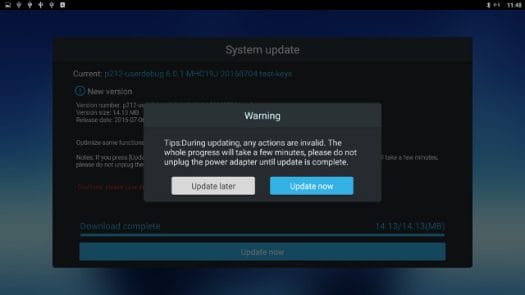 But it did not work, and failed with error. So I decided to disconnect my USB hard drive, reboot the system, and re-try the update and it went smoothly. So remember remove external storage (USB and/or micro SD card) before upgrading the firmware to avoid this issue.
However, some people mentioned they had manually installed 2016-07-19 firmware, so I went to UPDATE&BACKUP app again, and it found another larger 2016-07-19 firmware update, which went without issue.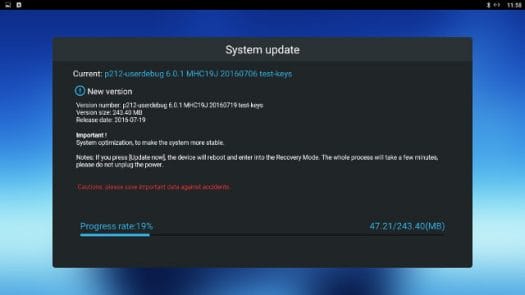 I check again for a third firmware update before carry on with the review, but that was it.
Audio & Video Playback in Kodi 16.1
Kodi 16.1 (or a fork) is pre-installed on the device, and the manufacturer also included several piracy add-ons.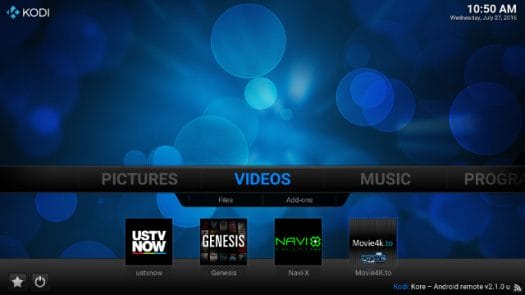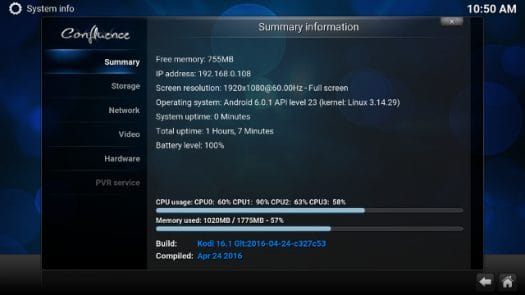 All videos, except otherwise stated, were played over Fast Ethernet from a SAMBA share. I've first played some videos found in Linaro media samples, as well as Elecard H.265 samples:
H.264 codec / MP4 container (Big Buck Bunny) – 480p/720p/1080p – OK
MPEG2 codec / MPG container – 480p/720p/1080p – OK
MPEG4 codec, AVI container 480p/720p/1080p – OK
VC1 codec (WMV) – 1080p – 480p/720p/1080p – OK
Real Media (RMVB), 720p / 5Mbps – OK (software decode)
WebM / VP8 480p/720p/1080p – OK (ff-vp8 software decode)
H.265 codec / MPEG TS container – OK
While all videos played, please note that automatic refresh rate does not work even after enabling it both Kodi and Android settings (HDMI self-adaptation).
The next step was to play some videos with various bitrates (HDD = USB hard drive):
ED_HD.avi

(H.264 / 10 Mbps) – OK
big_buck_bunny_1080p_surround.avi (1080p H.264 – 12 Mbps) – OK
h264_1080p_hp_4.1_40mbps_birds.mkv (40 Mbps) – OK
hddvd_demo_17.5Mbps_1080p_VC1.mkv (17.5Mbps) – Stays in UI, but audio plays
Jellyfish-120

-Mbps.mkv

(120 Mbps video without audio) – HDD: OK
I also tested stereo audio downmixing (PCM 2.0) via Kodi and MX Player/MoviePlayer app using my TV's speakers, and HDMI pass-through in Kodi using Onkyo TX-NR636 receiver.
Audio Codec in Video
PCM 2.0 Output
(Kodi 16.1)
PCM 2.0 Output
(MoviePlayer or MX Player)
HDMI Pass-through
(Kodi 16.1)
AC3 / Dolby Digital 5.1
Audio OK but video not smooth
No audio
Audio OK (DD 5.1) but wrong aspect ratio (1:1)
E-AC-3 / Dolby Digital+ 5.1
OK
No audio
OK
Dolby Digital+ 7.1
OK
No audio
No audio
TrueHD 5.1
OK
No audio
No audio
TrueHD 7.1
OK
No audio
No audio
Dolby Atmos 7.1
OK
No audio
PCM 2.0
DTS HD Master
OK
No audio
DTS 5.1, but two short audio cuts during playback
DTS HD High Resolution
OK
No audio
DTS 5.1, but two short audio cuts during playback
DTS:X
OK
No audio
DTS 5.1
So you should not have problem if you play videos directly with your TV using Kodi, but some apps won't have any audio for Dolby/DTS, and audio pass-through is limited to 5.1 channels with some bugs (audio cuts).
Now let's see how well 4K playback works, especially for VP9 videos. Please note that some videos have been tested at both HDMI_4K_SMPTE (default) and HDMI_4K_60Hz video outputs as I had some interesting issues:
HD.Club-4K-Chimei-inn-60mbps.mp4 – OK

sintel-2010-4k.mkv – HDMI_4K_SMPTE (24 Hz): video not smooth; HDMI_4K_60Hz: OK
Beauty_3840x2160_120fps_420_8bit_HEVC_MP4.mp4 (H.265) – OK
Bosphorus_3840x2160_120fps_420_8bit_HEVC_MP4.mp4 (H.265) – OK
Jockey_3840x2160_120fps_420_8bit_HEVC_TS.ts (H.265) – OK
MHD_2013_2160p_ShowReel_R_9000f_24fps_RMN_QP23_10b.mkv (10-bit HEVC) – HDMI_4K_SMPTE (24 Hz): video not smooth; HDMI_4K_60Hz: OK
phfx_4KHD_VP9TestFootage.webm (VP9) – OK

BT.2020.20140602.ts

(

Rec.2020

compliant video; 36 Mbps) – OK. CPU usage is quite high though despite "amc-h265(S)" hardware decoding? in Kodi overlay debug window
big_buck_bunny_4k_H264_30fps.mp4 – OK
big_buck_bunny_4k_H264_60fps.mp4 – Not smooth, and audio delay (as expected since hardware is not supposed to support it)
Fifa_WorldCup2014_Uruguay-Colombia_4K-x265.mp4 (4K, H.265, 60 fps) – OK
Samsung_UHD_Dubai_10-bit_HEVC_51.4Mbps.ts (10-bit HEVC / MPEG-4 AAC) – OK
Astra-11479_V_22000-Canal+ UHD Demo 42.6 Mbps

bitrate.ts

(10-bit H.265 from DVB-S2 stream) – OK
暗流涌动-4K.mp4 (10-bit H.264; 120 Mbps) – HDD: Slow motion, and many artifacts (expected as not supported by S905X VPU)

Ducks Take Off [2160p a 243 Mbps].mkv (4K H.264 @ 30 fps; 243 Mbps; no audio) – HDD: Not perfectly smooth

tara-no9-vp9.webm (4K VP9 YouTube video) – OK
The.Curvature.of.Earth.4K.60FPS-YT-UceRgEyfSsc.VP9.3840×2160.OPUS.160K.webm (4K VP9 @ 60 fps + opus audio) – OK most of the time, except for ~5 seconds period with severe artifacts.
Sintek-4k.iso & amat.iso Blu-Ray ISOs could both play just fine, as well as two MPEG2 1080i videos. 10-bit H.264 is a normally an issue, but Kodi 16.1 here handle it by software decode, and the 720p video was fine (with very high CPU usage on all 4 cores), but the 1080p video was not always smooth or artifact-free. Maybe that's something Amlogic S912 will be able to handle with its 8 cores.
My TV does not support 3D videos, but it's still interesting to check whether videos can be decoded anyway. My A/V receiver is however capable of detecting 3D content (shows 3D icon) for MVC video as I demonstrated with Zidoo X1 II:
bbb_sunflower_1080p_60fps_stereo_abl.mp4 (1080p Over/Under) – OK
bbb_sunflower_2160p_60fps_stereo_abl.mp4 (2160p Over/Under) – Audio only, stays in UI.
Turbo_Film-DreamWorks_trailer_VO_3D.mp4 (1080p SBS) – OK
3D

-full-MVC.mkv

(Full-frame packed MVC 3D MKV) – 2D only, 3D icon not shown on Onkyo receiver
ISO-full3D

-sample.iso

(Full-frame packed MVC 3D ISO) – 2D only, 3D icon not shown on Onkyo receiver
Finally I played various VOB/IFO, MKV, AVI, MP4, XViD/DViX, and MKV videos from my library and all could play fine, with the only issue occurring when using DTS or Dolby HDMI audio pass-through with audio cuts in some, but not all, videos.
Beside Kodi, I've also run Antutu Video Tester 3.0 benchmark, with MINI M8S II getting a decent 909 points, while the best devices get a little over 1,000 points. All videos could be played, with 3 videos not playing smoothly.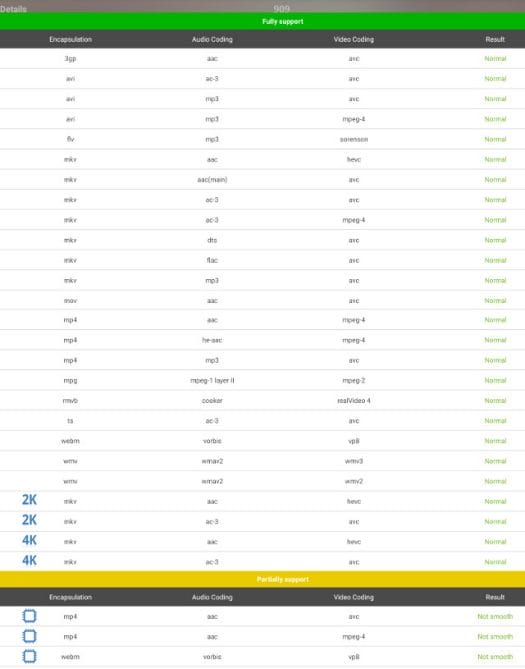 DRM support may be important for premium video services like Netflix, and Hulu, and MINI M8S II support Widewine Level 3 for SD resolution video playback, but no Level 1 which is one of the requirement for HD and 4K video support for this type of online video services.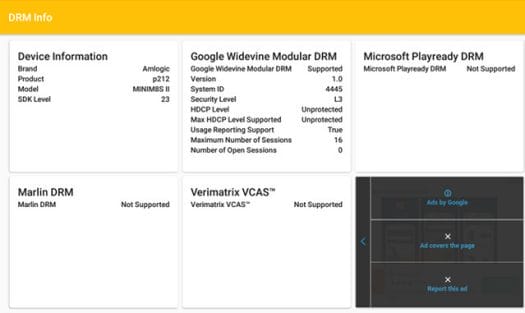 In case you wonder about YouTube, it only works up to 1080p. 4K YouTube video playback requires "Android TV" platforms.
Download links to video samples used in this review can be found in the comments section of that post.
Network Performance
I normally test both WiFi and Ethernet in my reviews, but I broke the WiFi antenna during the teardown, and could not properly re-solder it. So I only get a "fair signal" strength (about 2 bars out of 4), and throughput of around 1MB/s while using WiFi. This is quite poor, but likely due to the antenna issue. Other people also reported poor WiFi performance with earlier firmware, but firmware 2016-07-19 – used for this review – allegedly improved WiFi performance greatly. Note that only 2.4 GHz WiFI is supported by this device, not 5.0 GHz.
I've tested Fast Ethernet by transferring a 278MB file between a SAMBA share and the internal storage, and performance averaged 5.9MB/s placing it in the middle of the pack of devices limited to 10/100M Ethernet.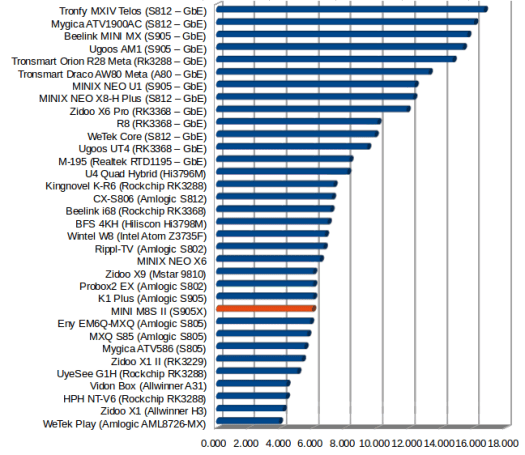 Miscellaneous Tests
Bluetooth
I could pair "MINIM8S II" to my smartphone in order to transfer some pictures over Bluetooth. However, the TV box could not find Xiaomi Mi Band 2 Bluetooth 4.0 LE activity tracker (not install any BLE app through Google Play), while the system could detect my "SH09" Bluetooth headset pairing would not work, and I had to skip Sixaxis PS3 Bluetooth game controller test since the firmware is not rooted.
Storage
We've already seen that a Seagate USB hard drive was recognized in the upper part of this review with NTFS and exFAT file systems supported, and after adding a micro SD card, I could also confirm FAT32 is supported, but Android 6.0 permissions do not seem to allow write access to external storage.
| | | |
| --- | --- | --- |
| File System | Read | Write |
| NTFS | OK | No |
| EXT-4 | Not mounted | Not mounted |
| exFAT | OK | No |
| BTRFS | Not mounted | Not mounted |
| FAT32 | OK | No |
This behavior is not suitable at all for TV box, so they'll have to find a workaround.
I had to skip A1 SD bench with USB drives due to this read-only issue, but still checked out internal storage performance with the app, and the eMMC flash achieved 34.69 MB/s sequential read speed, and 15.87 MB/s write speed. Not a bad results.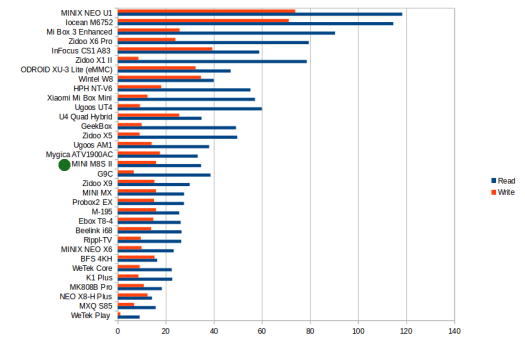 Gaming
Candy Crush Saga was a little sluggish the very first few seconds, but then it could play the game with air mouse, and without any noticeable slowdowns.
I switch to the wireless gamepad to play Beach Buggy Racing which was smooth at all time, even after settings Graphics settings to the "highest resolution". Riptide GP2 was fairly smooth with the default settings, but once I switched to "highest resolution" settings, the frame rate went down a bit, and while it was still playable, I did not find as quite as enjoyable. It's pretty typical for Amlogic S905 platforms though, and the good news is that the performance was constant over the 15 to 20 minutes I played the game.
MINI M8S II Benchmarks
So is Amlogic S905X processor clocked at up to 1.5GHz (like in the specs), or up to 2.0 GHz (like in marketing materials for TV boxes)? CPU-Z agrees with the latter as the maximum frequency is reported to be 2.02 GHz just like in Amlogic S905 processors.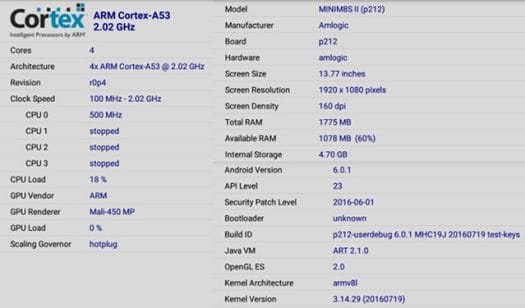 The board is p212 (useful if you want to try alternative firmware), the frame buffer resolution is set to 1920×1080, and there's 1775MB total RAM for the system out of the 2GB RAM installed.
However, Antutu 6.1.4 score at 33,330 is slightly lower than on Amlogic S905 based devices (36,000 to 39,000 points) which looks more consistent with a lower CPU frequency… For example MINIX NEO U1 Antutu 6.0 score is 38,032 points.



Let's double checked the results with Vellamo 3.x.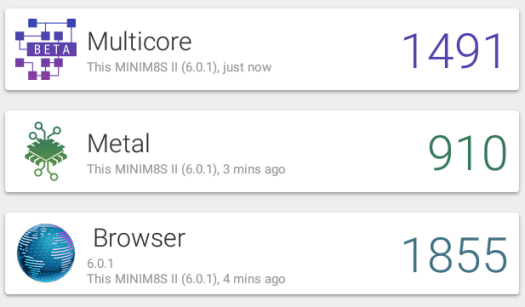 M8S II got 1,491, 910 and 1,855 for respectively Multicore, Metal and Browser benchmarks, while MINIX NEO U1 achieved 1,586, 1,235 and 2,157 points. If we compared it to a cheaper model like Videostrong K1 Plus with 1,572, 763, and 2,002 the difference is not as clear, but performance of Amlogic S905 does seem higher than Amlogic S905X in most cases. We also have to take into account that all devices I tested with Amlogic S905 were based on Android 5.1, while MINI M8S II is running Android 6.0.1, which should be a little faster than Android Lollipop.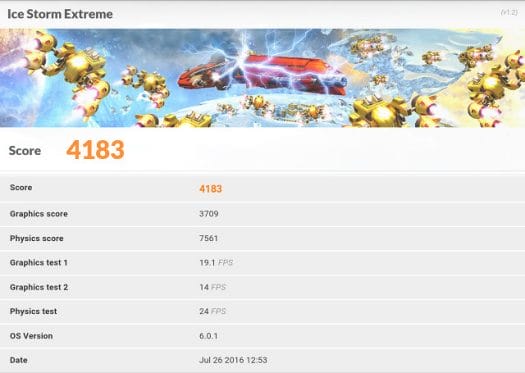 3D graphics performance does not seem to be affected as much as Amlogic S905 TV boxes would normally get around 4,300 points in 3DMark ICE Storm Extreme, while Amlogic S905X based M8S II got a similar 4,183 points.
Conclusion
MINI M8S II TV Box has a good performance/features to price ratio, a responsive Android 6.0 firmware, decent video playback in Kodi for 10-bit and 8-bit H.265, H.264, and VP9 videos up to 4K @ 60 fps, but there are still a few firmware issues such HDMI audio pass-throguh, Bluetooth issue, read-only USB storage, etc.. to solve.
PROS:
Stable and responsive device with recent Android 6.0 firmware
Good (although not quite perfect) video playback in Kodi 16.1 with support for 4K 10-bit H.264, H.264 and VP9 videos
HDR (High dynamic range support) for compatible TVs (not tested as my 4K TV does not support it)
Proper power handling, and low idle power consumption
Relatively fast internal storage leading to 40 seconds boot, few slowdowns during operation
OTA firmware update
Device stays cool under load
exFAT, NTFS, and FAT32 file system support for external storage
IR remote control working with long range (at least 10 meters)
CONS:
External storage (USB and micro SD) are read-only due to permissions.
Some Kodi issues: HDMI audio pass-through not working well, even for Dolby / DTS 5.1 or 2.0 audio, automatic frame rate switching not working, 24 fps videos may not be smooth when played using 24 Hz video output.
Lack of Dolby & DTS licensed for downmixing to PCM 2.0 (stereo audio) in apps other than Kodi
Bluetooth issues – No Bluetooth LE support, problem pairing with Bluetooth headset. (File transfer with smartphone is OK)
DRM: Only supports Widevine Level 3
Some apps (that should) can't be installed via Google Play (e.g. Antutu Video Tester, Bittorrent…)
TV box will force my AV receiver to turn on, even as I manually turn it off (likely HDMI CEC issue)
USB device connected full screen window shows up after each boot if you have connected an USB drive
So not a bad start, but you'll have to rely on firmware updates to get fixes for some of the issues listed above.
I'd like to thank GearBest for sending a sample for review, and if you are interested, you could consider buying the device for $35.99 including shipping (if the price has gone up, GBM8SII coupon might help) from their online shop. Other shopping options include Banggood, Aliexpress, and Amazon US, but they are roughly $10 more expensive at this time.

Jean-Luc started CNX Software in 2010 as a part-time endeavor, before quitting his job as a software engineering manager, and starting to write daily news, and reviews full time later in 2011.