MINIX showcased two new Gemini Lake mini PCs running Windows 10 Pro at IFA 2019 namely MINIX NEO J50C-4 (64GB) actively-cooled mini PC with an Intel Pentium Silver J5005 that's basically a variant of last year's NEO J50C-4 mini PC with more storage, as well as MINIX NEO G41V-4 fanless mini PC powered by an Intel Celeron N4100 processor.
I've already reviewed the former mini PC with Windows 10 Pro, and the company has just sent me a sample of their just-released NEO G41V-4 mini PC which as we'll see is a completely new design (internally).


MINIX NEO G41V-4 Unboxing
The mini PC did not come alone, as 240GB M.2 SATA SSD's for NEO G41V-4 and NEO J50C-4 were also included.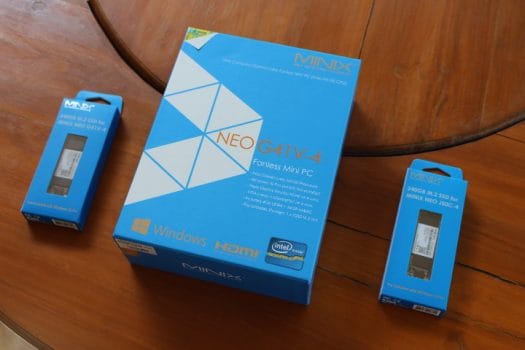 The specifications match what we initially reported with an Intel Celeron N4100 quad-core processor, 4GB DDR4, 64GB eMMC flash, and so on.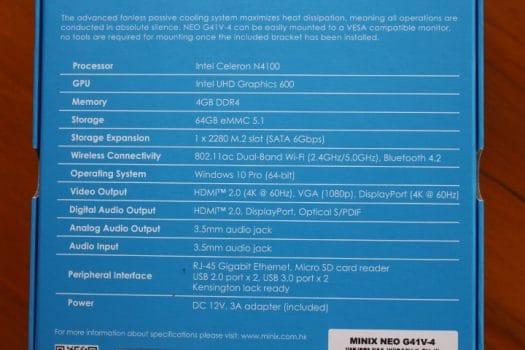 The new enclosure has plenty of ventilation holes to help with cooling.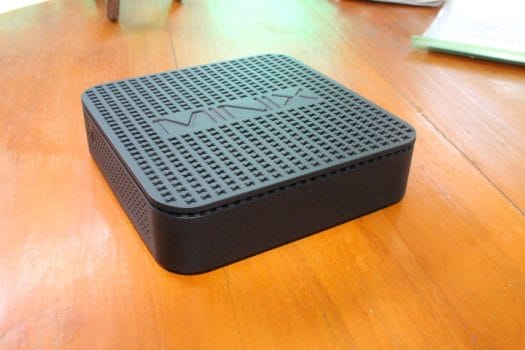 The ports are a bit different than on J50C-4 as well, as we've got the power button, 2x USB 3.0 ports, 2x USB 2.0 ports, and audio jack for headphones or SPDIF, and a microSD card slot (missing on J50C-4) on one side….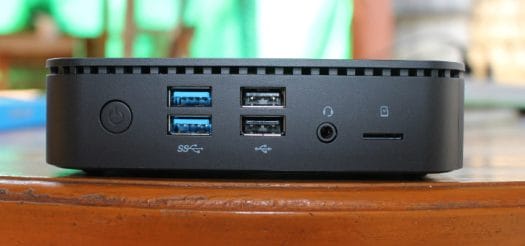 …Gigabit Ethernet, a DisplayPort 1.2 output, HDMI 2.0 output, VGA, and the DC jack on the other.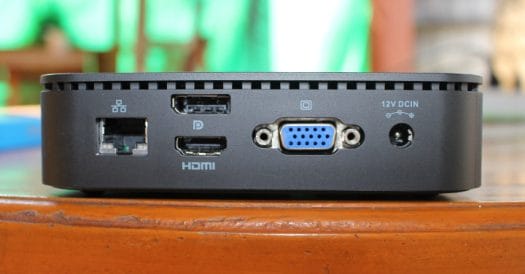 So basically the USB-C port is gone, leaving place for an extra USB 2.0 port and the VGA output instead, and the mini DP port is now a full-size DisplayPort connector.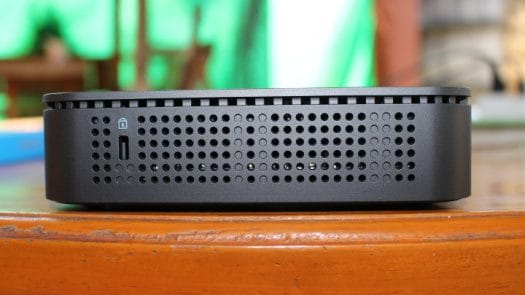 As on all other MINIX mini PCs, the Kensington lock hole is still present.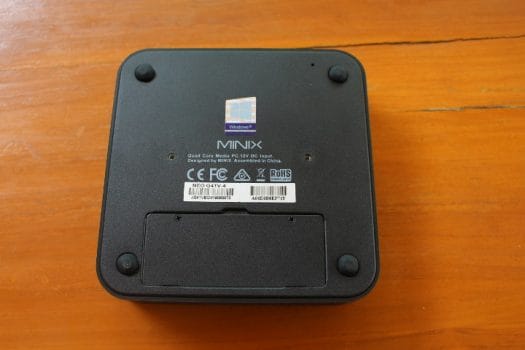 The bottom of the mini PC ha some interesting differences, notably users don't need to open the complete mini PC to install an M.2 SSD, since there's a bay locked with 2 screws instead, and we'll notice two holes for wall/VESA mount.
Accessories are standard with a 12V/3A power supply with US, UK, and EU plug adapters, an HDMI cable, a VESA mount, a user manual and, a product brochure. There's also an S/PDIF adapter that I forgot to include in the photo above, and is the same as on previous MINIX mini PCs: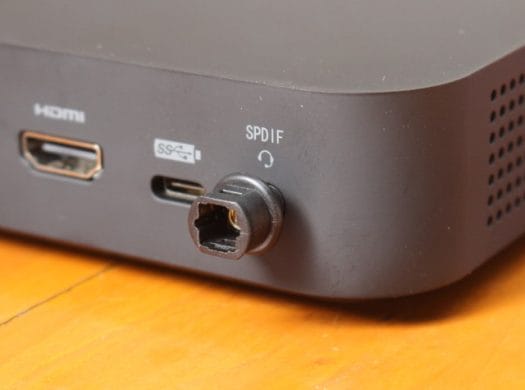 Vesa Mount
The VESA mounting kit is quite different than the previous models as the mount is much thinner, and two screws meant to be attached to the mini PC are used for mounting on the VESA mount, or if you please on a wall instead of the typical back of a compatible monitor.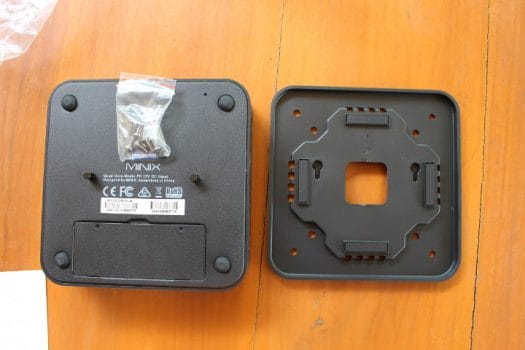 Installation is super easy, as you need to tighten 4 of the 6 screws (bonus points for companies providing spare screws) provided with the kit.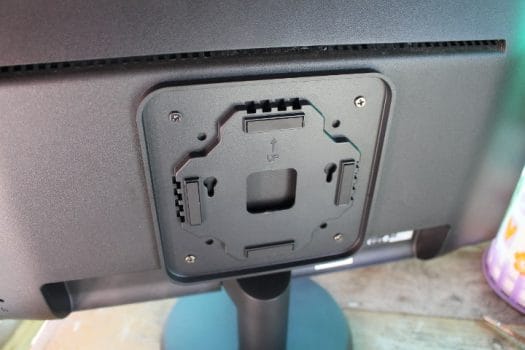 Once you've attached the two bits on the bottom of the case, simply place it in the two holes on the VESA mount.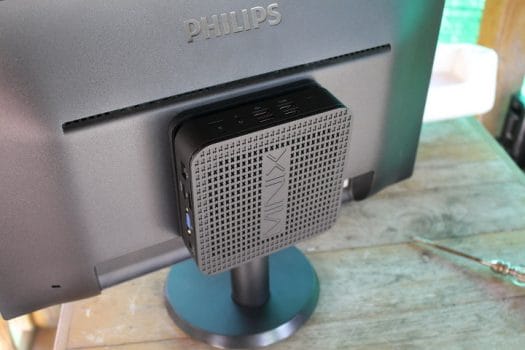 The picture above shows MINIX NEO G41V-4 mini PC attached to the back of a Philips monitor, and for comparison here's what the VESA mounting kit on previous models looked like.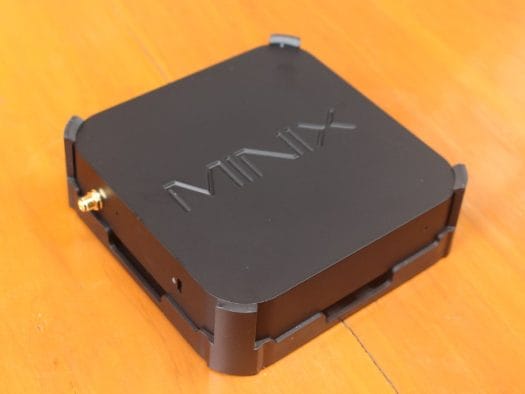 240 GB SSD Installation
Let's have a look at the two SSD's. They have identical hardware specifications with speeds of over 400MB/s, and the only difference is that Windows Pro 10 is pre-installed on each with the respective drivers for either NEO G41V-4 or NEO J50C-4.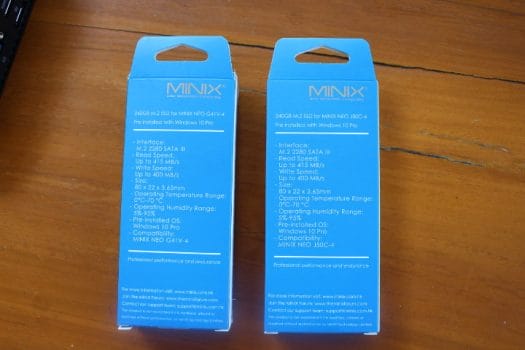 MINIX provides those Windows 10 Pro SSD's to save time and money since businesses don't have to pay their staff to reinstall Windows 10 Pro manually on the SSD that way.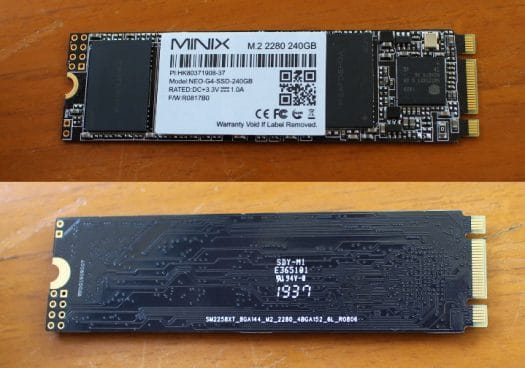 Simply insert the M.2 SATA SSD into the mini PC and it can be used (almost) straight away since as explained in the user manual once need to active Windows 10 Pro in the eMMC flash first, then disable the eMMC in the BIOS before being able to boot Windows 10 Pro from the SSD.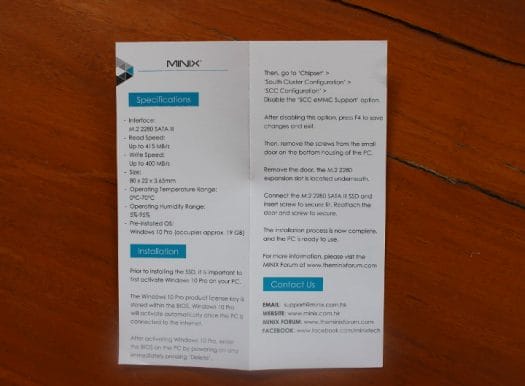 But I've installed the M.2 SSD first, as I did last year, and will follow a different method to switch to Windows 10 Pro in the SSD since it's more convenient that way.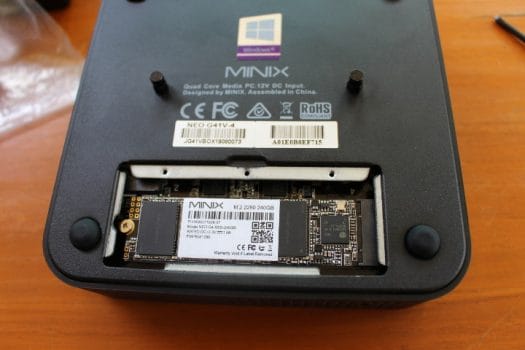 MINIX NEO G41V-4 Teardown
There's no reason for somebody to open the mini PC since the RAM is soldered (no SODIMM slots like in J50C-4) and the SSD can be installed from the opening on the bottom of the case. But I still did the usual teardown to see how the company designed the mini PC.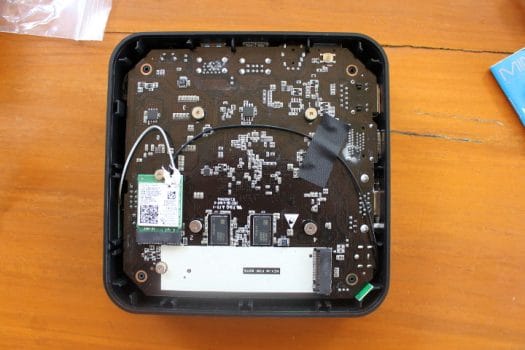 The bottom of the board comes with the M.2 socket, Intel 3168NGW wireless module for WiFI 5 (802.11ac) and Bluetooth 4.2 plus two internal antennas, as well as two of the DDR4 chips soldered on the board.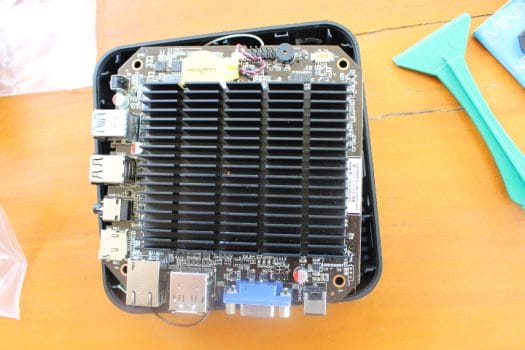 There's a large heatsink on the top of the board, as well as an RTC battery, a PC speaker, fan header, and another 10-pin header.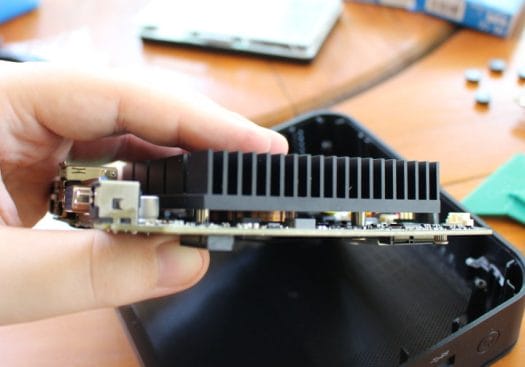 If we look on the side, we can see a copper cylinder on top of the processor and connected to the black heatsink.
That's all for today, and I'll test Windows 10 Pro in a few weeks. MINIX NEO G41V-4 fanless mini PC can currently be purchased for $274.99 on Amazon or Aliexpress. If you have more time than money, you could also get it for $259.19 on Aliexpress by adding it to the cart now and completing the purchase on November 11th (Single's day). A kit with the optional 240 GB SSD featured in this review is sold for $314.90 on the Aliexpress page.
Continue reading MINIX NEO G41V-4 Mini PC Review – Part 2: Windows 10 Pro.

Jean-Luc started CNX Software in 2010 as a part-time endeavor, before quitting his job as a software engineering manager, and starting to write daily news, and reviews full time later in 2011.