We've already quickly checked out Rikomagic R6 mini projector in the first part of the review with an unboxing and first boot, but now I've had more time to play with the device, so I'll report about my experience.
Android Launcher and Default Apps
Here's the launcher pre-installed in the projector.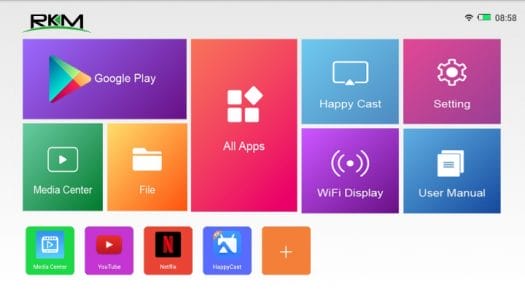 Media Center
The Media Center app allows you to display images, play audio files as well as videos.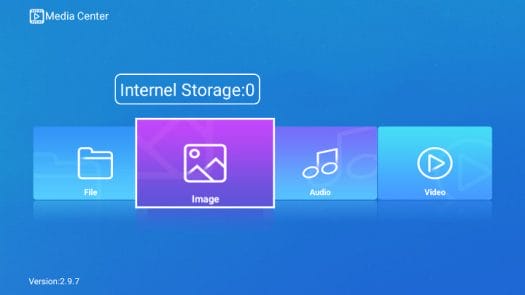 It will show thumbnails of images present in the current folder…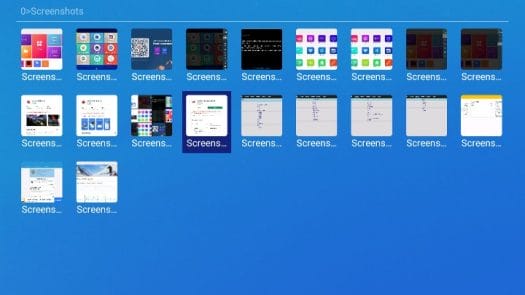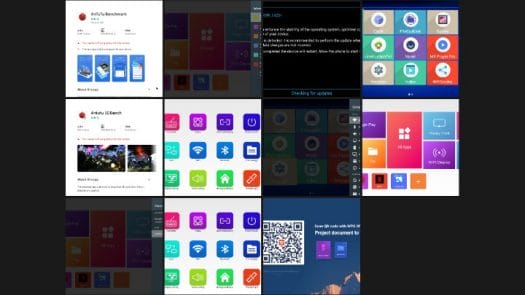 and as soon as you select one image in the folder it will start a slideshow with classic music playing the background. You'll be able to see what it looks like in the video at the end of this review.
Happy Cast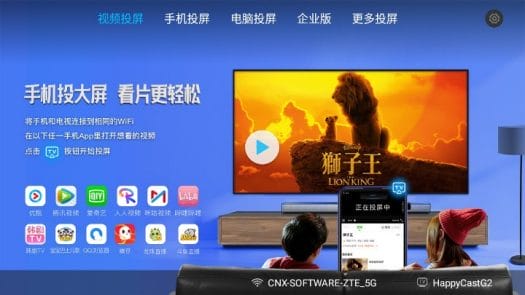 It's an app in Chinese, that apparently allows you to cast from other Chinese apps, but I have not used it.
WiFi Display
WiFi Display will be one of the most useful app, as it allows you to use Miracast (Android) or AirPlay (iOS). I could use it successfully with Xiaomi Mi A2 Android One smartphone.
User Manual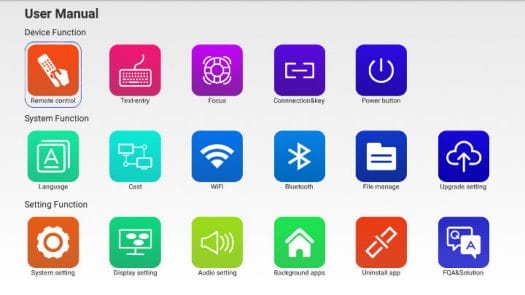 There's a paper user guide provided with the projector, but User Manual app provided more details explanation about all features of R6 mini projector.
List of App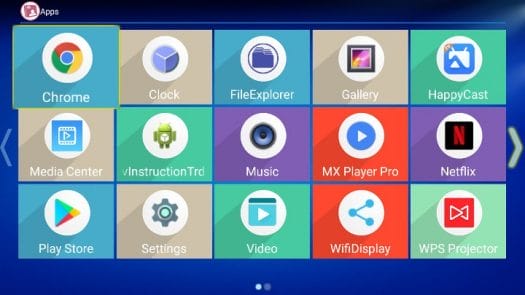 Pre-installed apps are shown above, and YouTube for Android TV is also installed. Most apps are familiar.
WPS Projector
The one I did not know however is WPS Projector.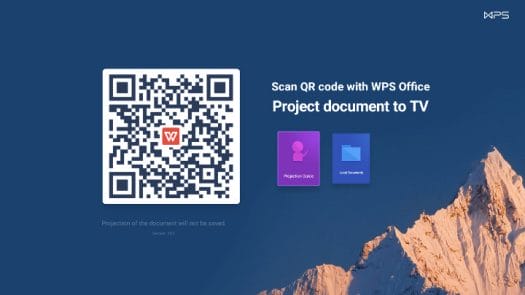 This works in conjunction with WPS Office app on your phone. Using a QR scanner app on your phone you can scan the QR code generated by WPS Projector, it will open a page in your browser, which will open WPS Office and allow you to select a presentation file to the projector. The quality should be better than with Miracast, and once you're done the file is deleted from the projector.
Settings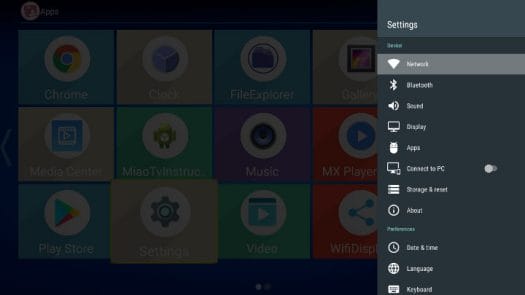 Settings are pretty standard, except for the Connect to PC which can be used to connect the projector to a computer and use it as a USB flash drive to copy some files. Note you need to use the USB OTG port (left) to use this function.

There are also some options for the display/projector described in the User Manual app.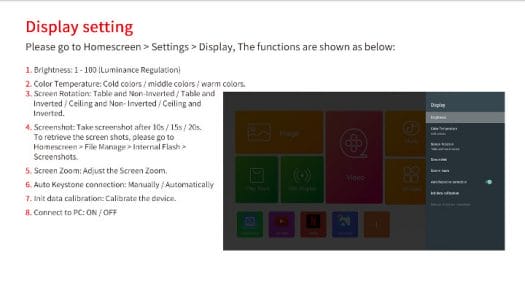 I did not get any firmware update during my testing, but OTA firmware update looks to be enabled.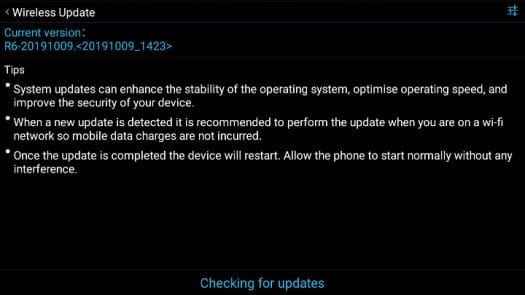 A total of 4.8 GB storage is available to the user out of the 8GB eMMC flash.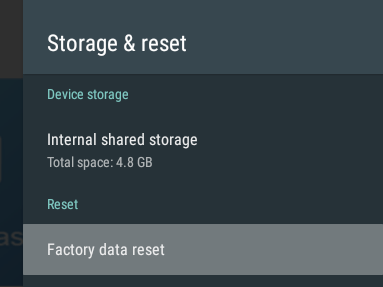 Video Playback
YouTube for Google TV is installed, and I could play videos without issue.
But it's unclear how long it will work, as going to Google Play store shows the app is not compatible with the device anymore. It still works as you'll see in the video review/demo below, thought up to 720p.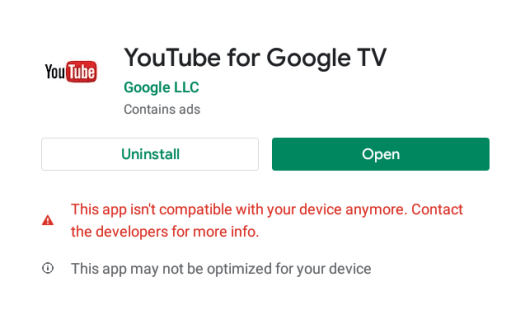 It still works as you'll see in the video review/demo below, thought up to 720p, and another annoying bug is that it's not possible to login.
Running DRM Info reveals Widewine L3 DRM is installed.

I tested some 1080p videos in Kodi 18.4 from a SAMBA share while connected over WiFi 802.11ac:
H.264 codec / MP4 container (Big Buck Bunny) – 1080p –

OK

MPEG2 codec / MPG container – 1080p –

Video will sometimes play in accelerated mode and then freeze, before restarting playing back normally.

MPEG4 codec, AVI container – 1080p –

OK

VC1 codec (WMV) – 1080p – 1080p –

Very choppy, software decode

WebM / VP8 – 1080p –

OK

H.265 codec / MPEG TS container – 1080p –

OK
Not perfect, but quite an improvement compared to Rikomagic RKM R1 projector's KODI video playback. Note the latter was based on Android 4.4, so limited to Kodi 14.2, and since R6 runs a more recent Android 7.1 OS, I could install the latest version of Kodi. Note that the processor (Rockchip RK3128) does not support 4K, so if you attempt to play such file they'll be unwatchable.
Benchmarks
Before going through the benchmarks, let's run CPU-Z to get more system info.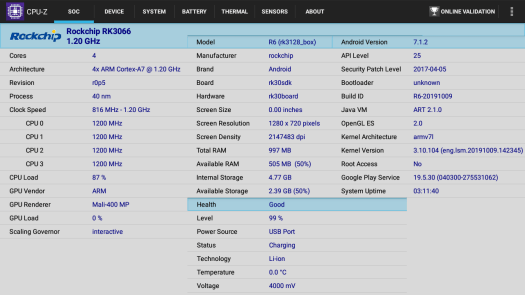 So we have Rockchip RK3128 quad-core Cortex-A7 processor @ up to 1.20 GHz with a Mali-400MP GPU, exactly like Rikomagic previous RKM R1 Android projector. As noted in the first part of the review, the projector runs Android 7.1.2 with an old Linux 3.10.104 kernel and a security patch level dated in April 2017.
The UI has a 1280×720 resolution as we've already seen from the screenshots, and the system comes with 1GB RAM, 8 GB flash to which only 4.77 GB is available to the user, and around the end of the review, I had 2.39GB left. There's a 4,000 mAh battery detected as per the specs.
I tried to install Antutu benchmark via Google Play, but the app is somehow not compatible.

So instead, I went through APKPure to install Antutu 8 + Antutu 3D, but the 3D GPU benchmark failed completely, resulting in a low score of 25,379 points.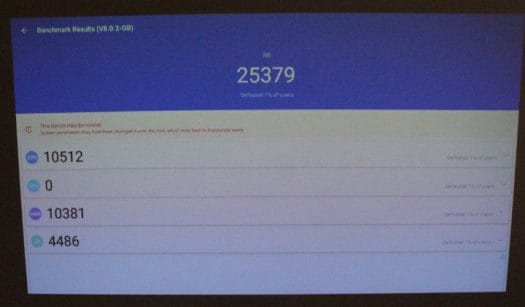 The value is not really useful anyway for comparison purposes since it's the first time I use Antutu 8.x, and usually, scores are not comparable between major versions of Antutu.
So instead I went with PCMark 10 Work 2.0.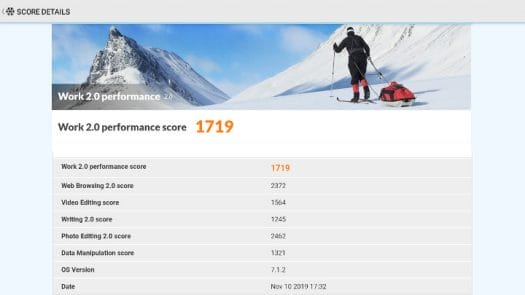 1,719 points. This compares to 4,100 points for the low to mid-range Amlogic S905X3 quad-core Cortex-A53 processor found in Khadas VIM3L SBC. So Rockchip RK3128 performance is low, but if you just want to use Rikomagic R6 as a presentation projector or watch some video, performance is sufficient, although having a slightly faster SoC would have been nice for example for casual gaming.
More Projector Testing
After the first part of the review, I was asked to test the projector with a test image. The image found on Imgur has a 1598×1078 resolution, and can also be found below.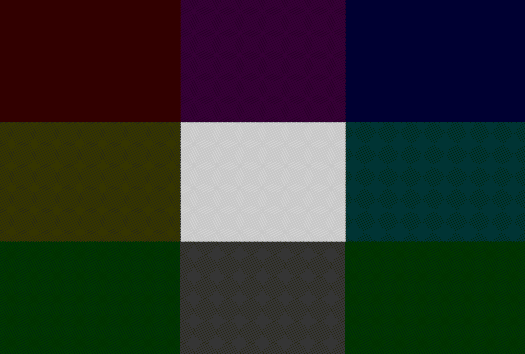 A quick look shows 9 square with different colors, but looking more closely there are many small black dots spread uniformly across all squares. Since the native resolution of the projector is 1280×720, the Media Center app will resize the image creating some weird effects, so instead, I cropped the image to 1280×720 as shown below.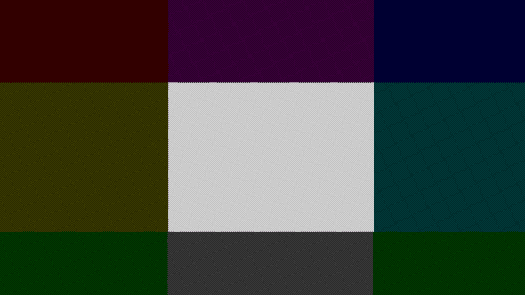 This is what it looks like roughly.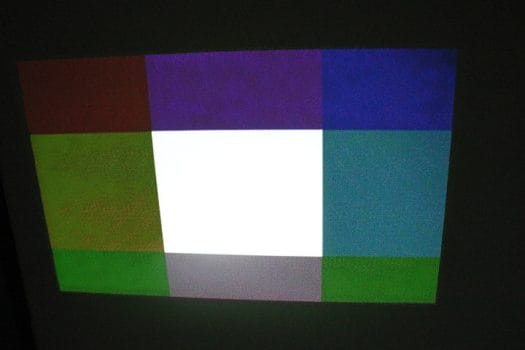 Now it's quite difficult to take a photo that reflects exactly what I see in real life. But the white part is very bright as shown in the photo above, while the colored parts are fairly darker than the photo above implies. To be honest though, I'm not exactly sure what the purpose of this test is.
I also tried to have the largest display I could get based on the dimensions of my wall, and I got what amounts to an 88″ display (2.23m diagonal).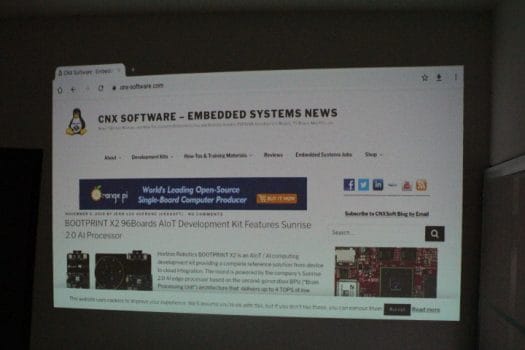 Note that the larger the projected image the lower the brightness, so very large screens like the one above require a fairly dark room. It would not be comfortable to use during the day.
Misc Testing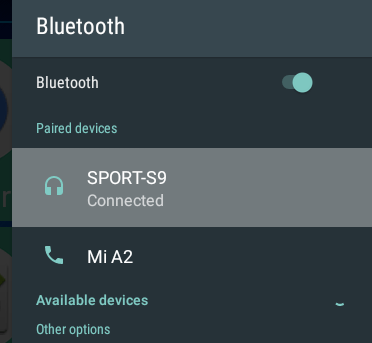 I played some games including Candy Crush Saga using MINIX NEO A2 Lite air mouse, and Beach Buggy Racing with low settings using Tronsmart Mars G01 wireless gamepad, and both were playable but with some slowdowns from time to time.
I also tested Bluetooth both to transfer files with my smartphone (Xiaomi Mi A2), and to connect a Bluetooth headset, and no problem in either case.
Battery life allows you to watch a video for around 2.5 hours. The speaker in the projector is OK, but I still prefer using external speakers as the audio is clearer and louder.
Finally, I quickly tested WiFi 5 GHz using SpeedTest app.

I'm in a separate room at about 6 meters from the router. My ISP bandwidth is around 115 Mbps in both directions in my Ethernet connected laptop.
Rikomagic R6 Video Review / Demo
Final Words
Rikomagic R6 is a cute Android mini projector, and it does offer various improvements over the company's earlier Rikomagic RKM R1 mini projector such as a more recent Android 7.1.2 OS and better Full HD video playback in Kodi. I've also found the projector to be bright and clear enough even when "emulating" large displays. WiFi is also much better than on the previous model, and I had no trouble playing videos hosted on a SAMBA share.
However, I've found myself missing the touchpad for control on top of the earlier model, and you must be aware there's no HDMI input so the only way to connect a PC is via Miracast.
The projector is still using the older Rockchip RK3128 quad-core Cortex-A7 processor so performance is limited. That's not really a problem to watch videos, and for PDF/PPT presentations, but if you try to play games, or run media player apps with more advanced UI, the experience won't be optimal. YouTube TV app is pre-installed and I can play videos, but can't sign-in, and the app is not updated any.
The mini projector is now sold for $269 including shipping on Aliexpress, and if you plan on ordering in quantities you may contact the company via the product page.

Jean-Luc started CNX Software in 2010 as a part-time endeavor, before quitting his job as a software engineering manager, and starting to write daily news, and reviews full time later in 2011.