The PicoCore MX8MN Nano carries the NXP i.MX 8M Nano
F&S Elektronik Systeme has announced the development of the smallest i.MX 8M based CoM yet: the PicoCore MX8MN Nano. Previously we had reported on the Congatec Conga-SMX8 Nano which was a fairly small CoM compliant with SMARC 2.0 standard.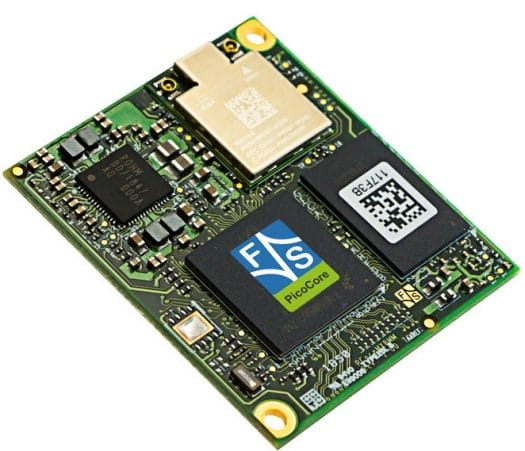 The PicoCore MX8MN is based on the NXP i.MX 8M Nano CPU with 1 to 4 Arm Cortex-A53 cores and a Cortex-M7 real-time core. The Nano is set to carry up to 8GB RAM and 32 GB eMMC, with optional WiFI/BT and support for -40º C to 85º C temperature ranges.
Similar to Predecessor
The PicoCore MX8MN Nano is very similar in structure to the PicoCore MX8MM Mini CoM, but with a different i.MX 8M Mini processor featuring the same Arm Cortex-A53 cores, but the Cortex M4 real-time core is changed to a more powerful Cortex-M7 core in the MX8MN Nano.
The MX8MN Nano has no photo on the product page yet, but LinuxGizmos has reported on the company's announcement of the PicoCore MX8MN Nano.
The debut is set for Q2 of this year, and although the company has provided a picture, it seems identical to the PicoCore MX8MM Min. The product page does list some of the features and options.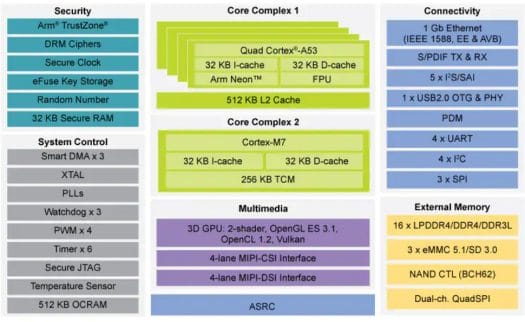 Here are the specifications so far –
CPU – NXP i.MX 8M Nano with 1x, 2x , 4x ARM Cortex-A53 + 1x Cortex-M7 @ 1.5GHz + 650MHz

GPU

–

Vivante GC7000UL 2D and 3D

Storage – Memory

Flash – 512 MB SLC NAND, 32 GB eMMC
RAM – 8 GB LPDDR 4 Or DDR3L

Interfaces through 100-Pin Hirose DF40C I/O can include

SD Card – 2x External
Ethernet – 2x GbE
USB – 1x OTG 2.0
MIPI CSI
SPDIF
ESAI
SAI
SSI
ADR Data Bus
Up to 4x UART, 4x I2C, 2x SPI

Supply Voltage – +3.8V – 5.5VDC
Power Usage – Typical 2W
Dimensions – 35 mm x 40 mm (L x W)
Weight – ~10 grams
Operating System

Linux – Buildroot / Yocto – uboot installed
Real-Time – FreeRTOS
Availability and Pricing
No pricing yet, or formal launch date, but the company is saying there will be a delivery date in Q2 of this year.
If interested in i.MX 8M Nano modules, you may want to read some of our previous coverage including modules from Variscite and iWave Systems. While PicoCore MX8MN Nano is the smallest i.MX 8M Nano CoM we've seen so far, Kontron NXP i.MX 8M Mini is even smaller at 30x30mm, and the company may eventually provide a Nano version.

Stephen started writing about technology after publishing sci-fi short stories. His first White-Paper, written in 2008, was well received and inspired him to continue writing about technology. Today he writes in the technology space full time, covering a multitude of topics. During the time he wrote part-time he edited hundreds of titles for large publishers, in science and technology. He lives in Staten Island, with his wife and children.