Since the launch of the Intel Elkhart Lake IoT Edge processor family, we've covered several COM Express modules based on the new low power SoCs including TQ Embedded TQMxE40C1/C2 and Congatec conga-MA7 & conga-TCA7.
But despite the processor supporting 2.5GbE, all the computers-on-module we've covered so far would only offer Gigabit Ethernet connectivity. But Eurotech CPU-161-19 and CPU-161-20 COM Express Compact Type 6 modules support up to three 2.5 Gbps Ethernet interfaces using COM Express with proprietary expansions, and CPU-161-20 is the first module we've seen taking advantage of Intel Atom x6000FE parts with Functional Safety (FuSa) support making the module certifiable with SIL2 Safety Integrity Level (IEC 61508-2:2010) and/or Cat 3 PL=d (ISO 13849-1).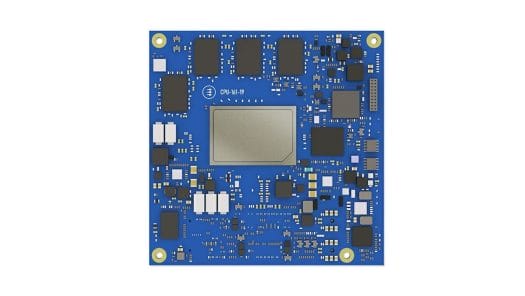 As we may infer from the photos above and below, both modules share many of the same features, except for the added functional safety on CPU-161-20.
CPU-161-19/20 specifications:
SoC

CPU-161-19 module

Atom x6212RE dual-core processor @ 1.20GHz with 16EU 11th gen Intel UHD graphics @ 250 MHz; 6W TDP
Atom x6414RE quad-core processor @ 1.50GHz with 16EU 11th gen Intel UHD graphics @ 400 MHz; 9W TDP
Atom x6425RE quad-core processor @ 1.90GHz with 32EU 11th gen Intel UHD graphics @ 400 MHz; 12W TDP

CPU-161-20 module

Atom x6200FE dual-core processor @ 1.00GHz without GPU; 4.5W TDP
Atom x6427FE quad-core processor @ 1.90GHz with 32EU 11th gen Intel UHD graphics @ 400 MHz; 12W TDP

System Memory – 4GB to 16GB DDR4 IBECC, 3200MT/s, soldered down
Storage- 1x SPI Flash, 1x EEPROM
Video Acceleration

Encode – HEVC/H.265, H.264/AVC, VP9, M/JPEG;
Decode – HEVC/H.265, H.264/AVC, VP8, VP9, VC1, M/JPEG, MPEG2

COM Express Type 6 Compact board to board connectors with the following I/Os

Storage – 2x SATA 3.0 (up to 6Gb/s), 1x SDXC (factory option)
Video Ports

2x DDI (HDMI/DVI/DP++) up to 4Kp2
1x dual-channel 24-bit LVDS/eDP (eDP factory option) up to 1920×1200 @ 60Hz
1x VGA (factory option) up to 1920×1200 @ 60Hz
Triple Display support in the following configurations: VGA+DDI1+DDI2 or LVDS+DDI1+DDI2 or eDP+DDI1+DDI2

Audio – HDA Interface / Speaker, optional I2S / DMIC
Ethernet

COM Express standard – 1x 10/100/1000/2500Mbps with TSN
COM Express standard with proprietary extensions – 1x 10/100/1000/2500Mbps with TSN 2x SGMII 10/100/1000/2500Mbps (factory option)

USB – 2x USB 3.0 / 8x USB 2.0
Serial – Up to 3x UART 2-wire, up to 5x UART 4-wire
CANBus – Up to 2x CAN-FD
Digital I/O – Up to 5x GPI / 4x GPO / 3x GPIO or 1x GPI / 3x GPIO / SDXC
COM express standard with proprieatary extensions only – 6x ADC, 2x Quadrature Encoder
CPU-161-20 only – PCI Express 1x PCIe x4 Gen3 (or 2x PCIe x2 Gen3, or 4x PCIe x1 Gen3) 2x PCIe x1 Gen3 (Mutually Exclusive with SGMII)
System Bus – 1x LPC, up to 2x I2C, up to 3x SPI, 1x SMBus

Security – TPM 2.0
Misc – RTC, Watchdog, temperature sensor
Power Inputs – 12V, 5VSBY, 3V_RTC (ATX Mode) / 12V, VCC_RTC (AT Mode)
Dimensions – 95x95mm (COM Express Compact form factor)
Compliance – PICMG COM Express R3.0 Type 6 form with or without proprietary extensions
Temperature Range – Operating & storage : -40 to +85°C
Humidity – 5% to 90% RH
Certifications

Regulatory – CE, FCC, ISED (Canada)
Safety – EN 62368, UL 60950
Environmental – RoHS3, REACH
Functional Safety (FuSa) (CPU-161-20 only) – Certifiable according to IEC 61508-2:2010 SIL2 / ISO 13849-1 Cat 3 PL=d.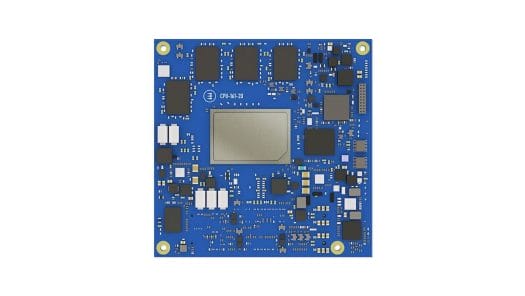 The modules come in two variants with one is 100% COM Express Type 6 compliant and the other has proprietary extensions to provide additional features (2.5GbE, ADC, quadrature encodure), as well as some extra ports, so many of the "up to" features listed in the specifications can only get the maximum of ports with the proprietary extensions leveraging unused pins.
I won't go into details about functional safety in this post, but if you'd like to understand better how this works, and the differences between SIL and PL functional safety standard, you may want to read more on a post in Motioncontroltips.com.
Eurotech provides the Yocto-based Everyware Linux distribution and Eclipse-based Everyware Java/OSGi IoT framework for both modules. Microsoft Windows 10 IoT and other operating systems can also be supported on request. Both Elkhart Lake COM Express modules are designed for "fanless applications in harsh environments where long term reliability is a must".
Eurotech expects CPU-161-19 to become available in Q2 2021, but not ETA was provided for CPU-161-20. Additional information, including the various default configurations, can be found on the respective product pages.
Via LinuxGizmos

Jean-Luc started CNX Software in 2010 as a part-time endeavor, before quitting his job as a software engineering manager, and starting to write daily news, and reviews full time later in 2011.