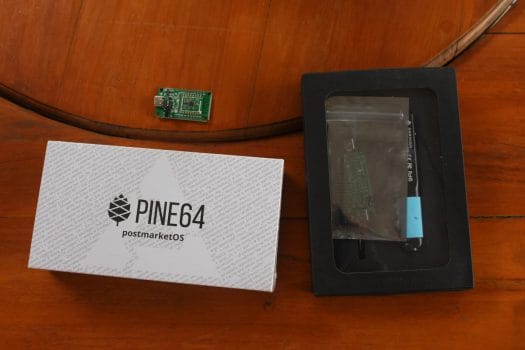 Pine64 community was pretty busy last year with the launch of several products. Recently I've received a couple of packages with some of those products, namely PinePhone Community Edition: PostmarketOS, PineCone WiFi & BLE IoT board based on BL602 RISC-V SoC, and Pinecil soldering iron also based on a RISC-V chip for control, but this time GD32V generic-purpose MCU.
I'll most show what I have received without going into too many details, except for PinePhone which I have already set up and used for one hour or so.
PineCone BL602 board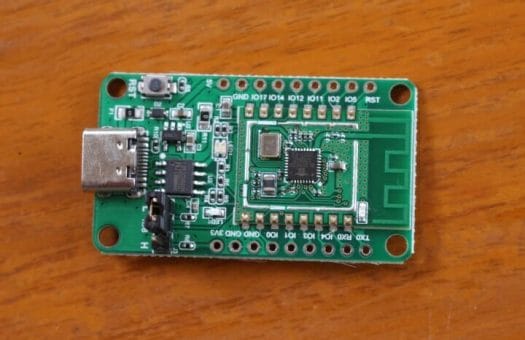 I received PineCone at the end of last year in a separate envelope with the board only. There's not much to it with the BL602 processor offering WiFI and Bluetooth, a USB-C port for programming and power, and a few I/Os.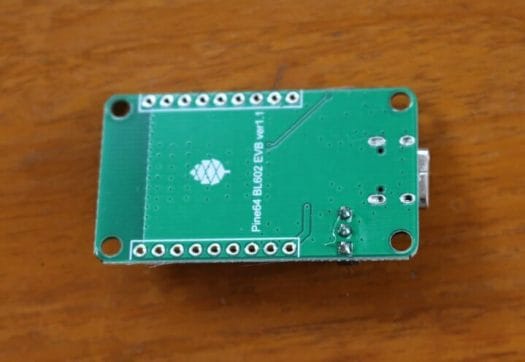 The board is interesting as it is the first RISC-V IoT board with wireless connectivity built into the chip. There's an SDK, but it's not yet an easy-to-use board with Arduino or MicroPython. Pine64 also launched Nutcracker challenge with the goal of building a blob-free WiFi & Bluetooth stack and plans to make ESP-01 and ESP-12 compatible modules.
The board is now sold for $3.99 plus shipping.
Pincecil soldering iron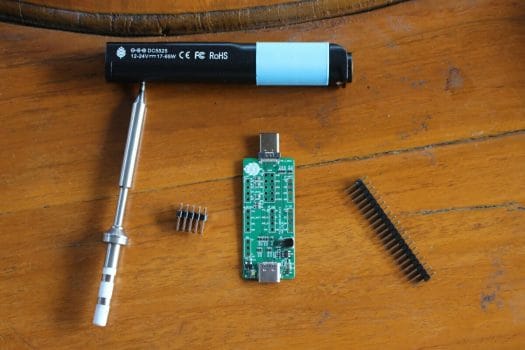 The soldering iron actually doubles as a GD32V RISC-V development board as a USB-C breakout board with access to I/Os is also offered together with headers that you can optionally solder to the board with Pinecil of course!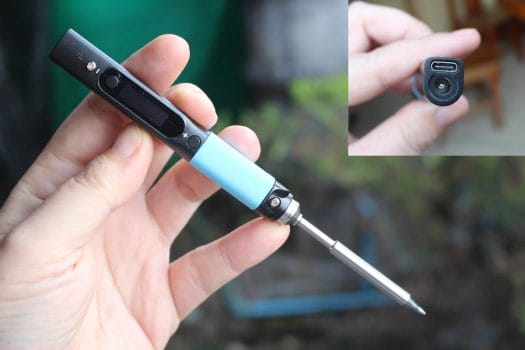 Pinecil reminds me of TS100 soldering iron based on STM32, except it supports 12V-24V power input via either a DC jack or USB-C power supply. I also like that the screw holding the soldering tip look more durable than the one used on my TS100 that quickly got damaged.
You'll find firmware, source code, documentation, and resources to get started in the Wiki. Pinecil is sold for $24.99 on the Pine store, and you'll need to add $3.99 if you'd also like the breakout board.
PinePhone with PostmarketOS Unboxing, Setup, and First Boot
While the phone is marketed as a developer tool it still comes in a retail box with a multilingual user manual, a notice in English explaining what postmarketOS is, and a USB charging cable. There isn't any power supply, but it may not be a bad thing since most people already have power supplies from their older phones.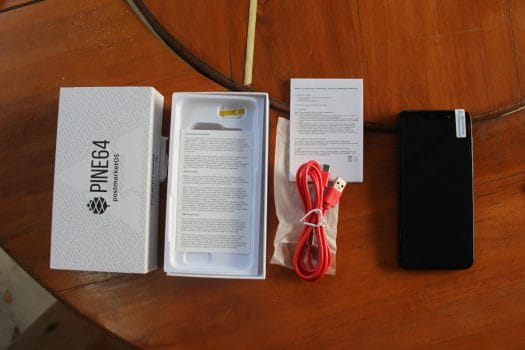 There's also a Nano SIM to micro SIM adapter, and the phone's build quality is pretty decent. There are only two externally accessible ports with the USB-C port and the 3.5mm audio jack. There's also the usual volume and power buttons, plus a reset/recovery hole.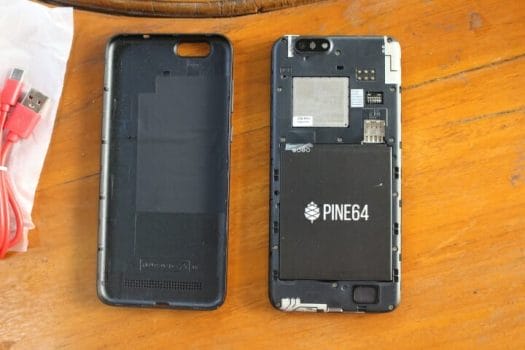 It's important to read the user manual before getting started. One of the first things to do is to take out the back cover that will give you access to…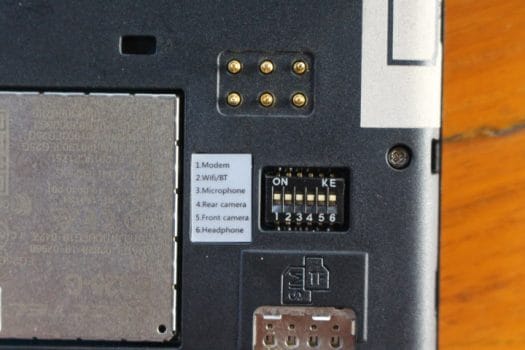 …the SIM card and MicroSD card slots, as well as the privacy switches to physically disable the model, WiFi & Bluetooth, the microphone, the rear camera, the front-facing camera, and/or the headphone jack. You'll also notice the 6 pogo pins for custom add-on accessories.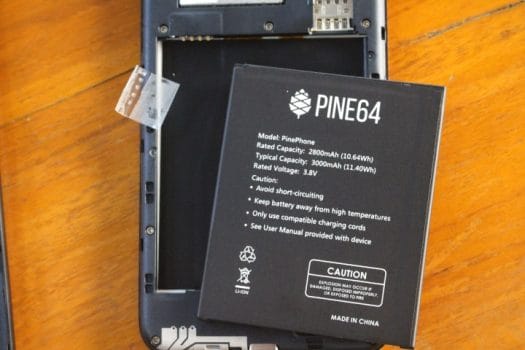 You'll also need to take out the replaceable battery in order the remove the stick tape covering the charging pin. As an aside, phones with replaceable batteries are very hard to find nowadays, so that's another welcomed development.
Make sure the SIM card and/or the MicroSD card is/are installed (I'm not using either in my phone), before putting the battery back in its place. We can now start our PinePhone by pressing the power button for around two seconds and go through the postmaketOS setup.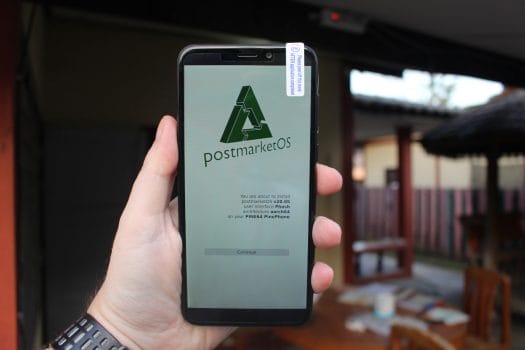 Let's tap on Continue to get started.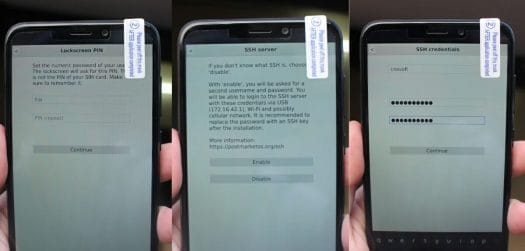 We'll be asked to set a lockscreen PIN and whether SSH should be enabled. The lockscreen PIN is also asked each time the phone boots if you enable full disk encryption, a step that is also part of the software setup.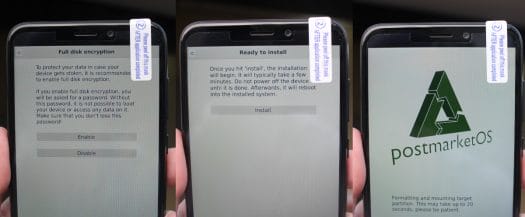 Once this last step is done, postmarketOS will format the target and install itself on the device. I think it took a little longer than 20 seconds, but still under a minute.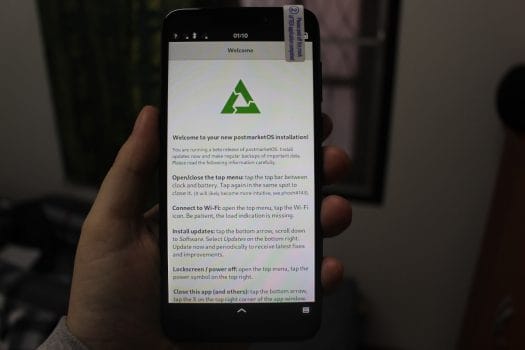 Once it's done, the phone will reboot automatically, and you'll soon be greeted by postmarketOS welcome window that also acts as a mini tutorial teaching how to navigate the user interface, configure WiFi, upgrade the software, and so on.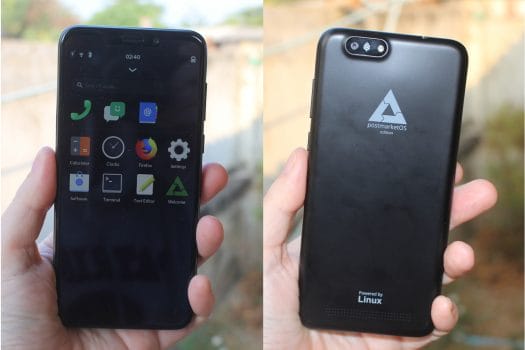 Once we're done we can use the phone. I did not install a SIM card, so I just used my PinePhone with Firefox and the terminal for now. Browsing the web is not super smooth, but not quite as slow as I would have expected on an Allwinner A64 processor, and works without major bugs. I did notice the Thai language is not supported, and can't be configured from the user interface, but it should not be too hard to install from the terminal once I learn more about Alpine Linux/postmarketOS. I plan to do so by checking out the Wiki.
As you can see from the photo above there are very few apps right now, and the software app store is almost empty. At this stage, the battery will deplete quite fast. I charge it in the evening, before switching to charge to my Android phone, and the battery was depleted in the morning.
As a development tool and for people caring about privacy it looks promising. PinePhone shown here with 2GB RAM, 16GB storage is sold for $149.99 with KDE Plasma Mobile. The exact version with postmarketOS is not available anymore, as currently, the Pine64 community works in batch with a different OS for each production run. This will change in the future however.

Jean-Luc started CNX Software in 2010 as a part-time endeavor, before quitting his job as a software engineering manager, and starting to write daily news, and reviews full time later in 2011.