Edge AI solves the latency and security issues through on-device AI acceleration for optimal computations at a low power supply. Xilinx announces its Versal AI Edge Series which is 4th member of the Adaptive Compute Acceleration Platform (ACAP) family. The versal series consists of seven models ranging from VE2002 to VE2802 with the processor fabrication on 7 nm silicon technology.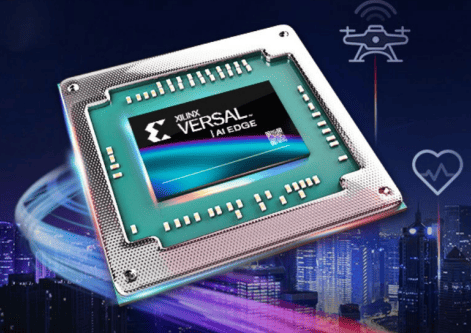 Talking more about ACAP, it is a platform that provides a combined essence of a processor and FPGA. The processing features efficient memory and I/Os, whereas programmable arrays allow logical control over the hardware. Also, as Xilinx specializes in FPGA products, the additional support of computational features makes the ACAP hardware even more flexible and dynamic.
The Versal AI Edge series features different types of engines for specific functionalities in terms of adaptable, scalar, and intelligent engines. The seven processor models vary with respect to engine and platform specifications. However, the scalar engine features are the same for all the models of the Edge AI series. Here are the common specifications of the scalar engines:
Common Specifications of Versal Series
Application Processing Unit: Dual-core Arm Cortex-A72, 48KB/32KB L1 Cache w/ parity & ECC; 1 L2 Cache w/ ECC
Real-Time Processing Unit: Dual-core Arm Cortex-R5F, 32KB/32KB L1 Cache, and 256KB TCM w/ECC
Memory: 256KB On-Chip Memory w/ECC
Connectivity: Ethernet (x2), UART (x2), CAN-FD (x2), USB 2.0 (x1), SPI (x2), I2C (x2)
According to Xilinx, the Versal series comes with AI Engine-ML which is four times faster in AI computations as compared to the past architecture of AI Engine. The ACAP AI Engine-ML comes with a new accelerator RAM for an efficient memory structure for dynamic AI algorithms. Hence, it offers up to 4X AI performance-per-watt versus GPUs and lower latency for quicker transmissions.
We saw the company's Zynq UltraScale+ MPSoC family for smart vision and networking applications in 2015. The current Versal AI Edge series offers 10 times better compute density than Zynq UltraScale + MPSoC. Hence, making it suitable for smart autonomous applications. Additional applications of the Versal series could be: collaborative robotics, predictive factory and healthcare systems, and multi-mission payloads for the aerospace and defense markets.
Structure of Versal AI Edge Series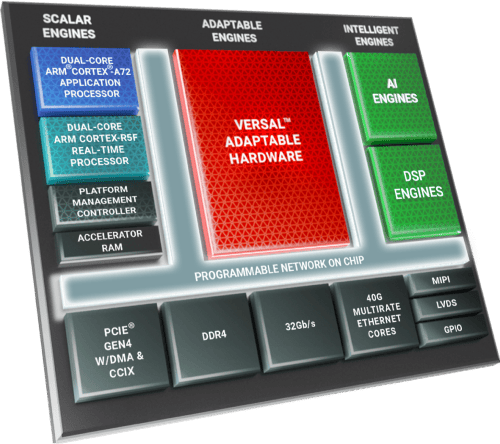 Sumit Shah, senior director, Product Management and Marketing at Xilinx explains that :
Edge computing applications require an architecture that can evolve to address new requirements and scenarios with a blend of flexible compute processing within tight thermal and latency constraints. The Versal AI Edge series delivers these key attributes for a wide range of applications requiring greater intelligence, making it a critical addition to the Versal portfolio with devices that scale from intelligent edge sensors to CPU accelerators.
The heterogeneous platform with dynamic processors adapts engines according to the type of processing algorithm. These adaptable engines also help with sensor fusion and embedded computations. Additionally, "Intelligent Engines for AI inference that scales up to 479 (INT4) TOPS2—unmatched by ASSPs and GPUs targeting edge applications—and for advanced signal processing workloads for vision, radar, LiDAR, and software-defined radio."

Xilinx is known for its extensive software support, the Versal AI Edge series is compatible with Vivado design tools for HDL hardware and the Vitis AI for data science and specific software programs for a wide range of use cases. The power consumption is as low as 6W for edge inference with real-time control functionalities.
There is pricing information about the Versal AI Edge at this point in time. However, one can apply for an early access program to get design documentation and support. You can visit the press release and the product page for more detailed information.

Saumitra Jagdale is a Backend Developer, Freelance Technical Author, Global AI Ambassador (SwissCognitive), Open-source Contributor in Python projects,  Leader of Tensorflow Community India and Passionate AI/ML Enthusiast