Digi International has announced the Digi ConnectCore 8M Mini System-on-Module (SOM) which is an addition to its ConnectCore family modules. We saw the Android application development kit featuring earlier Digi Wireless modules based Freescale i.MX51 (ConnectCore Wi-i.MX51) and i.MX53 (ConnectCore Wi-i.MX53) in early 2012. The new Digi ConnectCore 8M Mini comes with a built-in Video Processing Unit specialising in vision use cases.
The Digi ConnectCore 8M Mini SOM is an industrial i.MX 8M Mini quad-core system-on-module that comes with Arm Cortex-A53 cores, one Cortex-M4 core, and the Cortex-M0-based Digi Microcontroller Assist. This enables optimal power consumption while simultaneous maintenance of highly efficient performance.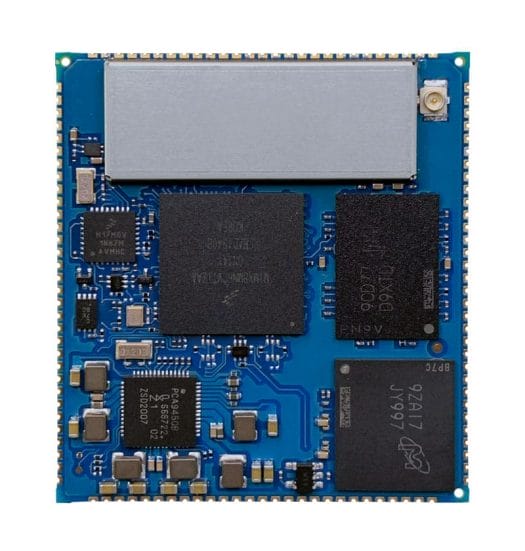 Main benefits of Digi Connect Core 8M Mini SOM
Digi SMTplus form factor (40 x 45 mm) for flexibility and reliability while designing.
Power management with both hardware and software support for low-power designs.
Display and camera capabilities with graphics and video hardware acceleration make it suitable for machine vision applications.
The built-in VPU (Video Processing Unit) increases the scope of video capabilities.
Integration of cloud and edge-compute services for extensive processing support.
Built-in device security, identity and privacy with Digi TrustFence and a hardware Secure Element.
Remote monitoring and management with Digi Remote Manage.
Yocto Project Linux and Android support for efficient operating system.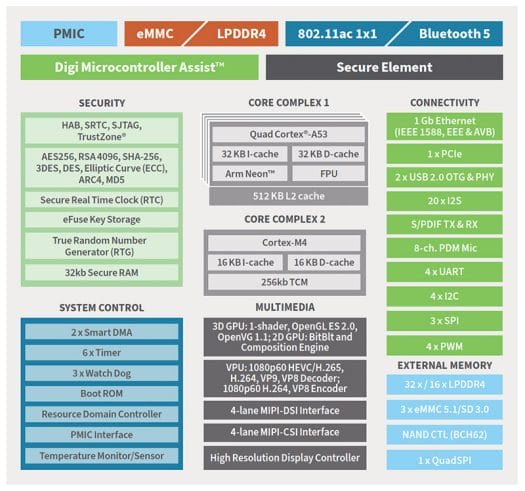 We recently wrote about the company's Digi IX15 IoT gateway and cellular router support Zigbee and BLE XBee module, and the new Digi Connect Core 8M Mini SOM is also compatible with Digi XBee modules for flexible wireless connectivity. Hence, the system on module with Bluetooth 5 compatibility and cellular enablement is suitable for wireless applications that need extensive processing support.
Overview of Digi Connect Core 8M Mini Development Kit
Development boards extract all the capabilities of embedded SOCs and SOMs in the form of robust applications and use cases. So Digi Interational has also come up with a development kit featuring its new Digi Connect Core 8M Mini SOM. The development kit features a number of components for designing and building connected products on an industrial and productization-ready single board computer platform. These components include:
Digi ConnectCore 8M Mini development board
Console port cable
Dual-band antenna
Power supply and accessories
Reference designs for LVDS, HDMI and CAN-FD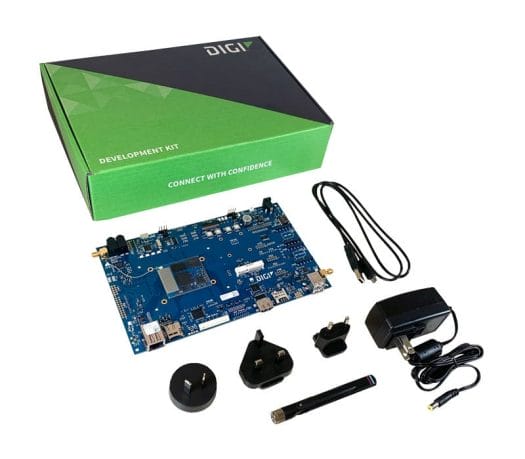 As Digi ConnectCore 8M Mini SOM is the heart of the mini development board, all the features are in line with the module itself, and HDMI and LVDS interfaces enable the connection of a display.
There is no specific information on the performance of the device.But the built-in VPU, GPU and application processor clocked at 1.6 Ghz should be enough to handle extensive processing. The SOM can also work at ultra low power modes with current consumption less than 3 uA.
Digi ConnectCore 8M Mini development kits and software are available through global distribution partners. For more information, you can visit the official product pages of the module and development kit.

Saumitra Jagdale is a Backend Developer, Freelance Technical Author, Global AI Ambassador (SwissCognitive), Open-source Contributor in Python projects,  Leader of Tensorflow Community India and Passionate AI/ML Enthusiast