Texas Instruments has just launched the new Sitara AM62 family with AM623 and AM625 single to quad-core Cortex-A53 processors designed to provide IoT gateways and HMI applications with AI processing at low power, in some cases with up to 50% reduction in power consumption.
The AM623 processor specifically targets Internet of Things (IoT) applications and gateways that may benefit from object and gesture recognition, while the AM625, equipped with a 3D GPU, should power HMI applications with edge AI and up to two full-HD displays.
Sitara AM623 and AM625 processors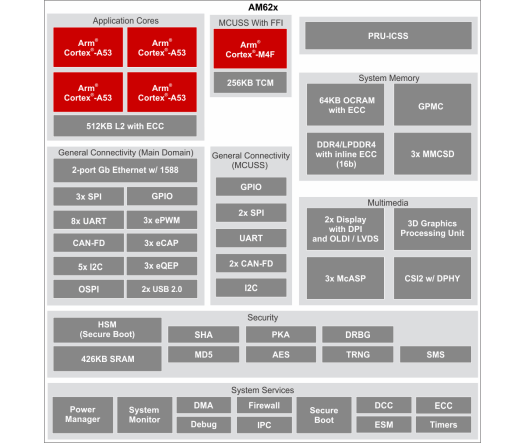 Sitara AM623/AM625 key features and specifications:
CPU – Single, dual, or quad-core Arm Cortex-A53 processor @ up to 1,400 MHz with 512KB L2 shared cache, plus 32KB I+D cache per core
Co-processor – 1x Arm Cortex-M4F real-time core at up to 400 MHz with 256KB SRAM with SECDED ECC
GPU (AM625 only) – Unnamed 3D GPU with support for OpenGL 3.x/2.0/1.1 + extensions, Vulkan 1.2
Memory I/F – LPDDR4, DDR4 memory types up to 4GB and 8GB respectively
Storage I/F

OSPI/QSPI interface with 166-MHz DDR / 200-MHz SDR for Serial NAND and Serial NOR flash devices
3x Secure Digital (SD) (4b+4b+8b) interfaces
1x General-Purpose Memory Controller (GPMC) up to 133 MHz

Display I/F – MIPI DPI, OLDI/LVDS with 1920×1080 @ 60fps for each display, or 1x 2048×1080 + 1x 1280×720
Camera I/F – 1x MIPI CSI-2 with DPHY 1.2
Networking – 2x 10/100/1000M Gigabit Ethernet with TSN support
USB – 2x USB 2.0 interfaces
Hardware accelerators – PRU-SS

Dual-core Programmable Real-Time Unit running up to 333 MHz and Industrial Communication Subsystem (PRU-ICSS)
Used for General Purpose Input/Output (GPIO), UARTs, I2C, external ADC
CRC32/16 HW accelerator
Industrial 64-bit timer
Interrupt controller (INTC)
etc…

Peripherals

9x UART, 5x SPI, 6x I2C
3x Multichannel Audio Serial Ports (McASP)
3x enhanced PWM modules (ePWM), 3x enhanced Quadrature Encoder Pulse modules (eQEP), 3x enhanced Capture modules (eCAP)
General-Purpose I/O (GPIO), all LVCMOS I/O can be configured as GPIO
3x Controller Area Network (CAN) modules with CAN-FD support, up to 8Mbps

Features – Vision Analytics
Security

Dual-core Cortex-M4F hardware security module (HSM) with 426KB SRAM
Secure boot with Hardware-enforced Root-of-Trust (RoT), IP protection, etc…
Cryptographic accelerator for AES, SHA2, public keys…
Debugging security
Trusted Execution Environment (TEE) supported
Secure storage, On-the-Fly encryption support for OSPI interface in XIP mode

Safety – Functional safety (FuSa) on some industrial and automotive parts
Power Consumption

Deep sleep mode at <5 mW
Active power of <1.5 W made possible by a core voltage of 0.75 V

Packages

13 x 13 mm, 425-pin ALW package
17.2 x 17.2 mm, 0.8-mm pitch, 441-pin FCBGA (AMC)

Temperature Range – -40 to 105°C
Process – 16nm technology
AM623 and AM625 both support Linux, and Android is also supported on AM625 with its 3D GPU. I'm unable to find any AI accelerator, so the "Vision Analytics" feature might be a software solution, and Texas Instruments simply says "the AM62 processor brings low-cost analytics to HMI devices by enabling basic camera-based image processing and edge AI functions, such as detecting and recognizing objects".  They do have documentation for it and a demo based on MulticoreWare face recognition solution with AM62x showing the capabilities of the solution.
The company also explains that AM62 processors can reduce power consumption in industrial applications by as much as 50% compared to competing devices, and for instance, an application powered by AA batteries could remain on for over 1,000 hours. This is made possible by the power architecture that features two dedicated power rails and five power modes, plus the new TPS65219 PMIC optimized for AM62's power supply requirements.
Sitara AM62x starter kit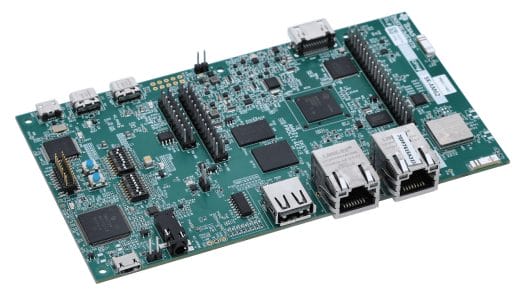 Customers can evaluate the new solutions with the Sitara AM62x Starter Kit (SK-AM62) with the following key features:
SoC – TI Sitara AM6254 with four Arm Cortex-A53 cores, one Cortex-M4F, 3D GPU, and 2x PRU-SS
System Memory – 2GB DDR4
Storage – QSPI flash, microSD card slot
Display + audio

1x dual-channel LVDS
1x HDMI connector over DPI/RGB444 with audio codec TLV320AIC3106
Dual-display support, up to 2K display resolution

Connectivity

2x Gigabit Ethernet RJ45 ports with time-sensitive networking (TSN) support
Dual-band Wi-Fi, Bluetooth 5.1 Classic + LE via WiLink 8 WL1837MOD module

USB – 1x USB 2.0 Type-A port, 1x USB 2.0 Type-C dual-role device (DRD) with support for USB booting
Serial – 4x  UARTs via USB 2.0-B port
Debugging – Onboard XDS110 Joint Test Action Group (JTAG) emulator
There are five methods to boot the Starter Kit: removable microSD card, USB, QSPI flash, Ethernet, and UART.  Software support for the kit includes TI processor SDK Linux, RT-Linux, TI processor SDK Android AM62x, and various demonstrations including Wi-Fi.
Price and availability
Both Sitara AM625 and AM623 processors are available now with pricing starting at less than US$5 in 1,000-unit quantities, but the sample price is $19.50 on the TI website. The AM62x EVM is sold for $149. Further information, including technical documentation like datasheets and links to SDKs, can be found on the product pages for the processors and starter kit.  The company will also showcase the new AM62 processors and related solutions for edge AI and electric vehicle charging HMI applications in booth No. 215 at Embedded World 2022.

Jean-Luc started CNX Software in 2010 as a part-time endeavor, before quitting his job as a software engineering manager, and starting to write daily news, and reviews full time later in 2011.