Silicon Labs has just announced the tiny BG27 Bluetooth LE and MG27 multiprotocol wireless SoCs designed for small devices, and they will be especially useful in connected health applications, or the so-called Internet of Medical Things (IoMT), as well as wearables, sensors, switches, smart locks, and commercial and LED lighting.
Both chips feature a Cortex-M33 core clocked at 76.8 MHz, up to 768KB flash, and up to 64KB RAM, but the BG27 only supports Bluetooth LE, Mesh, and propriety 2.4 GHz connectivity, while the MG27 also adds an 802.15.4 radio for Zigbee, OpenThread, and Matter protocols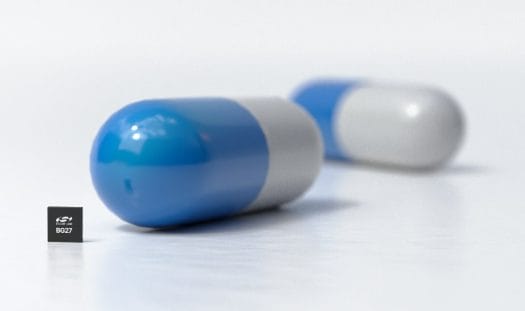 Silicon Labs BG27 and MG27 specifications:
CPU – Arm Cortex-M33 @ 76.8 MHz with DSP instruction and floating-point unit
Memory – Up to 64 kB RAM data memory
Storage – Up to 768 kB flash program memory
2.4 GHz Radio

Bluetooth mesh
Proprietary 2.4 GHz
MG27 adds
Modulation – (G)FSK with fully configurable shaping, OQPSK DSSS, (G)MSK
Radio Performance

-102.3 dBm sensitivity @ 250 kbps O-QPSK DSSS
-106.7 dBm sensitivity @ 125 kbps GFSK
-98.9 dBm sensitivity @ 1 Mbit/s GFSK
-96.2 dBm sensitivity @ 2 Mbit/s GFSK
TX power up to 8 dBm

Peripherals

16-bit Analog to Digital Converter (IADC)
Analog Comparator (ACMP)
Up to 26 GPIO
8-channel DMA Controller
12-channel Peripheral Reflex System (PRS)
3x 16-bit Timer/Counter with 3 Compare/Capture/PWM channels
2x 32-bit Timer/Counter with 3 Compare/Capture/PWM channels
32-bit Real Time Counter
24-bit Low Energy Timer for waveform generation
1x Watchdog Timer
2x USART  (UART/SPI/SmartCard (ISO 7816)/IrDA/I2S)
1x Enhanced UART Tx/Rx (EUART)
2x I2C interface with SMBus support
Digital microphone interface (PDM)
Precision Low-Frequency RC Oscillator to replace 32 kHz sleep crystal
RFSENSE with selective OOK mode
Die temperature sensor with +/- 1.5 °C accuracy after single-point calibration
Coulomb counter integrated into DC-DC

Security Features

Hardware Cryptographic Acceleration for AES128/192/256, SHA-1, SHA-2/256, ECDSA+ECDH(P-192, P-256)
True Random Number Generator (TRNG)
Arm TrustZone
Secure Boot (Root of Trust Secure Loader)
Secure Debug Unlock
DPA Countermeasures
Customer Key Management with PUF
E-Tamper
Secure Attestation

Supply Voltage

1.8 V to 3.8 V single power supply for devices with Buck DC-DC
0.8 V to 1.7 V single power supply for devices with Boost DC-DC

Power consumption

4.0 mA RX current (250 kbps O-QPSK DSSS)
3.6 mA RX current (1 Mbps GFSK)
4.1 mA TX current @ 0 dBm output power
9.2 mA TX current @ 6 dBm output power
11.3 mA TX current @ 8 dBm output power
29 μA/MHz in Active Mode (EM0) at 76.8 MHz
1.6 μA EM2 DeepSleep current (64 kB RAM retention and RTC running from LFRCO)
0.18 μA EM4 current

Packages

QFN40 5 x 5 x 0.85 mm, 0.4mm pitch
QFN32 4 x 4 x 0.85 mm, 0.4mm pitch
Extra package option for BG27 – WLCSP39 2.291 x 2.624 x 0.5 mm, 0.35 mm pitch

Temperature Range – -40°C to 125°C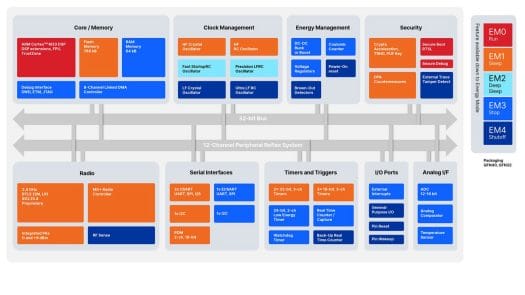 The new wireless microcontrollers are programmable through Simplicity Studio for Windows, macOS, and Linux. The IDE provides access to MCU and wireless tools, documentation, software,
source code libraries, and more.
I was unable to find any BG27 or MG27 development kits at this time, but the press release includes a photo of an EFR32xG27 module fitted with an MG27 chip in a QFN40 package.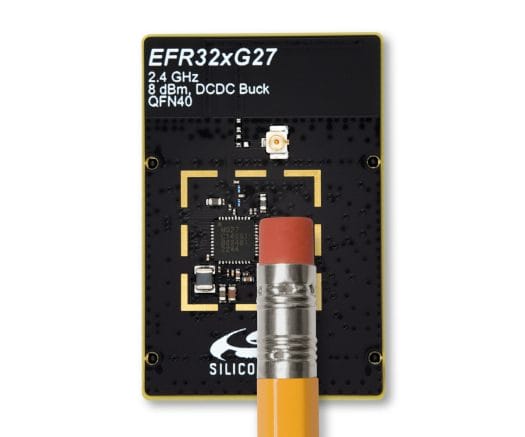 We've previously written about ingestibles such as the BodyCap e-Celsius performance pill designed to monitor the body temperature of athletes, and the BG27 and MG27 microcontrollers seem to be especially well suited to the task. Athletes would just swallow the pill which contains a wireless microcontroller, sensors, and power circuit, to transmit data through a match, and it would exit from the usual place…
Silicon Labs has a more detailed blog post about potential healthcare applications such as smart tooth implants, battery-operated patches, wearable electrocardiograms (ECG), and continuous glucose monitors (CGM). Smart ingestibles pills could also be used for medicine intake monitoring, or even compliance, to make sure a patient has taken his/her medicines, and it raises ethical issues, as non-compliance could lead to fines, losing one's health insurance, getting fired from one's job, losing government benefits, or even getting locked inside your own little smart home. In order words, "you'll take that compulsory pill, and you'll be happy!" 🙂
More details about the new BG27 and MG27 can be found on the respective product pages. The company also introduced the BB50 general-purpose 8-bit 8051 MCU without wireless connectivity in order to "increase design flexibility while reducing cost and complexity", as I understand those are software compatible with the wireless parts.

Jean-Luc started CNX Software in 2010 as a part-time endeavor, before quitting his job as a software engineering manager, and starting to write daily news, and reviews full time later in 2011.