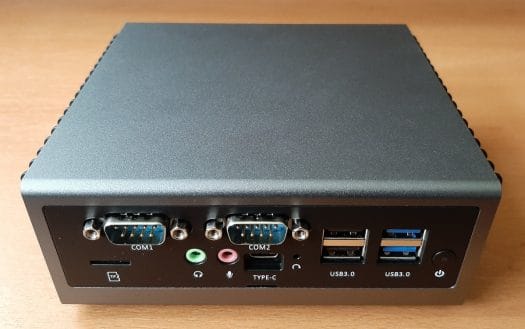 I've previously reviewed Weibu's N10 mini PC, however, they have now extended the range of CPUs available to the N10 through the addition of Alder Lake-N processors. As a reminder, Weibu is a B2B company that offers total solutions and OEM/ODM services and they don't sell directly to end users as their target clients are computer manufacturers like Acer and Hisense. Weibu have sent a pre-production sample of their latest N10 based on a Core i3-N305 Alder Lake N-Series processor to showcase its capabilities in this review. I will revisit the specification of the N10 and briefly look at the performance running both Windows 11 Pro and Ubuntu 22.04.
Weibu N10 product specifications
Weibu list the N10 specifications on their website as: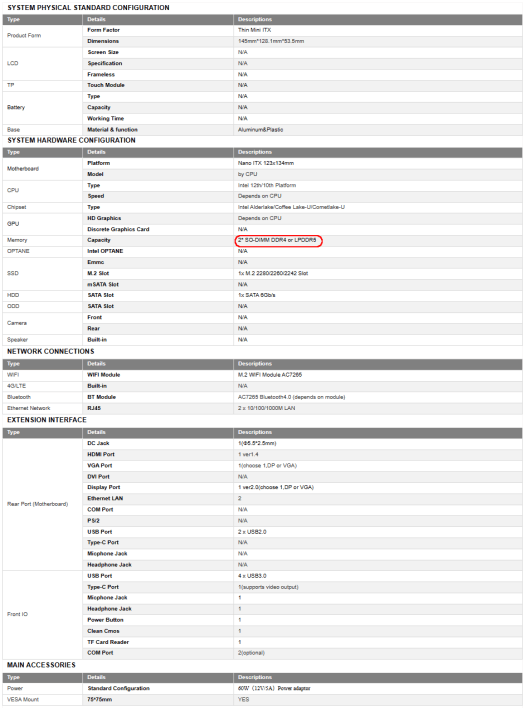 However this probably needs qualifying as 'Memory Capacity' states '2*SO-DIMM' which is correct for many processors, but Intel's Core i3-N305 processor in the mini PC sample I received only supports a single memory channel: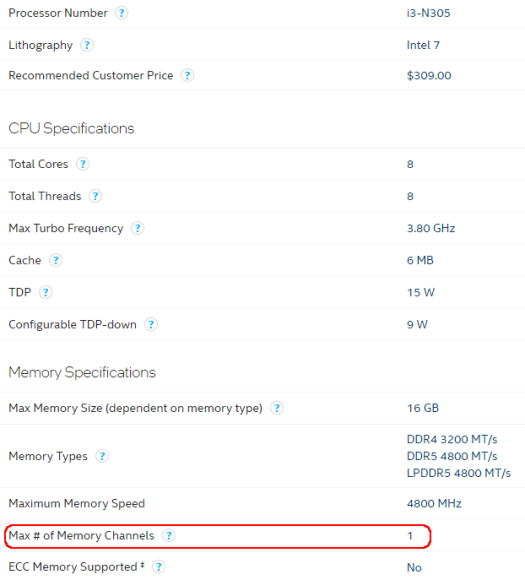 So the motherboard has been modified accordingly: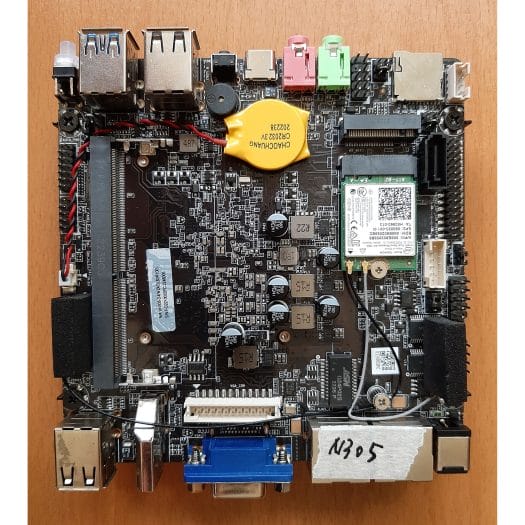 whilst keeping the ports in the same positions as before which are a key selling feature of this mini PC making it suitable for commercial/industrial usage.
The rest of the specifications are aligned to the physical device with the exception of the front USB 2.0 ports (see below):
Product overview
Overview of hardware
The N10 is an actively cooled mini PC measuring 145 x 128 x 54mm (5.71 x 5.04 x 2.13 inches) with an aluminum top that extends over the front and back to form the case which is then completed with two plastic sides and bottom. The CPUs that are supported include Intel's Coffee Lake and Comet Lake processors and now Alder Lake. The review sample included an Alder Lake-N Core i3-N305 which is an eight-core 8-thread (no HyperThreading) 3.80 GHz Core mobile processor (no Turbo) with Intel's UHD Graphics.
The front panel has a power button, dual USB 3.0 ports, dual USB 2.0 ports, a reset pin-hole for the UEFI (BIOS), dual COM ports (which are optional), a Type-C USB port, both a 3.5mm microphone and a 3.5mm headphone jack and a micro-SD card slot. The rear panel includes the power jack, dual gigabit Ethernet ports, either a VGA port (as in the case of the review sample) or a DisplayPort 2.0, an HDMI 1.4 port, dual USB 2.0 ports, and a Kensington security slot. Internally, there is an M.2 2230 WiFi 5 (or 802.11ac) Intel AC7265 card, and an M.2 NVMe ('M' key) PCIe Gen 3.0 SSD drive (the review sample included a 512GB Netac M.2 2280 drive). There is also the ability to add a 2.5" SATA drive to the top of the case which is then connected to the motherboard via a conventional SATA cable and a separate power cable. If the N10 is configured with the dual COM ports, they are connected to the motherboard by ribbon cables. Finally, there is a single SODIMM memory slot and the review sample included a stick of UnilC 8 GB DDR4 3200 MHz memory. Also included was a 60 W (12.0 V 5.0 A) power adapter and cord.
Overview of software
The Weibu N10 came pre-installed with a licensed copy of Windows 11 Pro version 21H2 build 22000.194 which Weibu kindly installed to assist with the review. I was able to upgrade it to the latest 22H2 build 22621.1344 for testing purposes: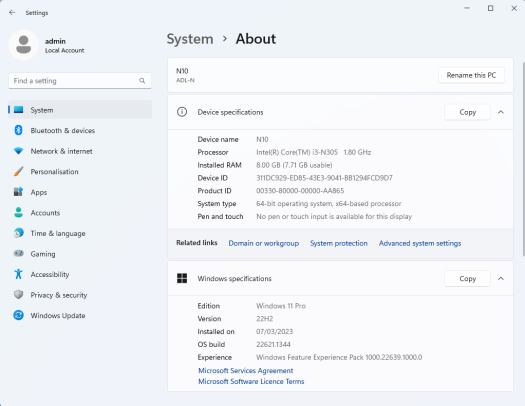 I also shrank the Windows partition in half to create a new partition into which I installed Ubuntu as dual boot using an Ubuntu 22.04.2 ISO and applied all available updates: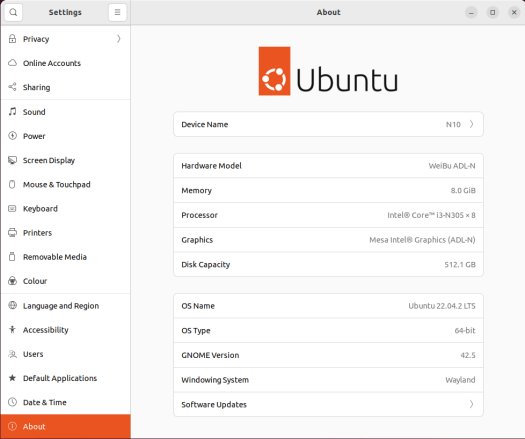 Key observations
A quick look at the base hardware information shows it is aligned with the specification: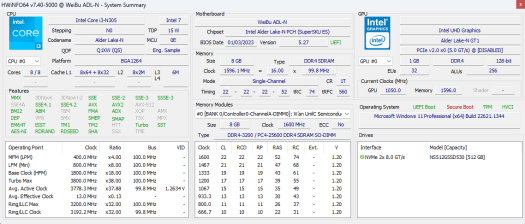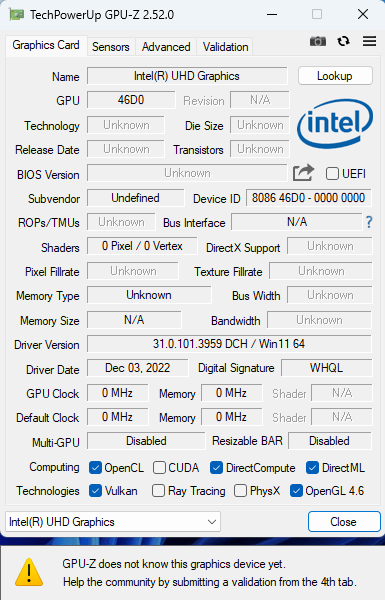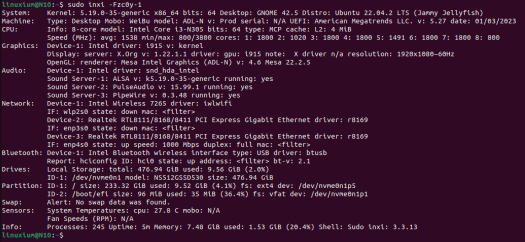 The processor's 'Power Limits' (PL) are configured. For Windows 'PL1' and for Ubuntu, under 'Constraint 0' they are set to 15 watts. For Windows 'PL2' and for Ubuntu, under 'Constraint 1' they are set to 35 watts: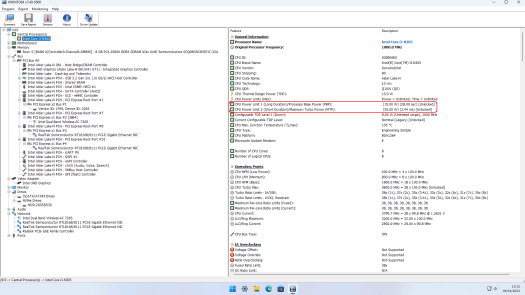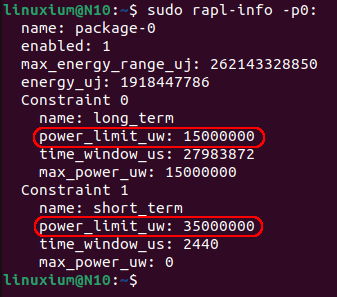 The memory is configured to run at its maximum speed of 3200MHz: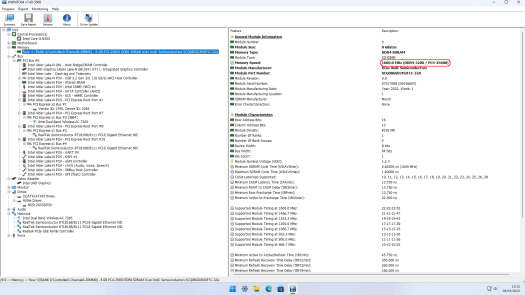 The dual gigabit Ethernet ports use Realtek RTL8168 network interface controllers and the WiFi 5 (802.11ac) is provided by an Intel Wireless-AC 7265 M.2 2230 card which also provides support for Bluetooth 5.2:
The specifications list all of the Type-A USB ports on the front as USB 3.0 so I tested them using a Samsung 980 PRO PCle 4.0 NVMe M.2 SSD housed in a 'USB to M.2 NVMe adapter' (ORICO M2PAC3-G20 M.2 NVMe SSD Enclosure) which showed that the front 'blue' USB ports were actually USB 3.2 Gen 2×1 i.e. 10 Gbit/s so within specification: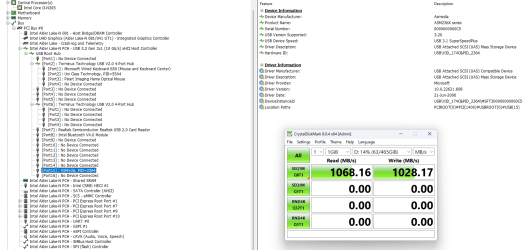 I then tested the front 'black' USB ports which were, as the color indicated, USB 2.0 ports and not USB 3.0 as stated in the specification: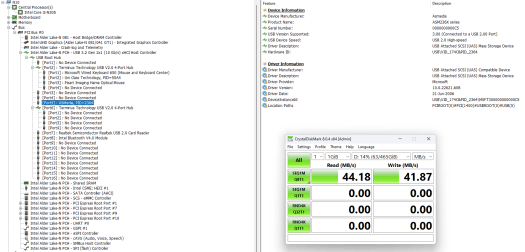 I also tested the rear 'black' USB port which, as per the specification, was a USB 2.0 port: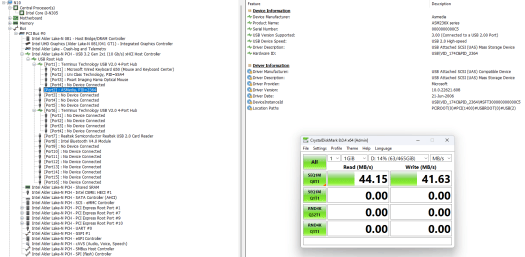 Finally, I tested the front Type-C USB port which was only a USB 2.0 without 'video output':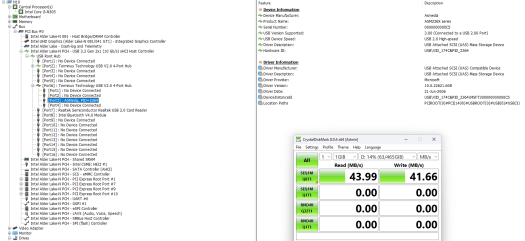 In Ubuntu the USB ports enumerate as follows: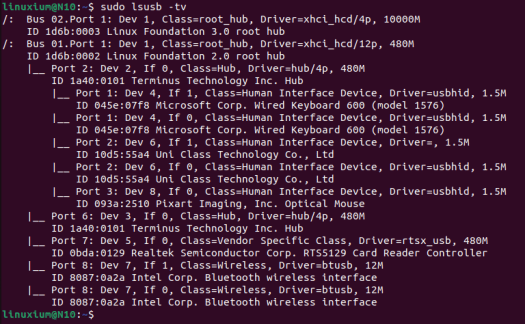 A brief check showed working audio, Wi-Fi, Bluetooth, and Ethernet in both Windows and Ubuntu. However, the microSD card reader was not connected and so could not be tested. This together with the front Type-C port not supporting video is likely due to the sample being pre-production.
When booting Ubuntu there are a couple of error messages being reported in the 'dmesg' although the significance of which has not been determined:
Windows 11 Performance on Weibu N10 Core i3-N305 mini PC
I first set the power mode to 'High performance' and ran some well-known benchmarking tools to look at performance under Windows.
Storage performance from the M.2 NVMe was: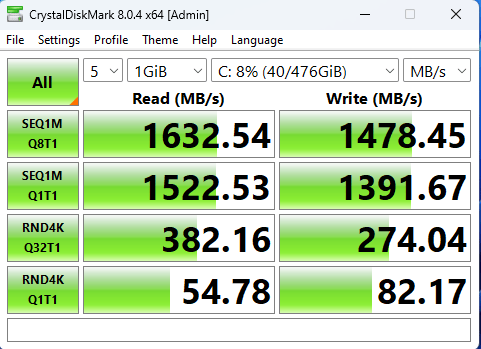 The overall Windows performance was:
with CPU performance measured as:
and iGPU performance measured as: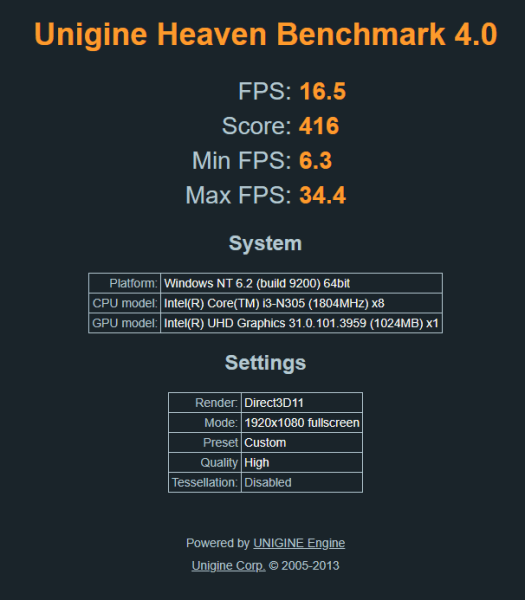 For real-world testing of the iGPU, I played various videos in Edge and there were no issues encountered playing videos up to 4K 60 FPS: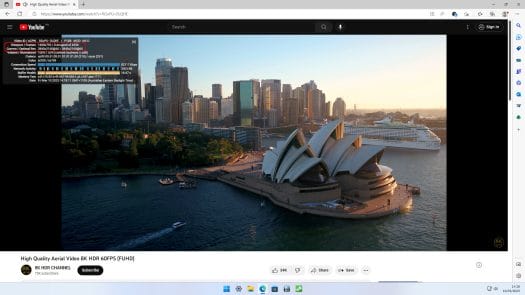 Ubuntu 22.04 performance with Weibu N10 Core i3-N305 mini PC
I first set the CPU Scaling Governor to 'performance' and ran some of my Linux benchmarks:
Storage performance from the M.2 NVMe was: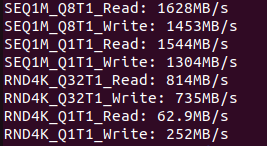 The overall Ubuntu performance was: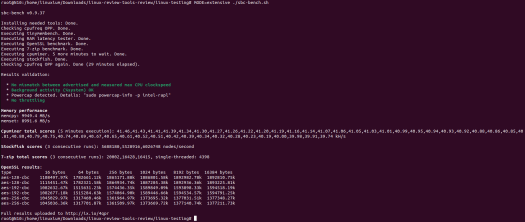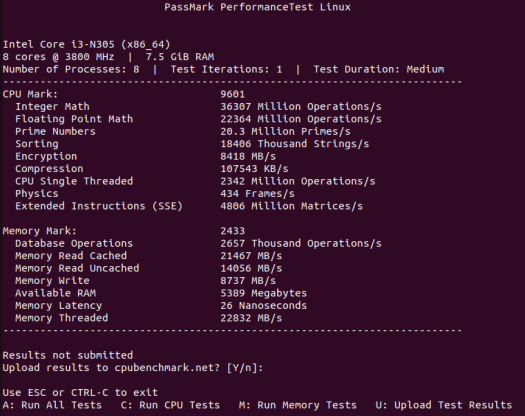 with CPU performance measured as: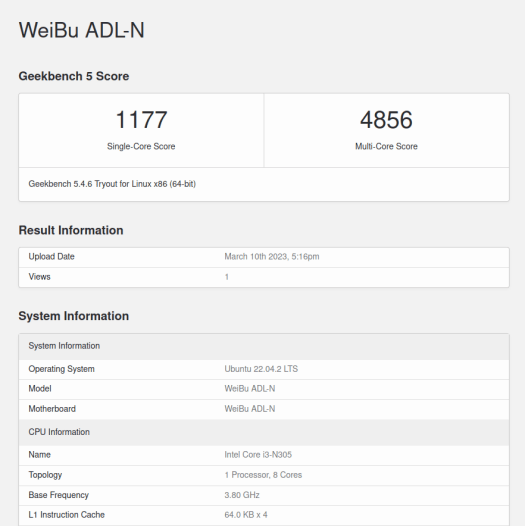 and iGPU performance measured as: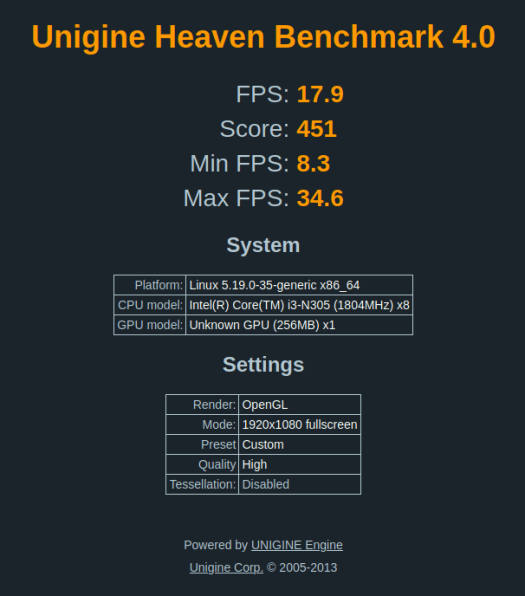 For real-world testing of the iGPU, I played various videos in Firefox. Initially, I thought there were no issues playing videos up to 4K 60 FPS: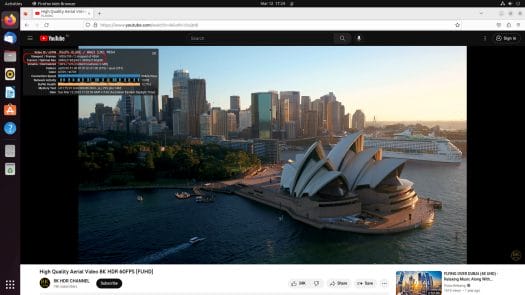 however when I let the 4K60fps video play a little longer suddenly CPU usage increased dramatically and resulted in frames dropping:
Decreasing the resolution to 1440p prevented the high CPU usage although the occasional frame was still dropped;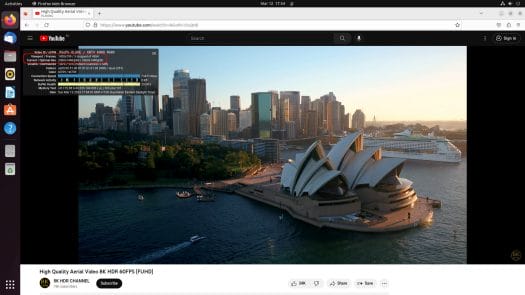 Network Performance (Ethernet and WiFi)
Network connectivity throughput was measured using 'iperf3'. The gigabit Ethernet ports performed as expected at around 948 Mb/s in Windows: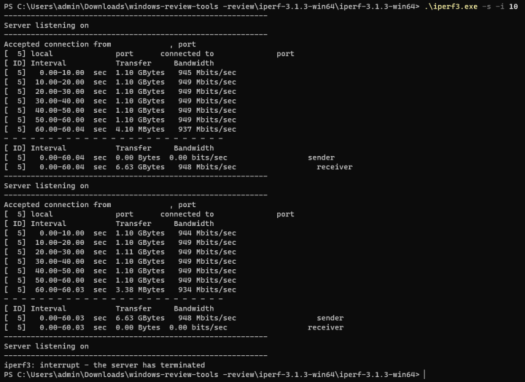 and at around 941 in Ubuntu: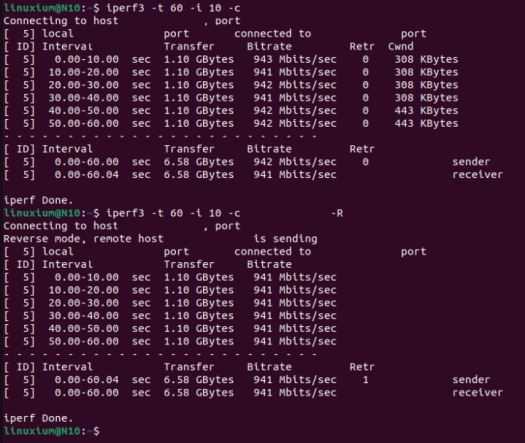 WiFi performance overall wasn't particularly impressive although it was as expected. The 2.4 GHz band saw Ubuntu outperforming Windows where download averaged 94.5 Mb/s in Windows and 97.0 Mb/s in Ubuntu. Upload averaged 78.8 Mb/s in Windows and 92.9 Mb/s in Ubuntu. For the 5 GHz band Windows was faster than Ubuntu. For download, Windows averaged 241 Mb/s and for Ubuntu, it was 232 Mb/s. Upload in Windows averaged 234 Mb/s but only 185 Mb/s in Ubuntu.
Thermal Performance
Running a stress test in Ubuntu saw the CPU temperature rise to 81°C during 'PL1' where it maintained an average frequency of 3000 MHz. The temperature then dropped to 67°C as a result of the frequency throttling to 2400 MHz before gradually rising to an average of 72°C at 2466 MHz for the rest of the test: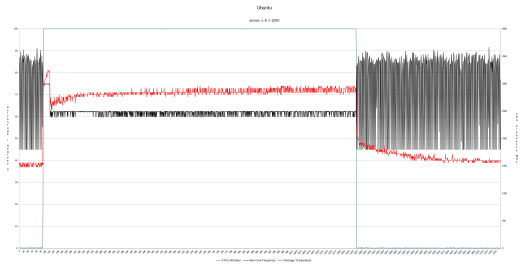 A similar maximum temperature was seen when running Fire Strike in Windows: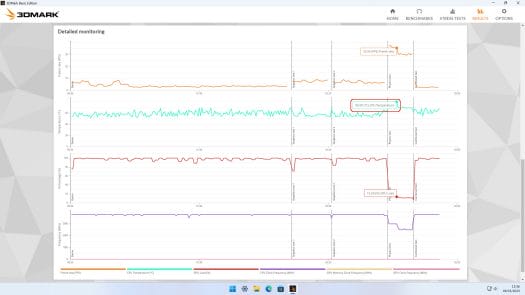 Interestingly a higher maximum temperature of 88°C was seen for 'PL1' when running Cinebench R20 in Windows: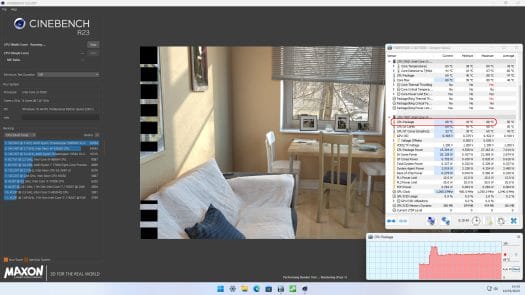 and when running OpenSSL from sbc-bench in Ubuntu:

However, this is still within the CPU's specification and therefore not an issue.
The Weibu N10 Core i3-N305 mini PC uses active cooling and underneath the motherboard above the bottom of the device is a large fan that is not really audible during normal use, measuring 37.9 dBA on my sound meter next to the device when idle. During peak loads, it does get louder and in Windows, it reached nearly 48 dBA at times, and in Ubuntu nearly 45 dBA. During testing the maximum temperature I recorded on the top of the device was around 36.4°C in an ambient room temperature of 26.1°C.
Power consumption
Power consumption was measured as follows:
Powered off (shutdown) – 0.6 Watts
UEFI (BIOS) – 12.7 Watts
Idle – 12.5 Watts (Windows) and 10.1 Watts (Ubuntu)
CPU stressed* – 41.5 Watts peak 26.5 Watts avg (Windows 'Cinebench') and 34.8 Watts peak 25.2 Watts avg (Ubuntu 'stress')
Video playback* – 20.6 Watts (Windows Edge 4K60fps) and 22.1 Watts (Ubuntu Firefox 1440p60fps)
*The power figures fluctuate in part due to the fan so the value is the average of the median high and median low power readings.
Summary
The original N10 already had a good range of ports suitable for commercial/industrial usage scenarios, so extending the range of CPU choices to include Alder Lake will certainly widen its appeal. As seen in this review, the mobile Core i3-N305 performance is good however the single channel memory and 16 GB limit means this particular CPU will only be suitable for certain types of applications or usage.
I'd like to thank Weibu for providing the latest Weibu N10 Core i3-N305 mini PC for review. Further details can be found on their website.

Ian is interested in mini PCs and helps with reviews of mini PCs running Windows, Ubuntu and other Linux operating systems. You can follow him on Facebook or Twitter.