When we first covered the Framework modular laptop in 2021 it came with a choice of 11th generation Intel Tiger Lake Core processors, up to 64GB RAM, up to 4TB SSD storage, a 13.5-inch display, a Full HD webcam, and a 55Wh battery.
Modular electronic devices have been worked on by several companies over the years, but such endeavors usually result in failure due to costs and other difficulties. Remember Google's Project Ara? But Framework may have found something that works, as they've now launched 13th Generation Intel Raptor Lake motherboards, AMD Ryzen 7040-series motherboards, updated the 13.5-inch display with a Matte finish, and even unveiled the Framework Laptop 16 with a 16-inch display that should become available in Q3 2023.
Intel Raptor Lake and AMD Ryzen 7040 motherboards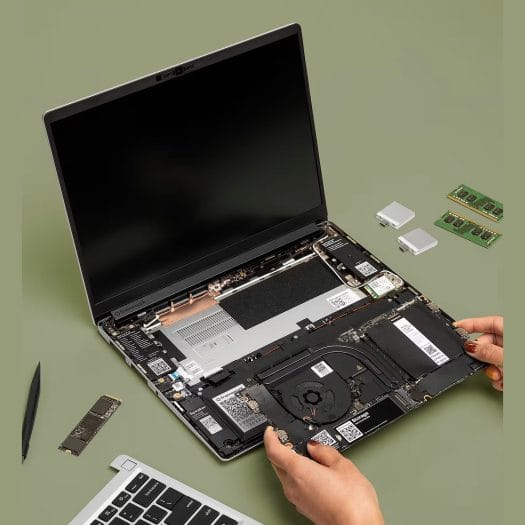 The Framework modular laptop now supports additional Intel Raptor Lake and AMD Ryzen motherboards with the following processors and key options.
13th Gen Intel Core
AMD Ryzen 7040 Series
Processor
Core i5-1340P
Core i7-1360P
Core i7-1370P
Ryzen 5
Ryzen 7
Speaker
Speaker Kit - 80dB
Speaker Kit - 80dB
Speaker Kit - 80dB
Speaker Kit - Original
Speaker Kit - Original
Battery
55Wh
61Wh
61Wh
55Wh
61Wh
Hinges
Hinge Kit (2nd Gen) - 3.5kg
Hinge Kit (2nd Gen) - 3.5kg
Hinge Kit (2nd Gen) - 3.5kg
Hinge Kit (2nd Gen) - 3.5kg
Hinge Kit (2nd Gen) - 3.5kg
Display
Matte
Matte
Matte
Matte
Matte
Memory
DDR4-3200
DDR4-3200
DDR4-3200
DDR5-5600
DDR5-5600
The AMD Ryzen 7040 Framework laptop will ship with the original speaker set and DDR5-5600 memory, while the Intel motherboards are available with a louder 80dB speaker kit and DDR4-3200 memory. The company also introduced a new 61Wh battery with the same dimensions as the 55Wh model, but only sold with the higher-end processors in order to keep costs in check for the entry-level variants. All new models come with a 2nd Gen Hinge Kit (3.5kg) that increases screen stability with a force profile that's easy to open with one hand and keep secured at a desired angle.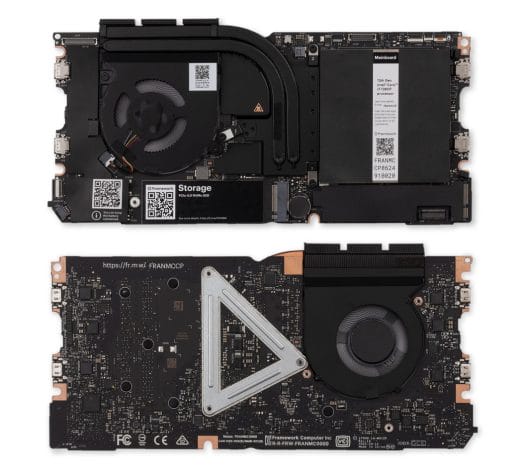 The new Framework AMD and Intel motherboards can be pre-ordered starting at $449 (Core i5-1340P or Ryzen 5) and up to $1,049 for the Core i7-1370P motherboard with deliveries expected to start in May. You only have to pay a $100 refundable deposit to book your motherboard.
If you don't already own a Framework modular laptop, you can either pre-order a 13th Gen Raptor Lake or AMD Ryzen DIY edition without memory, storage, and an operating system for $849 and up, or a complete system with Windows pre-installed starting at $1,049. You'll need to wait a little longer since the modular laptops will ship some time in Q3 2023. You can also install Linux on the laptop and the company officially supports Ubuntu 22.04 and Fedora 37.
Framework Laptop 16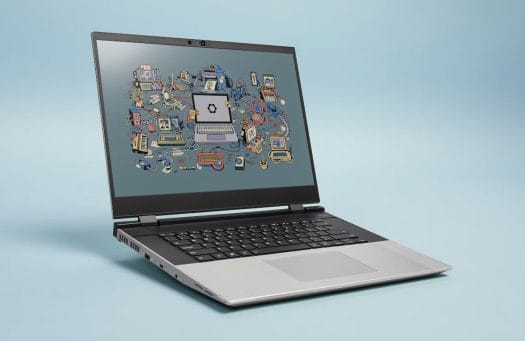 Another notable announcement was the Framework Laptop 16 for which we still don't have the complete specifications (e.g. screen resolution), but we do know the laptop will feature six USB4 connectors for expansion such as full-size USB ports, HDMI, DisplayPort, Ethernet, 3.5mm audio jacks, and so on. It's also larger enough to enable customization of the keyboard. Some people prefer a laptop keyboard without a numpad, while others require one, and either will be possible with the Framework Laptop 16 as well as other customizations such as small displays.
The company has already released the documentation for the input modules used on the Framework Laptop 16 which will include keyboard-sized modules (283.16mm wide), numpad-sized modules (67.85mm wide), and half-sized modules (33.825mm wide). The firmware is based on QMK running on a Raspberry Pi RP2040 MCU for the keyboard and inputmodule-rs for the other input modules.
Coolermaster Enclosure
Some people have created projects based on Framework motherboards such as Penk Chen's retro computer with a 5-inch round display, so it's also possible to create a thin mini PC of sorts using a Framework motherboard. So the company collaborated with Cooler Master to create a VESA-mountable case for the Framework Mainboard that will soon sell for $39.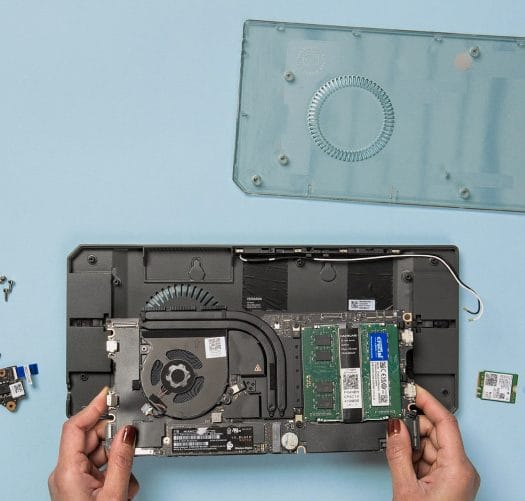 You can find out more about those announcements in the video below (which starts at the 26:45 mark), as well as various recent blog posts on the company's website.
Via Liliputing

Jean-Luc started CNX Software in 2010 as a part-time endeavor, before quitting his job as a software engineering manager, and starting to write daily news, and reviews full time later in 2011.